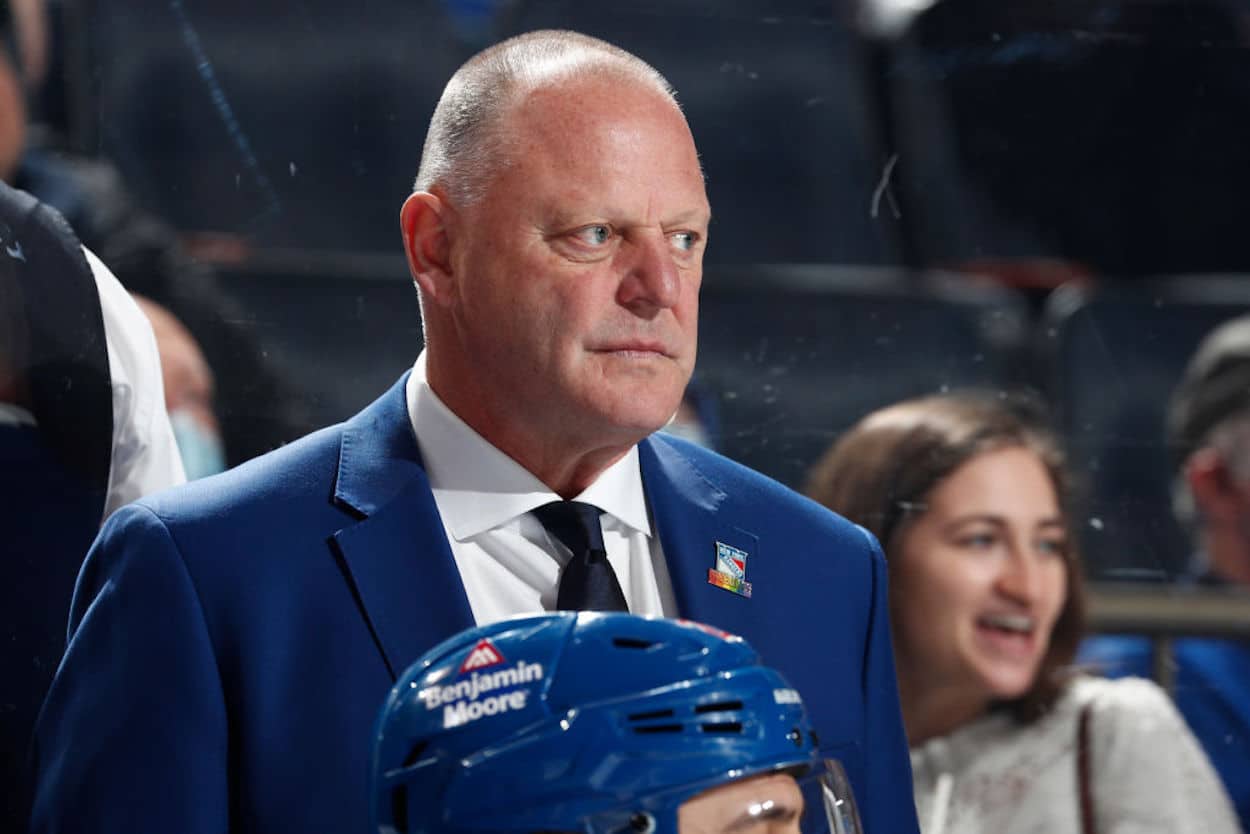 New York Rangers: Gerard Gallant's Hollow Threats Prove the Problem With NHL Enforcers
Rangers coach Gerard Gallant is threatening to get physically, but those comments only show the problems with relying on an enforcer.
While hockey press conferences are usually a bit boring — think of Sidney Crosby cliches about getting the puck deep — you'll occasionally get a headline-worthy quote. One of those emerged on Sunday, May 23, when New York Rangers head coach Gerard Gallant called out the Carolina Hurricanes for their end-of-game "bulls***."
Looking beyond the quote itself, though, we're able to see the hypocrisy and empty threats of NHL enforcers. Those tough guys don't actually make the game safer; they just facilitate mutually assured destruction.
Gerard Gallant threatened to unleash the New York Rangers' enforcer if the Hurricanes don't shape up
Toward the end of NHL postseason games, it's not unusual for the losing team to get a bit physical in an attempt to send a message. It's a long series, the logic dictates, so you can make use of a defeat by setting the tone moving forward. That's what appeared to happen on Sunday afternoon.
With the final horn confirming a Rangers' win, Max Domi crosschecked Ryan Lindgren. The Ranger slashed back, kicking off a bit of a scrum. Gallant appeared to be angry on the bench and, after the game, had no problem making his feelings clear.
"I wasn't happy with the bulls*** at the end of the game that they initiated," Gallant explained, according to ESPN's Greg Wyshynski. "We didn't do that when the games were close. They put their guys out. That's fine. If they want to play like that, we've got the guys that can match them."
"The game is over. They're not sending any message. We've got the guy that can handle all their guys if we want to. We didn't do it like that," the bench boss continued. "Domi took a cheap shot at our defenseman. You've got a long memory in this to think about things. It might be on the other foot someday."
The guy who Gallant is referring to is presumably Ryan Reaves. The forward was acquired before the 2021-22 campaign as part of an effort to toughen the Rangers up.
Those comments show the uselessness of an NHL enforcer
In recent years, traditional enforcers have become less and less common in the NHL. While Reaves may still be on the Blueshirts' roster, his coach's comments show exactly why those types of players are no longer relevant.
In theory, enforcers provide deterrence. They prevent other teams from taking liberties with the knowledge that if you cross the line, there will be someone waiting for you. While that may make superficial sense, we just saw how things fell apart.
Reaves dressed for the Rangers on Sunday, and the Hurricanes didn't seem too concerned about his presence. Domi still felt like he was able to conduct his "bulls***" regardless. If one of the league's last enforcers couldn't prevent that, why is he even there?
Similarly, a critical look at Gallant's threat underscores how silly the entire situation seems. If we take the Rangers' coach at his word, his biggest threats are 1) playing someone who's already in the lineup who simply wasn't on the ice at the moment in question and 2) giving more ice time to someone (Reaves) who isn't a threat of scoring an even-strength goal? The Hurricanes must be quaking in their skates.
It's also worth noting that, if he tries to fight fire with fire, Gallant will be giving Carolina what they want. They won the first two games of the series based on controlling the game and playing smothering defense. Opting for plodding physicality instead of embracing skill will only play into their hands.
While we'll have to see what Gallant actually does, few things would be more "hockey culture" than tanking your own chances of winning a playoff game to prove how tough you are. At the risk of trotting out a cliche, "An eye for an eye makes the whole world blind."
Like Sportscasting on Facebook. Follow us on Twitter @sportscasting19 and subscribe to our YouTube channel.