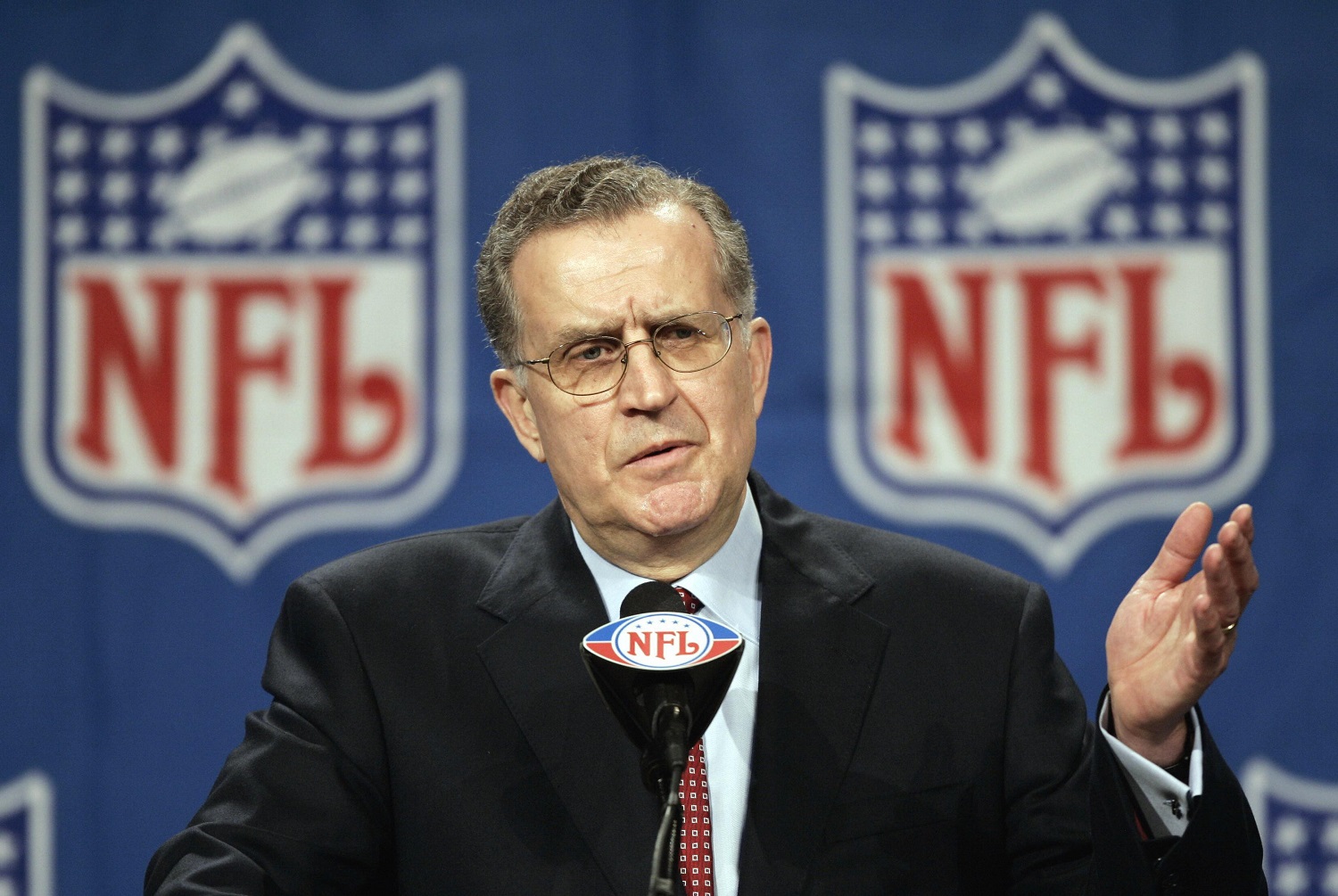 Did Ex-NFL Commissioner Paul Tagliabue Play in a Fixed College Basketball Game?
Then-NFL commissioner Paul Tagliabue suggested in a 1991 congressional hearing that he played in a college basketball game that might have been part of a point-shaving scandal.
The NCAA Tournament is probably on its way to becoming the first U.S. sporting event attracting more than $1 billion in legal bets. Paul Tagliabue, who presided over the sport that has historically attracted the most illegal wagering, can verify that might not be something for college basketball fans to get excited about.
Tagliabue had the misfortune of playing in a game against players tainted by point-shaving allegations, which helped shape his opposition to legalized sports betting while he served as commissioner of the NFL.
All eyes are on the NCAA Tournament Sweet 16 this weekend
Interest in the 2020-21 college basketball season was mixed at best during the ongoing COVID-19 pandemic. Attendance was limited or flat-out prohibited for games all season long, and positive test results triggered hundreds of postponements.
Now that the NCAA Tournament is back after a one-year absence, however, interest is picking up. A combination of upsets and flat-out poor seeding – Loyola Chicago as a No. 8 seed? Really? – has pushed underdogs like Oral Roberts, Oregon, and Oregon State into the Sweet 16. And, in a year in which fellow bluebloods Kentucky and Duke have had to watch from home, even major names like UCLA and Syracuse, seeded 11th in their respective regions, get to play the role of underdogs.
Despite television viewing as a whole being down double-digits in two years, college basketball ratings during the first weekend of the tournament were in line with 2019, according to Hollywood Reporter. While part of it can be attributed to avid fans following the exploits of Buddy Boeheim at Syracuse and falling back in love with the story of Sister Jean, there's the elephant in the room no one is discussing: gambling.
The double-edged sword of betting on college basketball
An analysis by PlayUSA projects that between $1 billion and $1.5 billion will be wagered legally on the NCAA Tournament in college basketball now in progress, The Motley Fool reports. With nearly half the states allowing sports wagering, approximately 86 million American adults can bet legally.
This, then, might be the time to educate people who didn't live through any of the scandals that college basketball has been the sport hit hardest by point-shaving episodes over the years.
As recently as 1995, two Northwestern University starters were charged with shaving points three times during a 5-22 season. A subsequent investigation found that football players at the school had been betting on their own games. Just 16 years before that, three Boston College basketball players were implicated in another fixing scandal.
The granddaddy of all the scandals took place in the early 1950s when authorities tied 32 players from seven colleges to 86 instances of either shaving points or throwing games, ESPN reported. It led to the NCAA banning Kentucky from playing the 1952-53 season.
Paul Tagliabue played in a suspicious college basketball game
Testifying before Congress in 1991, then-commissioner Paul Tagliabue reiterated the NFL's support of federal legislation to stop the expansion of legalized sports betting. Nevada had long been the hub for gambling activity, and other states were moving toward legalization.
During his testimony, Tagliabue made a reference to playing in a college basketball game against reputed point-shavers while attending Georgetown in the early 1960s, which helped shape his view.
Tagliabue, who was the NFL commissioner from 1989 to 2006, did not specify the game, but Vice Sports narrowed it down based on his mention of it being a Hoyas victory in Madison Square Garden. On March 2, 1961, the Hoyas routed New York University 92-69 in the last game of the season.
NYU struggled to an 11-10 record a year after reaching the NCAA Final Four. Reporters Charley Rosen and Al Figone each wrote books identifying between one and three NYC players whose behavior on the court that season raised questions about point-shaving activity.
That possible scandal had not come to light by the time Congress passed the Sports Bribery Act in 1964 to make fixing games a federal crime, and it wasn't until later that Tagliabue earned of the episode.
How to get help: In the U.S., contact the National Council on Problem Gambling helpline at 1-800-522-4700.