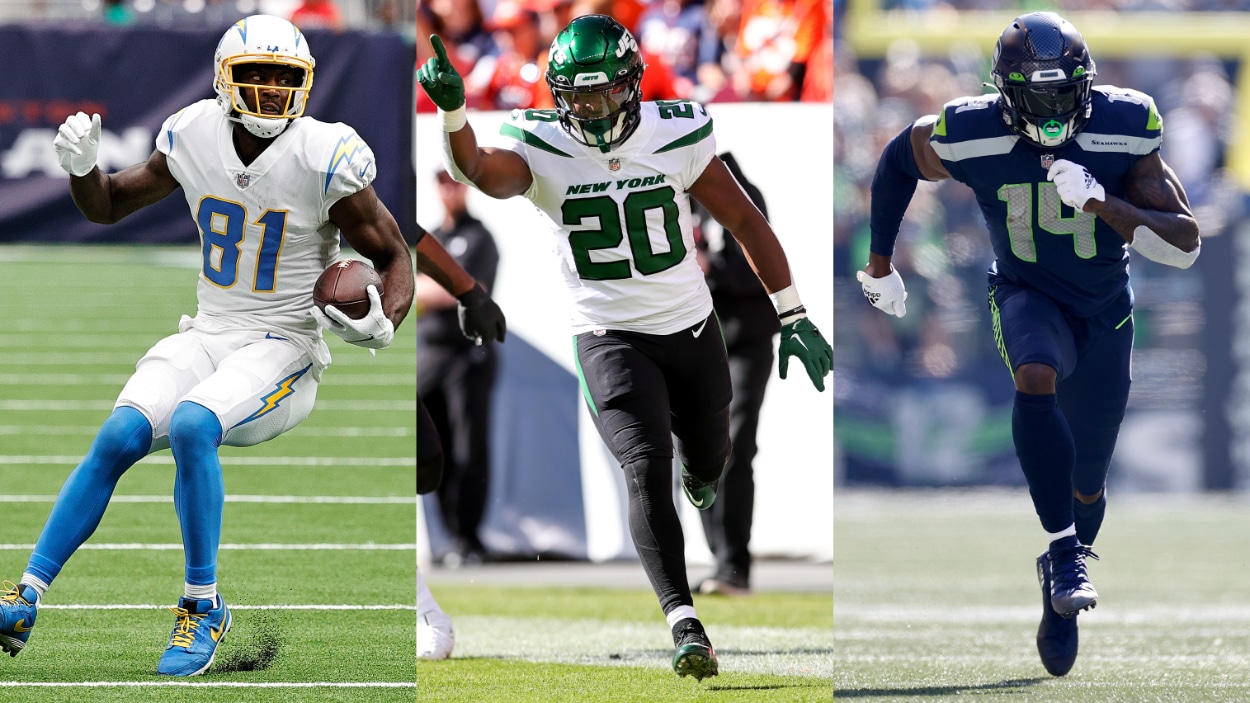 NFL Injuries: Several Big-Name Superstars Go Down in Week 7, Don't Look Good for Week 8 and Beyond
The NFL injuries piled up in Week 7 with some well-known players going out and putting Week 8 and, in some cases, their seasons in doubt.
It seems like you can say this every week of the football season, but in Week 7, there were a lot of significant NFL injuries on Sunday. What makes this Sunday different is that the NFL players who went down were some huge names. Several of these players won't be back for Week 8 and may also be done for the season. Here is a roundup of the biggest skill-positon NFL injuries from Week 7 heading into Week 8.
Breece Hall, RB, New York Jets
The New York Jets crushed the 2022 NFL draft, and second-round running back Breece Hall is a big reason why. The former Iowa State Cyclone put up 609 all-purpose yards in his first six pro games and scored four touchdowns to help lead the Jets to a 4-2 record.
In Week 7, after rushing for 72 yards, including a 62-yard TD, Hall went down with an apparent knee injury. According to a tweet from ESPN's Adam Schefter on Sunday evening, "Jets' HC Robert Saleh told reporters that the team thinks RB Breece Hall suffered an ACL injury."
The Jets moved to 5-2 with a 16-9 win over the Denver Broncos in Week 7 and have their AFC East rival New England Patriots and Buffalo Bills coming up in the next two weeks.
DK Metcalf, WR, Seattle Seahawks
Despite no longer playing with Russell Wilson, DK Metcalf is having an excellent 2022 with Geno Smith at QB. Through six games, the 24-year-old wideout caught 30 balls for 406 yards and two touchdowns.
In Week 7, the Seahawks continued their winning ways, beating the Los Angles Chargers 37-23 to move to 4-3 on the season. Metcalf had one catch for 12 yards when he went down with an apparent knee injury.
After the game, initial x-rays were negative, and the receiver himself said, "I'm alright," per ESPN's Brady Henderson on Twitter. However, head coach Pete Carroll confirmed Metcalf will get an MRI to confirm.
The Seahawks take on the 6-1 New York Giants in Week 8.
Amon-Ra St. Brown, WR, Detroit Lions 
Detroit Lions wide receiver Amon-Ra St. Brown came on huge during his rookie season in 2021, with 90 receptions, 912 receiving yards, and five touchdowns. In 2022, his season was off to just as good a start, with 27 catches for 271 yards and three TDs.
However, his health hasn't been great this season. St. Brown missed Week 4 with a shoulder injury before returning (banged up) for Week 5 before the Lions' Week 6 bye. In Week 7, with his shoulder seemingly better, St. Brown suffered a concussion in the first quarter of the Lions 24-6 loss to the Dallas Cowboys.
Unlike a knee injury, there is no well-understood timetable for returning from a head injury, and after the Tua Tagovailoa debacle, the NFL has strengthened its concussion protocols. We'll have to wait and see to see if the Lions star will be available in Week 8 when Detroit takes on the Miami Dolphins.
Mike Williams, WR, Los Angeles Chargers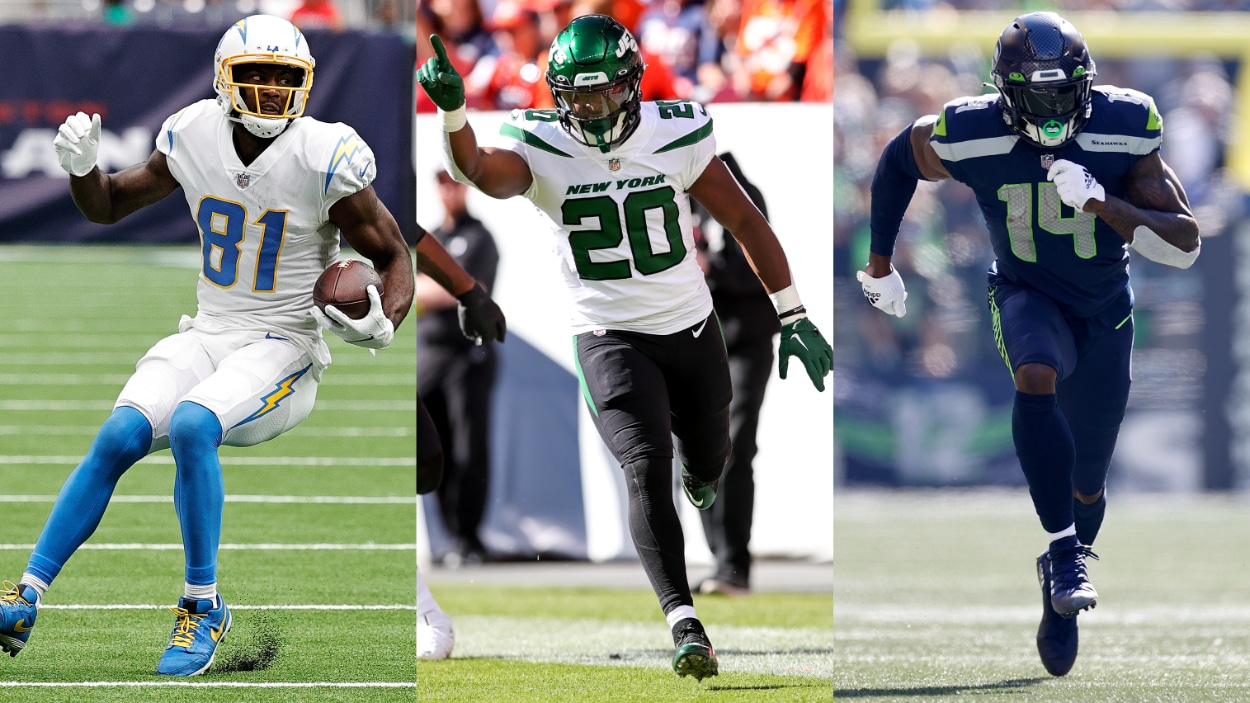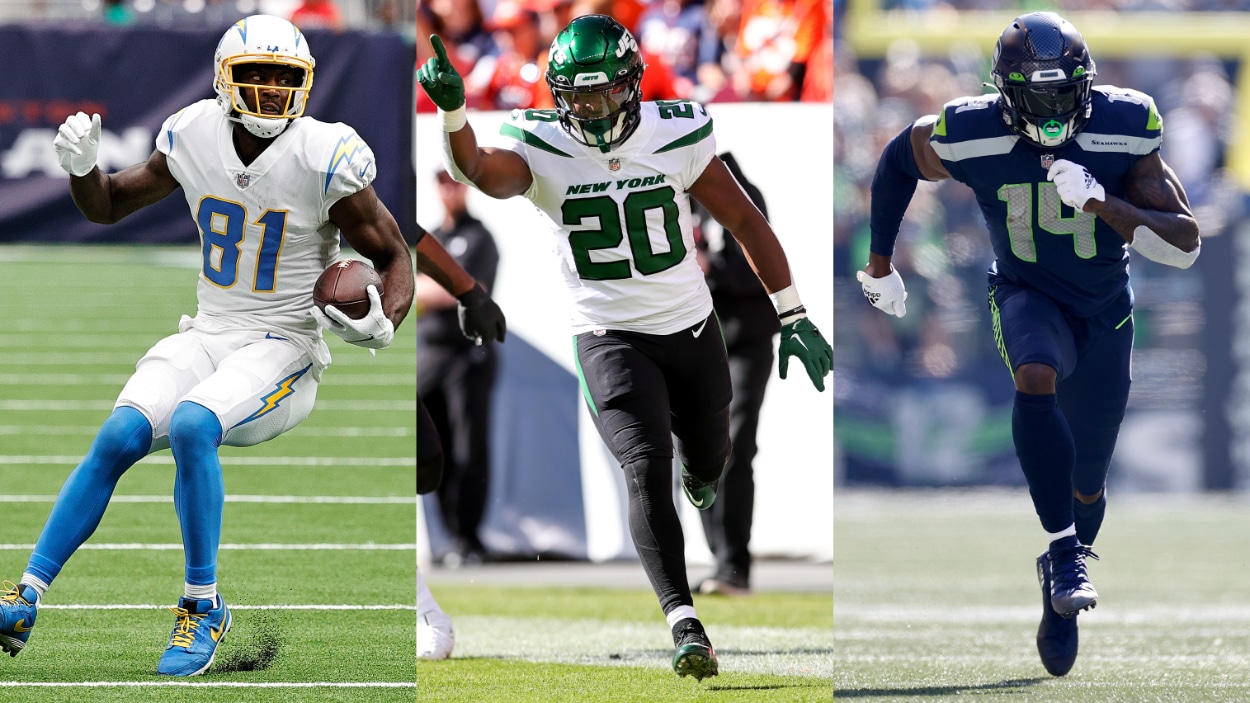 Mike Williams has been carrying the load at wideout for the LA Chargers as Keenan Allen has struggled to stay on the field this season. Through six games, the big WR, who signed a three-year, $20 million extension this offseason, had 30 catches for 409 yards and two touchdowns.
Williams was on fire in Week 7 vs. the Seahawks, with seven catches for 87 yards and a touchdown before he was carted off with an apparent leg injury.
As of Sunday night, there is no official update. However, ESPN's Lindsey Thiry tweeted, "Keenan Allen referenced a high ankle sprain for Mike Williams, before adding that there haven't been tests to confirm that."
Allen Lazard, WR, Green Bay Packers
 RELATED: Taylor Heinicke Earned $125K in Week 7 and Knows Exactly What He's Going to Buy With it 1st
With a host of young wide receivers on his offense, Aaron Rodgers has leaned on veteran WR Allen Lazard this season. After missing Week 1 with an ankle injury, Lazard racked up 285 yards on 20 catches and scored four touchdowns in the next four games.
During the Green Bay Packers' stunning Week 7 loss to the Washington Commanders, Lazard spent the closing minutes on the bench with a shoulder injury.
As of Sunday night, there was no update on his condition in the insider or beat reporter NFL injuries reports on social media. The Packers take on the Bills next Sunday night.
Have thoughts on this topic? Keep the conversation rolling in our comments section below.