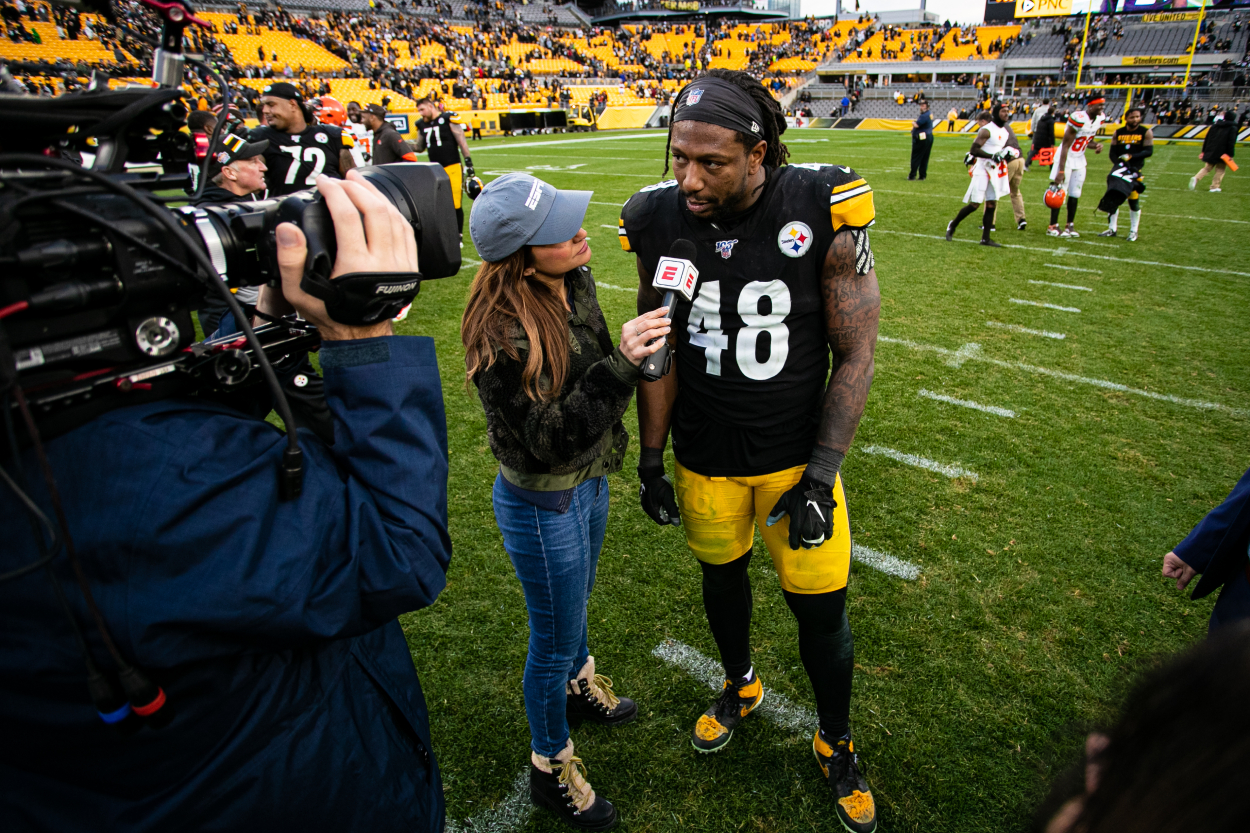 NFL Reporter Dianna Russini Gives Grim, One-Week Warning to Players
ESPN's NFL reporter Dianna Russini gives a grim, one-week warning to players as free agency quickly approaches.
The NFL season has come to an end, but this is where the real action begins. Rumors are flying and players will likely be switching teams. If you're in the sports media field, there's no offseason. ESPN's Dianna Russini is proving that point by reporting that there will be a "massacre" taking place next week in preparation for NFL free agency.
NFL rumors are swirling
The NFL offseason might be just as exciting as the regular season, especially this year. Several big names could possibly be moving teams and one already did. J.J. Watt asked for his release from the Houston Texans and got his wish. He has agreed to sign a deal with the Arizona Cardinals.
Watt's former teammate, quarterback Deshaun Watson, is another big name that could be on the move. The Texans have said they have zero plans to trade the fourth-year quarterback, but Watson has also stated he wants out and doesn't plan on playing in Houston this season. The Texans, who went 4-12 last year, are a mess and just might be able to begin a rebuild by getting a boatload in return for their quarterback.
Another disgruntled quarterback could also be on the move. Russell Wilson and the Seattle Seahawks have seemingly been at odds after Wilson went public with some comments regarding his frustration with how many times he's been hit. It's gotten to a point where Wilson, who has a no-trade clause, specified four teams for whom he'd play.
NFL free agency begins in two weeks
The NFL begins its new season at 4 p.m. on March 17. That's the first day of free agency. While free agency officially kicks off then, there is a 48-hour period prior to that called the legal tampering period. That's when agents of unrestricted free agents can begin negotiating with teams.
During the legal tampering period, players can't directly talk with a team. Players aren't allowed to visit any teams during this stretch. The only team they can visit is the one they played for the previous season, according to Pro Football Network. Although agents can speak to other teams, deals can not be announced during the legal tampering period.
Many big names are out there as free agents. Dallas Cowboys quarterback Dak Prescott is at the top of the list. Chicago Bears wide receiver Allen Robinson is another player who will likely draw attention, as will Green Bay Packers running back Aaron Jones. Offensive Tackle Trent Williams is likely the most valued non-skill player.
Dianna Russini reports that a tough week is coming for players
ESPN's Dianna Russini reported Wednesday that this coming week could be tough for players. With free agency looming, teams will be scrambling to make moves to clear up salary cap space in order to sign free agents. Russini spoke to an unidentified head coach, who had some grim news for many NFL players.
Russini tweeted, "Just texted with an NFL head coach about the upcoming cuts and what he expects… 'It's going to be a massacre next week all around the league.'"
Cutdown day during the preseason is usually one of the more stressful times for NFL players, especially those on the bubble. It sounds like there might be a whole lot of action going on next week when that 'massacre' occurs.