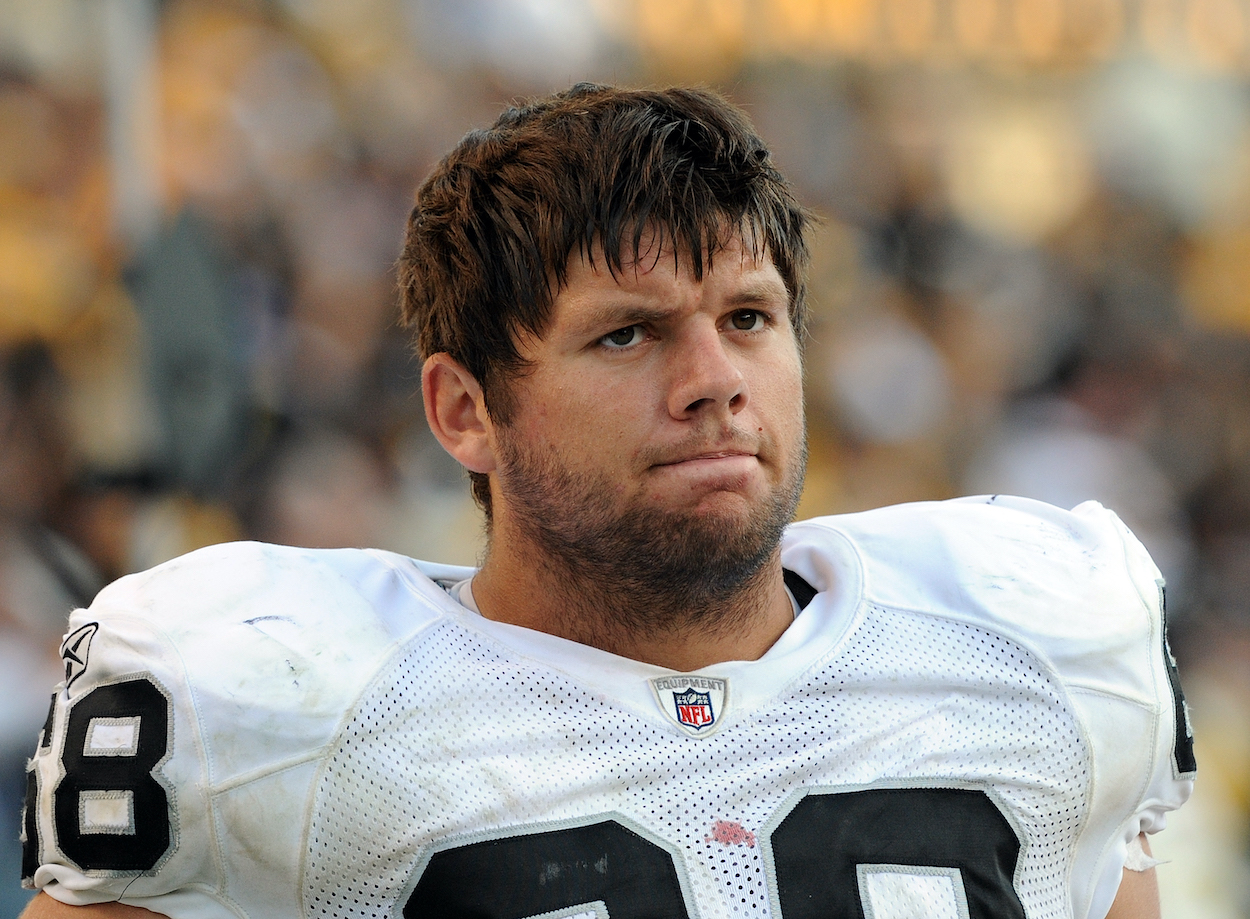 NFL Tries to Suspend Jared Veldheer for Taking a Female Fertility Drug, but the Veteran OT Retires Before They Can
Jared Veldheer, a third-round pick from a tiny DII school played 11 years in the NFL blocking for QBs like Aaron Rodgers and Phillip Rivers. This offseason, he tested positive for a female fertility drug and the NFL suspended him for six games. Instead of serving the suspension next year, the veteran linemen retired instead.
An NFL player testing positive for a banned substance in the offseason and getting suspended is usually not a big story. When that player retires instead of accepting the suspension, the story gets more interesting. 
If the player is Jared Veldheer, an offensive lineman who rose from obscurity to block for some great NFL quarterbacks, it gets even more intriguing. And, if that player makes a powerful statement about post-NFL career health in the process, then you have a fascinating situation. 
Jared Veldheer went from a tiny Division II college to an 11-year NFL vet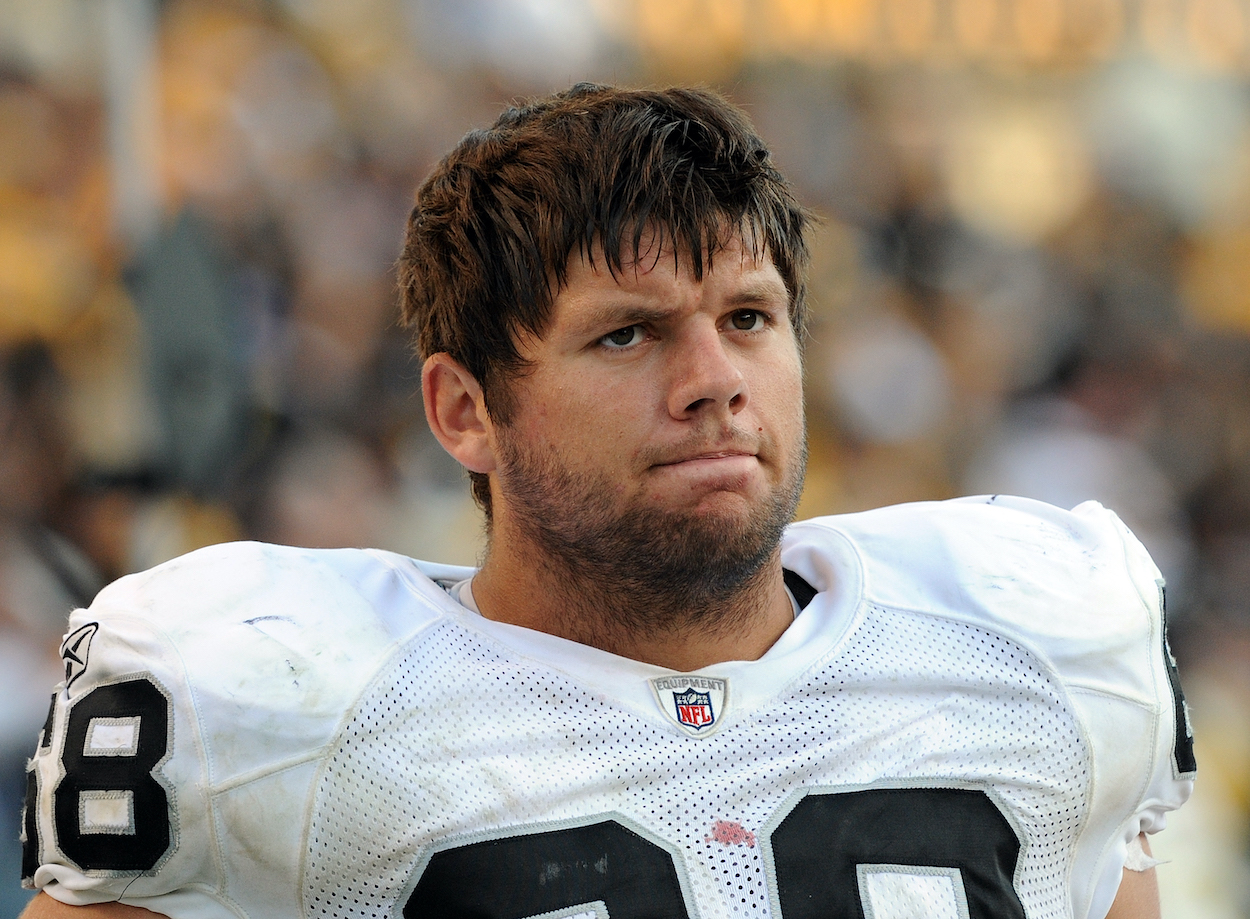 Veldheer's NFL journey is undoubtedly a unique one. The enormous 6-foot-8, 321-pound offensive tackle grew up in Grand Rapids, Michigan, and didn't play at a major football powerhouse college. Instead, he attended a tiny Division II school, Hillsdale College. 
Veldheer started all four years at Hillsdale and helped take the school to the Division II playoffs for the first time in its history, according to HillsdaleChargers.com. He made First-Team All-GLIAC in his junior and senior years and First-Team All-American as a senior, as well.
Despite the level of competition, the then-Oakland Raiders selected Veldheer with the No. 69 pick in the third round of the 2010 NFL draft. 
The lineman would go on to play 11 NFL seasons at both left and right tackle. He suited up for the Raiders, Arizona Cardinals, Denver Broncos, Green Bay Packers, and Indianapolis Colts. After protecting QB Aaron Rodgers in Green Bay, Veldheer retired and started to coach high school football. 
The Indianapolis Colts brought the lineman-turned-coach out of retirement to block for Philip Rivers in the 2020 playoffs. Veldheer almost made history later in the 2020 postseason. He nearly became the first player to play for two teams in the same playoffs when he signed with Green Bay after Indy's loss. He tested positive for COVID-19 before he got on the field for the Packers, though. 
The NFL suspended Veldheer for six games for taking a fertility drug
Veldheer is currently a free agent. The lineman already retired once and hasn't started multiple games since 2018, so he was likely returning to high school coaching after this past season.
That didn't stop the NFL from suspending the veteran for six games when he tested positive for a banned substance. Veldheer later confirmed that the drug in question is the female fertility drug Clomid.  
While the FDA only approves Clomid for use by women, men do take it occasionally, according to healthline. The drug helps boost testosterone in men, which can help with male infertility or for athletes looking to get an edge with higher testosterone levels. 
Veldheer announced his retirement and blamed football for his need for Clomid
An hour after the reports of Veldheer's suspension, NFL Network reporter Tom Pellisero tweeted a statement from Veldheer: 
I was prescribed low dose clomid due to abnormally low T (likely caused from pituitary damage suffered from repeated blows to the head). I recommend this to any veteran who is struggling with post-football issues. I also plan to retire at this time from the NFL.
Veldheer's statement brings up some interesting issues about the long-term effects of playing football and what players can do in their post-playing careers to help alleviate their health problems. 
This whole debacle may just be a passing story. But if anyone could go from relatively unknown player to post-career-health trailblazer, it seems like Veldheer is a good candidate. 
All stats courtesy of Pro Football Reference