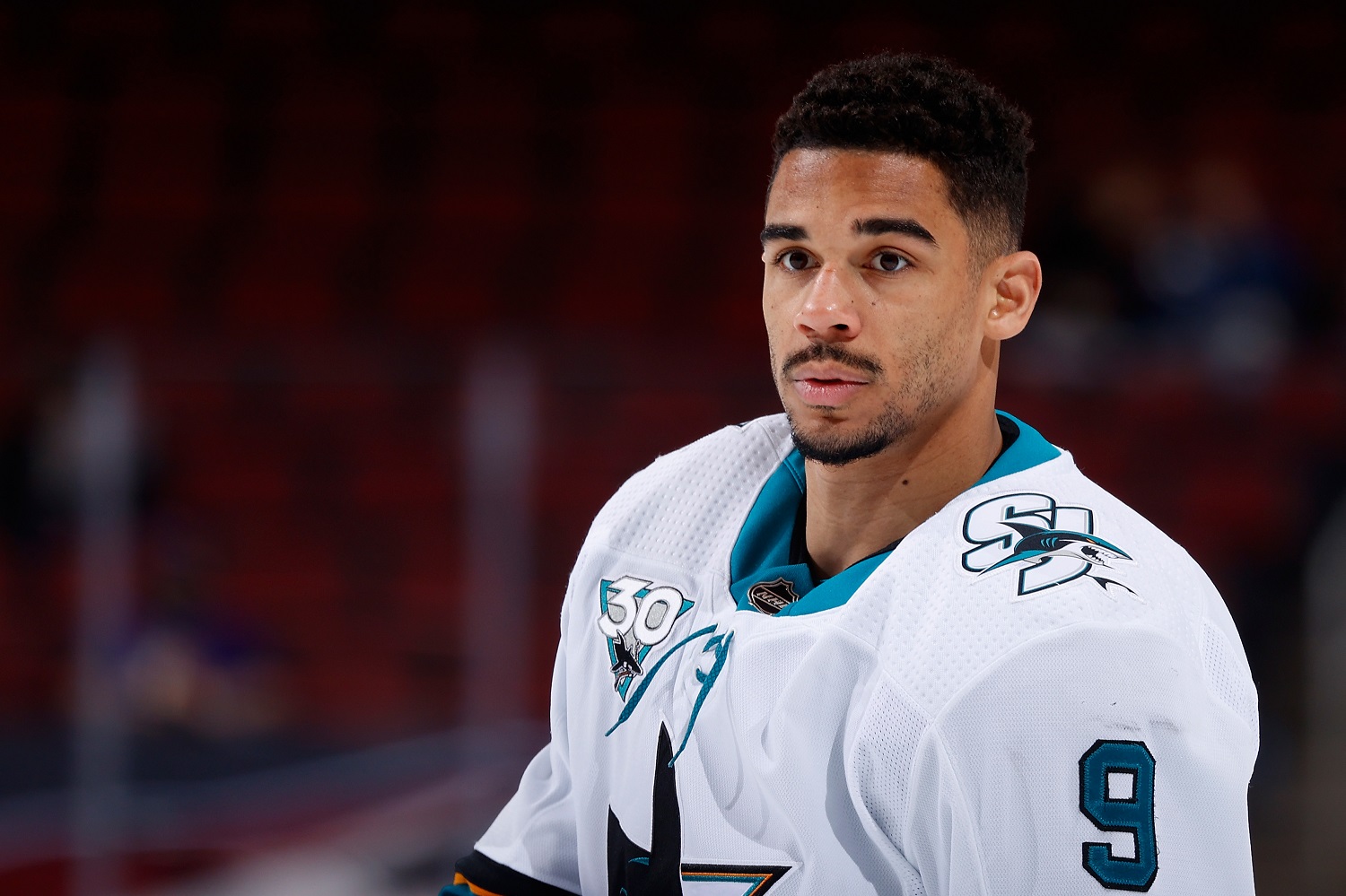 NHL Star Evander Kane's Next Penalty Could Cost Him More Than 2 Minutes in the Box
COVID-19 has affected many athletes in the past 18 months, but Evander Kane faces a potential legal issue related to the virus.
The ice in professional hockey arenas is slightly less than an inch thick. Veteran NFL player Evander Kane is currently skating on ice that is even thinner than that.
The steady-scoring San Jose Sharks forward skates from problem to problem lately. Now, an investigation into a new allegation could lead to incarceration for months, if not years.
The San Jose Sharks' Evander Kane is entering his 13th NHL season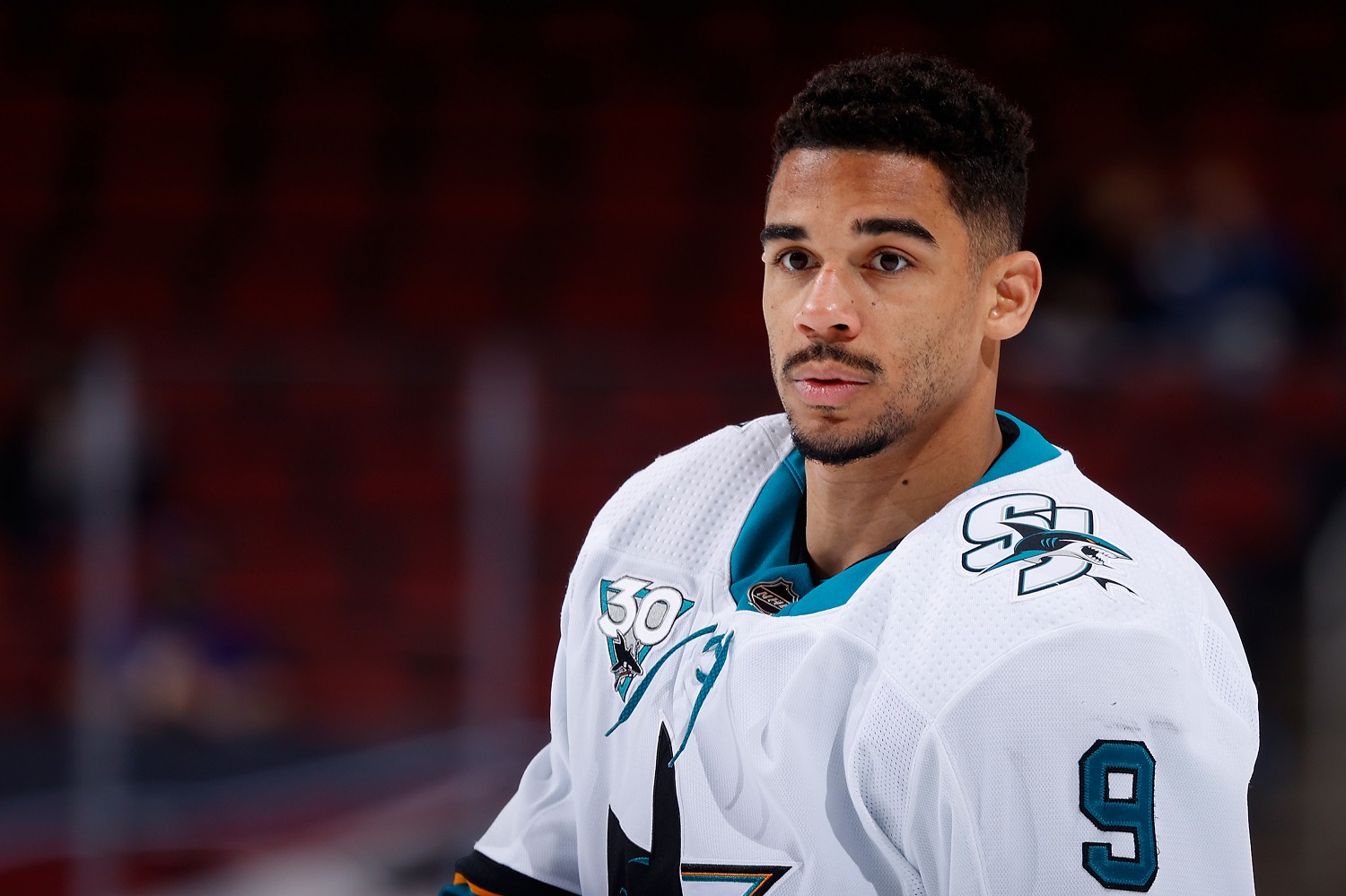 Evander Kane entered the NHL in 2009 as an 18-year-old after the Atlanta Thrashers made him the No. 4 overall selection in the draft. That followed a stellar amateur career that included winning a Memorial Cup and finishing second in Western Hockey League Rookie of the Year voting.
The Thrashers moved to Winnipeg two years later, and Kane finished with 109 goals and 113 assists in six seasons with the franchise before a trade to the Buffalo Sabres. The Sabres traded him to the San Jose Sharks late in his third season there.
Kane, now 30 and with four seasons left in a seven-year, $49 million contract, has produced 87 goals and 79 assists in 212 games for San Jose since late February 2018. He posted 22 goals and 27 assists in 56 games last season.
For his NHL career, Kane has 264 goals and 242 assists in 769 games with a minus-69 plus/minus. His 988 penalty minutes don't compare to what he potentially faces now.
NHL star Evander Kane's next penalty could be his biggest
The NHL is investigating forward Evander Kane following allegations that he has used a fake COVID-19 vaccination card, Front Office Sports reported, citing sources. And a league probe is hardly the extent of Kane's newest woes.
The NHL has created strict rules for unvaccinated players for the upcoming season. That includes forcing unvaccinated players to limit their activities to the team hotel, practice facilities, and the game arena on road trips. In addition, they cannot have guests in their hotel rooms.
The league has promised to come down hard on violations with sanctions against players and teams, but that's a secondary concern now. If government agencies weren't already investigating Kane's possible fraudulent use of a vaccine card before the report, then they probably are now.
There are laws regarding counterfeit COVID-19 vaccination cards in the United States and Canada. U.S. federal law calls for up to five years in prison. A traveler caught entering Canada with a phony card faces six months in jail and a $750,000 fine.
This is the latest in a recent string of concerns
Evander Kane has been making headlines for all the wrong reasons for the better part of two years, beginning with a Las Vegas casino suing him in November 2019 over an alleged $500,000 gambling debt that the player incurred during a playoff series against the Las Vegas Knights earlier that year.
On Jan. 11, 2021, Kane filed for Chapter 7 bankruptcy in California after running up $26.8 million in debts, including $1.5 million in gambling losses, according to The Athletic.
Six months later, the player's estranged wife went on social media to claim Kane was betting against the San Jose Sharks and throwing games, the Associated Press reported. However, the NHL announced on Sept. 22 that the allegations appeared baseless.
Also in September, Kane and his wife made domestic abuse allegations against one another. Anna Kane also made allegations of sexual abuse. Kane and the Sharks have agreed that he will not rejoin the team while those allegations are being investigated.
He has missed five preseason games thus far, and it is uncertain whether he will be available when the Sharks start their season on Oct. 16. Of greater concern is the question of whether he'll still be a free man in the not-too-distant future.
Like Sportscasting on Facebook. Follow us on Twitter @sportscasting19.