Evander Kane's Wife Shockingly Claims He's Been 'Throwing Games for Money' and Forced Her to Sell Her Wedding Ring 'to Survive' in Scathing Instagram Post
Evander Kane has some explaining to do after explosive claims of gambling, throwing NHL games on purpose, and neglecting his family surfaced online Saturday night. Anna Kane, the NHL star's wife, set the hockey world on fire with a harrowing account of his gambling addiction and how it's affected their family.
The NHL is now launching a full investigation into the claims, so this could get ugly for the San Jose Sharks star.
Evander Kane's wife claims he's a "compulsive gambling addict" in scathing Instagram post
In a damning series of Instagram posts from Saturday night, Kane's wife accused the NHL player of gambling on his own team's games and throwing them on purpose for money.
"How does the NHL let a compulsive gambling addict still play when he's obviously throwing games to win money?" she wrote in one post. "Hmm maybe someone needs to address this."
"Can someone ask Gary Bettman how they let a player gamble on his own games? Bet and win with bookies on his own games?" she wrote in another.
This isn't the first time Kane's gambling habits have come to light. In 2019, a Las Vegas casino sued him for failing to repay a $500,000 debt he racked up during a playoff series against the Golden Knights. In January of this year, Kane also filed for bankruptcy in California.
But his wife's claims went far beyond just gambling.
In a following post, she accused Kane of ditching his family to vacation in Europe, and while he was there, she was told their house was "being taken by the bank." Anna, who is currently pregnant, also said Kane blows his money on parties, fancy hotels, and lavish dinners but won't buy formula for their infant daughter. She even claimed he forced her to sell her wedding ring "to have any money to survive."
"I don't know if there are even words to describe the kind of evil person that you are to abandon your wife who is pregnant with your son and your one year old daughter," she wrote.
Kane denies the claims from his "soon to be ex wife"
On Sunday morning, Kane posted two statements on Twitter completely denying all the allegations from his "estranged wife and soon to be ex wife."
"Even against the advice from my legal team I feel strongly that the public and fans hear this directly from me," he wrote in his first statement. "I have NEVER gambled/bet on Hockey, NEVER gambled/bet on a Sharks game, NEVER gambled/bet on any of my games and NEVER thrown a hockey game."
Kane's second statement denied what his wife said about ditching his family. He claimed his wife has refused calls and visits since the two have been working toward a divorce.
"She has refused me to see [my daughter] and has unfortunately tried to use my daughter as leverage," he wrote.
It seems we have a high-stakes "he said, she said" on our hands, and the NHL will now be working to find the truth.
The NHL announces plans to investigate the matter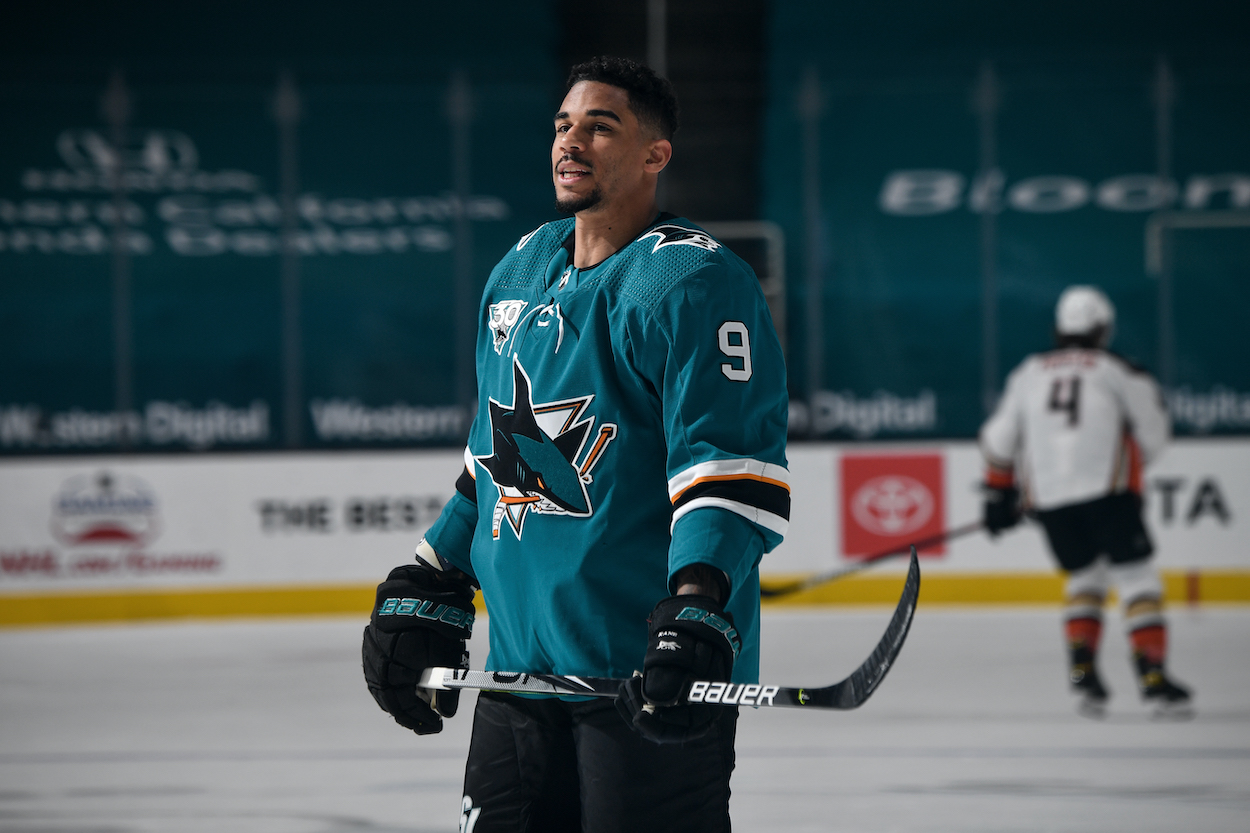 After Anna's Instagram posts went viral Saturday night, the NHL tweeted a statement announcing it will be investigating her accusations.
"The League was made aware this evening of a post on social media alleging that San Jose Sharks Player Evander Kane bet on NHL games," the statement read. "The integrity of our game is paramount and the League takes these allegations very seriously.
"We intend to conduct a full investigation and will have no further comment at this time."
If the accusations of betting on Sharks games and throwing them for profit are proven true, Kane's NHL career could very well be in jeopardy.