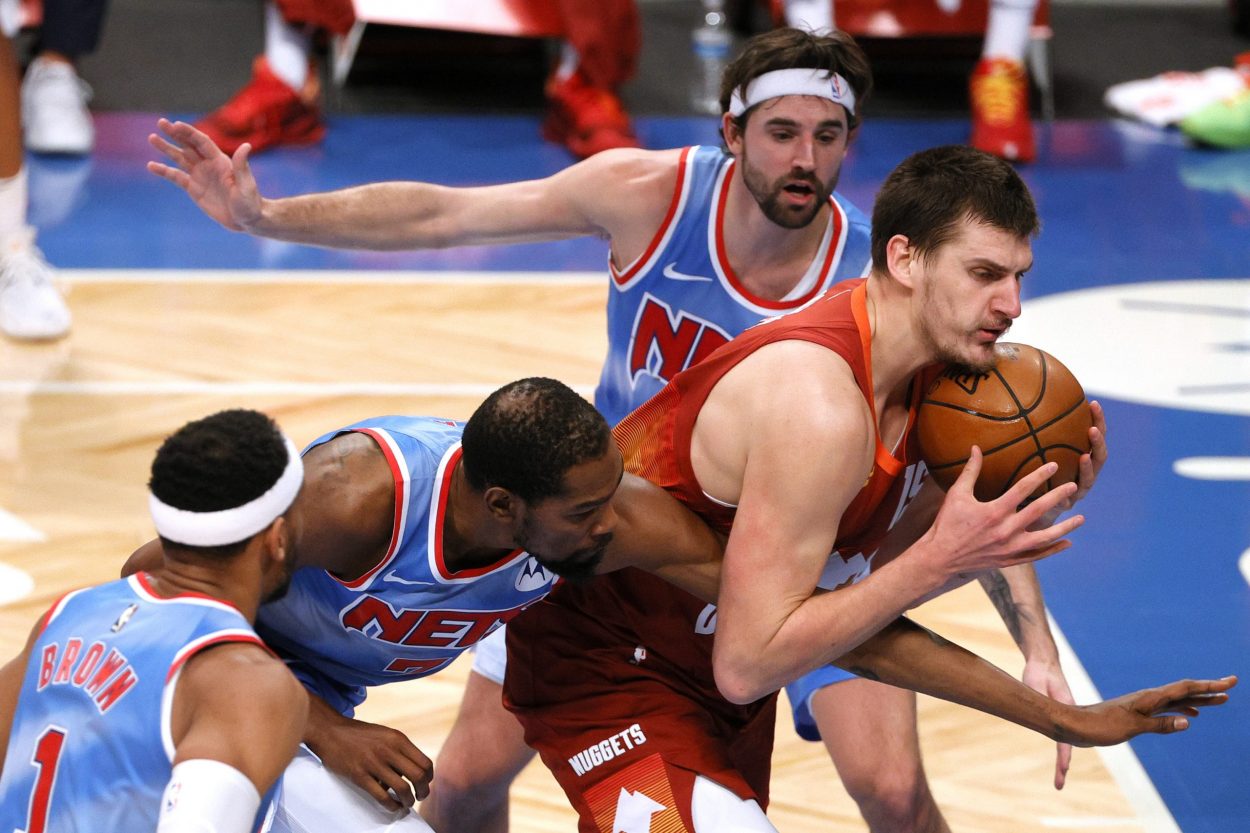 Nikola Jokic Received the Ultimate Praise as the 'Hardest Cover' in the NBA Besides Kevin Durant
Nikola Jokic garnered massive praise as the most unguardable player in the NBA save for Kevin Durant.
As the reigning NBA MVP, it goes without saying that Denver Nuggets center Nikola Jokic is one of the best players in the league. But his dominance goes beyond productivity.
San Antonio Spurs head coach Gregg Popovich previously compared The Joker to Boston Celtics great Larry Bird because of his remarkable all-around gifts. Jokic recently received more praise from another coach and former All-Star as the most unguardable player other than Kevin Durant.
Chauncey Billups said Nikola Jokic is the "hardest cover" in the NBA besides Kevin Durant
Nikola Jokic watched from the bench as the Nuggets took on the Portland Trail Blazers on Tuesday night. Despite his absence, however, he earned tremendous praise from Blazers head coach Chauncey Billups.
The former All-NBA point guard sang Jokic's praises (h/t DNVR Sports) before the game and placed him in the same category as Brooklyn Nets superstar Kevin Durant.
"I think he's the toughest cover in the game other than KD."

–Chauncey Billups on Nikola Jokic
Jokic is indeed a handful for opposing teams.
The Serbian big man has the size, strength, and footwork to score on the block. He can get all the way to the rim but also forces defenders to respect his jumper. Jokic can also orchestrate the offense from the top and shoots the ball better than 40% from beyond the arc, routinely dragging bigs out to the perimeter.
Jokic can score in a variety of fashions. But his vision and intellect are separators, and in some ways, make him even more difficult to cover than Durant.
Jokic and Kevin Durant dominate in different fashions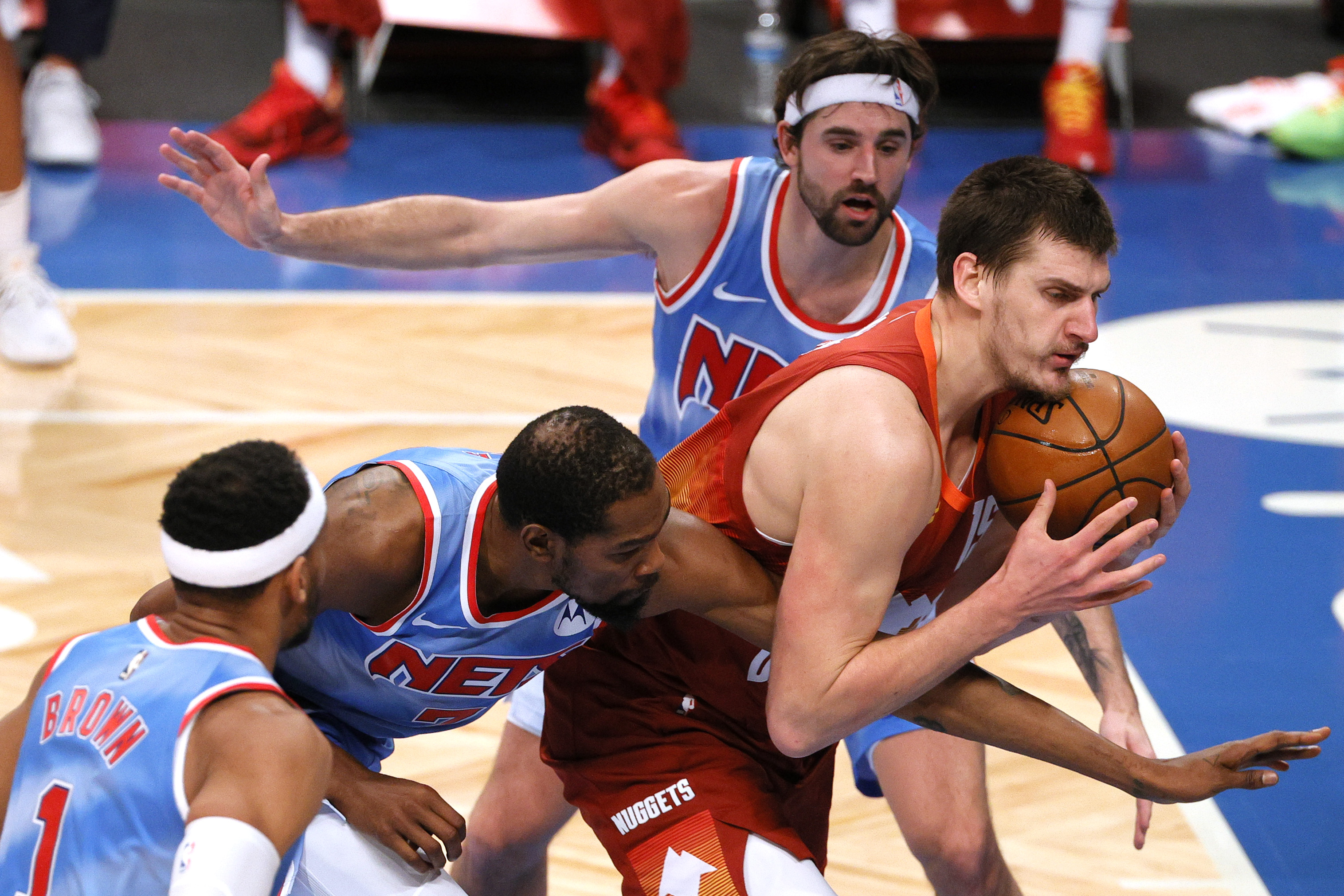 Nikola Jokic and Kevin Durant are difficult to guard for different reasons.
Durant's unguardable nature is predicated chiefly on his seemingly effortless scoring ability. He's essentially a 7-footer who can shoot from anywhere, pulling up off the dribble and firing 3-pointers in transition. Efficiency is a hallmark of KD's game. Through 17 games, he boasts the second-best true shooting percentage (66%) of his career. So he's not just hucking from beyond the arc.
Additionally, Durant understands how to get his spots and can break opponents down off the dribble. He can score laterally or get downhill and finish through contact at the rim.
As previously mentioned, Jokic can score. However, it's his passing ability that makes him so unique. He sees things develop before they even happen and manifests almost impossible passing angles. Jokic punishes poor rotations by throwing crisp cross-court passes. When defenses send doubles his way, he finds baseline cutters for easy scores.
Although the Nuggets star might not appear as dynamic as Durant, he impacts the game in numerous ways and almost always makes the right basketball play. He does not need to score to help his team win. The same cannot exactly be said for KD.
Both stars are early MVP candidates
Multiple stars are making early cases for the 2021-22 MVP Award, including Jokic and Durant.
Jokic is averaging 26.4 points, 13.6 rebounds, and 6.4 assists through 14 games. He also leads the NBA in a host of advanced metrics, including player efficiency rating (PER), box plus-minus, and value over replacement player (VORP). The Nuggets (9-9) are struggling, but Jokic's case will only grow stronger if he can help Denver get back on track.
Durant's numbers are every bit as impressive. The 2013-14 MVP narrowly leads Stephen Curry — who is on a historic pace in multiple categories — in scoring 28.5 points, 7.8 rebounds, and 5.1 assists. He's also doing it for a surging Nets team currently atop the Eastern Conference.
Time will tell how the remainder of the 2021-22 season plays out. But as Billups suggested, opponents will have their hands full whenever they match up against Jokic or Durant.
Stats courtesy of Basketball Reference.