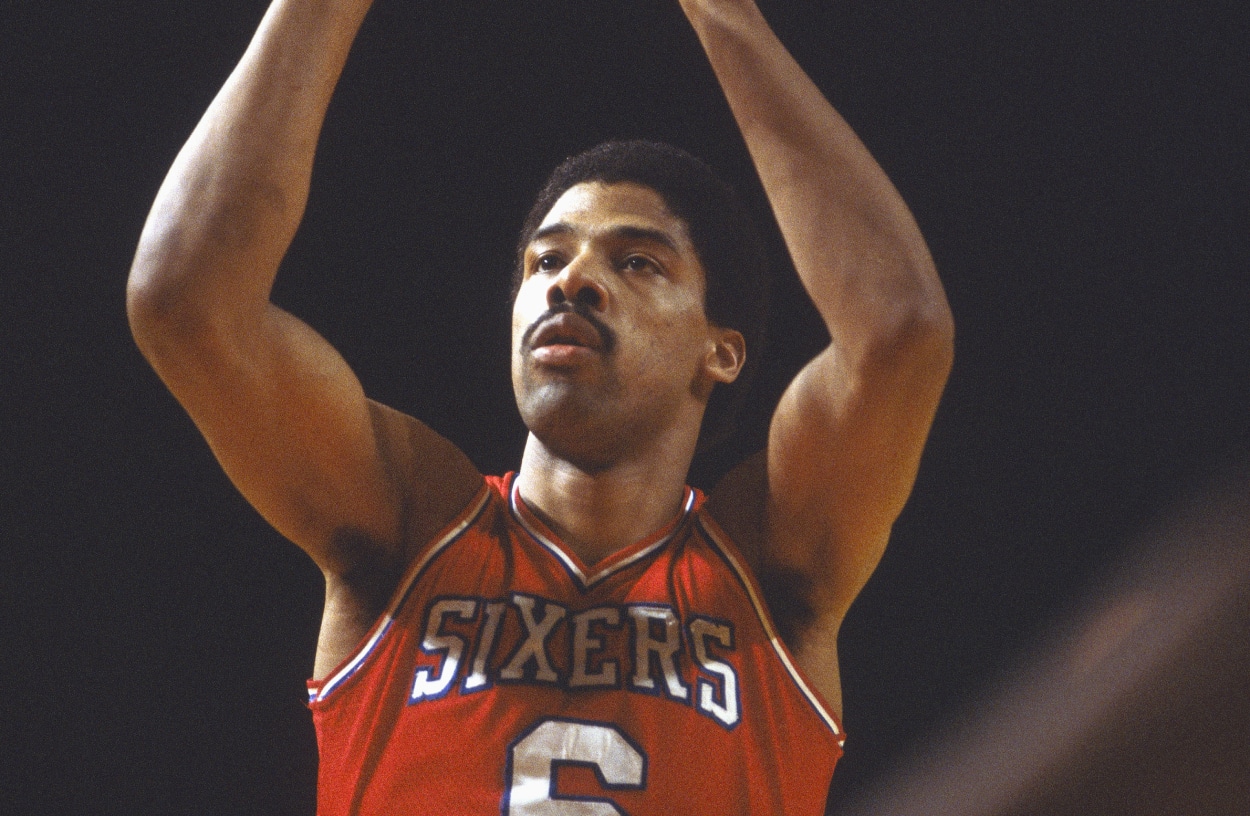 No Larry Bird and LeBron James? Julius Erving Might Have the Worst List of Top 10 NBA Players of All Time
Julius Erving's list of his top 10 NBA players in history doesn't include Larry Bird or LeBron James.
Even Trae Young called out Doctor J.
Hall of Famer Julius Erving recently gave his opinion on who he believes are the top 10 players in NBA history, and the young Hawks guard claimed the list "gotta be fake." Erving wasn't joking, but the fact he said it with a straight face is baffling. Everyone usually has an opinion on this subject, but the 11-time NBA All-Star's list might be the worst one we've seen.
Julius Erving rattled off his starting five with no problem
There's no question Julius Erving knows a thing or two about basketball. He played 16 professional seasons, his first five in the ABA. He combined to take part in 16 All-Star games and won four MVPs.
During a recent interview with NBA personality and model Joy DeAngela, Erving said there is no dispute when it comes to his all-time starting team of five players.
"I've got five guys who are untouchable," the former Philadelphia 76ers star said. "Bill Russell, Wilt Chamberlain, Oscar Robertson, Jerry West, and Elgin Baylor. That's my all-time best team. Everybody else has gotta be on the second team or third team.
"I made this decision when I was 15 years old. I'm sticking with it now, all these years later."
You can't go wrong with those five players. All five of those are legendary stars. It's the second group that gets a little sketchy.
Erving struggles mightily with the second half of his top-10 list
After Erving named his starting five, DeAngela asked him to finish his top 10. He rattled off three that most people would have in their top 10. Then he struggled mightily.
"The next group of guys would be Kareem Abdul-Jabbar, Michael Jordan, Earvin "Magic" Johnson," Erving said before thinking of his final two. "Probably Karl Malone. Who is my last guy? I always argue with my other son about where Tim Duncan belongs, and he's like, 'He belongs ahead of Karl Malone,' but I'm taking Karl Malone.
"That last position… I like Tiny Archibald."
"So, no Steph (Curry)?" DeAngela asked.
"Oh no," Erving said. "He hasn't played long enough. Everybody I named in there, their career is finished."
So, maybe LeBron James falls into the same category as Curry. James is a sure-fire top-10 player of all time, but if Erving's criteria is that his career must be over, we'll give him a pass.
Tiny Archibald? I don't believe there is anyone else in the world who has Tiny Archibald on their list of top 10 players ever. Ahead of Larry Bird? Ahead of Duncan? Hakeem Olajuwon? Shaq? Come on.
We'll give Erving an 8 out of 10 for this one, but his two misses seem to be way off the mark.