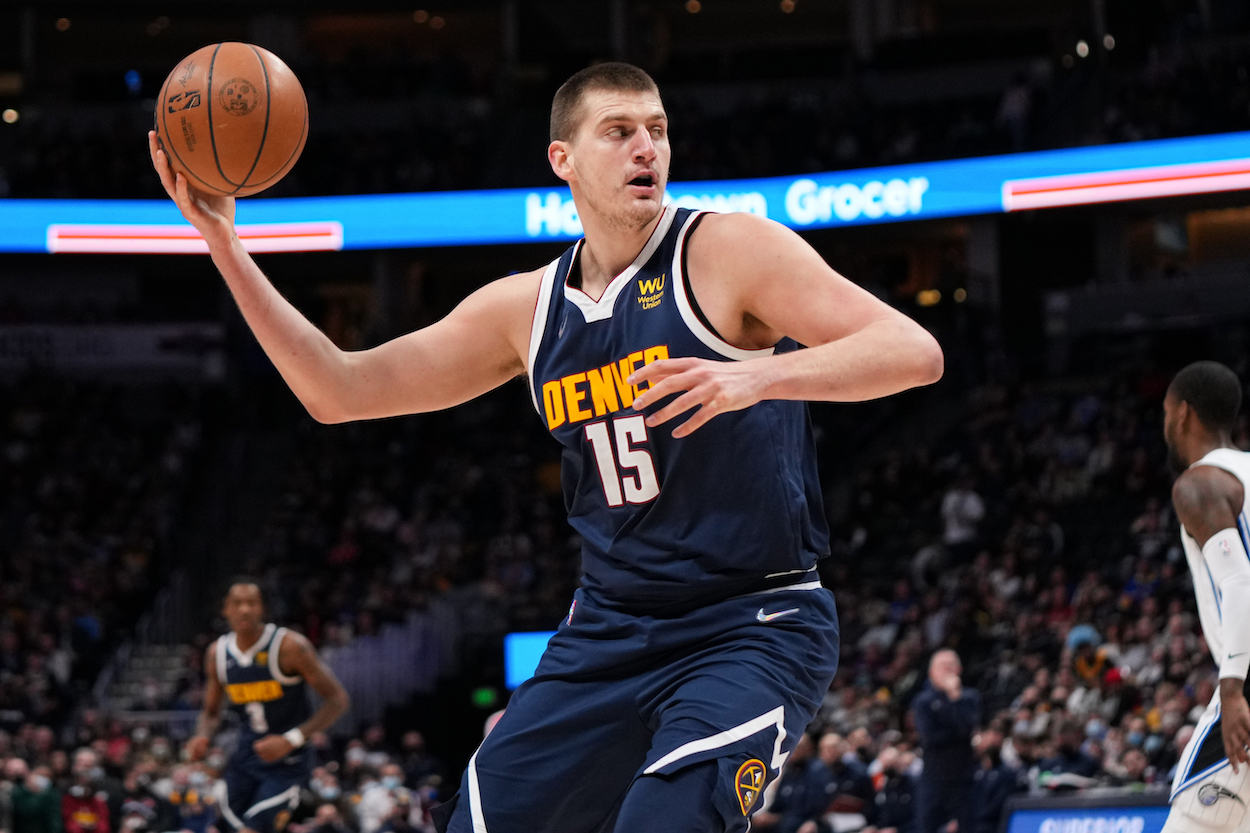 Nuggets Center Nikola Jokic, Battling for 2nd Straight NBA MVP, Is Already the Best 2nd-Round Pick in League History
Nikola Jokic may be in his age-26 season, but the one-time MVP and four-time All-Star for the Denver Nuggets has already asserted himself as the best second-round pick in NBA history.
Nikola Jokic, flinging water polo-style passes all over the hardwood, torturing defenders with his patented Sombor Shuffle, and carrying the Denver Nuggets whenever he's on the floor, has already established himself as a full-fledged superstar. 
Fresh off hoisting the 2020-21 NBA MVP trophy but perhaps still disrespected, he's battling it out with Philadelphia 76ers superstar center Joel Embiid, Milwaukee Bucks two-time winner Giannis Antetokounmpo, and a host of lower-tier contenders to repeat as the winner of the Association's most prestigious individual award. He's already taken the Nuggets to the Western Conference Finals, though the ensuing 2020 battle with the Los Angeles Lakers feels so long ago. 
He's even currently helping Denver navigate a rash of season-altering injuries (see: Jamal Murray and Michael Porter Jr.) to remain in the hunt for home-court advantage in the opening round of the playoffs. 
Along the way, Jokic has established himself as more than just one of the best second-rounders in the history of the modern NBA draft. He's now the shining example of the jewels general managers hope to unearth when anyone but the league commissioner is reading selections at the podium. 
Manu Ginobili, Marc Gasol, plenty more have been second-round steals themselves
Though the headliners at the top of the NBA's annual prospect pageant typically — and often justifiably — garner most of the attention, league history is littered with examples of draft steals. 
Manu Ginobili (No. 57 in 1999) Eurostepped his way to Sixth Man of the Year and four championships as part of the San Antonio Spurs' ahead-of-its-time Big Three.
Marc Gasol (No. 48 in 2007) submitted myriad defensive masterclasses, using his anticipatory greatness and preternatural instincts to helm some of the fearsome squads of the Memphis Grizzlies' grit-'n'-grind era.
Draymond Green (No. 35 in 2012) essentially filled the role of free safety for the dynastic Golden State Warriors, setting the defensive tone and emerging as a tremendous distributor while Stephen Curry and Klay Thompson drilled countless three-pointers. 
Digging deeper into the archives, front offices became justifiably giddy after selecting Maurice Cheeks (No. 36 in 1978), Dennis Johnson (No. 29 in 1976), Nate McMillan (No. 30 in 1986), Mark Price (No. 25 in 1986), Doc Rivers (No. 31 in 1983), and Dennis Rodman (No. 27 in 1986).
Danny Ainge. Gilbert Arenas. Trevor Ariza. Carlos Boozer. World B. Free. Danny Green. Spencer Haywood. Jeff Hornacek. K.C. Jones. DeAndre Jordan. Toni Kukoc. Rashard Lewis. Khris Middleton. Paul Millsap. Calvin Murphy. Isaiah Thomas. The list goes on and on, and that's before including undrafted players such as recently inducted Hall of Famer Ben Wallace. 
But none of them can match the success already contained within Nikola Jokic's ever-growing resume.
Even in his age-26 season, Nikola Jokic has a resume that tops them all
When Nikola Jokic became the 2020-21 MVP, averaging a jaw-dropping 26.4 points, 10.8 rebounds, and 8.3 assists while pacing a 47-25 Nuggets squad to the No. 3 seed in the Western Conference, he became the first and only second-rounder in the modern draft era to win that coveted award. (Willis Reed also won MVP after coming off the board with the first pick of 1964's second round at No. 10 overall, but that was before territorial selections were removed from the equation, ushering in that "modern" draft era.)
The Denver center may not have made the NBA's 75th Anniversary Team, instead falling in as a notable omission, but he's already on an unmistakable path toward induction in Springfield, Massachusetts. Basketball Reference's Hall of Fame Probability metric gives him a 43.0% chance of entry, and that's without the benefit of him playing out his full career and racking up the volume-based statistics necessary for a higher mark. 
Jokic is already a four-time All-Star, tied with Draymond Green and Paul Millsap for the most representation among second-round picks. He's been a part of three All-NBA teams and is basically a lock to grow that tally to four at the conclusion of his 2021-22 campaign. With three top-10 finishes in MVP balloting under his belt, he'll add a fourth such entry — and possibly a second win — before the summer solstice. 
But beyond the accolades, beyond the flashy passes that dazzle defenders and onlookers alike, Jokic has already done something previously outlandish for any player who's entered the league outside the first round: He's asserted himself as a legitimate contender for the title of "best player in the league." 
The accolades are just beginning for the Denver Nuggets' star center
Maybe you're not willing to give Jokic that title. Perhaps you're reserving it for LeBron James until he exits the Association. You might want to crown Giannis Antetokounmpo, Stephen Curry, Kevin Durant, or some other realistic contender. 
That's fine. 
Jokic is in the conversation either way, and that's not likely to change anytime soon. Not for a player whose game is based less on physical traits inevitably eroded by the unstoppable advance of Father Time and more on split-second reads of a defense, one-handed rebounds in traffic, and dizzying touch around the hoop. Plus, this horse enthusiast won't enter his 30s until midway through the 2024-25 campaign. Even if his game was predicated on explosive athleticism, he'd have a number of years left operating at peak powers. 
Predicting where Jokic goes from here is virtually impossible, if only because his career was already been equal parts unique and unpredictable. 
He's already turned himself into a legitimate defensive asset despite foot speed best described as — trying to be generous — meandering. What if he also returns to his 39.6% three-point clip from 2017-18 with more volume than ever? If he takes it upon himself to handle even more of the scoring burden in the Mile High City, could he follow in Joel Embiid's footsteps as a true big trying to break into the scoring race so often dominated by wings and guards in the NBA's three-point-happy era? 
Should Jokic stagnate from here, he would remain an annual lock for the All-Star festivities, a yearly candidate for All-NBA inclusion, and a fixture in the MVP balloting, whether near the top or toward the back end. Things often change quickly in the sports world, but little doubt should exist given his consistency as the nightly leader in Denver regardless of the strength of his supporting cast. 
Even more certain than that? Jokic, already the best second-round pick in modern NBA draft history, should be so far ahead of the field years from now that the emergence of any subsequent contender for that title will be deemed unfathomable. 
Unless otherwise noted, all stats courtesy of Basketball Reference.