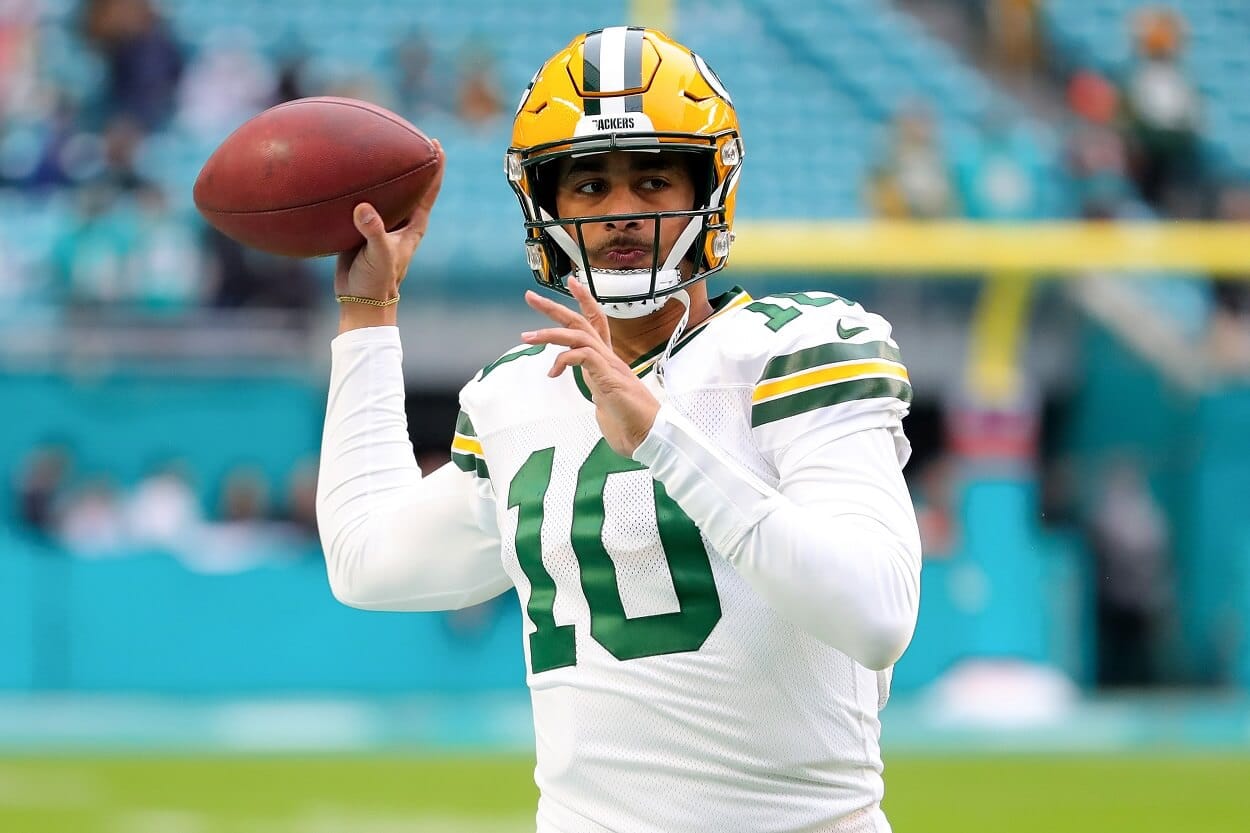 The Packers Potentially Saved $25 Million by Prematurely Paying Unproven QB Jordan Love
The Green Bay Packers recently signed quarterback Jordan Love to a one-year contract extension.
Despite having little interest in maintaining their relationship with future Pro Football Hall of Famer Aaron Rodgers, the Green Bay Packers seem to have the exact opposite feeling about a player with 83 passing attempts to his name. 
In fact, even though Jordan Love will enter the 2023 season with just a single start under his belt, it certainly looks like he's convinced enough front-office members to believe in his upside. Tasked with following in the footsteps of one of the greatest quarterbacks of all time while serving as the new face of one of the league's most historic franchises, the former Utah State standout clearly faces the most pivotal year of his football career. 
Luckily for Love, he now has some semblance of financial security thanks to a shrewd move by the Packers that could have significant salary-cap ramifications.
Green Bay took care of business early with Aaron Rodgers' replacement
Instead of leaving Jordan Love's future hanging in the balance heading into training camp, the Packers made the decision to extend his contract. On Tuesday, May 2, ESPN's Adam Schefter broke the news via Twitter that Green Bay agreed to a one-year, $22.5 million deal to keep Love around through the 2024 season. 
The franchise could have gone in a different direction and exercised the fifth-year option on his rookie deal. That would have allowed Love to collect $20.272 million in 2024, a substantial increase over the $2.3 million he will make this season. However, rather than taking that route (or declining the fifth-year option by Tuesday's deadline), Green Bay gave the talented but unproven signal-caller $13.5 million fully guaranteed to stick around for at least another year. 
With the NFL quarterback market exploding this offseason, it's clear teams must be willing to pay north of $50 million annually to have an upper-echelon player at the most critical position in sports. Obviously, though, Love's lack of experience makes it impossible to put him in the conversation to sign a big-money extension just yet. 
But by making the calculated move to extend the 2020 first-rounder for less than a third of that number, the Packers potentially saved north of $15 million in the process.
Paying Jordan Love prematurely could pay big dividends for the Packers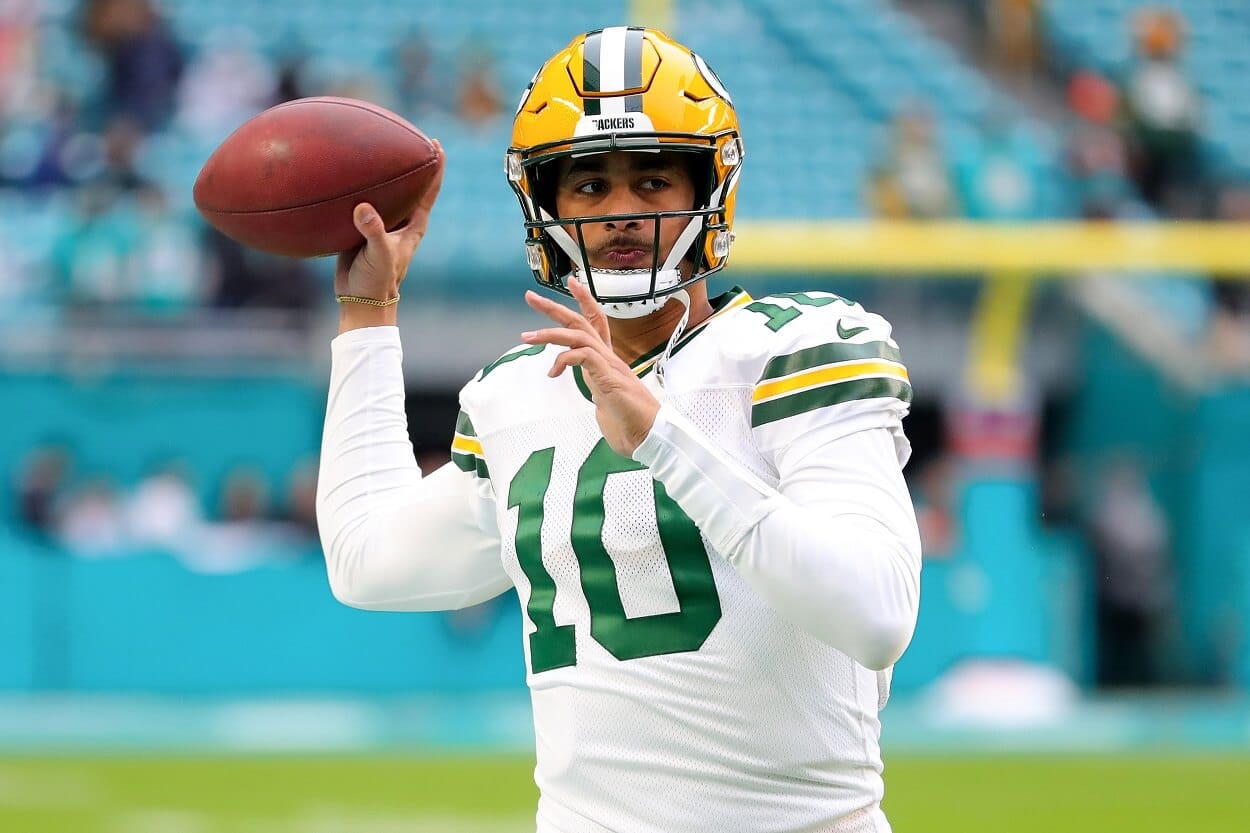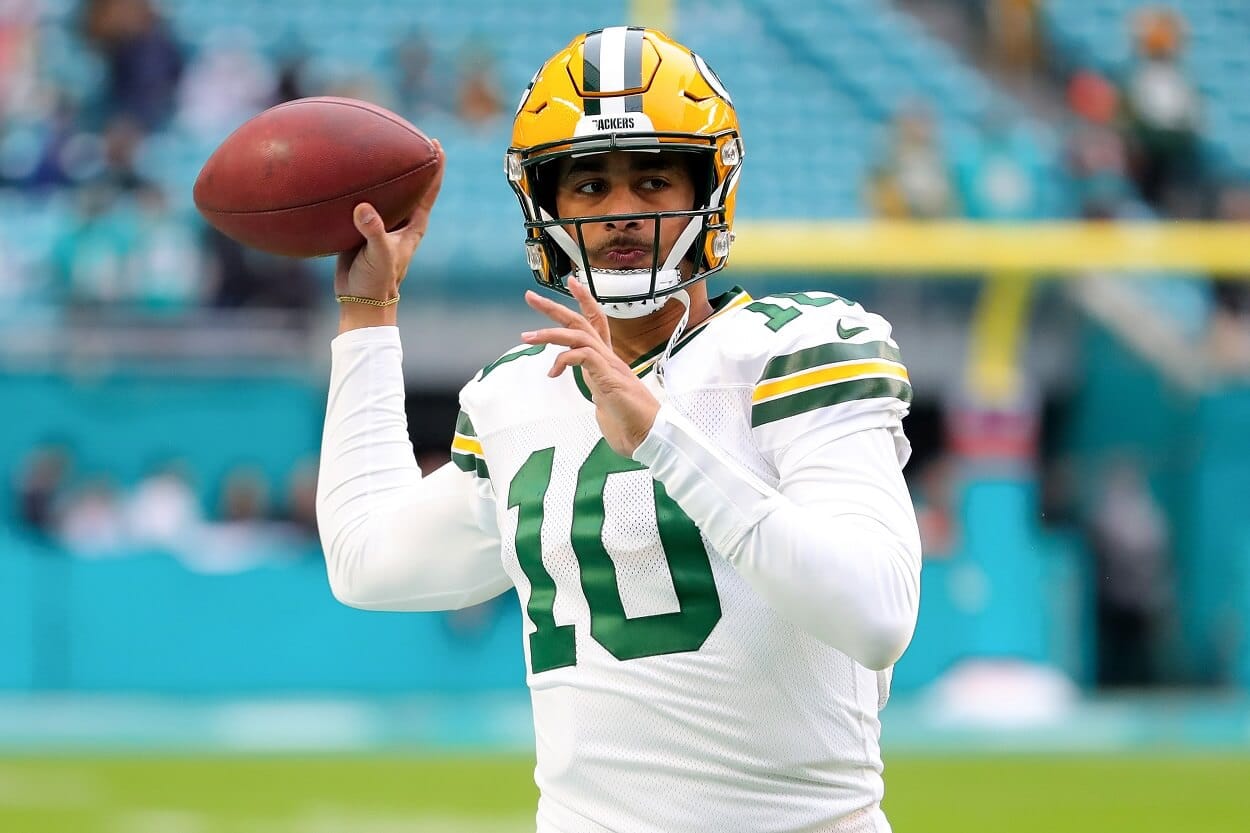 Was it a risk to sign Love to an extension even though he has just three touchdowns and zero wins on his NFL resume? 
On one hand, it's fair to question whether the front office should have waited to see him play at least a few games before guaranteeing a single dollar for 2024. On the other hand, after watching Jalen Hurts and Lamar Jackson sign record-setting extensions, and with proven stars like Joe Burrow and Justin Herbert next in line to become the NFL's highest-paid player, the Packers deserve credit for hitching their wagon to Love for what could be a major bargain. 
After all, if the two sides hadn't come to terms by Tuesday's deadline, the price tag could have skyrocketed next spring. 
Let's say Love entered the 2023 season on the final year of his rookie deal. If he played well, the Packers would have been forced to use the franchise tag or sign him to a market-level extension.
According to a tweet from Sports Illustrated's Albert Breer, the tag number for 2024 at quarterback should be north of $38 million. So, by signing Love for just $13.5 million guaranteed, the Packers scored a savings of at least $25 million for next season. And for a team that's made a habit of moving on from expensive veterans, possessing that type of financial flexibility could pay major dividends once free agency gets underway. 
Of course, if Love plays up to his potential in an offense featuring plenty of new faces, he won't be a bargain much longer. Then again, given all the turnover on that side of the ball, it's fair to wonder whether the 24-year-old will live up to expectations in 2023.
Have the Packers surrounded Love with a sufficient supporting cast?
The youth movement is officially on in Green Bay. 
Not only have the Packers gone from having one of the league's most experienced and decorated quarterbacks leading the huddle to betting on an unknown commodity to bring the Lombardi Trophy back to Lambeau, but they've also built their offense around a bevy of early-round draft picks. 
After relying on All-Pro wideout Davante Adams for years, Green Bay's pass-catching corps consists of a bunch of talented youngsters teeming with upside. From big-bodied 2022 second-round pick Christian Watson to promising second-round rookie Jayden Reed, Green Bay boasts plenty of potential at the position. At the same time, though, you have to wonder whether Love would benefit from having a bonafide, proven player headlining the receiver depth chart. 
Meanwhile, the tight end position also boasts plenty of that dreaded word in NFL circles: potential. Between second-rounder Luke Musgrave and third-rounder Tucker Kraft, the Packers added two athletic players who could form a dynamic duo for the next decade. 
A word of caution, though: Tight ends typically take at least a few years to fully come into their own. 
Does that timeline match up with Jordan Love's own developmental curve? 
Plus, what type of protection and production will the offensive line provide in 2023? When healthy, the left side of the Packers' line is elite. However, Pro Bowlers David Bakhtiari and Elgton Jenkins both come with major durability concerns. 
Meanwhile, the right side of the line is young, with center Josh Meyers (2021, second round), guard Jon Runyan (2020, sixth round), and tackle Zach Tom (2022, fourth round) all arriving in recent years straight out of college. Needless to say, Brian Gutekunst is a big believer in his ability to build through the draft. 
For Packers fans' sake, hopefully, he and his staff scouted wisely.