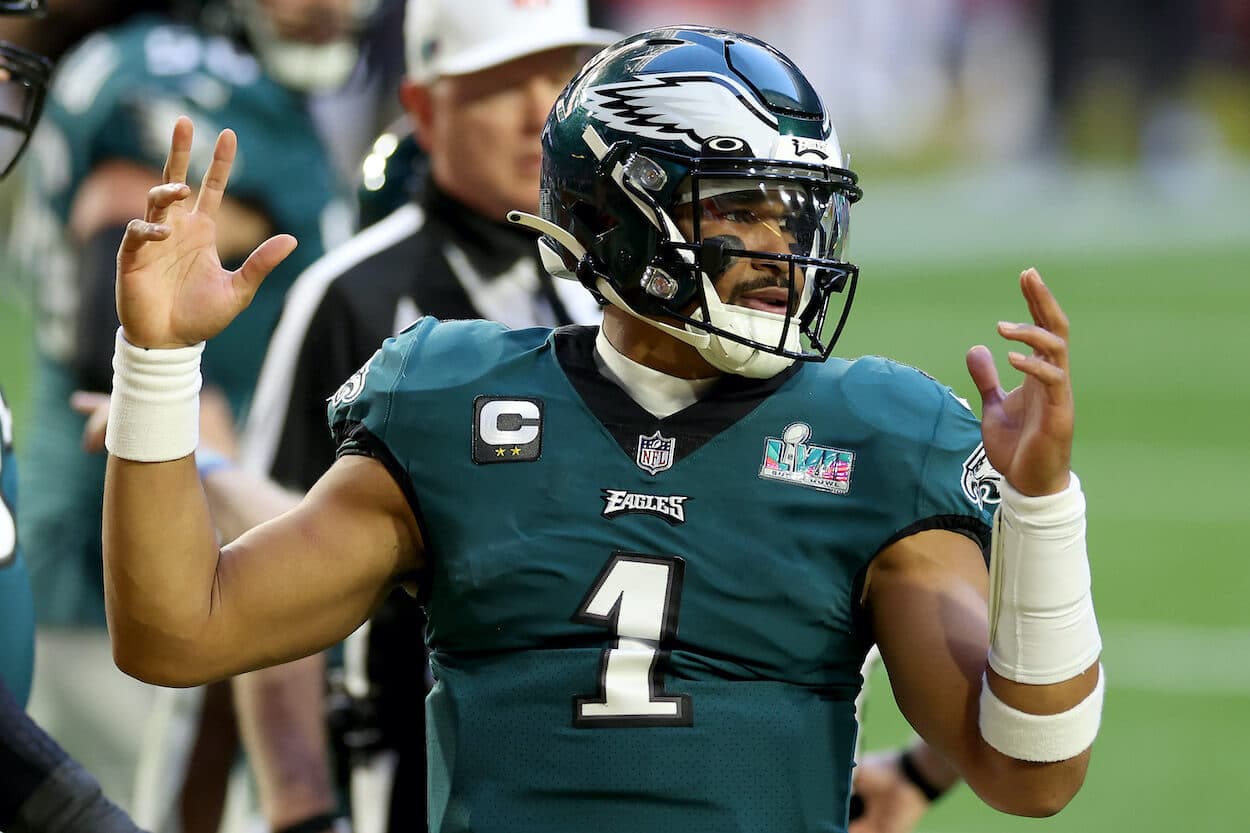 Jalen Hurts' Fire Continues to Burn After Signing Historic $255 Million Contract: 'Money Is Nice, Championships Are Better'
Jalen Hurts is now the highest-paid player in NFL history, but he says none of that matters unless he wins a Super Bowl.
"Keep the main thing the main thing."
That's been Jalen Hurts' mantra since he joined the Philadelphia Eagles in 2020. No matter how many distractions there are, and no matter how many doubters try to take him down, Hurts is always going to focus on one thing and one thing only: being the best football player, leader, and man he can be.
That mindset will be tested in the coming years with the biggest distraction of all — his new $255 million contract — being finalized last week. It's easy for players to get complacent and lose focus on the ultimate goal after acquiring generational wealth. But Hurts, despite recently becoming the highest-paid player in NFL history, is always going to keep the main thing the main thing.
The "fire continues to burn" for Jalen Hurts despite becoming the highest-paid player in NFL history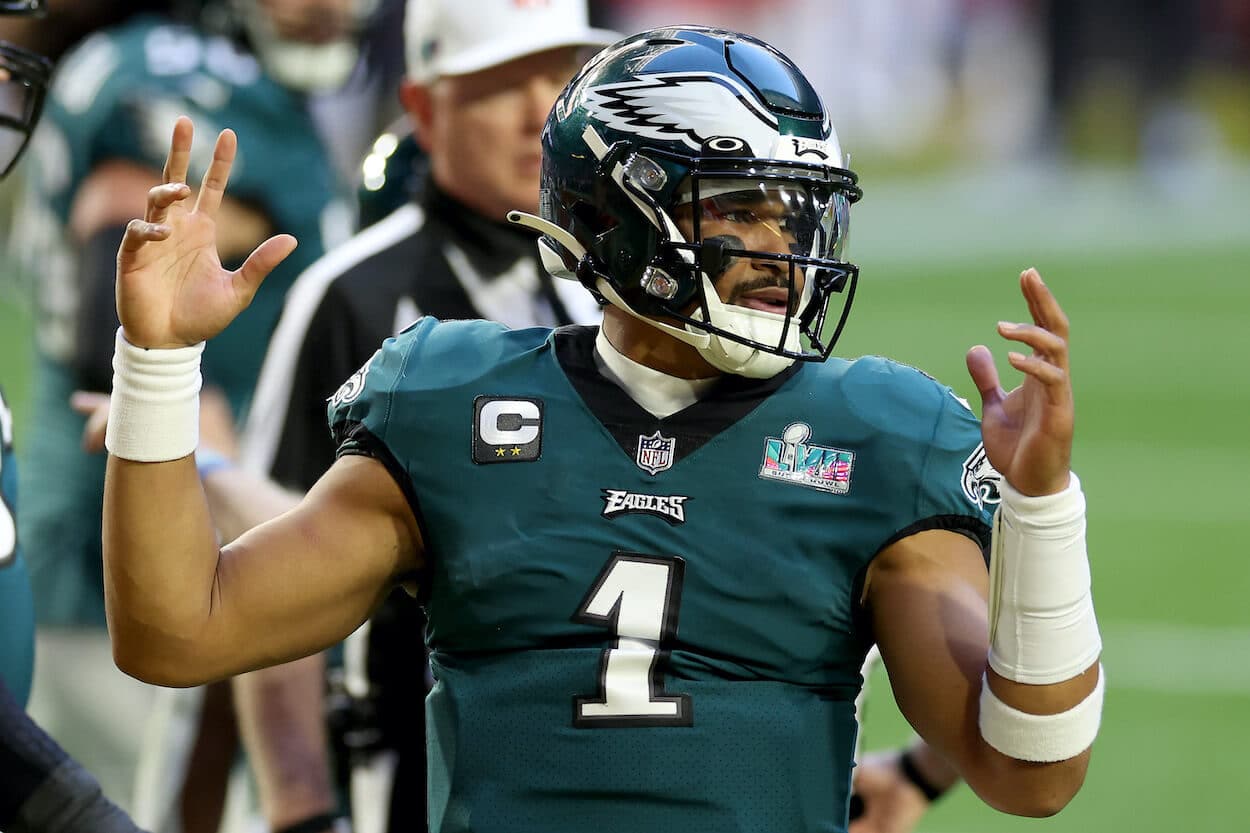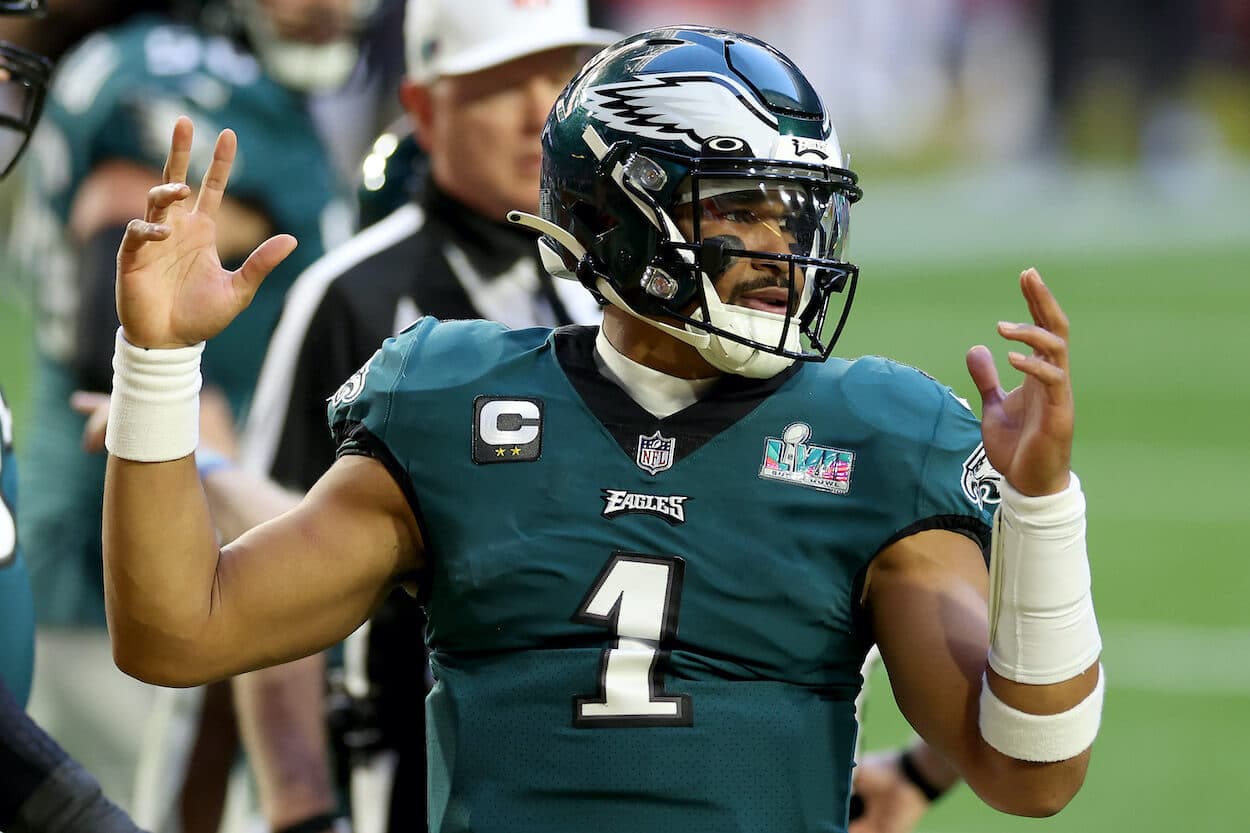 Jalen Hurts had a good reason to celebrate last week when he signed a five-year, $255 million contract extension with the Eagles. With $51 million in average annual salary, Hurts is now the highest-paid player in the history of football (for now, at least).
It's truly been a remarkable journey for Hurts, who transferred from Alabama to Oklahoma after losing his starting job and entered the NFL as a backup to Carson Wentz, to reach this point. Three years and a Super Bowl appearance later, and he's now the highest-paid player in the NFL.
But Hurts didn't take much time to relish his historic payday. The star quarterback returned to the Eagles' facility today donning a midnight green suit, and he relayed to the fans that his work has just begun.
"It's not a moment where I can reflect because the journey's not over," Hurts told reporters Monday. "It's really hard for me to do that, but I know I've walked through the fire time and time again, and in the end, it's only made me stronger. I've just been on this constant quest to be the best player I can be, with no limits. I'm just trying to be the best leader and man I can be, and that will never change. The hard work continues, and the fire continues to burn."
That's exactly what you want to hear out of your franchise quarterback. It's how Hurts has approached his career since the day he got drafted, and it won't change no matter how much money is in his bank account.
Jalen Hurts still focused on the main thing after signing $255 million contract
We've seen countless athletes over the years lose focus on the ultimate goal after signing massive contracts. The work ethic decreases and the desire to win and be the best suddenly disappears because of the money. Philly fans experienced that transition just recently with Ben Simmons (sorry to bring it up).
But Hurts isn't one of those players, and he intends to prove it over the length of his five-year contract extension.
"They say it's an exciting moment, this moment right here, but I think I've set the precedent for what it is that I desire," Hurts said. "I think for me it's so hard because my mind is everywhere, and I just really can't help but keep the main thing the main thing, and what I set out to do, and what this organization is set out to do. The only thing that I've ever wanted to do is be the best version of myself, and that hasn't changed. That won't change.
"Keep the main thing the main thing. I love the game. I love the grind. I love the hustle that it takes. And the hard work continues. Everything continues. I wouldn't be where I am today, to have the opportunity to lead this city, without this game, so, I'm gonna put everything into it."
Reporters kept badgering Hurts about his record-setting contract at the beginning of the press conference, but his focus is already on the future.
Money is nice, championships are better.

Jalen Hurts
Eagles fans, you've got yourselves a franchise quarterback.