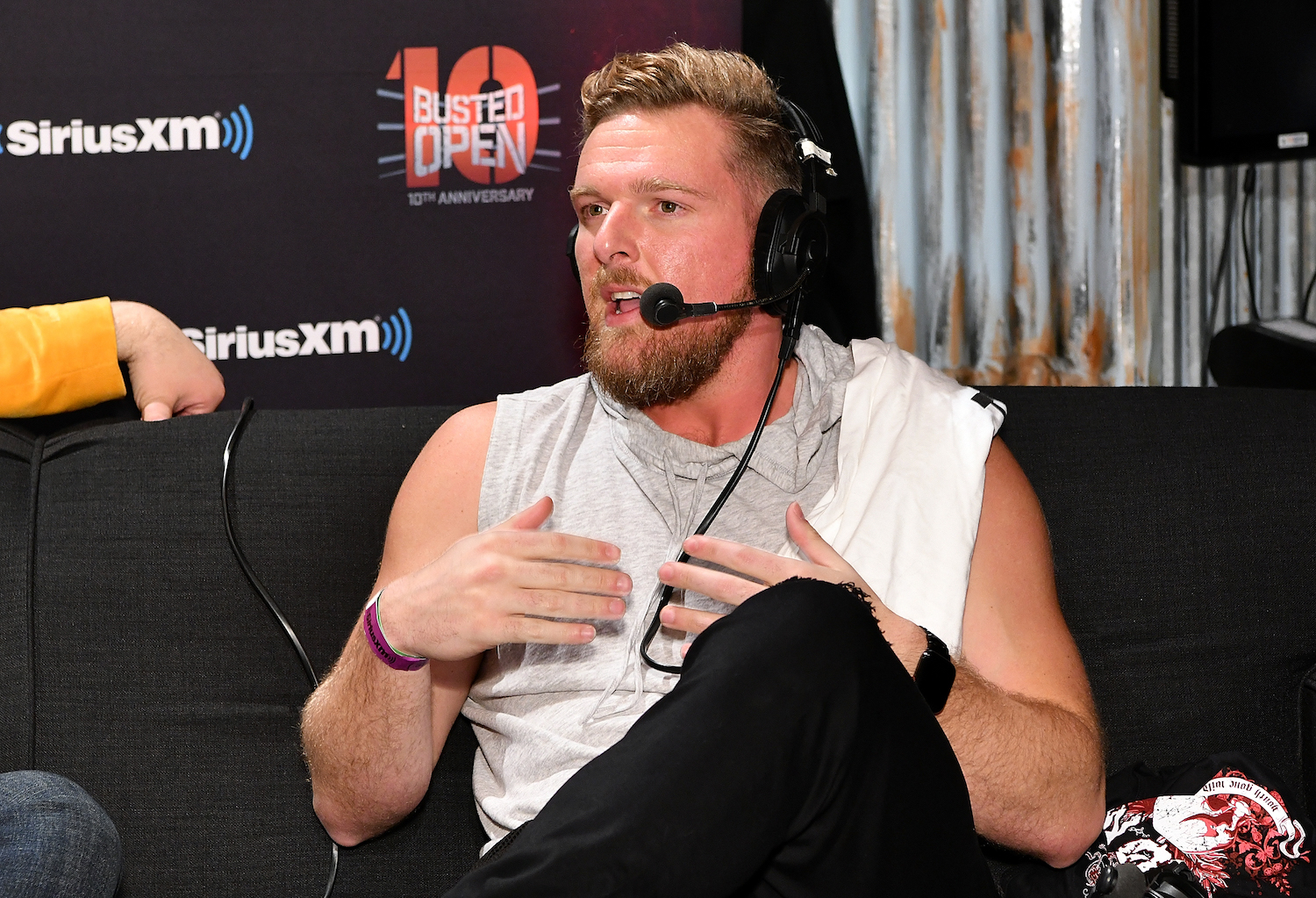 Pat McAfee Owes Much of His Success to a Mushroom Trip in College
After a successful NFL career, Pat McAfee is one of the most entertaining voices in sports talk. He attributes much of his success to a mushroom trip in college.
Pat McAfee is one of the most entertaining voices in the sports talk space today. The former Indianapolis Colts kicker/punter has smoothly made the transition from athlete to talking head. He has proven to be an adept interviewer who asks his guests interesting questions while carrying on an entertaining conversation that features a good blend of substance and wit. McAfee revealed to his audience this summer that much of his success is the result of a mushroom trip back in college. 
Pat McAfee has ups and downs at West Virginia 
RELATED: Was Pat McAfee Any Good As an NFL Player?
Pat McAfee was discovered at a kicking competition in Florida and later accepted a scholarship to play at West Virginia. After his freshman season, where he went 11-of-18 on field goals, McAfee improved his sophomore year, converting on 17-of-22 attempts. He also added punting duties and finished the year averaging 43.2 yards per punt.  
His junior season started off on the wrong foot when he missed an extra point, breaking his streak of 106 consecutive extra points. It was a precursor of things to come. 
West Virginia was having its best season in years and was ranked No. 2 in the nation when they faced a four-win Pittsburgh Panthers squad in the final Big East regular-season game of the year. McAfee missed a pair of field goals, the Mountaineers lost 13-9, and fell out of national title contention. It was a turning point in his career and his life.
During Pat McAfee's senior season, he rebounded and finished the year converting on 17-of-20 field goal attempts. He also had his best season as a punter averaging 44.7 yards per punt. 
Pat McAfee becomes Pro Bowler with Indianapolis Colts
The Indianapolis Colts selected Pat McAfee in the seventh round of the 2009 NFL Draft. Interestingly, McAfee was designated the team's punter and kickoff specialist. Veteran kicker Adam Vinatieri handled field goals. McAfee made the All-Rookie Team as a punter averaging 44.3 yards per punt.
For the next eight seasons, McAfee performed both duties with the Colts. In 2014, he finished the year averaging 46.7 yards per punt, earned his first Pro Bowl nomination, and was also named a First-Team All-Pro.  
Pat McAfee, who was also known as one of the best tackling and biggest-hitting kickers in NFL history, had his best season in 2016, averaging a very impressive 49.3 yards per punt to lead all NFL punters. He earned his second Pro Bowl nomination. A few months later, McAfee announced his retirement from the game to pursue a media career. 
A mushroom trip changed McAfee's career trajectory
Since Pat McAfee retired from the NFL, he's worked with a variety of media companies, including Barstool Sports, Fox Sports, and ESPN. He currently hosts a daily sports talk show on SiriusXM. 
McAfee reflected on his career in June and said it was after his junior year at West Virginia, when he missed those two kicks and received 27 death threats that he decided it was time for a change in his life. 
"At that point, I decided I was not going to drink anymore, so really my only thing was — spice wasn't even around then — or I do mushrooms. And I enjoyed them. I remember I had one night… I'll never forget in the kitchen. It was like the end of the night, and we were winding down from the (mushroom) trip. I had like an epiphany moment, and I said, 'You know what, I'm going to stop fu**ing around. I'm going to start focusing on being a good ball kicker. That's what I'm going to do. Instead of the $40,000 in party loans and the penny pitchers and the Drink 'Til You Drown Thursday, which I've gotten by with the last three years, I'm going to put this away.' It was like a real moment of clarity for me. And I did that.
"I wake up the next morning around 11 or noon, and I legitimately felt like a whole new person. I was a little bit more driven. And I don't know why — maybe it was just because I had finally made the decision to do so — but you could see everything for me just kind of turn up. I got a lot better."
Today, Pat McAfee is one of the most entertaining listens on sports talk radio. It's a result of years of hard work on the football field, a natural gift to interact with his guests, and one night in the kitchen with his buddies on a mushroom trip. 
All stats courtesy of Pro Football Reference.