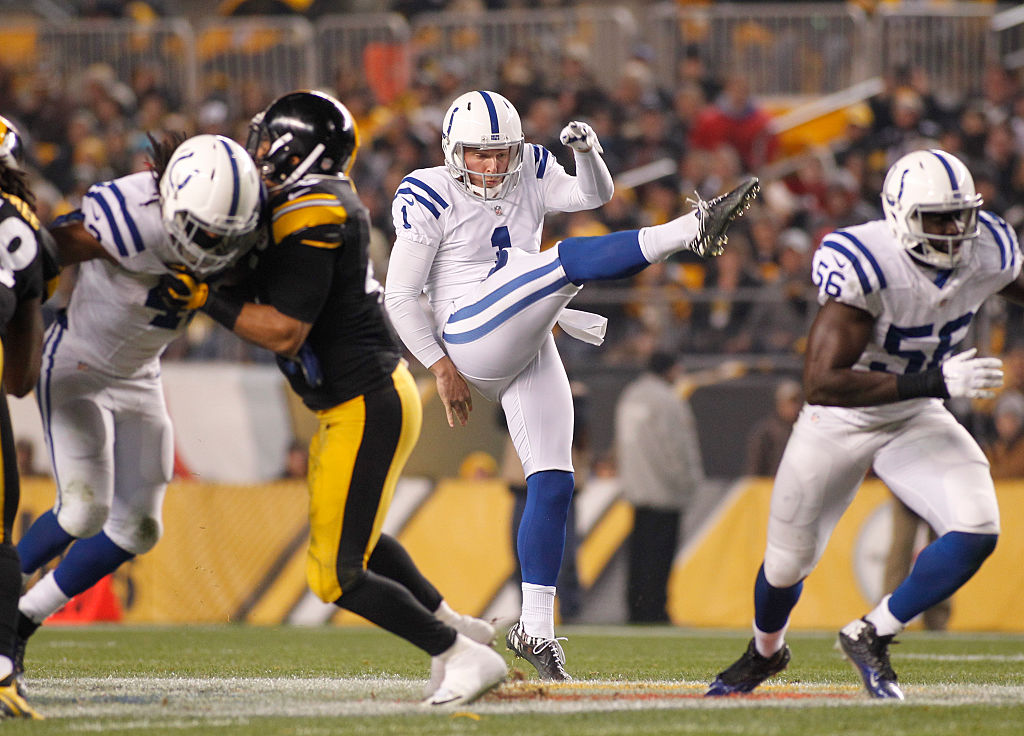 Was Pat McAfee Any Good As an NFL Player?
While Pat McAfee has made a name for himself in the sports media space, was he any good as an NFL punter?
When it comes to sports broadcasts, most booths follow the same format. Veteran play-by-play broadcasters, like Jim Nantz or Al Michaels, narrate the action and set the stage, while color commentators, like Tony Romo and Cris Collinsworth, provide detailed analysis. Generally, the latter group consists primarily of former players. Then, there are guys who can't be neatly slotted into one category, like Pat McAfee.
While McAfee was a former punter, his resume transcends the gridiron; he's a football analyst, a comedian, and a podcaster, among other things. But was he any good as an NFL player?
Pat McAfee's playing career
Punters and kickers can often seem like boring afterthoughts filling out a football team. Pat McAfee, however, was anything but that.
During high school, the punter famously borrowed some cash from a friend and headed to an illegal poker club; he then used his winnings to pay his way to a kicking competition. While he ended up losing out—his 70-yard field goal attempt had the distance but drifted wide— West Virginia liked what they saw and offered McAfee a scholarship.
McAfee spent four seasons with the Mountaineers, handling punting duties and converting 210 of 212 total extra points; he also knocked 58 of 79 field goals through the uprights. While he wasn't invited to the NFL scouting combine, he did get a chance to strut his stuff at the next level.
The Colts selected McAfee in the seventh round of the 2009 NFL draft; while the club already had Adam Vinatieri on the roster, the rookie handled punts and kickoffs. He would spend eight total seasons in Indianapolis before retiring in 2016 after his third knee surgery.
Moving into the world of sports media
While plenty of former athletes move into sports media, Pat McAfee didn't waste any time making the transition. In the same tweet where he thanked Colts fans for their support, the punter announced that he was joining Barstool Sports; the Pat McAfee Show existed under the brand's umbrellas until the parties parted ways in August 2018.
Beyond his eponymous show and podcast, which still exists independent of Barstool, McAfee has also been making inroads into more conventional sports media. The former punter started covering NCAA and NFL games during the 2018 campaign; a year later, he started appearing as a part of ESPN college football coverage. McAfee is also serving as a sideline reporter for the new incarnation of the XFL and has a deal WWE.
During the 2019 offseason, McAfee also tried to land a job on ESPN's Monday Night Football broadcast, but fell short; when Jason Whitten returned to the NFL, the network decided not to replace him. Since then, however, the broadcast has struggled. While Peyton Manning is still ESPN's white whale, McAfee could be an intriguing back-up plan with his unique blend of personality and NFL insight.
Was Pat McAfee any good as a player?
While a punter's stats might not jump off the page in the same way as a quarterback's, the numbers still exist. Those prove that Pat McAfee was a pretty good NFL player.
During his eight seasons with the Indianapolis Colts, McAfee appeared in two Pro Bowls and was a 2014 All-Pro; he was also a member of the PFWA All-Rookie Team in 2009. He finished his career with an average of 46.4 yards per punt, which currently is the eighth-best in NFL history, and some impressive net punting averages. McAfee also had a knack for executing onside kicks, which are infamously tough to pull off consistently. Punters might not steal the show, but those sorts of performances can make a difference at the highest level.
These days, Pat McAfee is known more for his media work and personality than anything else. During his NFL career, however, he was a pretty good punter.