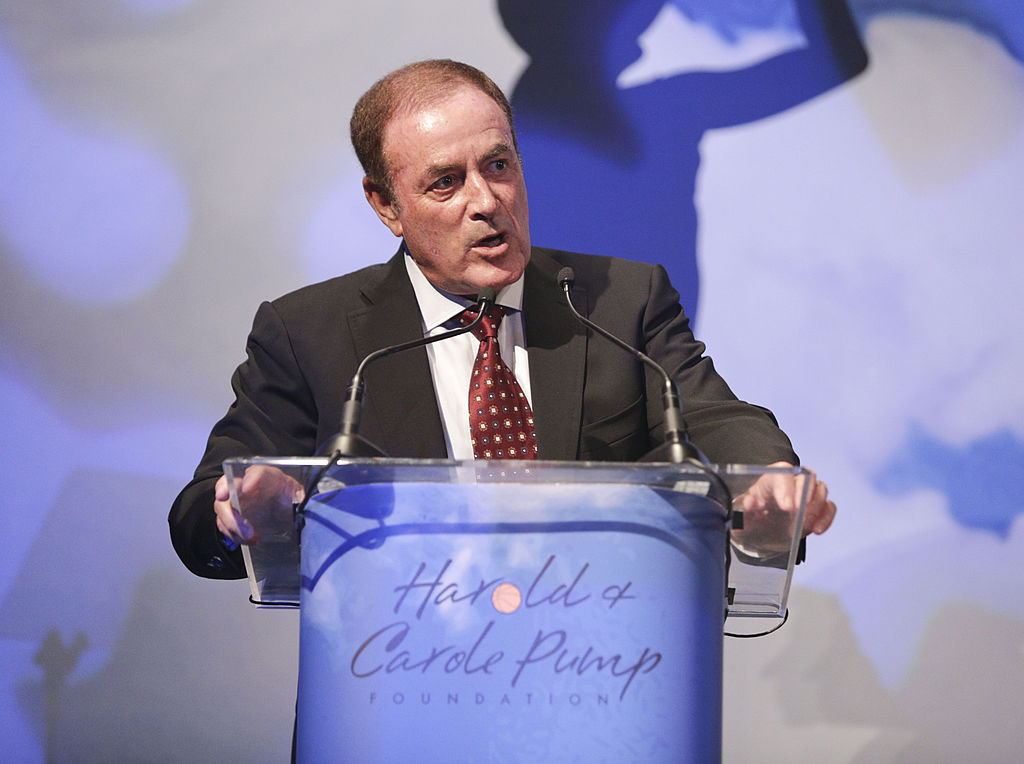 Will Al Michaels, Peyton Manning Be ESPN's 'MNF' Dream Team?
ESPN continues to look for star power in the booth to give a boost to its Monday Night Football telecasts, possibly leading to a bigger NFL contract.
The biggest question in football as the NFL inches toward the start of the annual free agency period is whether Tom Brady could really leave the New England Patriots to play quarterback for another team.
The second-biggest question seems to be what ESPN has in mind for revamping "Monday Night Football" and whether Al Michaels can help.
Landing Al Michaels would be a big win for ESPN
Last week's big news in broadcasting was the decision by Tony Romo to remain at CBS alongside Jim Nantz on the network's No. 1 football announcing team. CBS offered the retired Dallas Cowboys quarterback enormous money to stay in the face of a big offer from ESPN.
Word quickly leaked that the backup plan for CBS was to go after ex-Indianapolis Colts and Denver Broncos great Peyton Manning as its lead analyst if the network couldn't work out the new deal for Romo.
Meanwhile, ESPN has been spinning its wheels, which is why a report that the network might want to land Al Michaels as its play-by-play man is getting so much attention. The cable network saw an uptick in ratings for its NFL games last season but it's safe to say that not many people were tuning in to hear play-by-play announcer Joe Tessitore and color commentator Booger McFarland.
Ratings are a function of matchups. A game between the Dallas Cowboys and Kansas City Chiefs is going to attract a bigger audience than one between the Jacksonville Jaguars and Buffalo Bills, and the announcers won't have an impact at all.
Where the announcers do matter is when a projected exciting game turns into a blowout and viewers need a reason to stick around instead of flipping the channel over to a "Seinfeld" rerun.
Why does a star-studded team of announcers matter?
Aside from hanging on to viewers during a dull game, there is one other crucial reason that the networks want to put big-name announcers in the booth: They want the NFL to like them.
As soon as the NFL and its players' union reach a new agreement on a collective bargaining agreement the league will turn around and finalize TV agreements to replace those that expire after the next two seasons. The strategy is to get the networks bidding against each other for the most attractive packages, namely the Sunday afternoon and night games, when the audiences are large.
The networks do their bidding both with money and prestige. NBC landed the Sunday night games beginning in 2006 by convincing the NFL that it would turn the weekly telecasts into major productions that would make viewers feel as though it was the most important game of the week. ESPN couldn't offer the same commitment.
NBC did that in part with a roster of announcers on the pregame show and the game telecast that ESPN has never been able to match. The impressive list of names has included: Bob Costas, Al Michaels, Cris Collinsworth, Dan Patrick, Peter King, and Tony Dungy.
What might be next for ESPN?
ESPN appears ready to fight hard to retain "Monday Night Football" or possibly pick up an even bigger package of games that includes Super Bowls on ABC. Securing top talent to call the games is part of the strategy, which is why Al Michaels' name has suddenly come up in a report in The New York Post.
Michaels, 75, is a huge name in the business and would be a good fit for an inexperienced partner in the booth because he understands how to serve up questions that elicit insightful responses.
Michaels still has two years left on his contract at NBC and is already working on the most-watched football telecast of the week, which means both the announcer and his employer will need to be compensated significantly.
If ESPN pries Michael loose, there's still the matter of who would serve as the analyst. ESPN has already tried and failed to sign Peyton Manning before. The latest report is that network executives will take another run at him and then move on to Philip Rivers if necessary. Rivers is seemingly done playing for the Los Angeles Chargers but may not be ready to retire.
The newspaper story noted the possibility of a three-man booth of Michaels, Manning, and former Indianapolis Colts center and current ESPN analyst Jeff Saturday. Besides being knowledgeable and articulate, Saturday would be a familiar face who could make Manning's transition into announcing more comfortable.