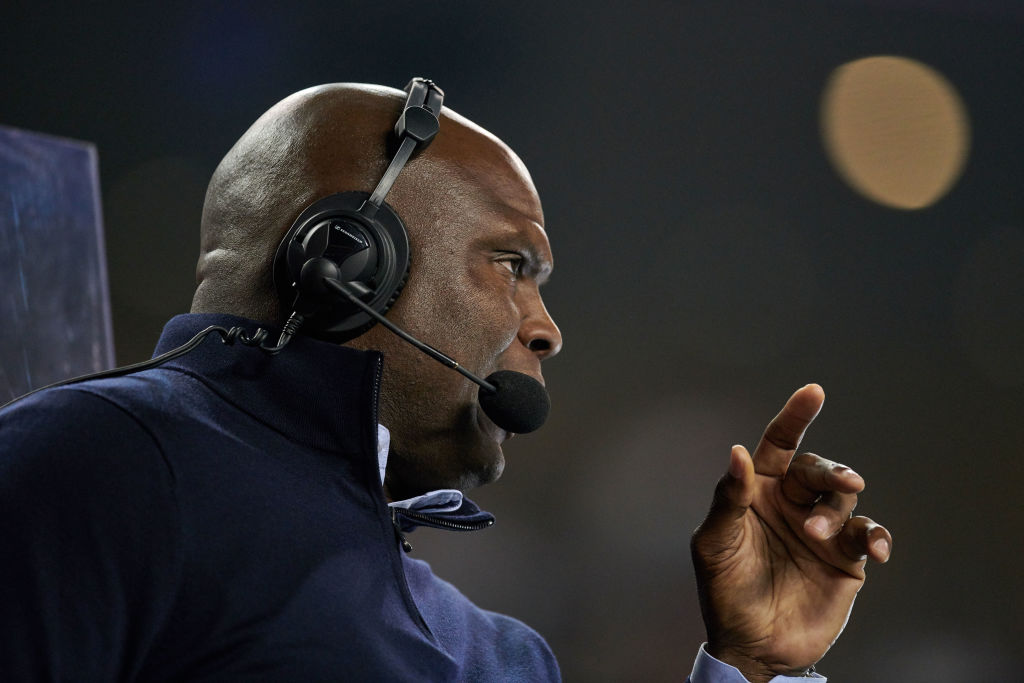 How Monday Night Football's Booger McFarland Handles His Twitter Haters
Monday Night Football's Booger McFarland isn't the most popular man on social media. Booger, however, isn't too concerned with his Twitter haters.
Social media has fundamentally changed how we interact with sports. While there are positives—even the most isolated fan can find a digital community—plenty of negatives exist, too. When everyone has a soapbox, it's easier to share criticism; no one, including broadcasters like Booger McFarland, can completely escape the firing line.
Everyone has their own way of dealing with negativity, however. McFarland, for example, handles his Twitter haters in one specific way.
Booger McFarland's time as a defensive tackle
After growing up in Louisiana, Booger McFarland took his talents to LSU. He made an immediate impact as a freshman, starting every game on the Tigers' defensive line; in addition to posting 73 total tackles, he also slotted in as a fullback in short-yardage offensive situations. By the time he left Baton Rouge, he had won three bowl games; as a senior, he served as a team captain, earned All-Amerian and All-SEC honors, and appeared in the Senior Bowl.
The Tampa Bay Buccaneers selected McFarland with the 15th overall pick of the 1999 NFL draft, and the big man never looked back. During eight seasons in Florida, he dominated the defensive line; he recorded 211 combined tackles, 141 solo tackles, and 20 sacks with the Buccaneers, helping the club win Super Bowl XXXVII.
In October 2006, however, McFarland's career took a turn. The Indianapolis Colts needed a new defensive lineman to help compliment their potent offense; head coach Tony Dungy had worked with Booger in Tampa, and the two clubs were able to work out a deal sending the lineman to Indiana. The move paid off, as the Colts lifted the Lombardi Trophy.
Trading a helmet for a microphone
After winning the Super Bowl with the Colts, Booger McFarland was looking forward to another season in Indy. A serious knee injury, however, forced the lineman to retire.
In 2012, McFarland returned to public life after accepting a radio job in Tampa; when the station switched from sports to music, Booger switched to TV, appearing on ESPN's SEC Network. That opportunity allowed him to hone his craft, adjusting to life on camera without the pressure of appearing on bigtime broadcasts.
McFarland got called up to the big time in 2018, however, as ESPN announced that the former lineman would join the Monday Night Football broadcast alongside Joe Tessitore and Jason Whitten. McFarland spent that initial season on the sidelines in the infamous "Booger Mobile" before moving upstairs this year.
How Booger McFarland handles his Twitter haters
While Booger McFarland has ascended to one of the biggest jobs in sports broadcasting, the climb hasn't been without issues. Every Monday night, social media is teeming with reactions to his commentary; everyone, from fans to active players, is ready another infamous Booger mistake.
McFarland, however, isn't too concerned with what's happening on Twitter. "It doesn't bother me whatsoever because I don't serve Twitter. My bosses are ESPN and Disney," he explained to Rob Torone of The Philadelphia Inquirer. "I listen to my producer, I listen to my play-by-play guy. I don't go into a broadcast and say, 'Man, tonight I'm going to please Twitter.' I honestly could care less about social media."
Mistakes, according to McFarland, as simply a reality of the job; no commentator is ever going to be perfect. "When you're on live TV for three and a half hours, it's never going to be perfect," he continued. "[Cris] Collinsworth talked about Dak [Prescott] buying his mom a house, and Dak's mom has been dead for several years. Things happen, and you own it, you correct it, and you move on."
Say what you want about Booger McFarland's commentary, but he certainly owns it. When you turn on Monday Night Football, there's no doubt who's calling the game.