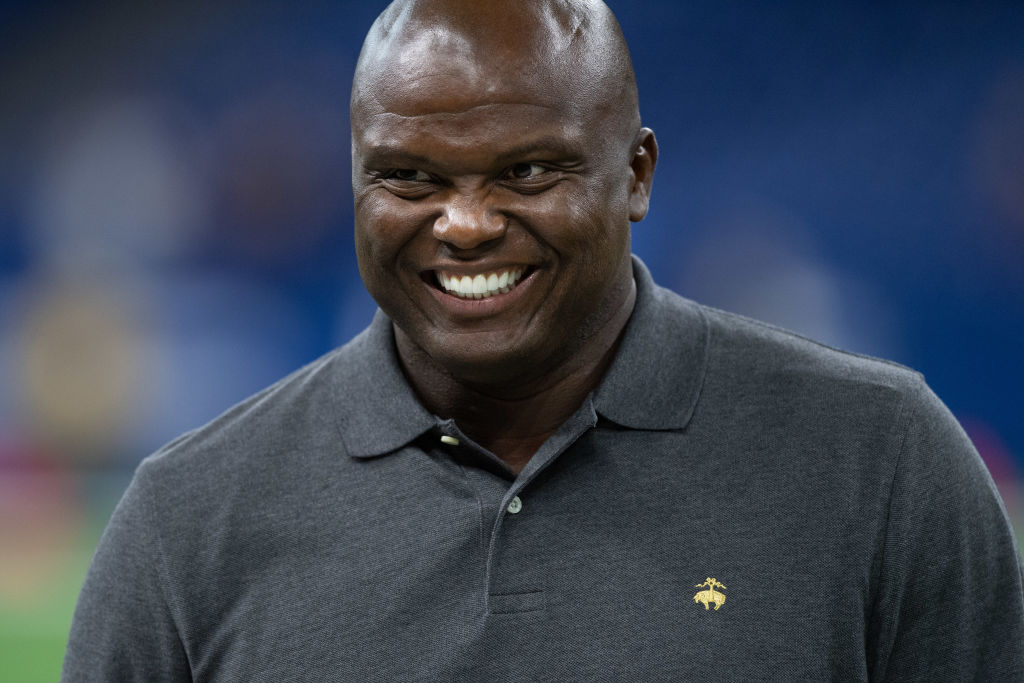 Was Monday Night Football's Booger McFarland Any Good as an NFL Player?
Many NFL fans don't care for Booger McFarland's commentary on Monday Night Football. But was Booger's playing career more successful?
In an ideal world, you wouldn't notice a play-by-play announcer or color commentator; the game would speak for itself, and the broadcast team would provide extra information when necessary. Unfortunately, we don't live in an ideal world. For many fans, commentators like Booger McFarland shape their sports watching experience.
While most NFL fans now associate Booger with his rolling chair and high profile bloopers, his football experience goes far beyond the broadcast booth. But was McFarland any good as an NFL player?
Booger McFarland's road to the NFL
After growing up in Louisiana, Anthony Darelle "Booger" McFarland enrolled at LSU. He burst onto the scene during his freshman year, starting every Tigers' game on the defensive line; in addition to posting 73 total tackles, he also slotted in as a fullback in short-yardage offensive situations.
During his time in Baton Rouge, he helped the Tigers win three bowl games; as a senior, he was named a team captain, earned All-Amerian and All-SEC honors, and played in the Senior Bowl.
The Tampa Bay Buccaneers snagged McFarland with the 15th overall pick of the 1999 NFL draft and never looked back. He spent eight seasons in Tampa, dominating the defensive line; he posted 211 combined tackles, 141 solo tackles, and 20 sacks with the Buccaneers, helping the club win Super Bowl XXXVII.
Winning another Super Bowl with the Indianapolis Colts
In October 2006, Booger McFarland went from the outhouse to the penthouse. The Indianapolis Colts needed a new defensive lineman; they worked out a deal with the struggling Buccaneers to send McFarland north.
The move reunited McFarland with Tony Dungy, but things didn't automatically click with the Colts. Even with Booger joining the offensive line, Indianapolis struggled to stop the run. Slowly but surely, though, the unit started to improve.
"Tony (Dungy)'s like, 'We're not gonna change anything. You know, defensively we weren't playing well; we're just going to do our job and do it at a higher level.' And that's one of the most profound moments not only in that season but in life," McFarland explained. "Because sometimes it's not about changing and revamping and doing things differently. Sometimes it's about doing things better. And that moment there, we did our jobs better and we went into the postseason, we beat Kansas City, we beat Baltimore, and then, just like anything in life, you're gonna have to get by your nemesis, and for us to get by New England, at home, in the RCA Dome, to get an opportunity to go to the Super Bowl, it's so many little lessons and nuances about life that I learned."
The Colts won the Super Bowl that year, but Booger wouldn't get a chance to defend the title. He suffered a knee injury during training camp and never returned to action
How good was Booger McFarland?
During his NFL career, Booger McFarland played 109 total games. He recorded 252 totals tackles, 170 solo tackles, and 22.5 sacks; he also had one career interception, four forced fumbles, and won two Super Bowl titles.
According to Pro Football Reference's similar players feature, McFarland's compares favorably to some quality linemen like Eric Swann and Manny Fernandez. While Booger might not have been a household name as a player, that's the reality of life for an interior defensive lineman. Even the best run-stopper isn't going to post the standout numbers of a pass-rushing defensive end or a ball hawk in the secondary.
In the broadcast booth, Booger McFarland's mistakes make him an easy punching bag. On the field, however, he was more than capable of holding his own; he might not have been a star, but he had a respectable NFL career.