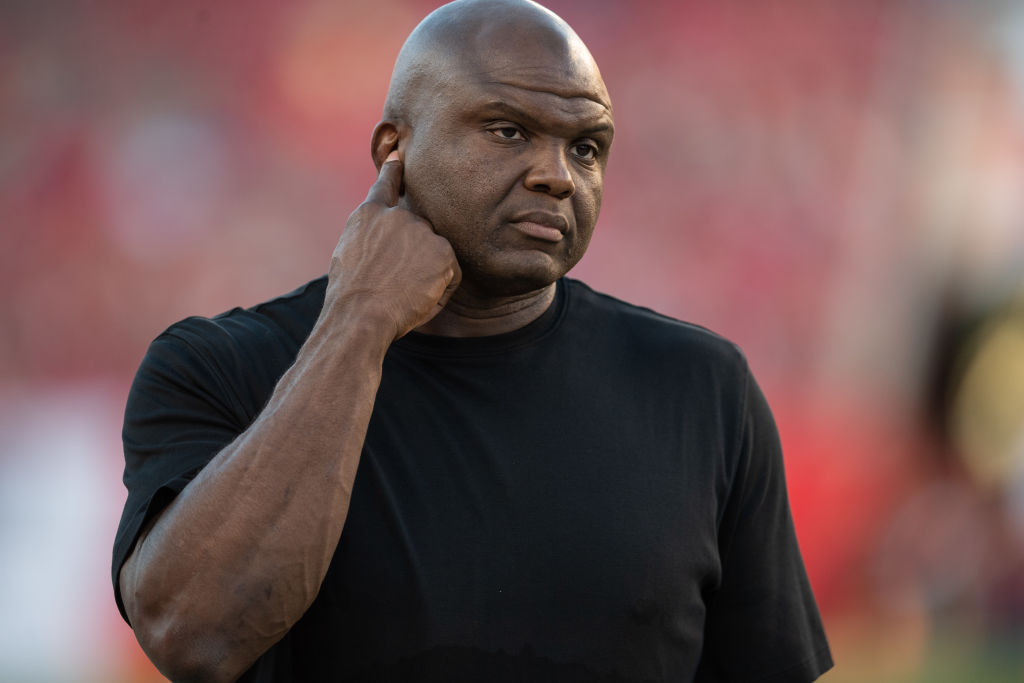 1 Big Way That Booger McFarland is Making NFL History This Season
Booger McFarland is making history on Monday Night Football. His road to the top, however, hasn't been free from criticism.
There's nothing sports fans love more than stats. For all of the uncertainty and debate surrounding every game and player, there's a certain safety to be found in the history books. You'll always know, for example, how dominant Lawrence Taylor was, or how many wins Bill Belichick has racked up. This season, though, someone more unlikely is making history: Booger McFarland.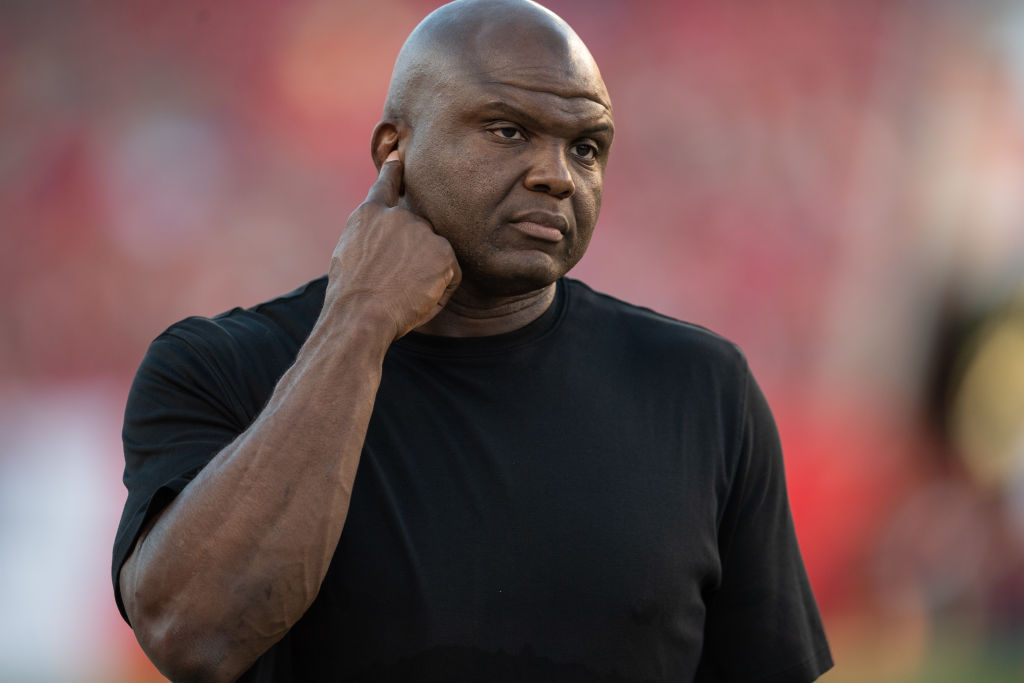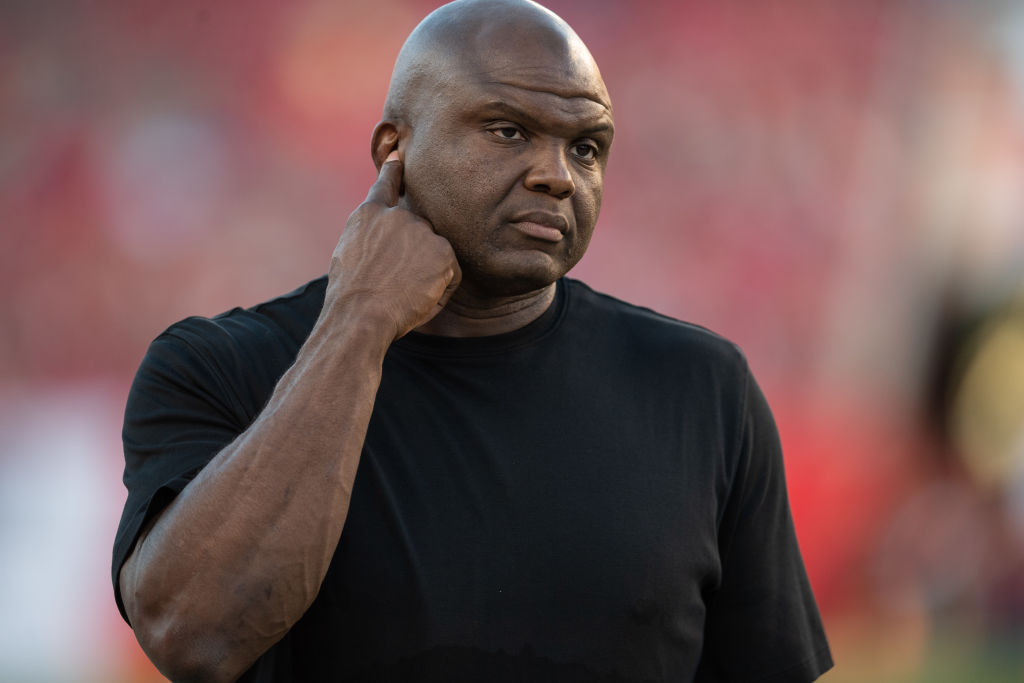 McFarland, of course, isn't playing football anymore. Instead, the former defensive tackle is making history from the broadcast booth.
Booger McFarland's playing career
Like most other color commentators, Booger McFarland got his start as a player. He began his career at LSU, where he immediately made an impact for the Tigers. In addition to starting every game and recording 73 solo tackles, the defensive lineman even got some touches on offense as a short-yardage fullback. McFarland spent four seasons in Baton Rouge, helping the Tigers win three bowl games; in his senior year, the lineman served as a team captain, earned All-Amerian honors, and played in the Senior Bowl.
The Tampa Bay Buccaneers liked what they saw and snapped up McFarland with the 15th overall pick of the 1999 NFL draft. He played eight seasons in Florida, dominating opposing offensive linemen; he recorded 211 combined tackles, 141 solo tackles, and 20 sacks with the Bucs and lifted the Lombardi Trophy following a victory in Super Bowl XXXVII.
In 2006, McFarland was traded to the Indianapolis Colts, where he rejoined his former head coach, Tony Dungy. Booger joined Raheem Brock, Dwight Freeney, and Robert Mathis to form a potent defense front; that unit, combined with Payton Manning's offense, helped the Colts take home the Lombardi Trophy.
Booger's historic move to the broadcast booth
Although Booger McFarland retired in 2007 following a severe knee injury, he stepped back into the spotlight in 2012. The former defensive tackle joined a Tampa sports radio station; once the station switched from sports to music, he signed up on ESPN's new SEC Network.
At the start of the 2018 NFL season, McFarland joined the Monday Night Football team. While he partnered with Joe Tessitore and Jason Witten, Booger wasn't working with them in the broadcast booth. He patrolled the sidelines in the "Booger Mobile," an infamously, rolling chair that moved with the line of scrimmage. The vehicle might have been scrapped, but McFarland remained on the broadcast; now, he simply sits upstairs with Tessitore.
By stepping into the booth, Booger McFarland made history. He is the first African-American lead analyst to work on any of the NFL's broadcast partners since 1985 when O.J. Simpson was a member of the Monday Night Football team. Booger's ascension to the top spot is also notable given his position; while most TV personalities were beloved offensive stars, he was a defensive lineman working in the trenches. Making history, however, hasn't come easy.
Facing public criticism
Just about every play-by-play announcer and color commentator faces plenty of public scrutiny. Booger McFarland is no different.
The former defensive tackle has been ripped for making straight forward observations; usually, in a comedic turn, the exact opposite thing happens on the next play. Some NFL players have even joined in on the act, poking fun at Booger on Twitter.
While he definitely makes mistakes in the booth, McFarland may get a bit of a bad rap, however. When he was criticized for saying the Kansas City Chiefs were "matriculating" the ball down the field, for example, he was making a reference to a famous Hank Stram quote. Similarly, Davante Adams and Stefon Diggs highlighted McFarland saying, "games in this league are lost more than they're won;" while the quote might sound a bit goofy, Booger was making a valid point about teams costing themselves the game with mistakes.
At the end of the day, though, that may be the price of making history. Booger McFarland is occupying a historic seat on Monday Night Football; anyone who steps into that role is going to be facing a great deal of scrutiny.