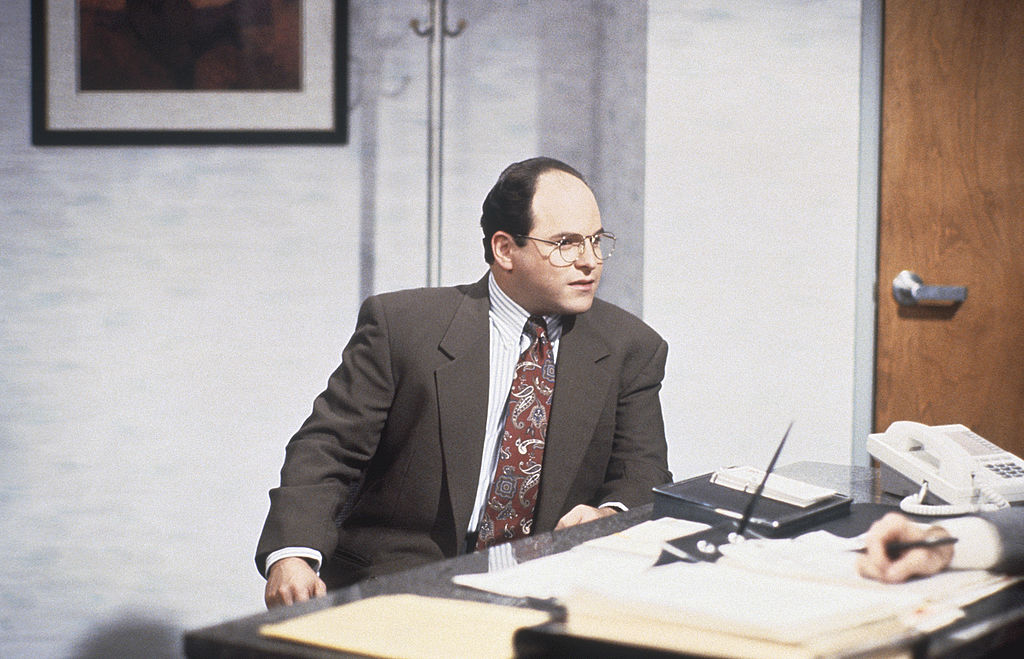 A Seinfeld-Inspired Bobblehead Giveaway Is Pure Genius
A minor-league baseball team has found a way to combine its nickname with a memorable TV sitcom episode for a huge promotion this spring.
Minor-league baseball franchises aren't close to having their rosters set yet since spring training is just a couple weeks old, so we don't know if the Jacksonville Jumbo Shrimp will win their league title this summer. However, their promotions staff may have dreamed up a giveaway worthy of the Hall of Fame.
What inspired the George Costanza bobblehead?
Minor-league baseball teams don't have lucrative television contracts and some of them buy airtime themselves just to broadcast games on radio. That means they need to make their money by selling tickets to games.
One way to attract fans to show up is with wacky promotions and unique giveaways. The Jacksonville Jumbo Shrimp figure to hit the proverbial home run – maybe even a grand slam – with what they have planned late this spring.
The first 2,000 fans through the gate of the Class AA team's June 13 home game will receive a George Costanza bobblehead statue that was inspired by the combination of the Southern League franchise's name and one of the many iconic moments in the history of "Seinfeld," the long-running sitcom that has a significant place in American pop culture.
The bobblehead being given away as part of a on Seinfeld Night promotion is a short and bespectacled bald man seeing how many shrimp he can shove in his mouth, playing off an episode in which the at-times bungling character played by Jason Alexander eats from a bowl of shrimp, hoping to goad a co-worker into cracking a joke so he can deliver a planned insult.
There's money to be made from bobbleheads
The unconventional giveaway planned by Jacksonville Jumbo Shrimp is likely to cause fans to line up at the stadium long before the gates open. That translates into money at the ticket window and concession stands. It might also inspire return visits from customers who attended games infrequently or not at all before coming to get the giveaway that will be a must-have for fans of the Jerry Seinfeld TV series.
Bobblehead giveaways have become a staple of the promotional calendar for teams at the college and professional levels. They started primarily as a tribute to great players in the history of the teams and quickly expanded to prominent community figures and entertainment or pop culture icons.
There's a substantial resale market for bobbleheads. A cursory glance through the eBay website this week unearthed Kobe Bryant statues priced at $185, Derek Jeter at $189, and Ezekiel Elliott at $235.
In the entertainment field, the three-piece set of the Hanson brothers from the movie "Slapshot" fetches $300 and an autographed Anna Nicole Smith figure is priced at $189.99. An earlier George Constanza bobblehead playing off his role as assistant to the traveling secretary of the New York Yankees can be found for $158.
'Seinfeld' has inspired many bobblehead giveaways
The Seinfeld-inspired bobblehead giveaway in Jacksonville is just one in a series of statue promotions over the years related to the 1990s TV series that endures in syndication.
Most recently, the Altoona Curve of minor-league baseball's Eastern League gave away a combination Newman and Kramer bobblehead at a 2019 home contest and the Kane County Cougars of the Midwest League had a J. Peterman giveaway in honor of another recurring character on the show.
With the popular series set in New York City, the Brooklyn Cyclones of the New York-Penn League have made Seinfeld bobblehead giveaways a frequent promotion, including versions of the Soup Nazi and a Keith Hernandez spinoff from his cameo in the series.