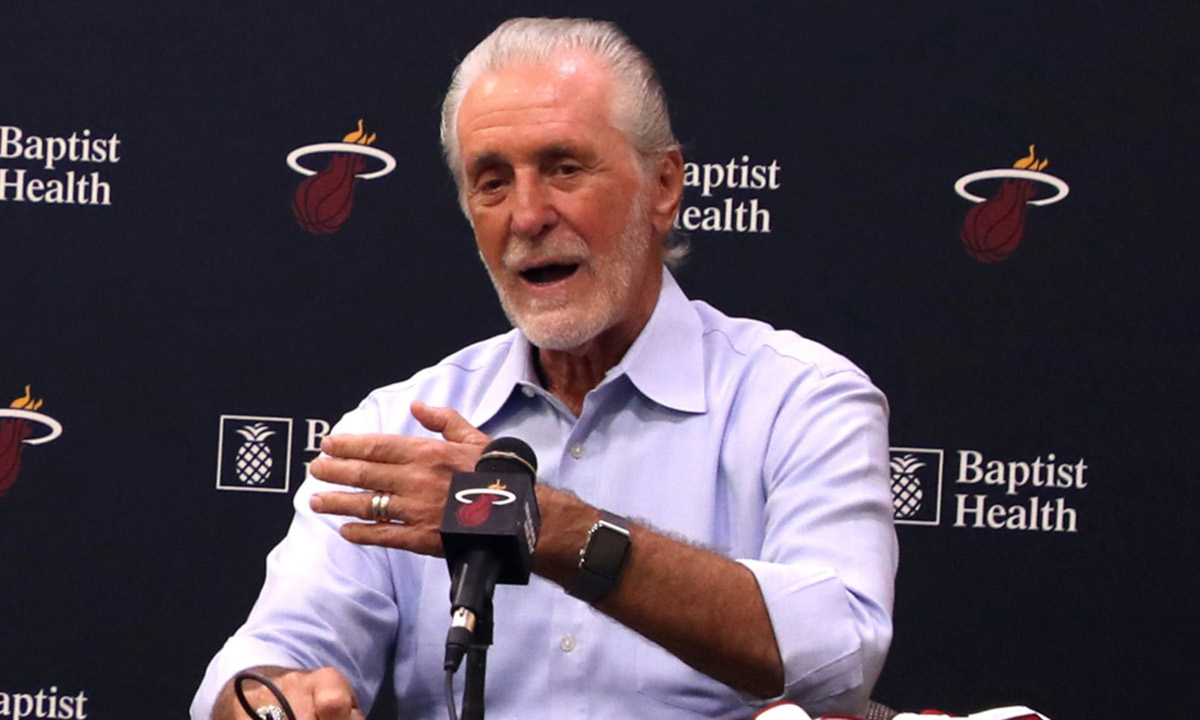 Pat Riley's Legendary NBA Career Could Have Ended Before It Ever Began Thanks to an Unlikely Offer From the Dallas Cowboys
Pat Riley is a nine-time NBA champion, winning as a player, assistant coach, head coach, and executive. But the Dallas Cowboys nearly created a dramatic shift in the time line back in 1967.
Imagine a world where Pat Riley didn't have nine NBA championship rings as a player, assistant coach, head coach, and executive. Somewhere, there's an alternate timeline where Riley, still president of the Miami Heat at age 76, instead has multiple Super Bowl rings as a player, assistant coach, head coach, and executive. It seems far-fetched. But at least one NFL executive entertained the idea.
At least in our version of reality, Riley didn't spurn the NBA for the NFL. Our timeline shows Riley playing nine seasons in the Association, spending parts of three as an assistant coach before taking the lead chair for 24 seasons with three teams. He's also been the personnel decision-maker for the Miami Heat since arriving in South Beach in 1995. But the "what if" permutations are strong with Riley.
Pat Riley was a multi-sport star as a high schooler
At Linton High School in Schenectady, New York, Riley was a three-sport star. Not only was he a decorated basketball player, but he was also a highly regarded baseball prospect and quarterbacked the football team, per Newspapers.com.
His athletic prowess isn't surprising. His father, Lee Riley, played in the minor leagues for 22 years. At age 37, he appeared in four games for the Philadelphia Phillies in 1944. An older brother, also named Lee Riley, played football at the University of Detroit. He spent seven seasons in the NFL with the Detroit Lions, Philadelphia Eagles, New York Giants, and New York Titans from 1955–62.
Riley focused on basketball once he got to the University of Kentucky in 1963, where he was a two-time All-SEC performer and won SEC Player of the Year honors as a junior in 1965–66. Kentucky reached the NCAA Tournament final before losing to Texas Western (now Texas-El Paso).
In May 1967, Riley was the first player drafted by the expansion San Diego Rockets. But a couple of months earlier, he received an unforeseen second option as a professional athlete.
The Dallas Cowboys liked what they saw from Riley
In 1967, the National Football League draft wasn't the relatively brief affair it is today. Rather than seven rounds, NFL and AFL clubs droned on for 17 rounds and 445 selections in 1967.
In the 11th round at New York's Gotham Hotel in March 1967, Dallas Cowboys vice president of player personnel Gil Brandt took a flyer on an athlete that he thought could turn into an effective wide receiver or tight end.
Thus, Kentucky basketball star Pat Riley's name made it onto the NFL draft list in 1967. Taken with the 285th overall pick (eat your heart out, Tom Brady), Riley instead chose to stick to basketball.
He was never a star player in the NBA, playing nine seasons before retiring in 1976. He was a reserve for the Los Angeles Lakers' 1972 championship team. Riley appeared in two other NBA Finals (in 1973 with LA and 1976 with the Phoenix Suns).
Listed at 6-foot-4 and 205 pounds, Riley would have had terrific size as a wide receiver for the era. The starting tight end for the Cowboys in 1967 was veteran Pettis Norman, who was 6-foot-3 and 222 pounds. The starting wideouts were Hall of Famer Bob Hayes (6-feet, 187 pounds) and Lance Rentzel (6-foot-2, 202 pounds).
Instead, Riley chose pro hoops; much to the future delight of Lakers and Heat (and, for a time at least, Knicks) fans.
Pat Riley's transition to coaching began with a near-fatal bicycle accident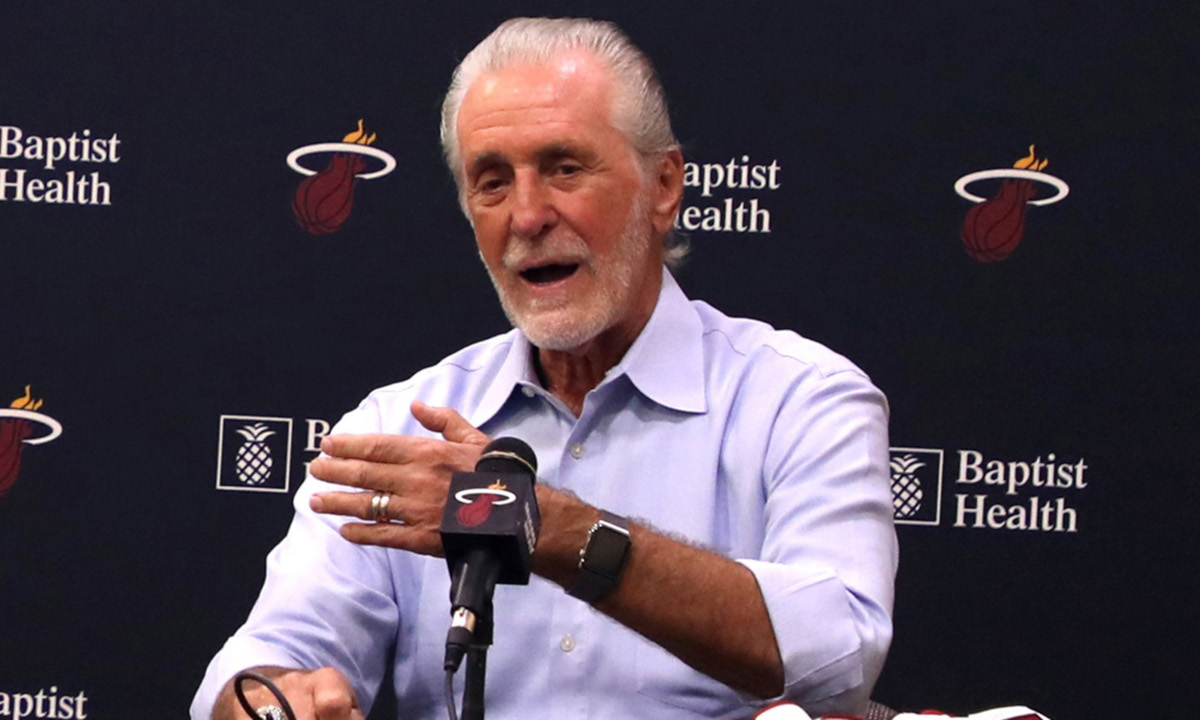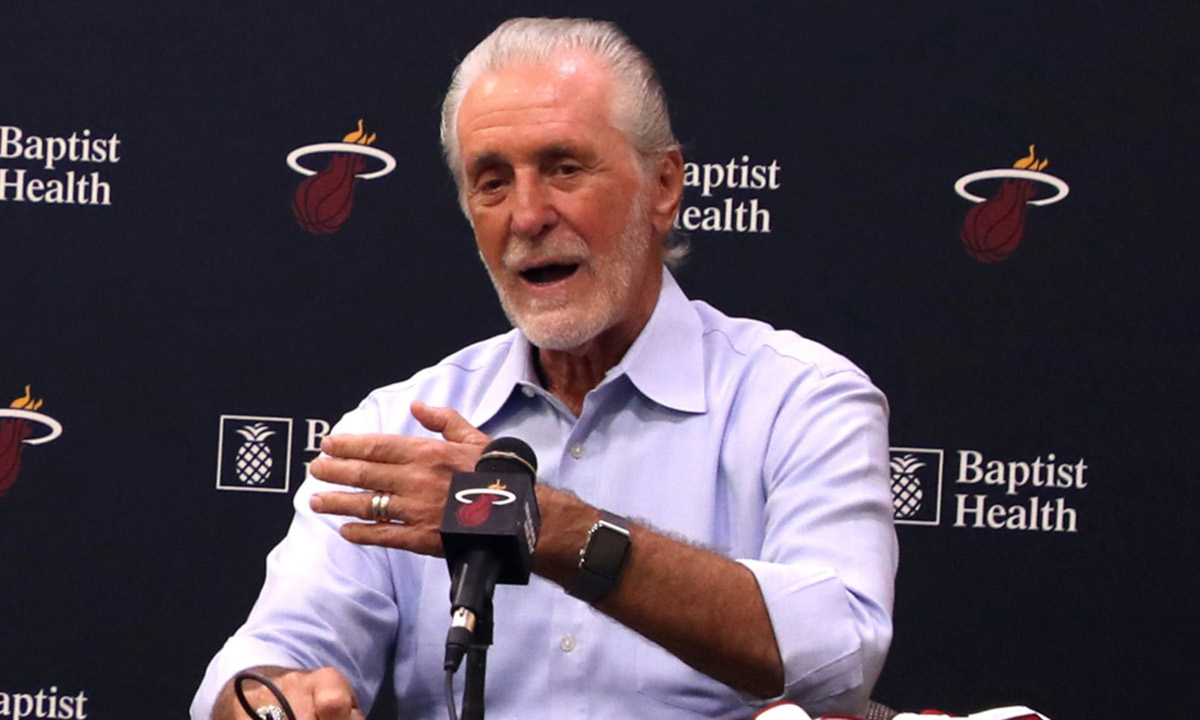 Early in the 1979–80 season, Lakers coach Jack McKinney sustained severe head injuries in a bicycle accident. Hired to replace Jerry West on the bench, McKinney had the Lakers off to a 10–4 start.
Assistant coach Paul Westhead assumed the interim head coaching duties and worked without an assistant for more than three weeks. At that point, general manager Bill Sharman shuffled radio and TV analyst Pat Riley into an interim assistant coaching role.
Riley eventually replaced Westhead 11 games into the 1981–82 season. He won five rings as a Lakers coach. One came as an assistant in 1980 and four more as the bench boss (1982, 1985, 1987, and 1988).
Riley later coached the Knicks from 1991–95 before controversially jumping to the Heat as club president and head coach. He won his seventh ring in Miami after coming down from the front office to replace Stan Van Gundy in 2005–06. He left coaching for good after the 2007–08 season.
Riley won NBA Executive of the Year honors in 2010–11. He made some minor free agent moves (bringing in LeBron James and Chris Bosh and re-signing Dwyane Wade). Two more rings followed in 2012 and 2013.
He entered the Hall of Fame as a coach in 2008 with a career record of 1,210–694. Riley won Coach of the Year honors at all three stops. He was honored with the Lakers in 1989–90, New York in 1992–93, and Miami in 1996–97.
Pat Riley has spent more than five decades in the NBA as a player, coach, and executive. Had he taken the Cowboys up on their offer, the league might not be the same.
Statistics courtesy of Basketball Reference, Pro Football Reference, Baseball Reference, SRCBB, and Stathead.