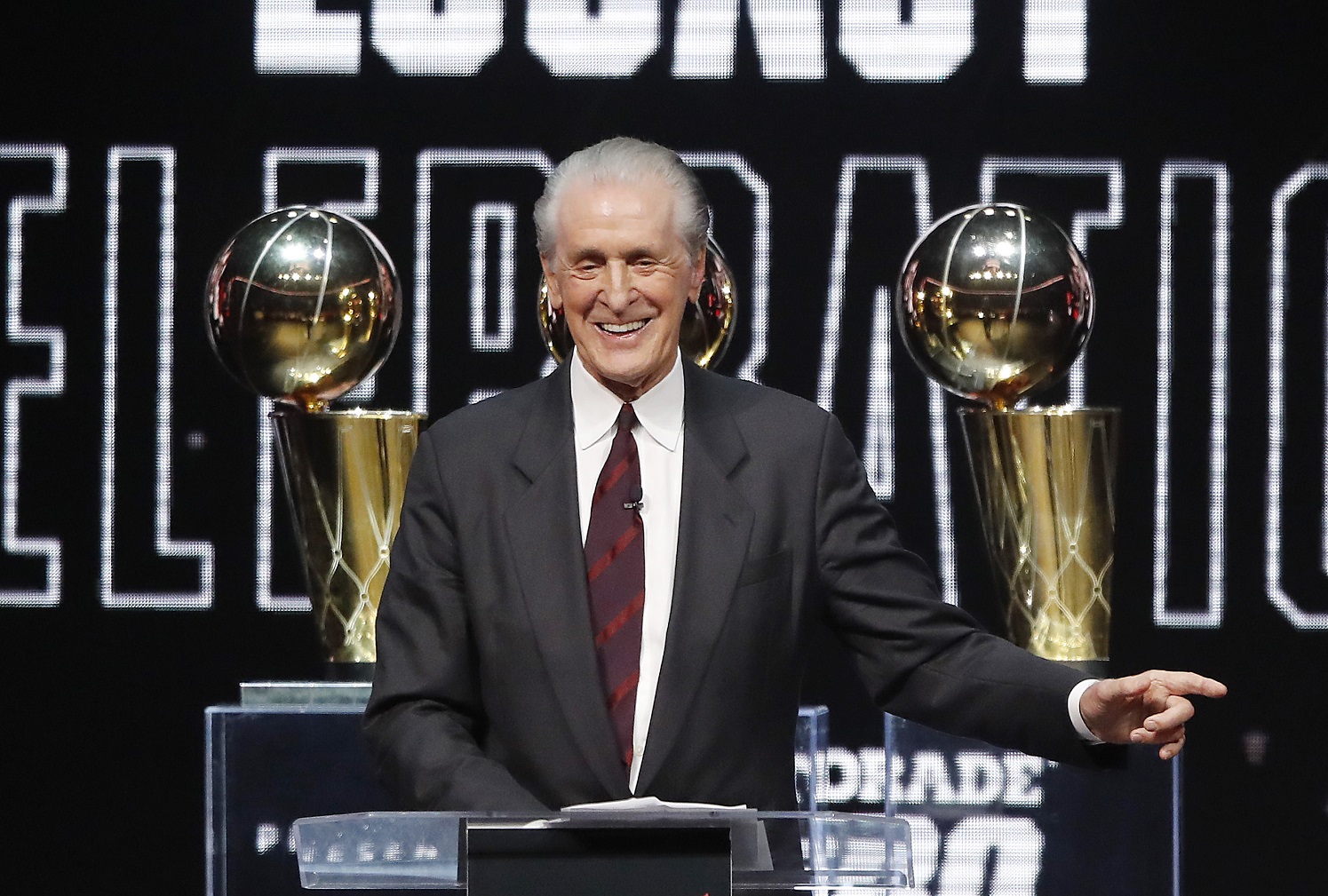 Pat Riley Admits to an Unconventional Style While Winning NBA Championships with LeBron James and Magic Johnson
Miami Heat president Pat Riley says confrontations with star players were part of the process that led to five NBA championships with Miami and the Los Angeles Lakers.
Miami Heat president Pat Riley played for one championship team and coached five more during a five-decade career in the NBA in various capacities. It meant learning from the likes of Bill Sharman, played alongside Jerry West and Wilt Chamberlain, and developed a coaching tree including the likes of Jeff Van Gundy and Erik Spoelstra.
That adds up to a lot of shared knowledge and experiences that shaped his management style on the bench and in the front office. A touchy subject that came up during the postmortem on the Heat's most recent season shed light on one philosophy he developed that has worked despite going against conventional wisdom. It came into play this season with Jimmy Butler.
Pat Riley's Miami Heat are out of the NBA playoffs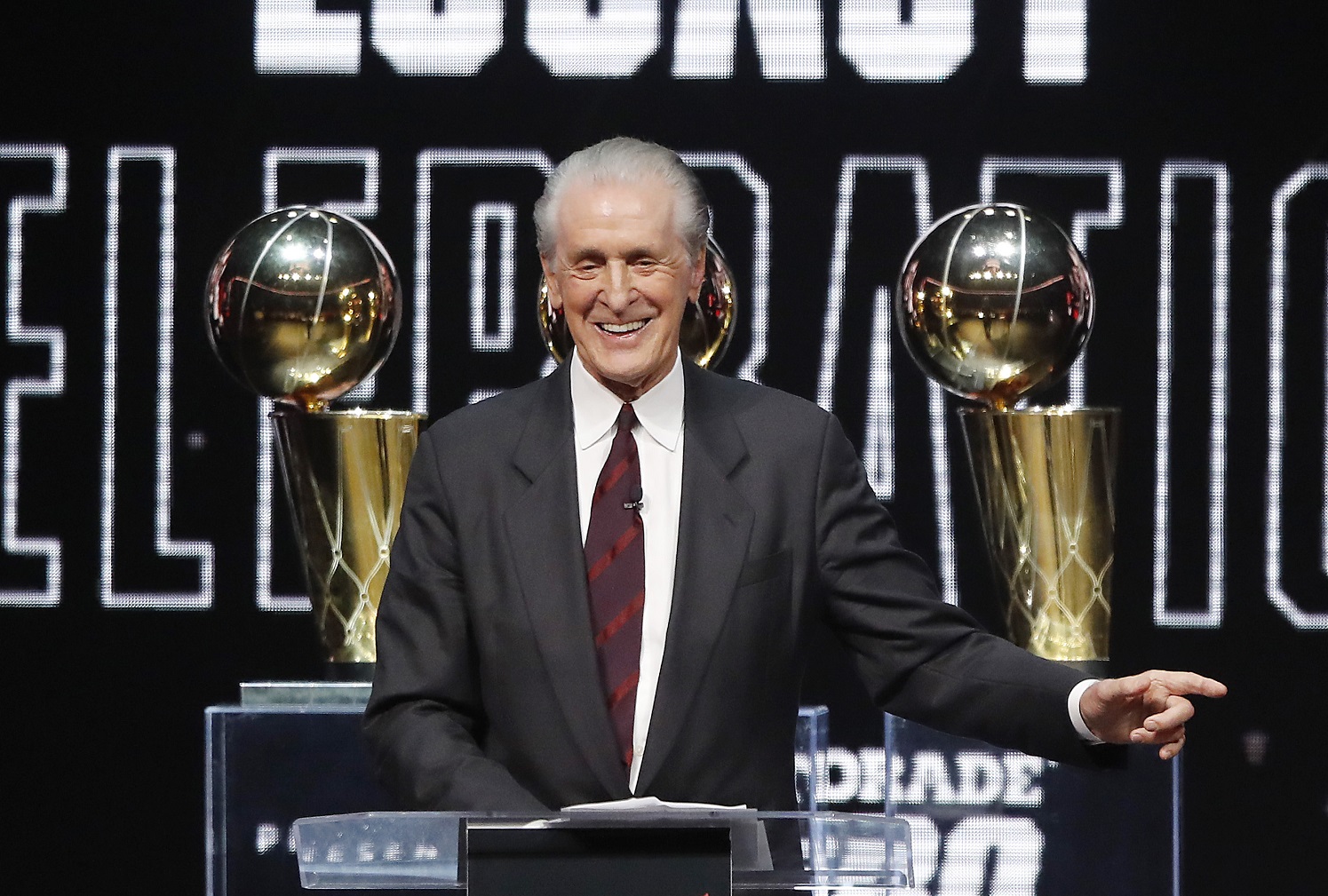 The Heat finished 40-32 before crashing out of the NBA Eastern Conference first round against the Milwaukee Bucks in the only sweep.
Butler's second season in Miami was arguably his best since entering the league in 2011. After missing 13 of the first 18 games, the 6-foot-7 swingman finished with averages of 21.5 points, 6.9 rebounds, and 7.1 assists. He led the league with 2.1 steals per game and shot a career-best 49.7% from the field.
Fourth-year center Bam Adebayo and second-year guards Kendrick Nunn and Tyler Herro also showed meaningful improvement. Assuming Riley and Spoelstra can keep the core together, the Heat are likely on the rise.
"We know what we have to do, and we'll do it," Riley said, according to NBA.com. "The market will probably determine a lot of that as we move forward, but I like the nucleus of our team. We have a great core with Jimmy and Bam."
Butler and his Heat coaches experienced 'testy moments'
Butler's shortcoming on the court was his 24.5% shooting on 3-pointers, the second straight season under 25%. Off the court, NBA insider Shams Charania of The Athletic reported on the eve of the playoffs that there had been "testy moments" between Butler and the coaching staff this season.
Much of the rest of the story cast Butler in a positive light, but what Charania wrote became national fodder because of the reaction of agent Bernard Lee, who  referred to Charania as a "click bait, ambulance-chasing, dirt bag piece of s**t," according to MSN.com.
The Bucks hounded Butler into a miserable series. He shot 29.7% and averaged just 14.5 points a game. It was a disappointing finish setting the table for his contract year but couldn't detract from such a solid regular season.
After the series was over, Riley drew upon his own experiences to explain why the relationship between Butler and the coaches wasn't a concern.
Riley liked tension with his stars when he coached
During an interview wrapping up the season, Riley said occasional tension between players and coaches is inconsequential. In fact, he suggested, too much peace and quiet is a sign of apathy.
"Whatever rumors are out there about Jimmy Butler and anybody else who might have a problem with me or with Erik or with the team, it's normal," Riley said, according to the Miami Herald. "As long as you can teach me something, as long as, 'Oh, I get it. I understand.'
"Look, throughout my career as a coach, there wasn't one player on any team that I ever coached, a key player, that I didn't have disagreements with, didn't have yelling and screaming matches with, and whether it was Alonzo Mourning or Magic Johnson or James Worthy or Patrick Ewing of whoever, LeBron (James), Dwyane (Wade), Chris (Bosh). That's just the way it is."
If Butler was occasionally disruptive, he was also the Heat's best asset on the court, which matters more during the grind of a long season.
All stats courtesy of Basketball Reference.