Jerry West Is 82 Years Old and Just Dunked on Lakers Owner Jeanie Buss
One of the benefits of being old is that there's no implied reciprocity to that "respect your elders" thing. Consequently, when you're Jerry West — older and more worldly than Jeanie Buss in basketball matters – Los Angeles Lakers fans are going to hear the legend's unfiltered side of stories.
One of the most accomplished players and executives in the history of the NBA, West, 82, isn't holding back his thoughts about the Lakers' owner.
Jeanie Buss made some questionable picks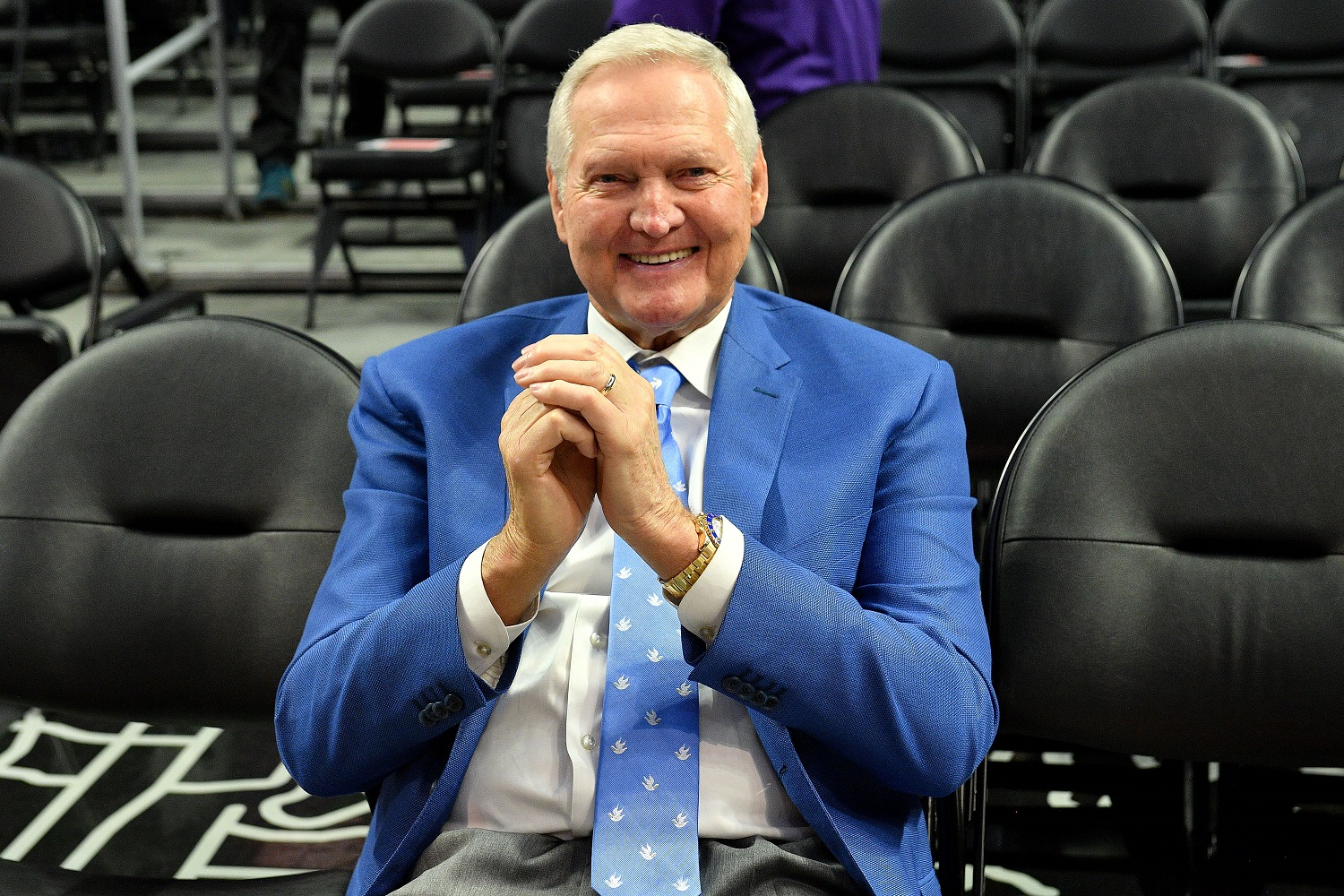 Many basketball fans already know the story, but here's the quick version of the Lakers controversy that just resurfaced:
Buss, the Lakers' managing owner and president, appeared on the All the Smoke podcast in April with hosts Matt Barnes and Stephen Jackson. Asked to name the five most important Lakers of all time, Buss stumbled. She initially rattled off Kobe Bryant, Kareem Abdul-Jabbar, and LeBron James. At Barnes' prompting, she added Magic Johnson and acknowledged the obvious oversight.
As she hesitated to round out the top five, Barnes suggested Jackson, who coached the Lakers to five NBA titles.
"Does Phil count?" she asked before agreeing he belonged, according to the Los Angeles Times.
Bryant, Abdul-Jabbar, and Johnson made sense, so no one seemed to take issue with those choices. However, many Lakers fans and other basketball observers bashed Buss over the selections of James and Jackson, often citing Shaquille O'Neal and Pat Riley as more appropriate picks.
The franchise has such a rich history that leaving Elgin Baylor, James Worthy, and Wilt Chamberlain out of the top five may be plausible. But how does Buss justify the absence of Jerry West?
O'Neal says he doesn't feel slighted
It's somewhat easy for O'Neal to brush aside the controversy over his own omission from the now-famous list by Buss. O'Neal was a great player throughout his 19-year NBA career, including eight seasons with LA, but his role during the Lakers' three-peat was that of a co-star alongside Kobe Bryant.
"I love Jeanie Buss. … I don't wanna have a fight about this. I'm glad my name is mentioned, period," O'Neal said, according to the New York Post.
But Bryant figures into the overall equation in another way: After his outstanding career as a player, West brought Bryant to the Lakers in a 1996 NBA draft deal. On top of that, West deserves credit for drafting Johnson, signing O'Neal as a free agent, and attracting Jackson to town to coach.
West unloads on Buss in an interview
West, a member of the Naismith Basketball Memorial Hall of Fame, appeared this week on Peter Vecsey's Hoop du Jour podcast. He admitted outrage over being slighting by Buss.
"One of the most offensive things I've ever heard in my life," West said, according to KCBS-TV. "I was there a lot of times, had a lot of success. Be curious to know if they would have had that success if I hadn't been there."
West has also worked with other NBA front offices, including the Clippers, after a falling out with the Lakers, who might not have fully appreciated the extent of his work.
"I don't ever take credit for stuff, I don't," West said. "When I was around, maybe I was just a good luck charm. But I do know, that when this thing fell apart, there was a lot of years where they weren't very good."
Like Sportscasting on Facebook. Follow us on Twitter @sportscasting19.