Shaquille O'Neal Heartbreakingly Opens up About the Moment He Learned of Kobe Bryant's Death: 'I Shoulda Just Called to Just Check on Him'
Shaquille O'Neal and Kobe Bryant were among the most dominant duos in NBA history during their years together on the LA Lakers. The two ultimately led LA to three NBA titles and had the chance to win more had O'Neal stayed on the team longer. However, after both of them went on to have Hall of Fame careers, Bryant sadly died at the young age of 41. His former running mate recently opened up about the moment he learned of Bryant's death.
Kobe Bryant and Shaq dominated on the LA Lakers
RELATED: Kobe Bryant's Former Teammate Asked Him to Bail Him out of a 'Steep' Gambling Debt in 1 of Their Final Conversations Before Bryant's Death
By the time the LA Lakers added Bryant in 1996, O'Neal had already proven to be one of the best big men in the NBA. In just his third season in 1994-95, O'Neal led the NBA in scoring with 29.3 points per game. This went along with 11.4 rebounds and 2.4 blocks. However, in 1996-97, the Lakers didn't just have a rookie Kobe. Shaq also left the Orlando Magic and joined LA that year.
The team had instant success, too. They made it to the Western Conference Semifinals in that first season before reaching the Western Conference Finals in 1997-98. However, O'Neal and Bryant really started their reign of dominance in 1999-2000. Bryant averaged 22.5 points that year while O'Neal scored a league-leading 29.7 points. The two then led the Lakers to the NBA Finals, where they ended up winning the first of three straight championships.
However, after going to their fourth Finals in five seasons in 2003-04, and seeing Shaq and Kobe's relationship somewhat fall apart, the Lakers traded O'Neal to the Miami Heat before the 2004-05 season. O'Neal went on to win one more title with the Heat. Bryant, on the other hand, ended up leading the Lakers to two more titles several years later.
The former NBA big man opened up about Bryant's death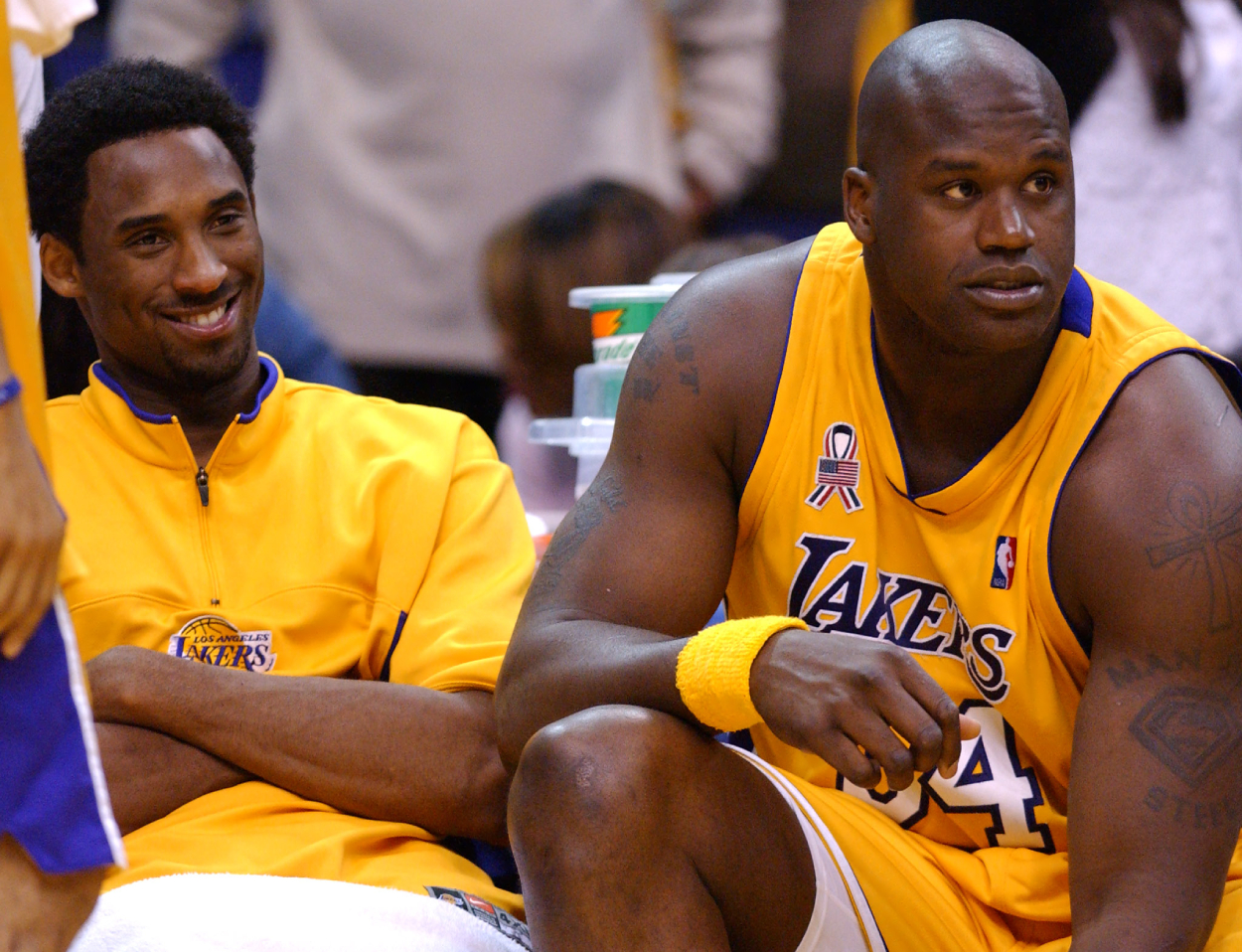 RELATED: Kobe Bryant Nearly Fought a Famous Rapper Until an NBA Veteran-Turned-Reality Star Intervened
After an incredible career, Bryant sadly died in a 2020 helicopter crash at only 41 years old. O'Neal recently opened up about the moment he learned of the news.
"One day, I'm downstairs working out with my youngest son Shaqir, and one of my other sons comes in the gym, and he's crying," O'Neal said on the April 29 episode of the All The Smoke podcast. "…When I say crying, I'm talking about tears everywhere. So, I'm like, 'My mom OK? Your mom OK? My kids OK?' Then I see the Kobe thing. So, now I'm like, 'It gotta be a hoax.' Because I was watching the game when 'Bron passed him up (on the scoring list). 'Probably just somebody messing around on the internet.' Then the calls just kept coming in; then you go watch TV, and it just hit."
O'Neal said Bryant's death put him in an "I shoulda mode."
"I shoulda spent more time with my sister," O'Neal, whose sister died the year before, said. "I shoulda reached out to young fella, I shoulda just called to just check on him — I shoulda. Things like that you can never get back."
The Hall of Famer then admitted that he and Bryant didn't always get along, but they had mutual respect.
"You know how it is as basketball players, we don't always get along. But if the respect is there, you can never be beaten," O'Neal, who now reaches out to loved ones more often, added. "You all know him: he was an alpha. You all know me: I was an alpha. We didn't always agree on things, but when it come time to compete on the court, I think the fact that we always competed with each other made us even more unstoppable."
Shaq and Kobe are NBA legends
RELATED: Kobe Bryant Attempted to Bring an NBA Legend to the Lakers but Received a Firm Rejection Instead: 'It Would Feel Super Weird'
Bryant may sadly be gone, but he and O'Neal will always be remembered as two NBA legends.
O'Neal finished as a 15-time NBA All-Star, four-time NBA champion, two-time NBA scoring leader, three-time NBA Finals MVP, and won the league MVP in 1999-2000. His 28,596 career points are also 10th all-time in NBA/ABA history.
Bryant, on the other hand, was an 18-time All-Star, five-time NBA champion, two-time scoring leader, two-time NBA Finals MVP, and won the league MVP in 2007-08. He is also fourth in NBA/ABA history with 33,643 career points.
O'Neal and Bryant will always be memorialized for their Hall of Fame careers. However, many fans will also remember them for the years they dominated together on the Lakers.
Stats courtesy of Basketball Reference