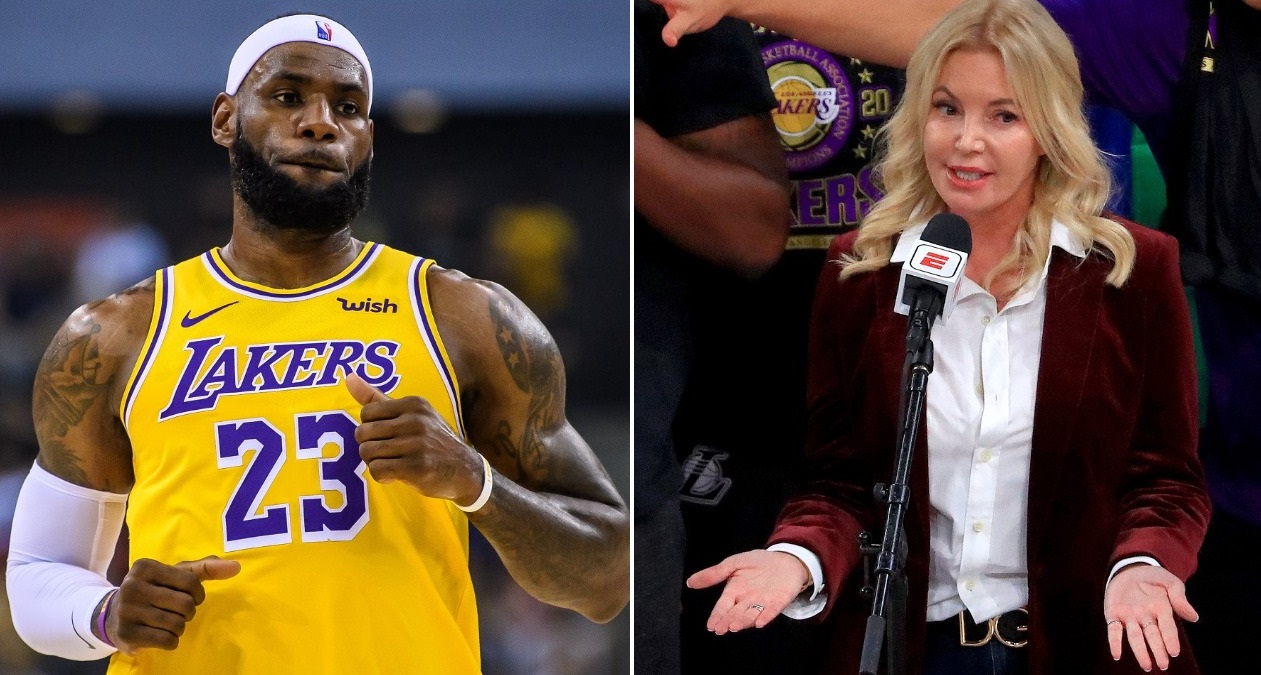 Jeanie Buss Fawning Over LeBron James Embarrasses the Los Angeles Lakers
Picking LeBron James or Phil Jackson over Jerry West on the list of the most important Los Angeles Lakers ever is a curious decision by owner Jeanie Buss.
A quote often attributed to Abraham Lincoln ("Better to remain silent and be thought a fool than to speak and to remove all doubt.") was a warning to Jeanie Buss a century or so before the owner of the Los Angeles Lakers was born. Buss was in a tough spot over a question about the most important figures in the NBA team's history, but her knee-jerk inclusion of LeBron James is laughable.
We're talking about a team with 17 NBA championships in more than 70 years of existence, not the Minnesota Timberwolves. So, Buss picking the flavor of the month over a foundation of the franchise was embarrassing.
The LA Lakers have a rich NBA history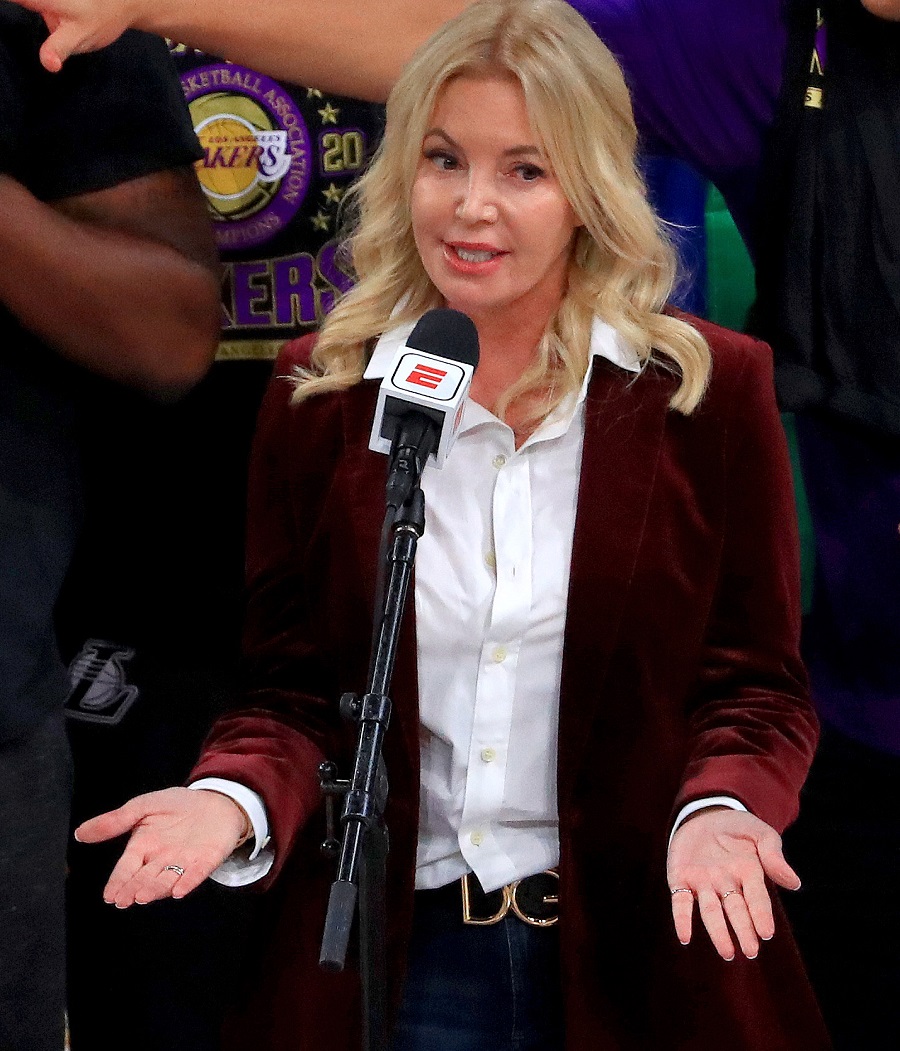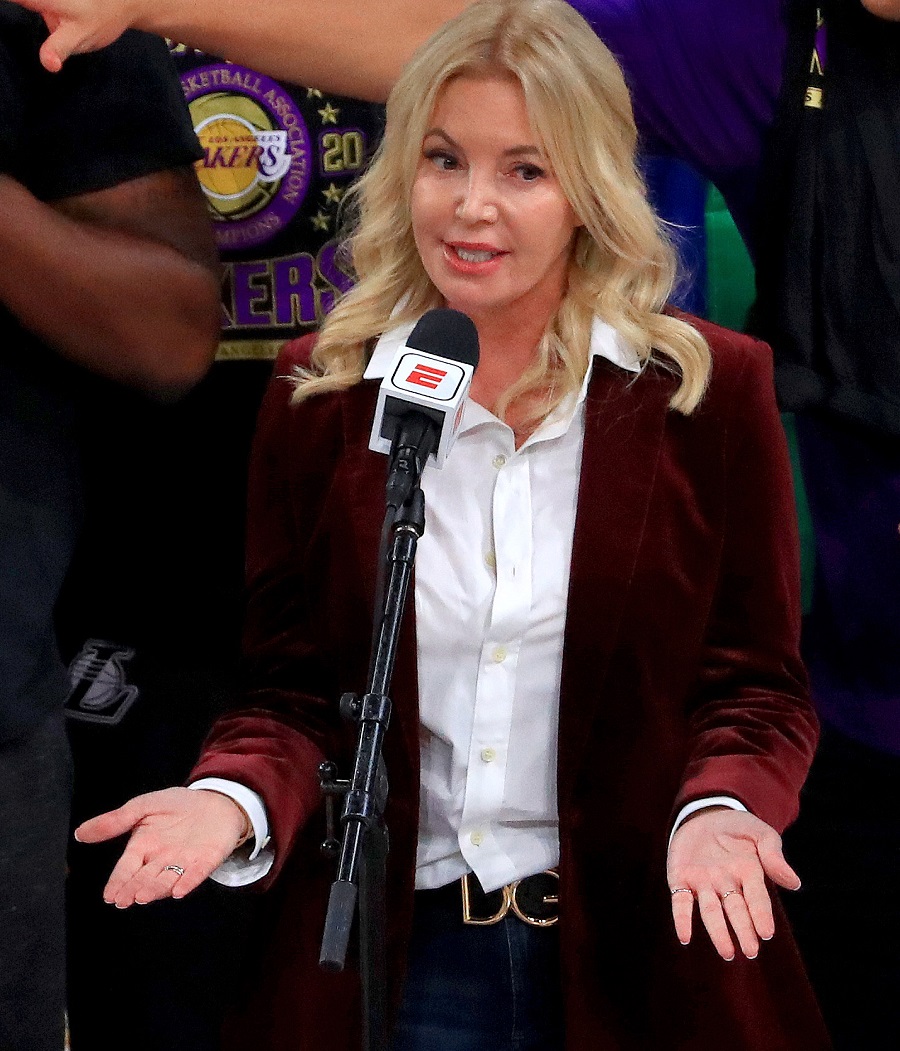 Jeanie Buss certainly took LA Lakers fans' minds off their team's late fade. With 10 games left and Anthony Davis just recently back while James remains hobbled, the Lakers have a better chance of slipping down to the NBA Western Conference play-in than earning any home-court advantage in the playoffs.
The Utah Jazz have been strong all season, the Los Angeles Clippers are streaking, and the Dallas Mavericks are meshing. In the Eastern Conference, the Brooklyn Nets, Philadelphia 76ers, and Milwaukee Bucks are solid. Translation: The Lakers probably cannot earn the 18th NBA championship in franchise history.
The Lakers and Boston Celtics lead the NBA in championships, and their all-time rosters constitute a basketball who's who. Kareem Abdul-Jabbar, Elgin Baylor, Kobe Bryant, Magic Johnson, Vern Mikkelsen, Jerry West, and James Worthy all played a decade or longer for the Lakers en route to spots in the Naismith Memorial Hall of Fame. Wilt Chamberlain, Gail Goodrich, George Mikan, Shaquille O'Neal, and Jamaal Wilkes had shorter stints but also stood out.
Throw in coaches/executives Bill Sharman, Pat Riley, and Phil Jackson, plus current star player LeBron James, and numerous nominees for the most important Lakers ever emerge.
They constituted too many options for Buss in a recent interview.
LA Lakers owner Jeanie Buss whiffed on a big question
Buss appeared on a lengthy episode of the All the Smoke podcast last week with hosts Matt Barnes and Stephen Jackson. The daughter of longtime Lakers owner Jerry Buss, she has been around the franchise for decades and now runs it. Her institutional knowledge should be beyond reproach.
"Should" is the operable word.
Buss stumbled when asked to name the five most important Lakers of all time. She initially rattled off Bryant, Abdul-Jabbar, and James. At Barnes' prompting, she added Johnson and acknowledged the obvious oversight.
As she hesitated to round out the top five, Barnes suggested Jackson, who coached the Lakers to five NBA titles and was once engaged to Buss.
"Does Phil count?" she asked before agreeing he belonged, according to the Los Angeles Times.
Bryant, Abdul-Jabbar, and Johnson are easily defensible. However, many basketball observers had weekend conniptions over James and Jackson. Perhaps they do belong over Shaquille O'Neal (co-author with Bryant of a championship three-peat) and Pat Riley (the coach during the "Showtime" era).
But how does either get the nod over Jerry West?
Jeanie Buss picking LeBron James is indefensible
James will be lauded as one of the five greatest NBA players ever – maybe even No. 1 – when he joins the Naismith Memorial Basketball Hall of Fame. But nearly all his accomplishments were with the Cleveland Cavaliers and Miami Heat. To date, he has one NBA championship and no other playoff appearances in two-plus seasons with the Lakers.
At this point, James is no more likely to be remembered for his Los Angeles Lakers days as Mark Messier is to be for his Vancouver Canucks time or Joe Montana as a Kansas City Chiefs quarterback.
On the other hand, there's West's body of work as a Laker:
Fourteen seasons as a guard, averaging 27.0 points, 6.7 assists, and 5.8 rebounds.
A 10-time first-team All-NBA selection and the force behind the team's only championship in a 25-year span.
As a coach, scout, and general manager, he can take credit for drafting Magic Johnson, swinging the draft deal for Kobe Bryant, signing free-agent center Shaquille O'Neal and luring Chicago Bulls coach Phil Jackson to town.
He's literally the NBA's official logo.
Maybe Buss picked LeBron James because he's top-of-mind as a current player. Maybe she saw it as a way to avoid bruising his feelings. Whatever the reason, selecting him over West is embarrassing.
Like Sportscasting on Facebook. Follow us on Twitter @sportscasting19.