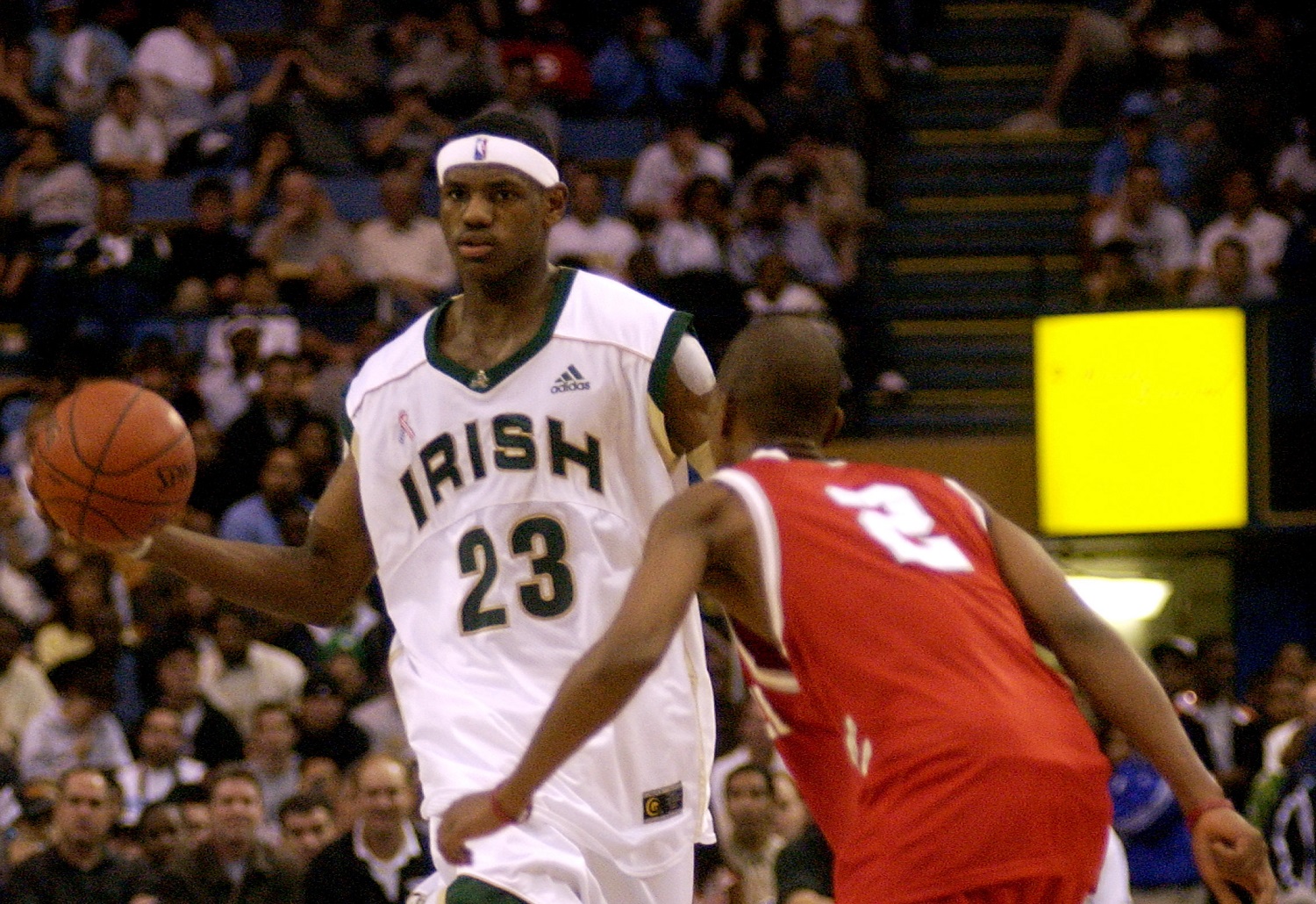 LeBron James' Mistake Got Him Banned From Basketball
LeBron James was investigated twice by Ohio high school officials during his senior season and briefly lost his eligibility to play basketball because of gifts he accepted from a clothing store.
LeBron James' net worth almost certainly exceeds half a billion dollars, so the Los Angeles Lakers star and future Hall of Fame inductee can buy pretty much anything he wants. In that context, it's hard to believe his basketball career was once jeopardized by over $845's worth of throwback jerseys.
LeBron James was a high school basketball sensation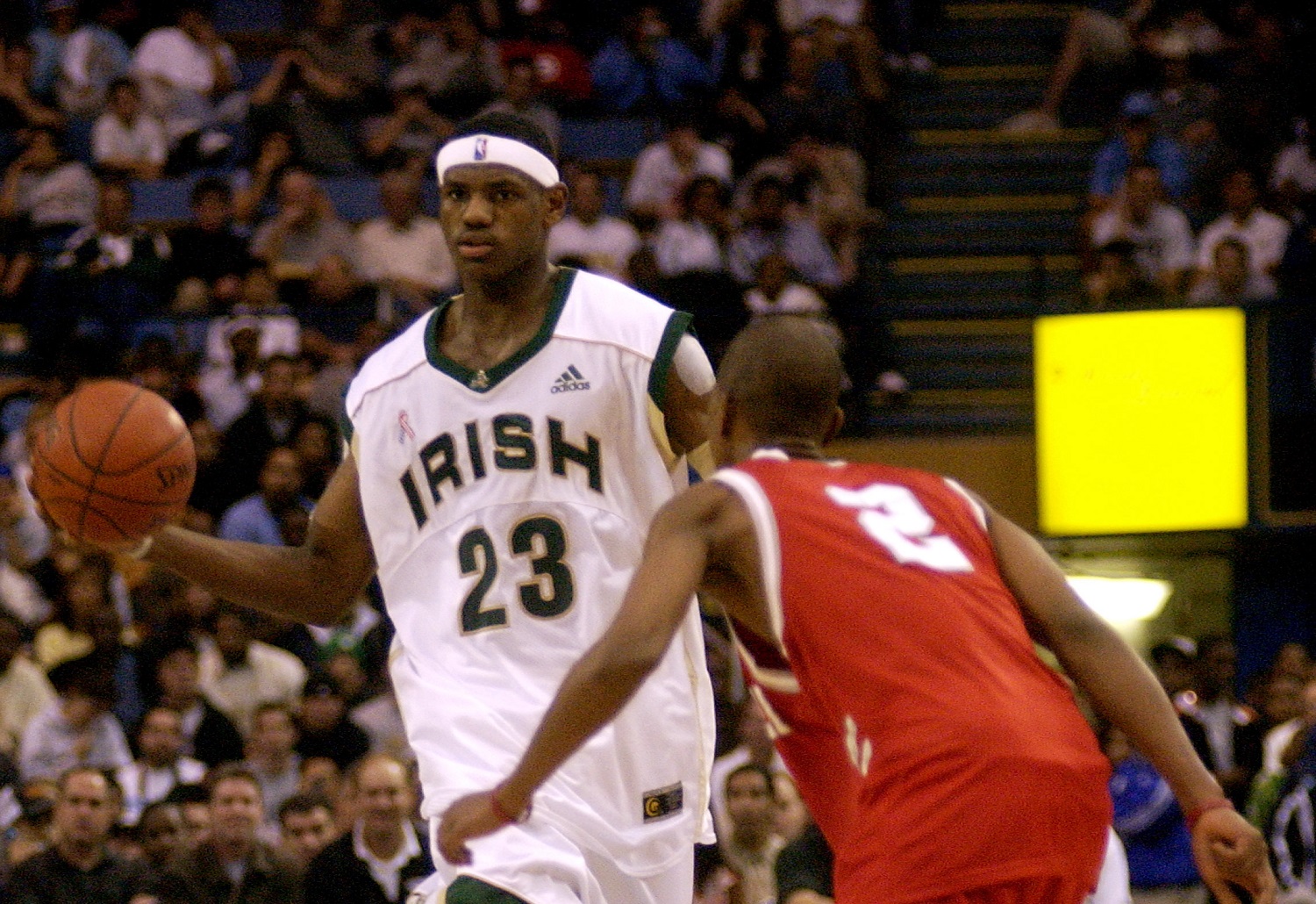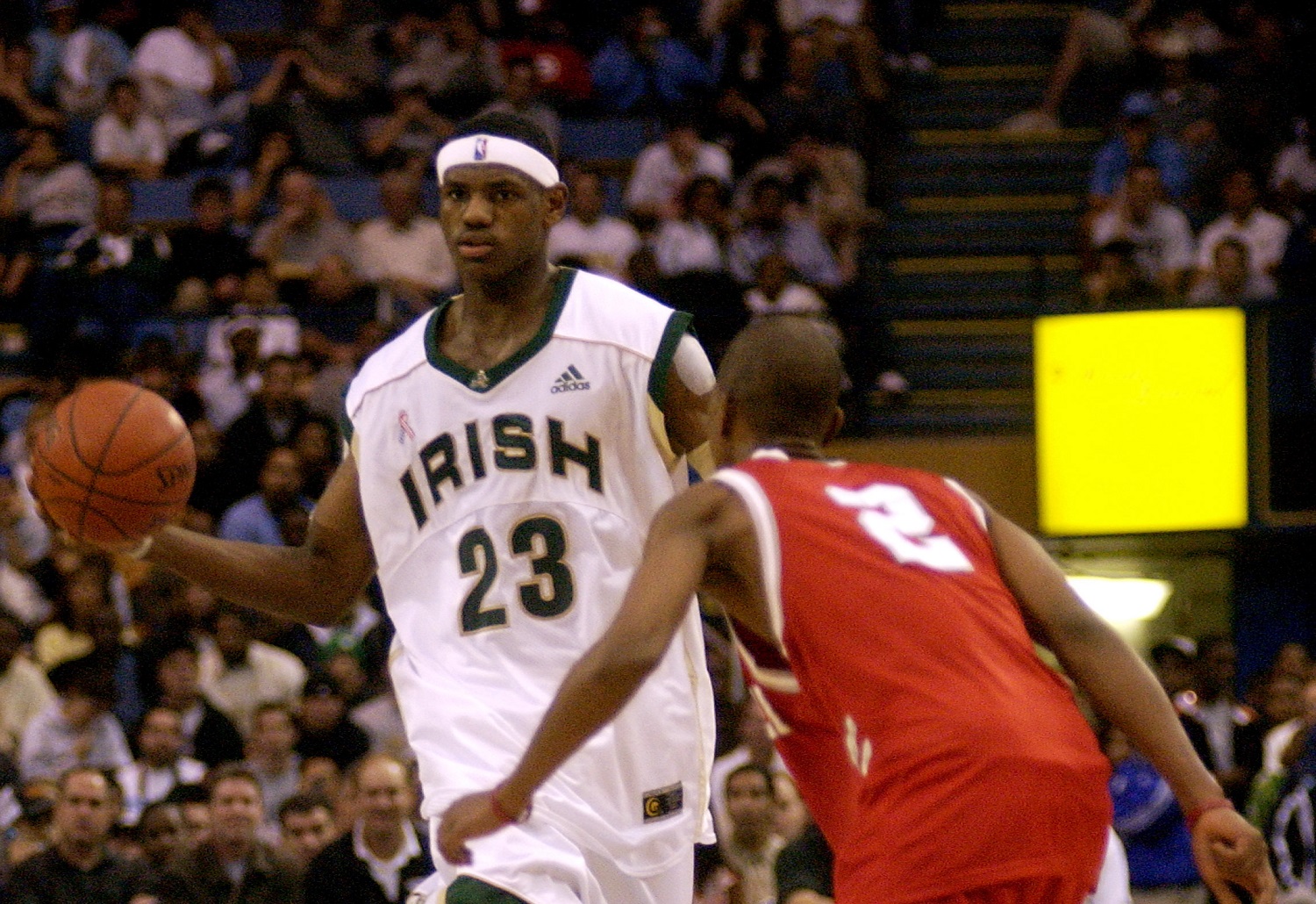 "Social media" didn't exist at the turn of the century, and the internet was a shell of its current self. Still, ESPN and other publications were touting a rising basketball star destined for greatness. Within a decade, the world discovered that even some of the loftiest predictions for LeBron James' future had underestimated him.
James was a star right out of the gate for St. Vincent-St. Mary High School in Akron, Ohio, averaging 21 points and six rebounds as a freshman for an undefeated state championship-winning team. That created frenzied interest in James and his team for the remainder of his career. Some Fighting Irish games moved to college arenas to accommodate larger crowds.
James became the first sophomore to make the USA Today All-USA first team, once again leading St. Vincent-St. Mary to a state crown. By the end of the following season, he had already been the subject of a Sports Illustrated cover story and was the first junior honored by Gatorade as its National Boys Basketball Player of the Year. The team did not win a state title after moving up a classification, but James dominated with 29.0 points, 8.3 rebounds, and 5.7 assists per game.
James' senior season was a complete circus. The team played a national schedule, some Fighting Irish contests were shown on pay-per-view, and multiple NBA scouts showed up for every game. He averaged 31.6 points and ran the table on major national honors.
LeBron James' mistake got him banned from basketball
By opting to play in three national all-star games following the conclusion of the St. Vincent-St. Mary season, LeBron James forfeited his NCAA eligibility. That mattered little to him; he had already tested the NBA rule that kept him from entering the draft after his junior season, so the basketball world knew he would turn pro upon graduation.
However, separate eligibility questions became dramas during James' senior season. His mother's gift to the rising star for his 18th birthday was a Hummer H2 SUV, a General Motors novelty at the time. She paid for it with a bank loan, but the Ohio High School Athletic Association nevertheless investigated, ESPN reported.
The OHSAA was satisfied that no wrongdoing took place regarding the SUV, but a second investigation less than a week later became a national story and briefly got James banned from basketball.
The high school organization learned that James took two throwback jerseys, valued at $845, in return for agreeing to pose for pictures for a Cleveland clothing store. The OHSAA ruled in late January that the transaction amounted to cashing in on his basketball fame, so James was no longer eligible to play high school basketball, according to the New York Times.
The ban became a national story
By the time the controversy over two throwback jerseys — a Gale Sayers Chicago Bears replica and a Wes Unseld Washington Bullets jersey — had surfaced, LeBron James was already regarded as a potential No. 1 selection in the 2003 NBA draft. His team had even played a game at UCLA's arena, selling out Pauley Pavilion. That made the revocation of his high school eligibility for the final five games of the season national news.
James' mother hired a lawyer to appeal to the Ohio High School Athletic Association, and superstar Shaquille O'Neal came to the teen's defense.
"Everybody's capitalizing on him — and you guys try to persecute his character and take away his high school career over two jerseys?" O'Neal told the New York Times. "I think you need to investigate every hometown superstar and see what they're getting,"
The appeal to the OHSAA resulted in the penalty being reduced to a two-game suspension for James. Naturally, he scored 52 points in a game before 8,500 fans shortly after his return, and he subsequently led St. Vincent-St. Mary to its third Ohio state championship in four years.
On June 26, 2003, the Cleveland Cavaliers made James the No. 1 selection of the NBA draft.
Like Sportscasting on Facebook. Follow us on Twitter @sportscasting19.