Patriots RB Brandon Bolden Reveals Shocking Cancer Scare and Recovery After 2018 Diagnosis
Brandon Bolden is a behind-the-scenes guy. The New England Patriots running back is a third-down back and special-team player who doesn't usually get the headlines. Bolden doesn't say a whole lot, but he recently revealed he was diagnosed with cancer in 2018 and thought he'd never play football again.
Brandon Bolden is in his second stint with the New England Patriots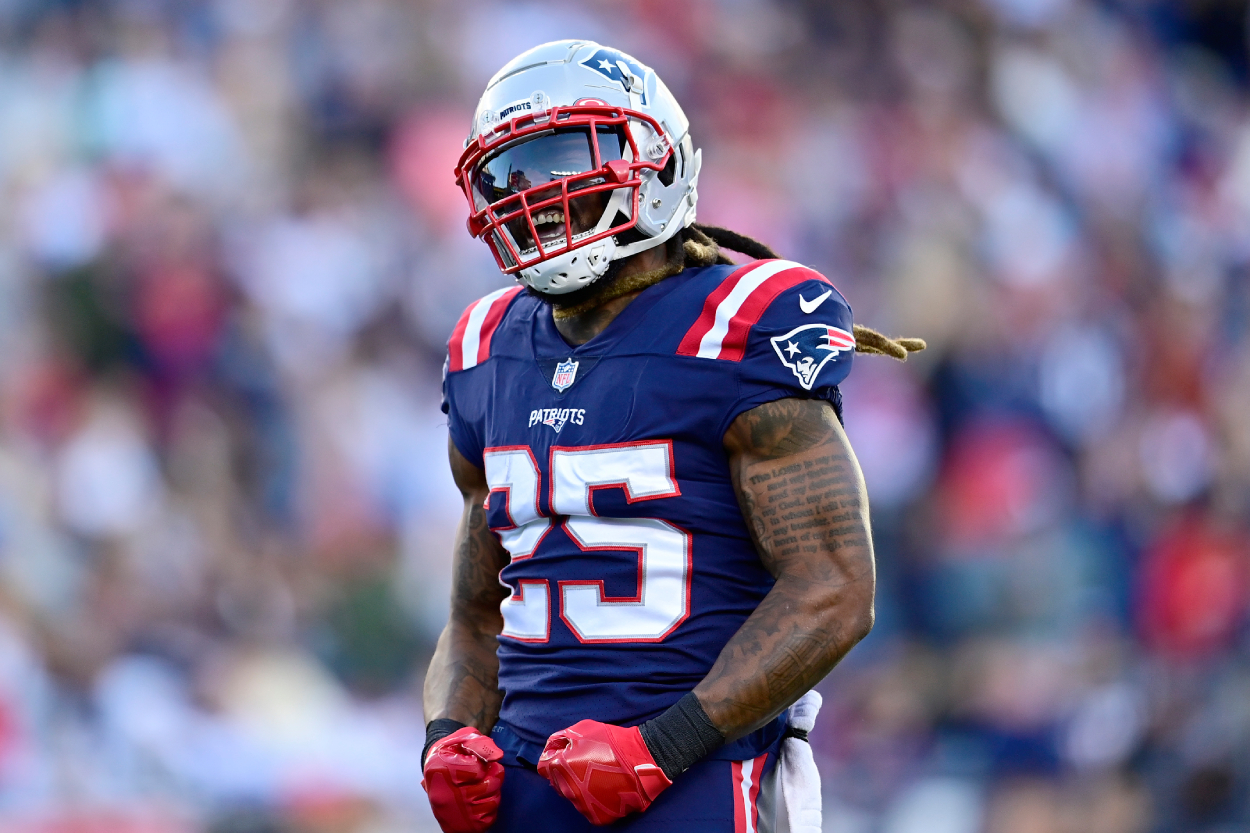 Bolden played his college football at Mississippi but went undrafted in 2012. He inked a free-agent deal with the Patriots and made the 53-man roster. In Week 4 of his rookie season, Bolden carried the ball 16 times for 137 yards and a touchdown.
He spent the first six years of his career with the Patriots before signing with the Miami Dolphins after the 2017 season. With Miami, he rushed eight times for 91 yards and two scores in 16 games. He also caught a touchdown pass. In March 2019, Bolden re-signed with the Patriots.
Bolden appeared in 15 games in 2019, rushing for three touchdowns. He opted out of the 2020 season due to concerns about the COVID-19 pandemic.
Bolden returned in 2021 and has rushed for 176 yards in 15 games.
Brandon Bolden reveals his cancer scare from 2018
Bolden took part in Super Bowl 52 when the Patriots fell to the Philadelphia Eagles. Soon after the game, he was diagnosed with a form of carcinoma. He underwent surgery and wasn't sure if he'd ever play football again.
Bolden revealed his bout with cancer Thursday on his Instagram page in a post that read, "I'm just here to prove people wrong and continue to grow and get stronger." He also posted a series of pictures from his recovery.
During a video conference with reporters Thursday, Bolden added some details to his cancer diagnosis and treatment that had never been discussed before.
"I really didn't have a reason for (sharing the photos)," Bolden said, according to NESN. "I actually had made that video (Wednesday) night and I was just kind of going through pictures, just kind of reminding myself. That was back in 2018. I was diagnosed with cancer. I got it removed in 2018 and still was cancer-free at the beginning of this season."
Bolden said after his surgery, he "lost the majority of function on the right side of (his) face and continued to play."
He said because it was his face, he could still play football.
"It was just my face, it wasn't the rest of my body so I was OK with it," he said.
Bolden wasn't sure he'd ever play football again
Bolden said he was checking out old photos with his son and his brother and that's what made him post his story on social media.
"It was just one of those moments where I was messing with my son and my little brother about this, I actually looked in the mirror and I was like, 'I've got my full face back,' and that's what made me go through the pictures and everything else," he said. "Just to show, like, I had cancer and I didn't think I was going to play another down in the NFL.
"And here I am three years, going on four years, after having the surgery and still working strong. It was kind of one of those inspirational type deals for me, because that took a lot. It was a lot of naysay from doctors and everything else, and then I am here to prove people wrong and grow and get stronger."
Bolden said many of his teammates had no idea what he went through. It was never a topic of conversation.
"I don't ever talk about it," he said. "I rarely talk about it. It never stopped me from doing anything and it didn't hinder me from anything. It was just one of those things me and my family dealt with and just kept pushing and kept everything as normal as possible."