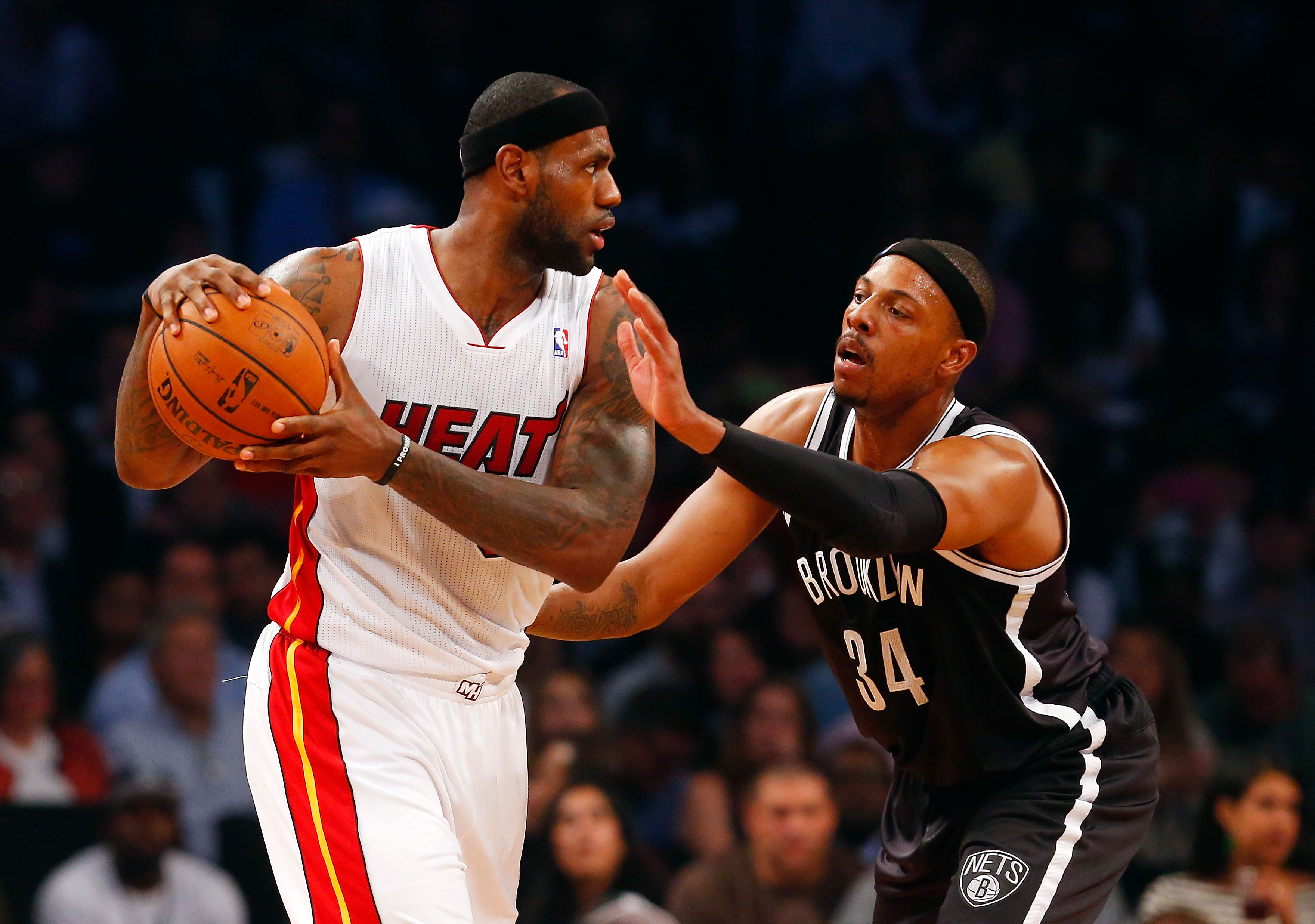 Paul Pierce Makes Crazy Claim About LeBron James and His Place as NBA's GOAT
Former Boston Celtics star Paul Pierce makes a crazy claim about LeBron James and his place among the all-time greats.
Former Boston Celtics star Paul Pierce made some waves Wednesday when talking about the NBA's greatest player of all time. Pierce said for LeBron James to even be mentioned in the GOAT conversation, the Lakers must get past the Portland Trail Blazers. Pierce went on, and his comments regarding King James got crazier each time he spoke.
Paul Pierce's NBA career
Paul Pierce played 19 seasons in the NBA after a stellar college career at Kansas. Pierce was drafted in the first round of the 1998 NBA draft, taken 10th overall by the Boston Celtics. He spent his first 15 years in the NBA with the Celtics.
Pierce was a 10-time NBA All-Star and helped guide the Celtics to an NBA title during the 2007-08 season. Pierce teamed with Kevin Garnett and Ray Allen to form Boston's Big 3 that helped keep the Celtics in contention for a championship for years.
In Pierce's 15 seasons with the Celtics, he averaged 21.8 ponts and six rebounds per game. Statistically, his best season came during the 2005-06 season when he averaged a career-high 26.8 points per game. He also averaged 6.7 rebounds and 4.7 assists per game. Pierce was traded, along with Garnett, to the Brooklyn Nets prior to the 2013-14 season. He played one season with the Nets and then played one season for the Washington Wizards before playing the final two seasons of his career with the Los Angeles Clippers.
Paul Pierce vs. LeBron James
Paul Pierce had some of his biggest games against LeBron James. In 39 regular-season games, Pierce owned a 21-18 record. Statistically, James was much better, averaging 29.3 points per game to Pierce's 20.2. In the playoffs, the two met 30 times with James having the edge record-wise at 17-13. Individually, in the playoffs James dominated by averaging 29.1 points to Pierce's 17.
Pierce and James are probably known best for their epic Game 7 battle during Game 7 of the Eastern Conference Finals in May of 2018. Pierce and James were both on fire in a game that would send the winner to the NBA Finals.
While James led the way with 45 points on 14-for-29 shooting, Pierce finished with 41 on 13-for-23 shooting and guided the Celtics. Boston, after leading 50-40 at the half, held on to win 97-92. Boston went on to play the Los Angeles Lakers in the NBA Finals and came away with their 17th NBA title after defeatng the Lakers 4-2.
Pierce said James isn't even top five of all-time
When the topic of the NBA's GOAT comes up, Michael Jordan and LeBron James are usually at the top of the leaderboard. It's always a tough debate, but Jordan and James are always in the conversation. The only time both aren't involved seems to be when Paul Pierce is discussing the topic.
In an appearance on ESPN's First Take on Wednesday, Paul Pierce, Stephen A. Smith, and Max Kellerman were discussing the Lakers' surprising Game 1 loss to the No. 8 seed Portland Trail Blazers. Pierce jumped in and said this series and the entire playoffs will play a big role in LeBron James' legacy.
"If they dont win this year – LeBron's not getting any younger – this is going to be a big hit on his legacy," Pierce said. "I've already said he's not a top-five player of all-time. If the Lakers don't win a championship, let alone lose in the first round, I don't want to hear none of this GOAT talk no more."
Statistics courtesy of Pro Basketball Reference.