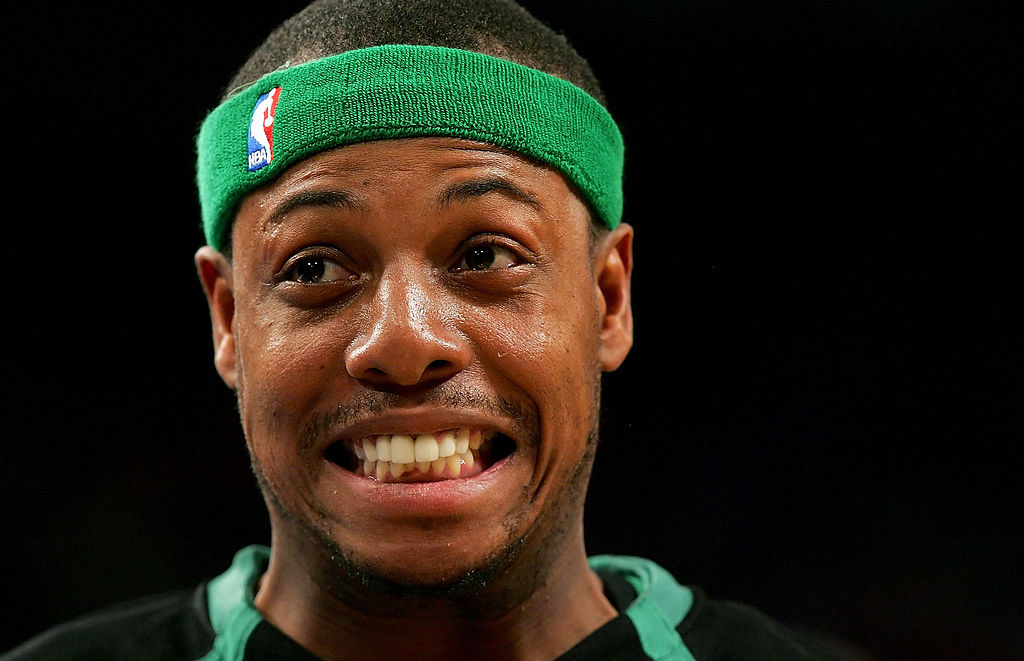 Remembering the Time Paul Pierce Failed Miserably in a High School Dunk Contest
Paul Pierce was an NBA legend for the Boston Celtics, but he was involved in a dunk contest in high school that he probably doesn't want anyone to see.
Long before Paul Pierce was an NBA champion for the Boston Celtics, he was a highly-touted high school recruit out of Inglewood, Ca. Pierce quickly became one of the biggest names in the stacked 1995 class that also included Kevin Garnett, Vince Carter, Stephon Marbury, and Antawn Jamison. All five future NBA stars convened for the McDonald's All-American game their senior year. The game also featured a dunk contest, and Pierce was chosen to compete. Whether it was nerves or a lack of stretching beforehand, Pierce failed miserably in the dunk contest finals and Carter beat him easily.
Paul Pierce went from junior varsity to top high school prospect in Ca.
Paul Pierce finished his career at Inglewood High School as a top prospect, but he was actually cut from his varsity team as a freshman. He was shorter than six feet tall at the time, but he starting waking up early to practice with other players on the team and made the varsity squad in his sophomore season.
Pierce got his first chance to shine in a blowout during the beginning of his sophomore year. He got into the game late in the third quarter with Inglewood losing by nearly 20, but Pierce went off for 21 points, nine rebounds, and six assists in limited minutes.
Pierce burst onto the national scene in the next few years. He finally hit his growth spurt and led Inglewood to 30 wins in his junior year. By the time he graduated, he was the No. 1 prospect in California and was invited to the McDonald's All-American Game in 1995. His rise from getting cut freshman year to becoming the most prized talent in the state was a testament to his hard work and determination.
Vince Carter destroys Paul Pierce in 1995 dunk contest
The 1995 McDonald's All-Americans put on a dunk contest for the fans during the weekend of the All-Star game. Paul Pierce made it through the preliminary rounds to meet Vince Carter in the finals, but he didn't put up much of a fight.
Pierce started off by missing his first four dunk attempts. He only completed one dunk during his final round, and he was stuffed by the front rim on most of his misses.
Carter stepped up after Pierce and hammered home three high-flying dunks to win the contest handily. It was a sign of things to come for Carter, who went on to win the 2000 NBA dunk contest. His performance is considered one of the best dunk contest showings ever. Pierce, on the other hand, never competed in an NBA dunk contest. Maybe his performance in 1995 scared him off the scene for good.
"The Truth" was born at Kansas and with the Boston Celtics
Paul Pierce's embarrassing performance in the 1995 high school dunk contest didn't phase him one bit. Pierce received a scholarship to play at Kansas University, and it took him no time to make his mark on the program.
Pierce started 30 of the team's 34 games as a freshman. He averaged 11.9 points and 5.3 rebounds per game in his first season as a Jayhawk. He improved each year at Kansas and capped off his career by scoring 20.4 points per game in his final season. Pierce was named an All-American in the same year.
"The Truth" was drafted 10th overall by the Celtics in 1998. He became one of Boston's most beloved athletes and brought the Celtics an NBA title in 2008.
Pierce even had a number of poster dunks and other incredible athletic feats throughout his NBA career. Maybe those made him forget about that 1995 dunk contest.