PGA Tour FedEx Cup Playoffs: Without the Staggered Stroke Format, Dustin Johnson Loses the Tour Championship
Things got a little closer than Dustin Johnson would have liked on the back nine at East Lake on Monday afternoon. But after hitting some big-time shots down the stretch, Dustin Johnson held off Justin Thomas and Xander Schauffele to win his first Tour Championship, which also earned him his first FedEx Cup title and the $15 million bonus check that goes along with it.
Coming into the final round of the 2019-2020 PGA Tour season with a five-shot lead, Dustin Johnson watched that lead dwindle down to two with just a few holes to play but was able to hang on as his competition faded, taking the title with a final score of 21-under, three shots clear of Schauffele and Thomas.
But as we all know, under the staggered stroke format, Dustin Johnson began the Tour Championship at 10-under due to his place atop the FedEx Cup standings. So that means that DJ shot 11-under for the week, which would not have been good enough to win at East Lake under normal circumstances. Johnson would have finished tied for third with Thomas in a normal week, one shot behind Scottie Scheffler and four strokes behind the man with whom he played the final round, Xander Schauffele, who shot 15-under over the past four days at East Lake.
Where all 30 players started the Tour Championship
Here's how all 30 players began the Tour Championship.
Dustin Johnson: -10
Jon Rahm: -8
Justin Thomas: -7
Webb Simpson: -6
Collin Morikawa: -5
Daniel Berger: -4
Harris English: -4
Bryson DeChambeau: -4
Sungjae Im: -4
Hideki Matsuyama: -4
Brendon Todd: -3
Rory McIlroy: -3
Patrick Reed: -3
Xander Schauffele: -3
Sebastian Munoz: -3
Lanto Griffin: -2
Scottie Scheffler: -2
Joaquin Niemann: -2
Tyrrell Hatton: -2
Tony Finau: -2
Kevin Kisner: -1
Abraham Ancer: -1
Ryan Palmer: -1
Kevin Na: -1
Marc Leishman: -1
Cameron Smith: E
Viktor Hovland: E
Mackenzie Hughes: E
Cameron Champ: E
Billy Horschel: E
Where all 30 players officially finished at East Lake
RELATED: Dustin Johnson Just Tied the Biggest Payout in PGA Tour History
Here's what the official final leaderboard looked like.
Dustin Johnson: -21
Xander Schauffele: -18
Justin Thomas: -18
Jon Rahm: -17
Scottie Scheffler: -14
Collin Morikawa: -13
Tyrrell Hatton: -12
Patrick Reed: -11
Sebastian Munoz: -11
Rory McIlroy: -11
Sungjae Im: -10
Harris English: -9
Webb Simpson: -9
Mackenzie Hughes: -8
Hideki Matsuyama: -7
Daniel Berger: -7
Tony Finau: -6
Abraham Ancer: -5
Lanto Griffin: -5
Viktor Hovland: -4
Brendon Todd: -4
Bryson DeChambeau: -3
Kevin Kisner: -1
Cameron Smith: E
Ryan Palmer: E
Cameron Champ: E
Kevin Na: +1
Joaquin Niemann: +1
Marc Leishman: +2
Billy Horschel: +4
Dustin Johnson doesn't win the Tour Championship without the staggered stroke format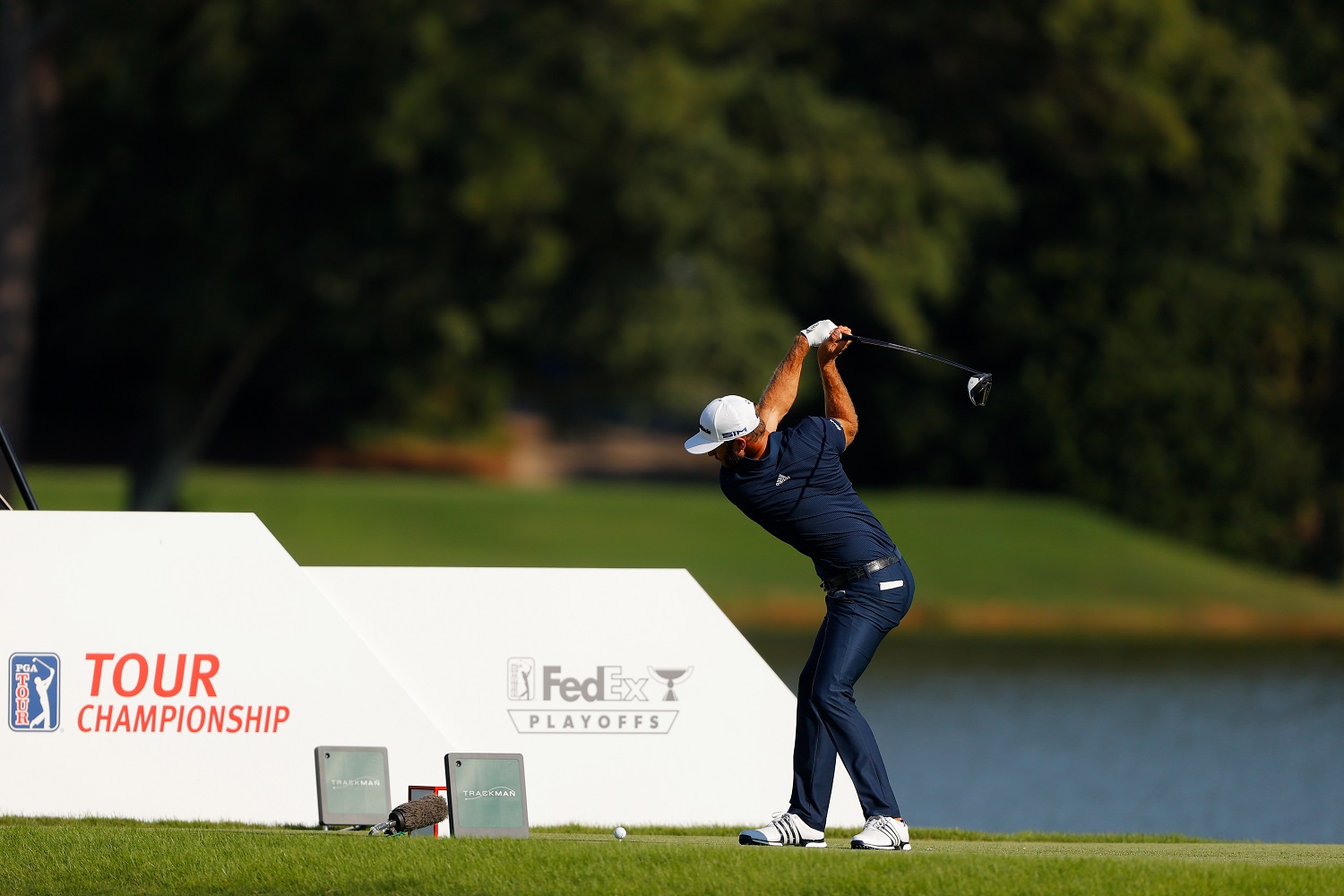 So this is how the Tour Championship leaderboard would have looked without the staggered stroke format. As you can see, it looks a lot different than the official leaderboard. As mentioned, Dustin Johnson loses by four shots this way. But with where Xander Schauffele began the week in the standings, DJ still would have walked away with the FedEx Cup title.
Xander Schauffele: -15
Scottie Scheffler: -12
Dustin Johnson: -11
Justin Thomas: -11
Tyrrell Hatton: -10
Jon Rahm: -9
Mackenzie Hughes: -8
Rory McIlroy: -8
Sebastian Munoz: -8
Patrick Reed: -8
Collin Morikawa: -8
Sungjae Im: -6
Harris English: -5
Viktor Hovland: -4
Abraham Ancer: -4
Tony Finau: -4
Daniel Berger: -3
Webb Simpson: -3
Hideki Matsuyama: -3
Lanto Griffin: -3
Brendon Todd: -1
Cameron Smith: E
Kevin Kisner: E
Cameron Champ: E
Bryson DeChambeau: +1
Ryan Palmer: +1
Kevin Na: +2
Joaquin Niemann: +3
Marc Leishman: +3
Billy Horschel: +4