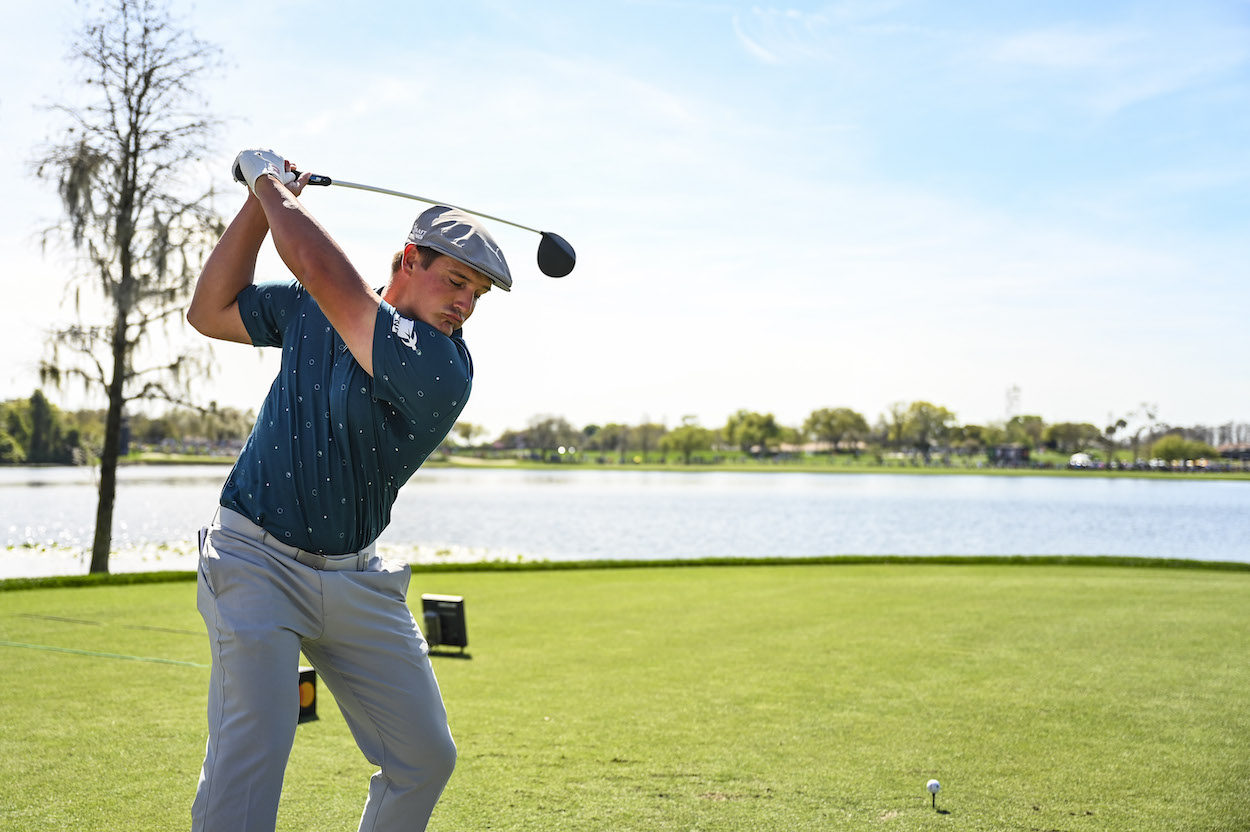 PGA Tour Makes The Players Championship Bryson DeChambeau-Proof by Implementing Unique Rule
Bryson DeChambeau had a brilliant plan to use his length to his advantage at The Players Championship, but the PGA Tour shut it down.
Bryson DeChambeau has completely transformed the game of golf with his record-breaking length. DeChambeau can take never-before-seen lines off the tee that give him a massive advantage over the rest of the field, and PGA Tour courses are being forced to adjust as a result.
Ahead of The Players Championship at TPC Sawgrass this weekend, the PGA Tour had to implement a unique rule to make the 18th hole Bryson-proof.
Bryson DeChambeau is changing the game with his historic length
DeChambeau has quickly become the most polarizing figure in golf over the last year. He decided to add 40 pounds of muscle during the COVID-19 hiatus, and now he smashes the golf ball farther than anyone ever has in PGA Tour history.
Last year, DeChambeau averaged 322.1 yards per drive, which set a PGA Tour record for a single season. And he's only hitting it farther this year. DeChambeau is crushing the ball 323.5 yards off the tee in 2021. It's not just the sheer length, though, that gives him an advantage over the rest of the field in a given tournament.
Because he can hit his driver longer than anyone on Tour, DeChambeau can take lines that no one else even thinks about. Just look at last week when he won the Arnold Palmer Invitational. On the sixth hole at Bay Hill, DeChambeau smoked his drive over the lake on both Saturday and Sunday to give himself less than 100 yards into the green on the 565-yard par-5.
DeChambeau's drive on Sunday measured 377 yards, and he had 90 yards left for his second shot. His playing partner, Lee Westwood, had 257 yards left after smashing his drive down the middle. That's downright unfair.
Bryson DeChambeau lays out crazy plan for The Players Championship
After his win at the Arnold Palmer Invitational, DeChambeau heads north for The Players Championship. Before even teeing it up at TPC Sawgrass, DeChambeau laid out a crazy, but possibly brilliant, plan to attack the treacherous 18th hole.
Instead of aiming down the fairway and putting the water into play, DeChambeau said he might pump a drive way left onto the ninth fairway and play the hole from there.
"I have thought about sometimes on 18 going left into nine,'' DeChambeau said this week. "It just gives you a better shot into the green where you can just hit it a little long and you're always going to be OK. The cover is like 310 [yards], but we'll see. I'll look at all options if there is an advantage there. But if not, I'll just hit 4-iron down the fairway and hopefully an 8-iron or 7-iron into the green.''
Knowing DeChambeau, he wouldn't hesitate to try something new that would give him a distinct advantage, but the PGA Tour has already stopped him in his tracks.
PGA Tour implements unique rule to make The Players Championship Bryson DeChambeau-Proof
As much as we'd love to watch DeChambeau annoy the rest of his group by hitting his tee shot on 18 to a completely different hole, we won't be getting it this year. The PGA Tour has stepped in to make the 18th hole at TPC Sawgrass Bryson-proof.
"In the interest of safety for spectators, volunteers and other personnel, The Players Championship Rules Committee has installed an internal out of bounds left of the lake for play of hole 18," the PGA Tour said in a statement Tuesday. "Similar instances of internal out of bounds for safety purposes have occurred at The Open Championship (hole 9) in 2017, the 2021 Sony Open in Hawaii (hole 13 and hole 18), and most recently, the 2021 Arnold Palmer Invitational presented by Mastercard (hole 6)."
Sorry, Bryson. You'll have to play the hole just like everyone else.