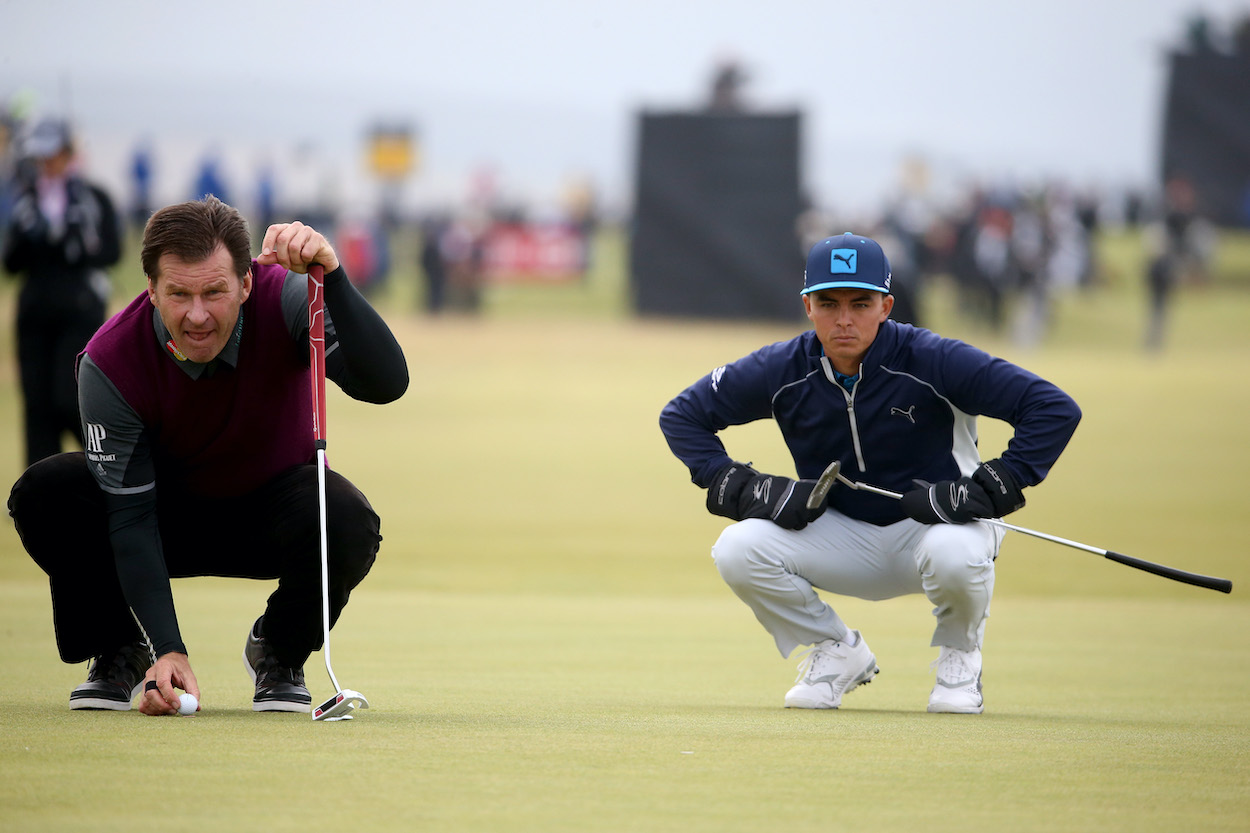 Nick Faldo Dishes Out a Cold-Blooded Shot at Rickie Fowler Amid Recent Struggles
Rickie Fowler is in danger of missing the 2021 Masters because of his poor play, but Nick Faldo doesn't feel bad for the struggling golfer.
It's no secret that Rickie Fowler isn't playing his best golf right now. To make matters worse, his face pops up on nearly every Golf Channel commercial break nowadays. At this point in his career, Fowler is shown more on TV advertising the newest golf technology or talking about cheap insurance than he is actually playing golf.
With Fowler in danger of missing The Masters for the first time since 2010, golf legend Nick Faldo took the opportunity to send a disrespectful shot Fowler's way about where his priorities lie.
Rickie Fowler is struggling mightily
Rickie Fowler used to be one of the most consistent players on the PGA Tour who finished inside the top 10 in seemingly every major he entered. But that Rickie Fowler is long gone.
The man who was ranked No. 4 in the world just a few years ago has now dropped all the way to No. 65 in the Official World Golf Ranking. He hasn't won since 2019 at the Waste Management Phoenix Open, and he's missed the cut in eight of his last 19 starts on the PGA Tour.
Through 11 events in the 2021 season, Fowler hasn't recorded a finish better than T20. The once-automatic putter ranks 167th on Tour this year in strokes gained: putting.
With just a month until the 2021 Masters, Fowler is on the outside looking in on the tournament field. He will have to inch his way back into the top 50 of the OWGR or win a tournament between now and April 5 to steal an invitation to Augusta National. It's not looking too good at the moment.
Fowler speaks bluntly about his recent struggles
Ahead of the Arnold Palmer Invitational at Bay Hill this weekend, Fowler spoke openly about his recent struggles. He said it's caused problems between him and his caddie, Joe Skovron, and even his wife, Allison Stokke.
"It's very frustrating," Fowler said Tuesday. "It's made it at times tough between Joe and I on the course. We have a great relationship, we have known each other for a long time, but when I'm out there and I'm not hitting shots that I'm visualizing and seeing, it's hard. It's tough for all of us that are involved, from my caddie, to my wife—she's having to deal with me at home."
Fowler knows better than anyone that golf is a game of ups and downs. He just happens to be in the midst of his worst down in over 10 years.
"You take advantage of the times where you're playing well and ride those out because you know that it's not always going to be that way, there are times where it's going to go down and you're going to have to fight through it," Fowler said. "Unfortunately, this one's been a little longer than I would like it to have been, but, yeah, we're grinding through it."
Nick Faldo takes a cold-blooded shot at Rickie Fowler amid struggles
It's been tough to watch Fowler miss simple iron shots and blow three-foot putts that he used to be able to handle in his sleep. It's an even worse look when Golf Channel's coverage goes from a poor Fowler shot to a commercial showing his smiling face directly afterward.
Former PGA Tour pro and Golf Channel analyst Nick Faldo seems to believe Fowler's focus on his brand has sent his actual golf game into the toilet. On Tuesday, Faldo responded to a tweet about Fowler's recent issues with a surprising dig at the struggling golf star.
"Good news is if he misses the Masters he can shoot another six commercials that week!" Faldo wrote in a tweet.
Faldo clearly believes Fowler needs to spend less time in front of the cameras and more time on the range. If he doesn't, he'll miss his first major in over 10 years.