Phil Mickelson Celebrated His British Open Victory in Epic Fashion by Slugging $40,000 Wine Out of the Claret Jug
Phil Mickelson knows how to celebrate a major championship victory in the best possible way.
Phil Mickelson has always had a love and appreciation for the deep history of golf, so when he won his first and only British Open title in 2013, he called it "probably the greatest win" of his career. And with the greatest win of his career came the greatest trophy he'll ever hold: the iconic Claret Jug.
Open Championship winners celebrate with the trophy in a variety of ways, but Mickelson had one of the most epic celebrations after his triumph in 2013. Like, $40,000 bottle of wine epic.
Phil Mickelson won his lone British Open in 2013
By the 2013 PGA Tour season, Mickelson already had four major championships to his name, including three Masters titles. But Lefty was still missing an Open Championship and a U.S. Open victory from his already incredible resume.
In the 2013 Open at Muirfield, Mickelson entered the final round five strokes back of leader Lee Westwood. You don't expect to make up that large of a deficit in one day at a major, but that's exactly what Mickelson was able to do on Sunday.
He carded a 2-under 34 on the front nine to get within striking distance, and two straight birdies to finish the round got him to 5-under on the day and 3-under for the tournament. Mickelson watched as the rest of the field faltered behind him, and he went on to win by three strokes for his first Open Championship title.
Mickelson celebrated by drinking $40,000 wine out of the Claret Jug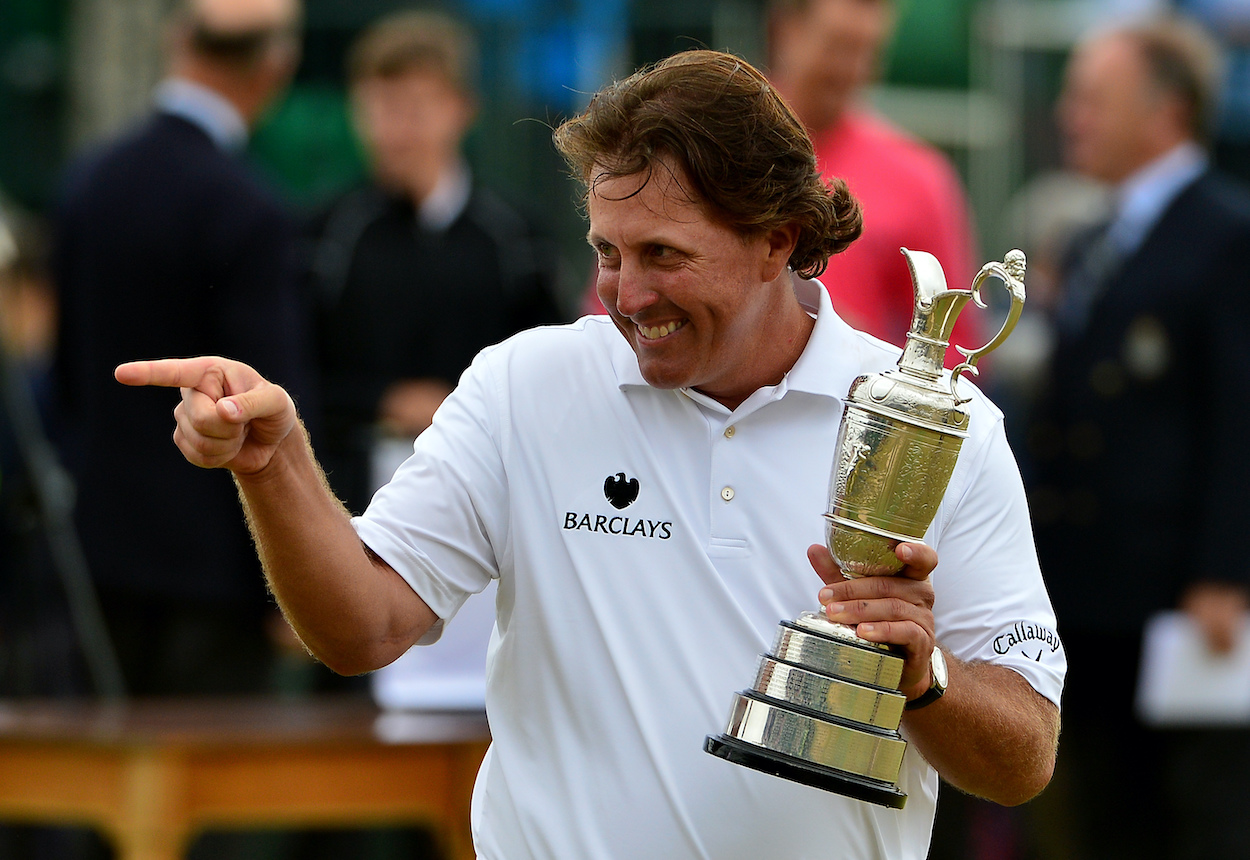 It's tradition for the British Open winner to celebrate by drinking out of the Claret Jug. Champagne, beer, wine, and even Coca-Cola has all been sipped from the century-old trophy over the years.
When Mickelson held the Claret Jug for a year, he reserved only the "good stuff" for the most famous trophy in golf.
"I've loved having the Jug with me for the last 12 months," he told The Scotsman in 2014. "The people who know and love the game get a big kick out of it. They really appreciate what it means to hold such a famous trophy. And drink out of it. I only let them drink the good stuff of course. There's been nothing in there that is sub-par. But the best was a 1990 bottle of Romanee Conti wine. It wasn't on my dime thankfully. It costs about $40,000."
Phil gonna Phil.
Lefty called his Open Championship win the greatest of his career
Mickelson, being the history buff he is, knows the significance of winning the Open Championship better than anyone. When he won golf's oldest major championship in 2013, he couldn't help but feel emotional about it.
"This is just a day and a moment that I will cherish forever. This is a really special time, and as fulfilling a career accomplishment as I could ever imagine," Mickelson said after the round. "It's probably the greatest and most difficult win of my career. It is great to be part of any Open Championship and to win at Muirfield feels amazing."
If Mickelson never goes on to win another Open, he'll cherish that lone victory for the rest of his life.