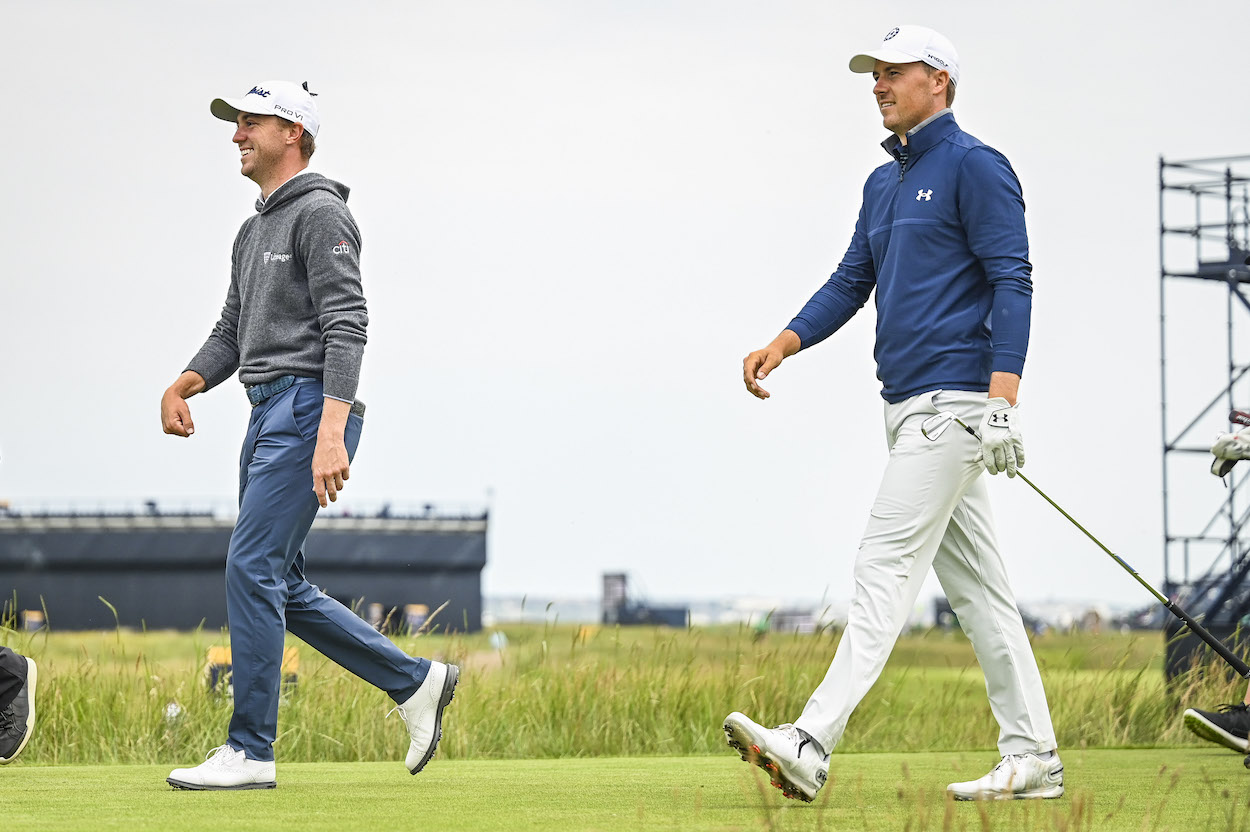 2021 British Open Odds, Best Bets, and Sleepers to Target at Royal St. George's
The 2021 British Open is upon us, so let's make some money on it, shall we?
The best golfers in the world travel across the pond this weekend for the 149th British Open at the iconic Royal St. George's Golf Club, and we're here to help you make a few extra pounds on the fourth and final major championship of the year.
2021 British Open odds
Unsurprisingly, Jon Rahm (+875) enters the Open Championship as the betting favorite to win his second major in a row. Rahm hit clutch putt after clutch putt down the stretch of the U.S. Open, and now that he's got a major under his belt, the floodgates might just open up for the uber-talented Spaniard.
Brooks Koepka (14-1) is right behind Rahm on the odds board, while his archnemesis, Bryson DeChambeau (33-1), is getting no love this week from oddsmakers. Reigning champion Shane Lowry (40-1), who comes in with a pair of top-10 finishes in his last three starts, is a bit further down.
Check out the top of the British Open odds board below:
Jon Rahm +875
Brooks Koepka 14-1
Jordan Spieth 18-1
Xander Schauffele 18-1
Justin Thomas 20-1
Rory McIlroy 22-1
Dustin Johnson 25-1
Louis Oosthuizen 28-1
Bryson DeChambeau 33-1
Collin Morikawa 33-1
Patrick Cantlay 33-1
Patrick Reed 33-1
Tyrrell Hatton 33-1
Viktor Hovland 33-1
Matthew Fitzpatrick 40-1
Paul Casey 40-1
Shane Lowry 40-1
Tommy Fleetwood 40-1
For the full list of odds, visit Bovada.
Outright picks for the 149th Open Championship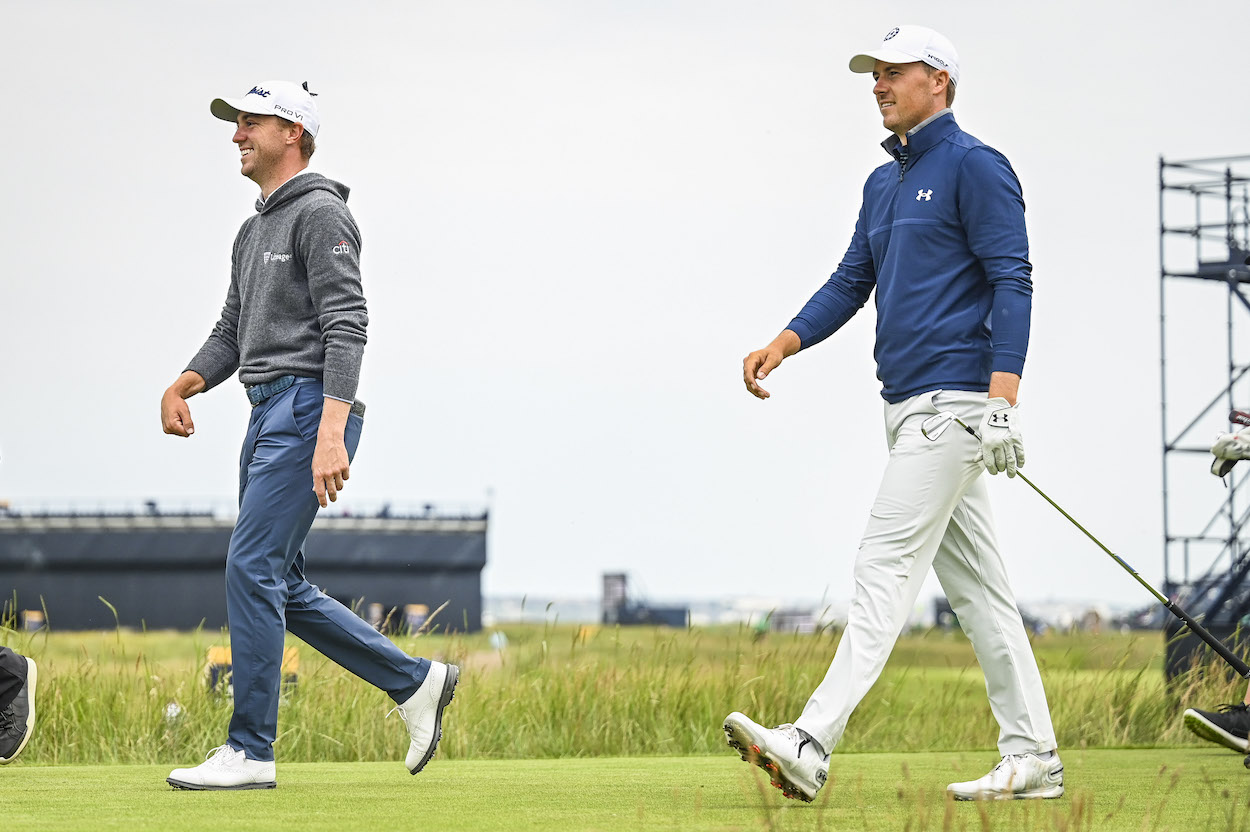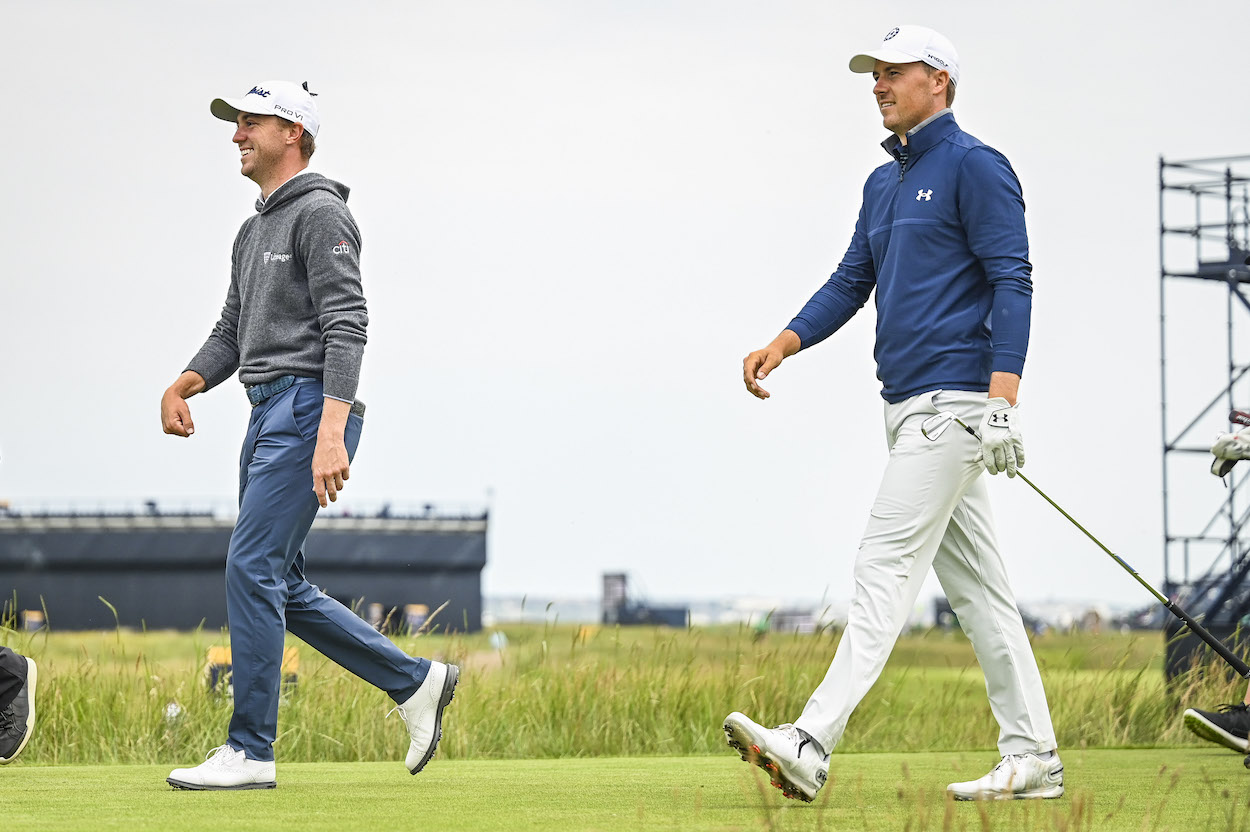 Jordan Spieth 18-1
We're bypassing Rahm here at his +875 price. Could he completely demolish this field and cruise to a five-stroke win on Sunday? Sure. But we're looking for a little more bang for our buck with our outright bets this week.
That brings us to Jordan Spieth at 18-1. Not only does Spieth own an Open Championship victory from 2017, but he's finished inside the top 20 in four of his last five Open starts. He's never finished worse than 44th at the event.
Spieth possesses the creativity and touch needed to scramble his way around links courses, and that'll be especially important this weekend at Royal St. George's. If he can keep his driver in play and get hot with the putter, Spieth will be right there come Sunday afternoon.
Justin Thomas 20-1
JT is a bit of a risky pick here at 20-1. He doesn't have a great track record on links courses (two missed cuts and a T53 in four Open Championship starts), and he recently made a putter change that tells you all you need to know about his confidence on the greens.
But Thomas is an elite ball-striker who should be able to navigate the wind at Royal St. George's better than almost anyone in the field. He also has a brilliant short game, as he ranks 13th on the PGA Tour this season in Strokes Gained: Around-the-Green.
Thomas finished tied for eighth in the Scottish Open last week without even putting particularly well. The flat stick will decide if JT contends this week.
Patrick Reed 33-1
Look, I get it. No one wants to root for Patrick Reed.
But cold hard cash doesn't play favorites, and that's exactly what Reed has been making golf bettors for years.
Elite short game? Check (ninth in SG: Putting and 14th in SG: Around-the-Green this season)
Success on links courses? Check (finished 10th in the 2019 British Open)
Winning pedigree? Check (nine PGA Tour wins and a major championship to his name)
Juicy price? Check, check, check (better price than both Xander Schauffele and Louis Oosthuizen, who have a COMBINED five wins on Tour)
You don't have to like Reed to win money on him. Lighten up. It's fun to play the villain for once.
Sleepers to target at Royal St. George's
Rickie Fowler 66-1
Fowler isn't normally thought of as a sleeper, but anyone at 66-1 odds to win a golf tournament has to fit in this category.
Rickie has struggled mightily over the last few years, which explains why this price is where it is. But the wind and rain at Royal St. George's might be just what he needs to break out of his lengthy slump. Fowler has recorded three top-10 finishes in the Open Championship, and he finished T6 last time around in 2019. He also won the Scottish Open in 2015.
His soft hands (11th in SG: Around-the-Green this season) will help him make crucial pars from tough spots, and if his putter can click for four days in a row, Fowler should be in the mix come Sunday.
Rickie is +650 for a top 10 and +275 for a top 20.
Christiaan Bezuidenhout 100-1
You might not be able to spell or pronounce it, but Christiaan Bezuidenhout is a name you need to know this week.
The South African was in contention at both the PGA Championship and the U.S. Open before brutal final rounds erased him from the front page of the leaderboard. If Bezuidenhout can calm his nerves under the pressure of a major championship, he has the short game (third in SG: Putting and fourth in SG: Around-the-Green) to hang around this week.
Bezuidenhout is +600 for a top 10 and +250 for a top 20.
Erik Van Rooyen 200-1
Let's have some fun, shall we?
Van Rooyen isn't a particularly strong major performer, but he finished T17 and T20 in his two career starts at the British Open. He also finished T6 at the Scottish Open last year.
The South African plays his best golf on links courses, so throwing a few bucks on some derivatives could be valuable this week.
Van Rooyen is 25-1(!) for a top 10 finish and +500 for a top 20.
Best bets for the 2021 British Open
Bryson DeChambeau to miss the cut +225
Bryson couldn't be in a worse place right now heading into the Open Championship. He's objectively losing his feud with Brooks Koepka, just parted ways with his longtime caddie two weeks ago, and the entire golf world seems to be turning on him.
Oh, and his game doesn't fit links golf at all.
In three starts at the Open, DeChambeau has recorded two missed cuts and a T51. He also hasn't played in the British Open since completely transforming his body and his strategy.
DeChambeau's game translates best to courses with simple layouts where he can unleash long drives and leave himself with shorter second shots. Links courses, especially Royal St. George's, demand precision, imagination, and the ability to hit a variety of shots into greens. DeChambeau doesn't have any of that right now.
Bryson's poor short game (113th in SG: Around-the-Green) will doom his this week, and he'll be flying home two days early.
Bonus bet: Spieth to beat DeChambeau -130
Louis Oosthuizen to beat Will Zalatoris -140
OK, so we picked a juicy price for the first best bet. Let's go for a safer play here.
Oosthuizen is playing exceptional golf right now. He finished as the runner-up in both of the previous two majors, and he hasn't finished outside the top 20 in any event since April.
The exact opposite can be said for Zalatoris, who stole America's heart at the Masters and the PGA Championship earlier this year. The up-and-comer has finished T59, CUT, and 77th in his last three starts, and he doesn't have nearly the amount of links experience Oosthuizen has.
Easy one here.
Tony Finau top-20 finish +150
T18, T27, T9, 3.
Those are Finau's finishes at the British Open in his career.
Finau is the only player with top-10 finishes in the last two Open Championships, and his 1.96 strokes gained per round on links courses is the second-best mark of any player with 20 or more rounds played over the last 10 years, per Justin Ray.
His fantastic short game and ability to shape shots through the wind put him in great position this week.
Brooks Koepka top-10 finish +150
No analysis needed here. Place this bet in every single major, sit back, and count your money on Sunday.