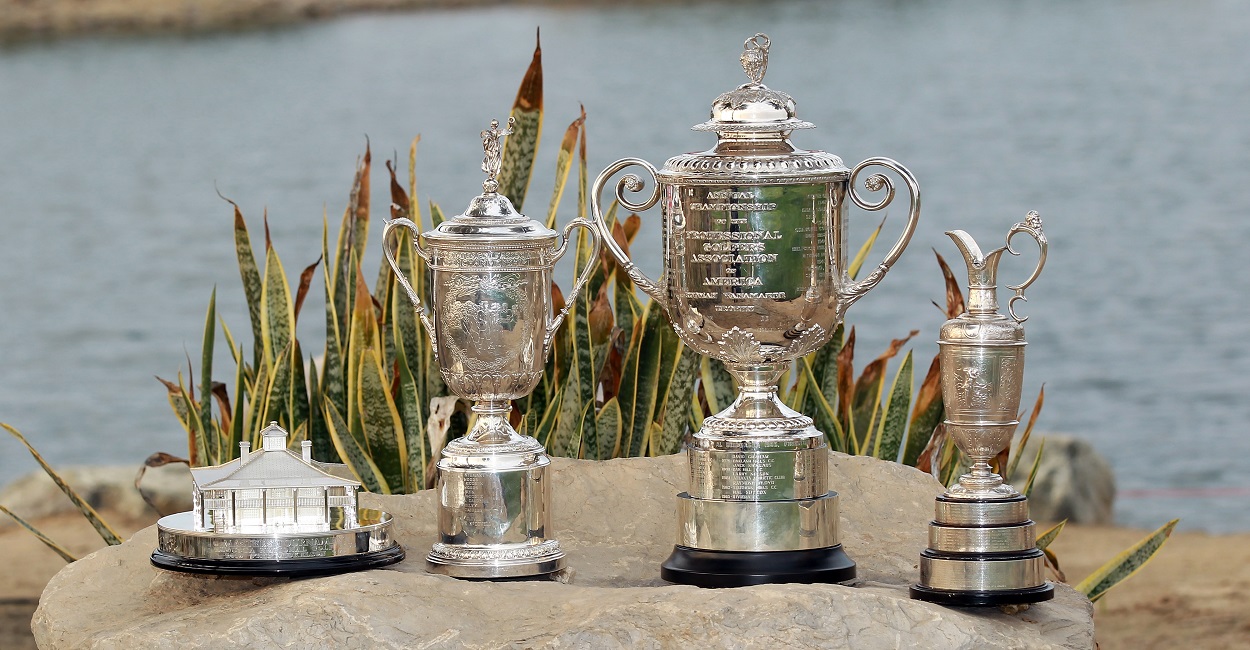 Which Golfer Has the Most Appearances in a Major Championship Without a Victory?
A look at the golfers with the most starts in a major championship without recording a win.
Since golf's first recognized major championship was played in 1860, 231 different golfers have captured at least one major victory, with 86 winning at least two.
Of those 86, 20 have won five or more, while only three have reached double digits, those being Jack Nicklaus (18), Tiger Woods (15), and Walter Hagen (11).
Some were fortunate enough to win one after many, many attempts. For instance, it took Sergio Garcia a record 74 tries to win his first major championship, finally doing so at The Masters in 2017.
Tom Kite won his first and only major in start number 73, finally breaking through with a two-stroke victory at the 1992 U.S. Open at Pebble Beach.
But then there are those that go their entire careers without ever winning one, some of whom have even reached the top spot in the world rankings. One of those players is Lee Westwood, who made some unwanted history in 2021 as he broke a tie atop the list of players with the most major starts without a victory.
Here's a quick look at the top five players on the list on which nobody wants to be.
5. Scott Hoch made 70 major starts without a win
From 1975 to 2004, 11-time PGA Tour winner Scott Hoch made 70 appearances in a major championship without securing a victory, recording 15 top-10 finishes. His best chance to win a major came at The Masters in 1989, where he was tied with Nick Faldo atop the leaderboard after 72 holes.
On the first playoff hole, the tough par-4 10th, Hoch famously missed a two-foot par putt to win and lost on the second extra hole, the par-4 11th, when Faldo made a long birdie putt to win the first of his three green jackets.
4. Colin Montgomerie has the fourth-most appearances and the most runner-up finishes in a major championship without winning one
Coming in with the fourth-most major championship appearances without a victory is 31-time European Tour winner Colin Montgomerie, who teed it up at 75 majors from 1990 to 2016 without ever hoisting a trophy.
Montgomerie, who reached as high as No. 2 in the world rankings, finished in the top 10 of a major on 10 occasions and owns the most runner-up finishes without a victory. The Hall of Famer finished second at the U.S. Open in 1994, 1997, and 2006, the PGA Championship in 1995, and The Open Championship in 2005.
3. Steve Stricker recorded 13 top-10 finishes in 76 major championship starts but only finished as high as second
Steve Stricker made his first major championship appearance at the 1983 U.S. Open at Oakmont, his most recent appearance at the 2021 PGA Championship at Kiawah Island, and 74.
In those 76 appearances, the 2021 Ryder Cup captain recorded 13 top-10s, his best finish being a runner-up at the 1998 PGA Championship at Sahalee Country Club, where he finished two strokes back of Vijay Singh.
2. Jay Haas played 87 majors and never finished higher than third
Nine-time PGA Tour winner Jay Haas appeared in 87 major championships from 1974 (his first two were as an amateur) to 2008 without a victory, putting him in second place on this list. Haas recorded 16 top-10 finishes in majors, including three in 1995 alone, tying for third at The Masters, tying for fourth at the U.S. Open at Shinnecock Hills, and tying for eighth at the PGA Championship at Riviera.
Haas' T-3 at Augusta in '95 and his T-3 at the 1999 PGA Championship at Medinah were his best-ever finishes in a major.
1. Lee Westwood has made 91 major championship appearances without a victory
Lee Westwood found himself on the wrong side of history as his appearance at the 2021 edition of The Open Championship marked his 88th start in a major.
Westwood took the top spot on his own after tying for 59th at Royal St. George's, where he missed the cut in 2003 and 2011, the latter being the year Darren Clarke won his first and only major in attempt number 54.
The Englishman tied for 14th at the 2022 Masters in major start number 89 and missed the cut in start number 90 at the PGA Championship at Southern Hills. Westwood did not qualify for the 2022 U.S. Open. He extended the streak to 91 with a tie for 34th at the 2022 Open Championship at St. Andrews.
As he's now a member of LIV Golf and has dropped considerably in the world rankings, it's likely he's made his last appearance in a major.
Westwood, who spent 22 combined weeks at No. 1 in the Official World Golf Ranking in 2010 and 2011, has recorded 19 top-10s in major championships, including solo-second finishes at The Masters and The Open Championship in 2010 and a T-2 finish at Augusta in 2016.