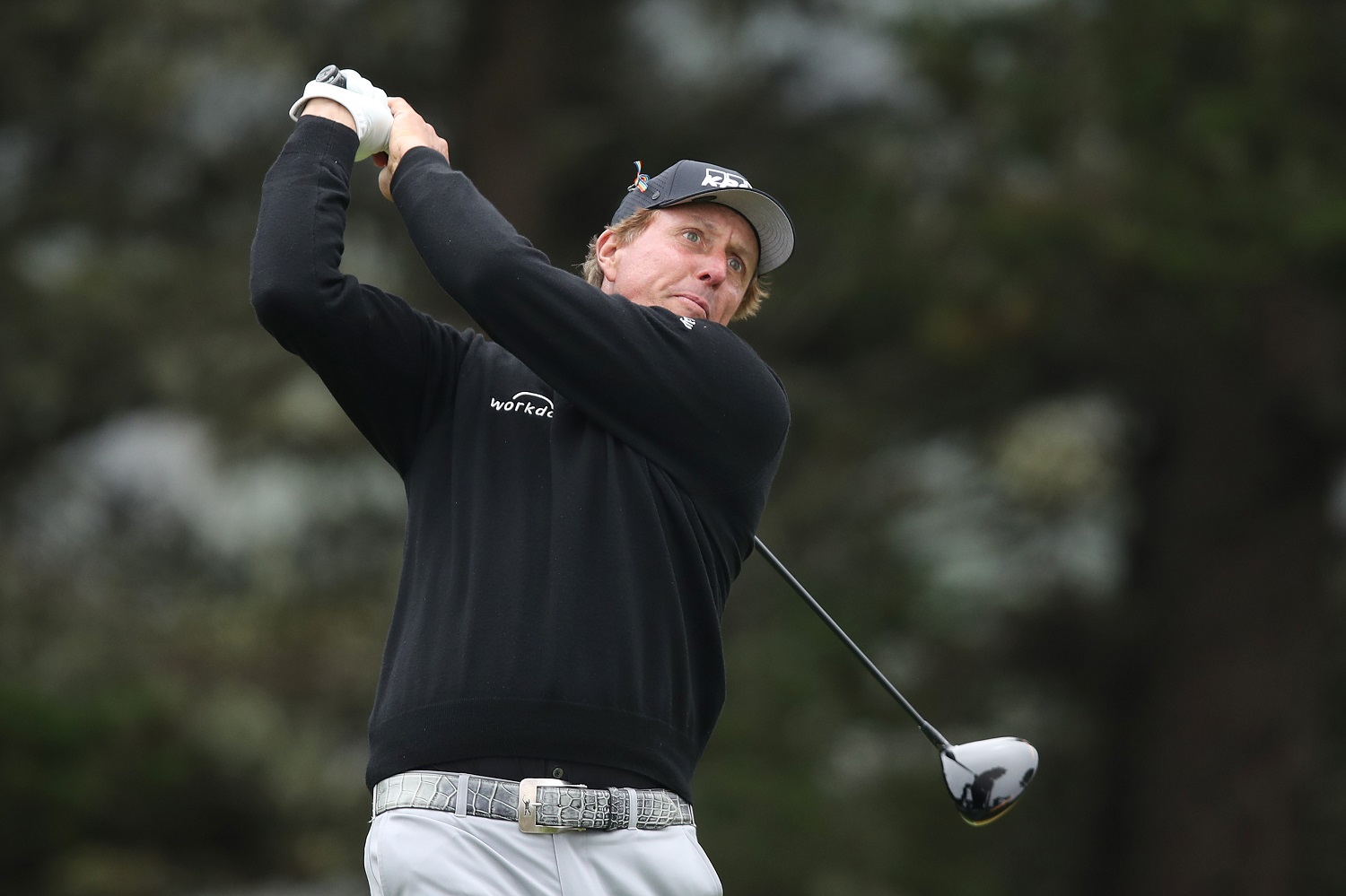 Phil Mickelson Is Ready To Do Something He's Never Done To Prepare for the U.S. Open
Six-time runner-up Phil Mickelson is prepared to do something he's never done ahead of this year's U.S. Open at famed Winged Foot Golf Club.
Phil Mickelson shot a 3-under round of 68 on Friday at TPC Boston but it wasn't enough to save his PGA Tour season. After shooting 74 on Thursday, Lefty needed to go very, very low in the second round of the Northern Trust (which turned out to be very possible given we saw a 59 and a 60) to make the weekend but will now watch as the FedEx Cup Playoffs go on without him. In not qualifying for the BMW Championship, which obviously makes him ineligible for the season-ending Tour Championship, the logical next stop for Mickelson seemed to be the U.S. Open at Winged Foot.
However, as it turns out, that will not be the case. In order to stay loose as he prepares for yet another attempt at the career Grand Slam, Phil Mickelson will finally tee it up in his first PGA Tour Champions event.
Phil Mickelson has been the runner-up at the U.S. Open a record six times
With 44 PGA Tour wins and five major championships to his name, Phil Mickelson is already one of the greatest golfers in history. But there has always been one tournament that he's wanted to win more than any other. Unfortunately, it also happens to be the same tournament that's tortured him the most: the U.S. Open.
Mickelson has finished as the runner-up at America's national championship a record six times. In 1999, he watched Payne Stewart make one of the most clutch putts in major championship history at Pinehurst. Four years later at Bethpage Black, he watched his longtime rival, Tiger Woods, win his second U.S. Open in three years. In 2004 at Shinnecock Hills, Lefty took three putts from five feet on the 17th hole on Sunday for a double-bogey and finished two shots behind Retief Goosen.
At Winged Foot in 2006, site of this year's U.S. Open, Mickelson had the worst collapse of his career (more on that in a moment). Back at Bethpage Black in 2009, Phil bogeyed two of the final four holes and finished two shots back of Lucas Glover. In 2013 at Merion, he took a one-shot lead into the final round and then made two doubles in the first five holes. He fought his way back into contention but then bogeyed three of the final six to finish two behind Justin Rose.
His collapse at the 2006 U.S. Open at Winged Foot was insane
At the end of three rounds at the 2006 U.S. Open at Winged Foot, Phil Mickelson was tied for the lead with Kenneth Ferrie, one shot ahead of Geoff Ogilvy, and two shots ahead of a group of four that included Colin Montgomerie.
In one of the most exciting final rounds in U.S. Open history, Mickelson came to the final hole needing just a par to win and a bogey to tie Ogilvy, who was already in the clubhouse at 5-over (it was a very difficult week). Lefty pulled out his driver, which was a clear mistake, and hit his tee shot way left, leaving himself essentially no shot at the green. But that sure didn't stop him from trying.
His second shot went just 25 yards, his third buried in the bunker, and his fourth still couldn't find the green. Mickelson still had a chip to tie but it rolled past the hole and he finally found the hole with a double-bogey, leaving him one shot back. Brutal.
Phil Mickelson will play his first PGA Tour Champions event next week
While he certainly won't be one of the favorites when the U.S. Open returns to Winged Foot on September 17, 50-year-old Phil Mickelson is running out of chances to complete the career Grand Slam and still wants to be prepared. So with no PGA Tour events on the horizon for him, he's taking advantage of his age and announced on Friday that he'll play his first PGA Tour Champions event next week as he begins his prep work for the U.S. Open (h/t ESPN).
"Now that I missed the cut and have two weeks off, essentially, I'm hopefully going to go play the Champions event Monday, Tuesday and Wednesday."

Phil Mickelson
Well, the Charles Schwab Series at Ozarks National certainly won't have the same type of field that the BMW Championship at Olympia Fields will but at least Lefty will get in some reps. There's no word yet on where he'll play after that but he might try and get some more work in when the new PGA Tour season begins with the Safeway Open, which takes place the week before the U.S. Open.
But until then, let's just cringe at the fact that we're all getting older and will actually watch Phil Mickelson tee it up on the senior tour next week.