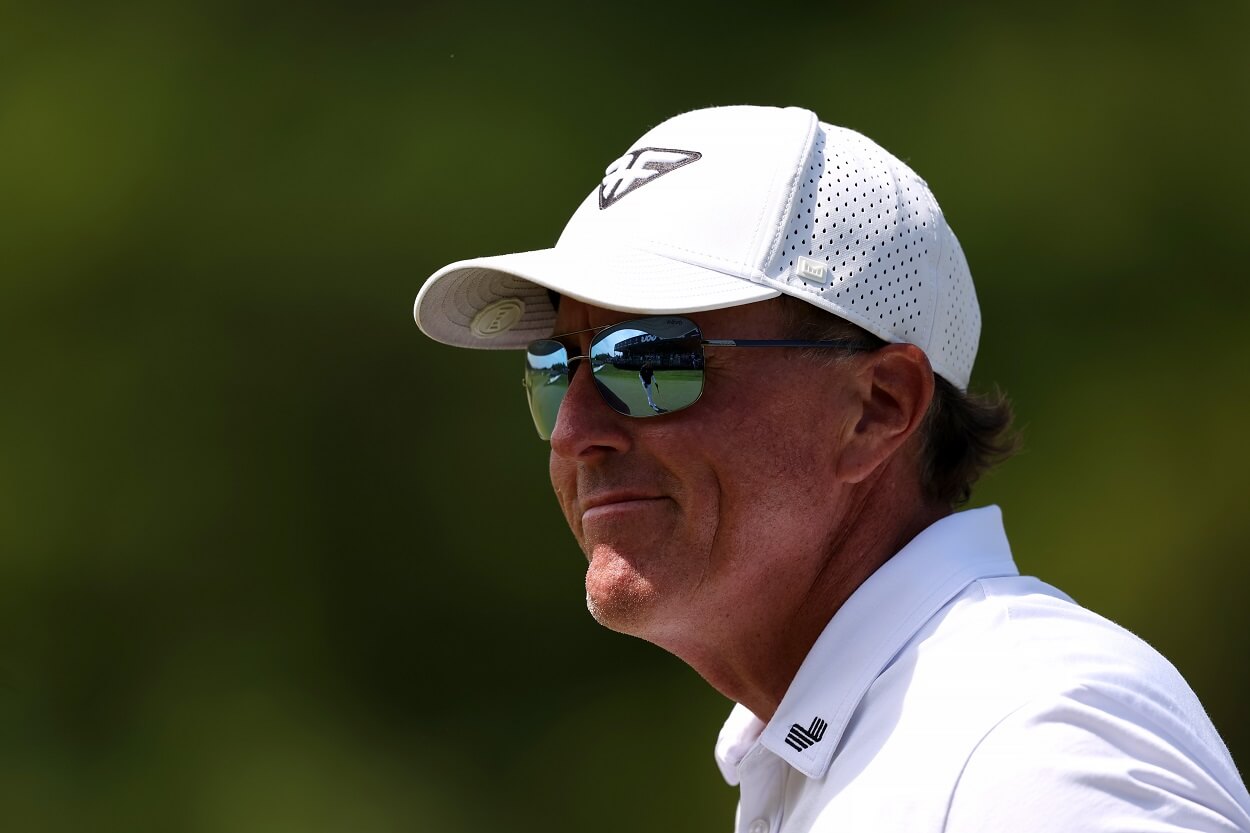 Phil Mickelson Runs Down Rory McIlroy, Praises Viktor Hovland, and Recruits Hideki Matsuyama to LIV Golf
Phil Mickelson had a busy weekend on Twitter.
With LIV Golf amid a monthlong break, Phil Mickelson has likely used some of the downtime to prepare for next week's U.S. Open, the only major championship he's never won.
But the six-time major champ has also spent plenty of time on social media recently, a large portion of that activity being a childish spat with Golf Channel analyst and former PGA Tour player Brandel Chamblee, who's never hidden his disdain for Mickelson's current employer.
And while there was still some of that happening this past weekend as the Memorial Tournament played out at Jack Nicklaus' famed Muirfield Village Golf Club, Phil turned his attention elsewhere as he took a shot at Rory McIlroy, praised Viktor Hovland, and recruited Hideki Matsuyama to join his LIV Golf squad.
Phil Mickelson says no LIV Golf team would want Rory McIlroy
During a press conference at the Memorial, where he ultimately tied for seventh, Rory McIlroy talked about how he and others on the PGA Tour have been advocating for a true offseason. The world's third-ranked player said that time "would be nice to work on your mechanics and fundamentals" as a follow-up to saying how difficult it is to "play your best golf when you're really thinking about your golf swing."
And Rory certainly has been making some changes to his swing as of late, as evidenced by the new Roy McAvoy-like training aid he was using on the practice range at Muirfield Village.
McIlroy, who's been the face of the PGA Tour and has taken on additional responsibilities outside the ropes, famously took some time off after the Masters, a vacation that resulted in a $3 million fine for missing a second designated event.
Once the clip of McIlroy's presser hit social media, Phil Mickelson was right on top of it and had this to say about his fellow major champion.
As worn out as Mclroy was after the Masters and his need for an off season, LIV would be perfect for him. Problem is I don't think there's a team that wants him on it because they'd have to deal with all his bs.

Phil Mickelson on Rory McIlroy
Rory, of course, hasn't held back about his feelings toward LIV Golf, so it's not a surprise that Mickelson took this route as he's very protective of the Saudi-backed series.
But Phil can't seriously think that if McIlroy had a sudden change of heart and wanted to jump ship that nobody would want him. Perhaps Lefty just wouldn't be able to handle that Rory would probably get twice or triple the amount of upfront money that he did and become LIV Golf's highest-paid player.
Phil praised Viktor Hovland for his win at the Memorial
As McIlroy struggled on Sunday at the Memorial and quickly fell out of the lead, Viktor Hovland took advantage.
On a tough scoring day at Muirfield, where Scottie Scheffler was the only player in the field to shoot in the 60s, Hovland shot a 2-under round of 70 and then defeated Denny McCarthy in a playoff to notch the fourth (and easily the most notable) victory of his PGA Tour career, pocketing a cool $3.6 million in the process.
Phil Mickelson certainly took notice, tweeting (seen above) that Hovland certainly has to be considered one of the favorites heading into the U.S. Open. And there's certainly no arguing that point. Hovland has played well on the biggest stages this season, tying for third at The Players Championship, tying for seventh at the Masters, and tying for second at the PGA Championship.
Mickelson invited Hideki Matsuyama to join his LIV Golf team
And last but not least, we've got Phil Mickelson recruiting Hideki Matsuyama to join his LIV Golf team under odd circumstances.
After shooting a final-round 76 at the Memorial, which dropped him into a tie for 16th, Matsuyama (or at least someone who looks a helluva lot like him) was spotted flying commercially on Spirit Airlines, which isn't typical for someone in the top 25 on the PGA Tour's all-time money list.
The 2021 Masters champ was linked to LIV Golf for months last year but ultimately chose to remain on the PGA Tour after reportedly turning down an offer between $300-$400 million. And Phil certainly didn't waste this opportunity to throw one more recruiting pitch to the Japanese superstar.
Phil Mickelson's golf game may not be in great shape (don't let that Masters fluke fool you — he's 39th in the LIV Golf standings) at the moment, but he's certainly keeping his Twitter game sharp.