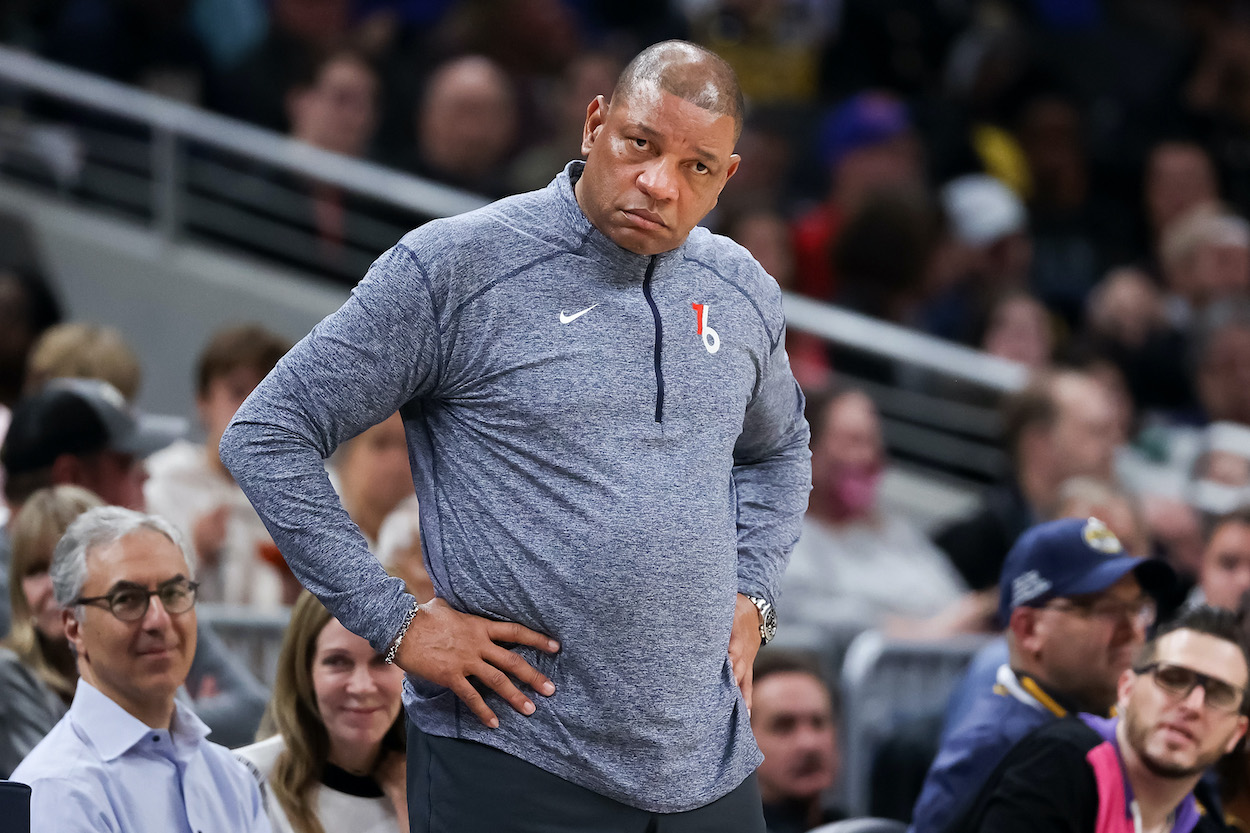 Philadelphia 76ers: Doc Rivers Goes on Bizarre Rant That Makes His Embarrassing Playoff Collapses Look Even Worse
Doc Rivers needs to worry less about how he's perceived and more about avoiding another playoff disaster.
Doc Rivers' playoff collapses as a head coach have been well-documented over the years. The Philadelphia 76ers skipper is the only head coach in NBA history to blow three different 3-1 leads in the postseason, and he's two losses away from becoming the first to squander a 3-0 cusion.
Rivers is clearly starting to feel the pressure of another disastrous collapse, because when asked about his previous playoff failures ahead of Game 6 against the Toronto Raptors, the 60-year-old went on an embarrassing rant that only proved how insecure he is about his past.
Doc Rivers is on the verge of the worst playoff collapse in NBA history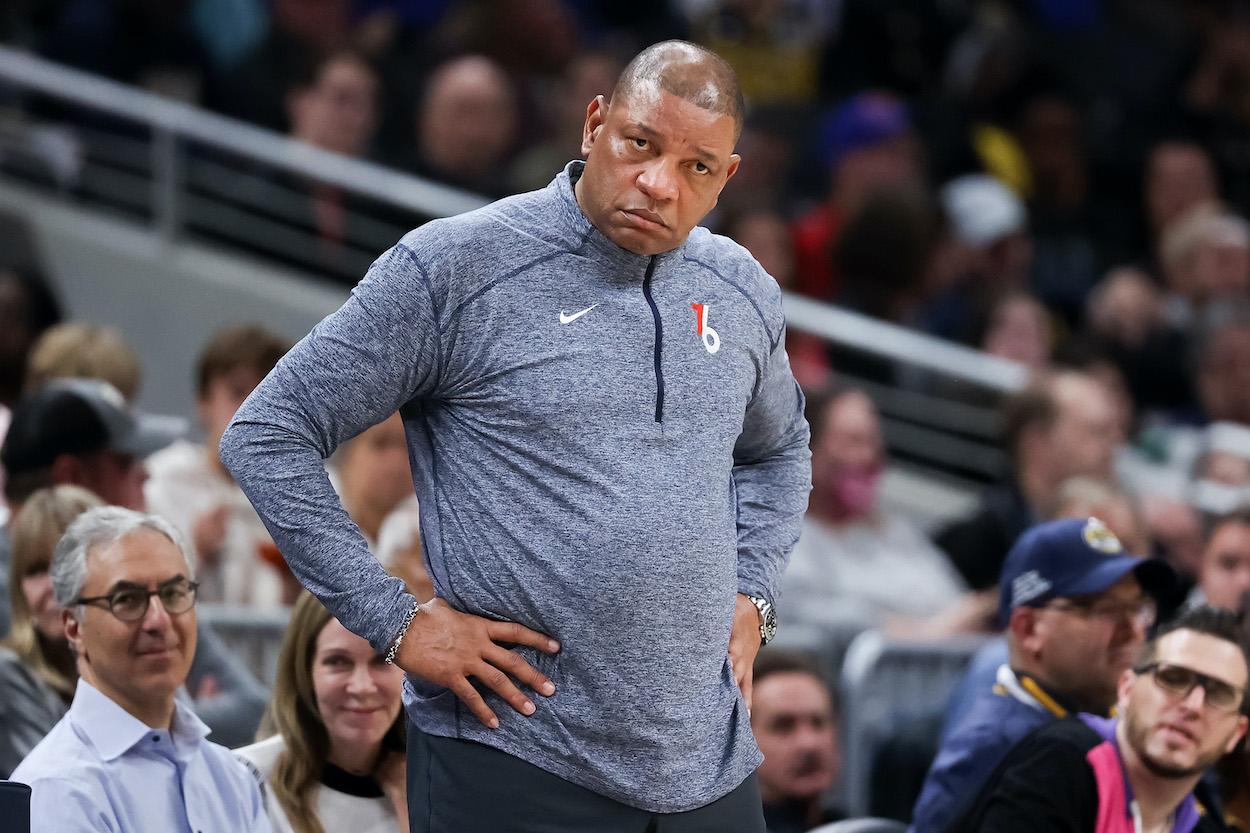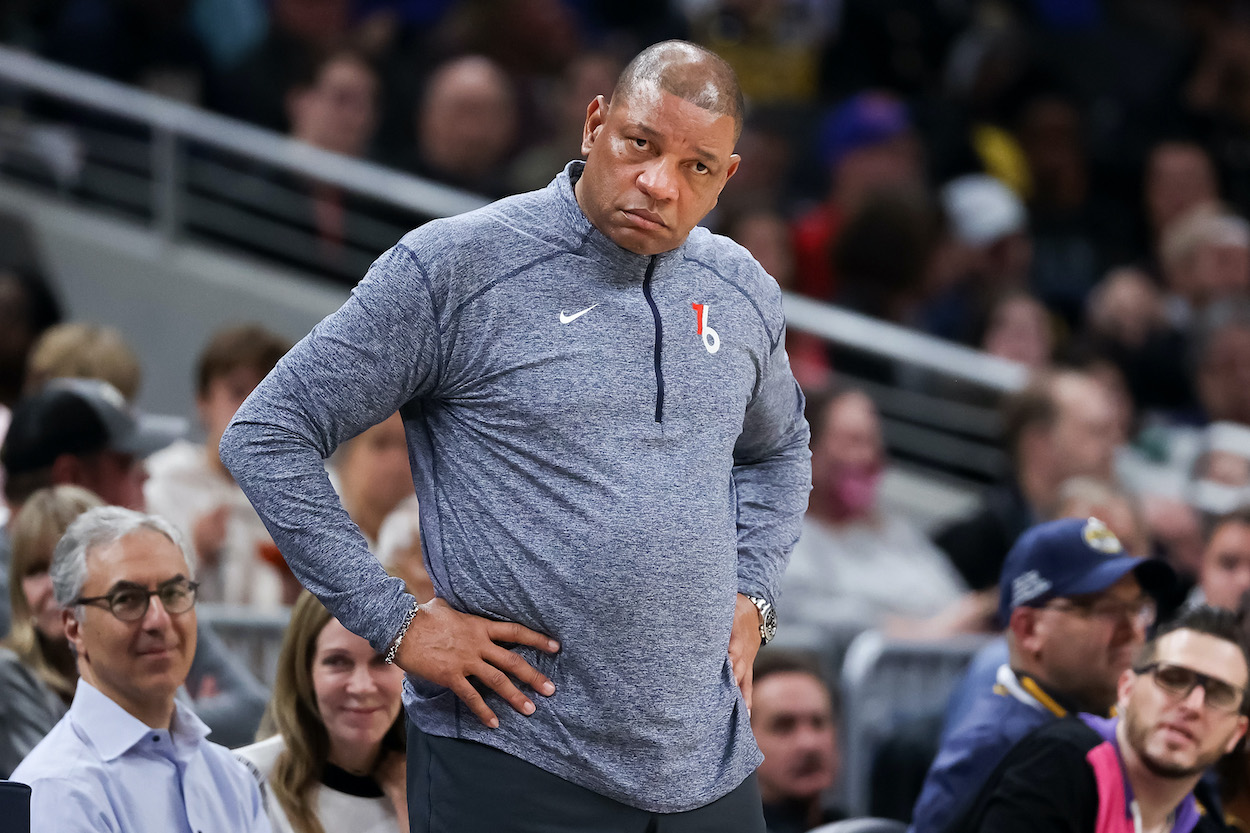 After Joel Embiid sunk his miraculous game-winner in Game 3 against the Raptors, it seemed as if the 76ers moving on to the second round of the playoffs was a mere formality. No team in NBA history has ever come back from a 3-0 deficit in the postseason.
But this is still Doc Rivers we're talking about. The same Doc Rivers who has the worst track record in league history at closing out teams in the playoffs. No head coach has ever blown as many 3-1 leads (three), and no one has more Game 7 losses (nine).
So, as seems to be the norm for Rivers-coached teams throughout the years, the Sixers came out flat in Game 4 and Game 5 and let the Raptors right back in the series. Philadelphia will take on Toronto on the road Thursday night with one last chance to close out the series before having to play a dreaded Game 7 in front of 20,000 anxious Philly fans.
A loss to the Raptors in the first round would solidify Rivers' place as the greatest choke artist in NBA playoff history (if he isn't already). The veteran head coach is already feeling the heat.
Rivers goes on defensive rant that should worry 76ers fans
Rivers' history of playoff collapses dates back to 2003. He led the No. 8 seed Orlando Magic to a 3-1 series lead over the Detroit Pistons, but he wasn't able to close out the eventual NBA champions. Over a decade later, Rivers blew another 3-1 lead with the Los Angeles Clippers in 2015, and he completed his third 3-1 collapse with the same team in 2020.
With the Sixers on the verge of blowing the first 3-0 lead in NBA playoff history, Rivers has heard plenty of talk about his postseason track record. When asked about it before Game 6, he became surprisingly defensive.
"Well, it's easy to use me as an example, but I wish y'all would tell the whole story with me," Rivers told reporters after Wednesday's practice, per ESPN.
"My Orlando team was the eighth seed. No one gives me credit for getting up against the Pistons, who won the title. That was an eighth seed. I want you to go back and look at that roster. I dare you to go back and look at that roster. And you would say, 'What a hell of a coaching job.' Really."
What exactly are you looking for, Doc? A pat on the back for almost beating a superior team nearly 20 years ago? But he didn't stop there.
"I mean, the Clipper team [in 2015] that we lost 3-1, Chris Paul didn't play the first two games and was playing on one leg, and we didn't have home court," he continued. "And then the last one [2020], to me, is the one we blew. That's the one I took. We blew that. And that was in the bubble. And anything can happen in the bubble. There's no home court. Game 7 would have been in LA."
Well, there you have it. An excuse for every playoff blunder. Truly an impressive display of insecurity. But it's OK, Sixers fans, Rivers also finished with this:
"I gotta do better always. I always take my own responsibility. And then some of it is, circumstances happen," he said. "This one, let's win it, and we don't have to talk about it."
I can't wait to see what Rivers pulls out of his lengthy book of excuses if Philadelphia somehow blows a 3-0 lead.
Like Sportscasting on Facebook. Follow us on Twitter @sportscasting19.