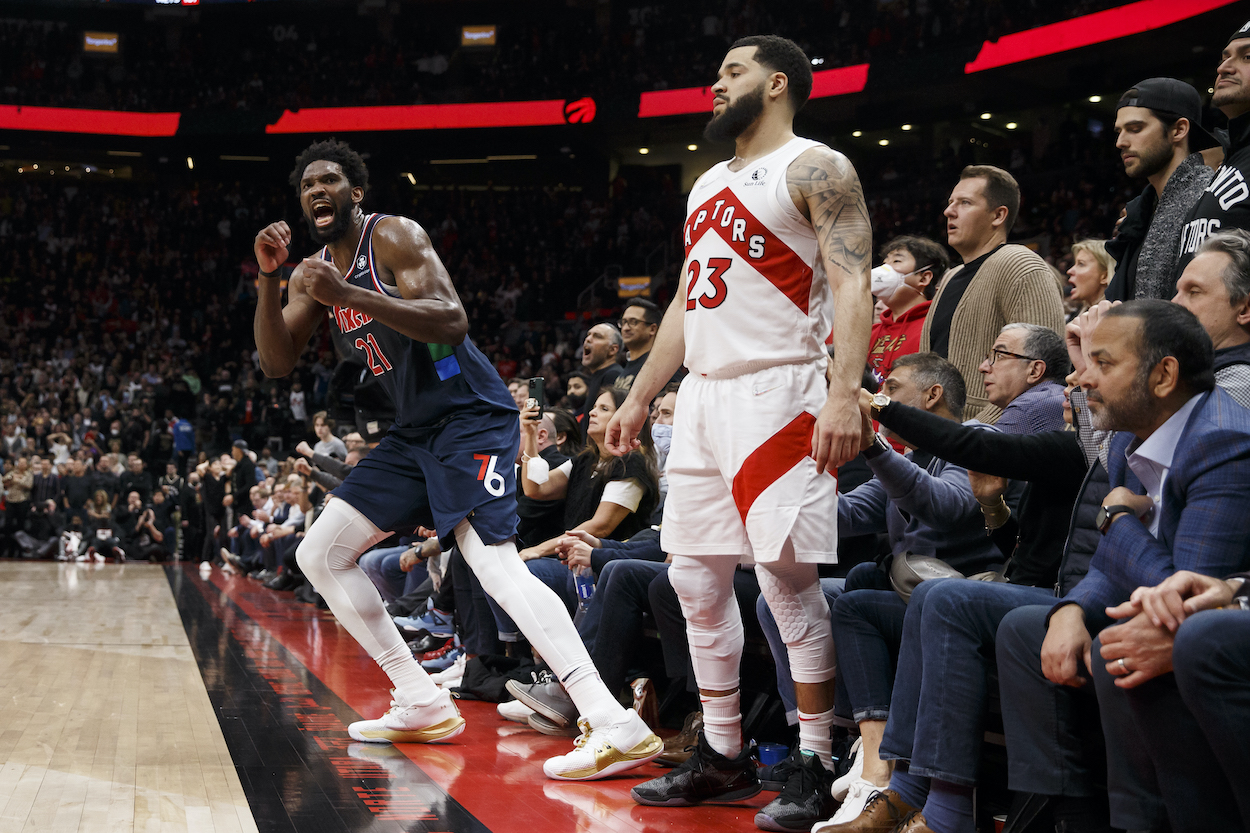 Joel Embiid Is Exorcising His Demons, Finding Joy in Basketball, and Making it Impossible to Root Against Him
Joel Embiid returned to the site of his biggest heartbreak and exorcised his demons against the Raptors.
The events of May 12, 2019 will stick with Joel Embiid for as long as he lives.
That was the day a 22-ounce ball of leather made a 280-pound mammoth of a man break down and sob in front of 20,000 enemy fans and millions more cheering on his downfall from home. The day that same man realized just how much he loved the simple game he nearly walked away from in 2014 after his 13-year-old brother and best friend, Arthur, was struck and killed by a vehicle on his way home from school in Cameroon.
The day he vowed he would stop at nothing to bring his adopted home of Philadelphia a world championship.
Embiid still thinks about that day three years later. And how could you blame him? When Kawhi Leonard's last-second heave bounced not once… not twice… not three times… but four times on the rim and caressed the nylon below to knock the Philadelphia 76ers out of the 2019 NBA playoffs, Embiid felt his entire soul leave his body.
All he could do was stand there in shock — hands on his head — as a sea of white squeezed the life out of his 7-foot frame. After the shock receded and reality set in, he slumped into Marc Gasol's compassionate arms like an exhausted child with no control over his limbs. Then, the tears.
Tears we had never seen from the tough, burly center before. Tears that only intensified as he made the painful walk from the mayhem of the Scotiabank Arena court to the silent solace of the away locker room. Embiid will never forget that image — partly because Twitter trolls still use it to mock him after every loss — but it represents so much more than an embarrassing GIF.
That image of Embiid — red in the face and ugly crying like a Bachelor contestant being sent home — shows just how much he wanted to win for Philly, and just how close he came. The Toronto Raptors went on to win the NBA title a few weeks later. If Leonard's miraculous shot bounced one inch backward instead of straight that day, it could've been Embiid and the Sixers celebrating on Broad Street.
Three years later, Embiid returned to the haunted grounds of Toronto as a different man. He's now a two-time MVP finalist, a scoring champion, and one of the three best basketball players on planet earth. But he hardly cares about any of that.
Ever since his heart broke into 76 pieces in 2019, Embiid has played with the gleam of the Larry O'Brien Trophy in his eyes. The Sixers have another chance to secure that coveted piece of hardware in 2022, but they'll have to conquer Toronto and the house of horrors that is Scotiabank Arena first.
In Embiid's first postseason trip back to The 6 since 2019, he seemed to be adding another chapter to his book of misery. The All-NBA center finished the first half with as many turnovers as points scored (five), and the Sixers fell behind by 17 early in Game 3.
The old Embiid would've started forcing tough shots and putting the 76ers into an even bigger hole, but this isn't the old Embiid. The 28-year-old let the game come to him, attacked mismatches when he could, and willed the Sixers to a tie late in the fourth quarter to force overtime.
As the game stood locked at 101 with 2.6 seconds left in OT, Danny Green wandered over to the left sideline opposite the Raptors bench — the same exact spot Toronto inbounded the ball to Leonard three years ago. But this time, it was Embiid's turn to play hero.
This time, he didn't need any help from the rim.
When Embiid swished the game-winning three to snatch the collective soul of 20,000 fans who rejoiced in his anguish three years before, all of his pent-up emotions exploded out of him at once. The tears that once covered that same court were replaced with exuberant shrieks and a child-like jubilance that signified the exorcising of Embiid's long-standing demons.
Not only did he finally exact revenge on the city of Toronto, but he also dismantled the narrative that he's not a closer.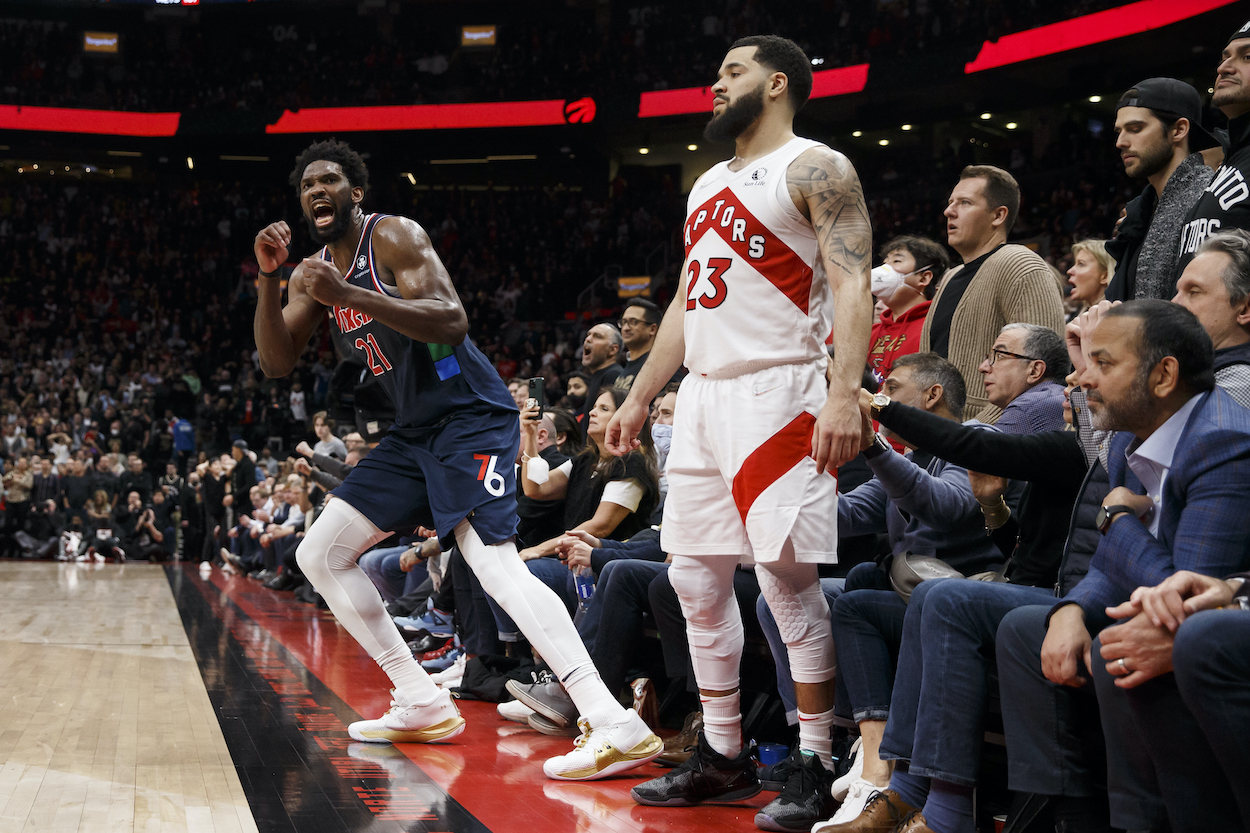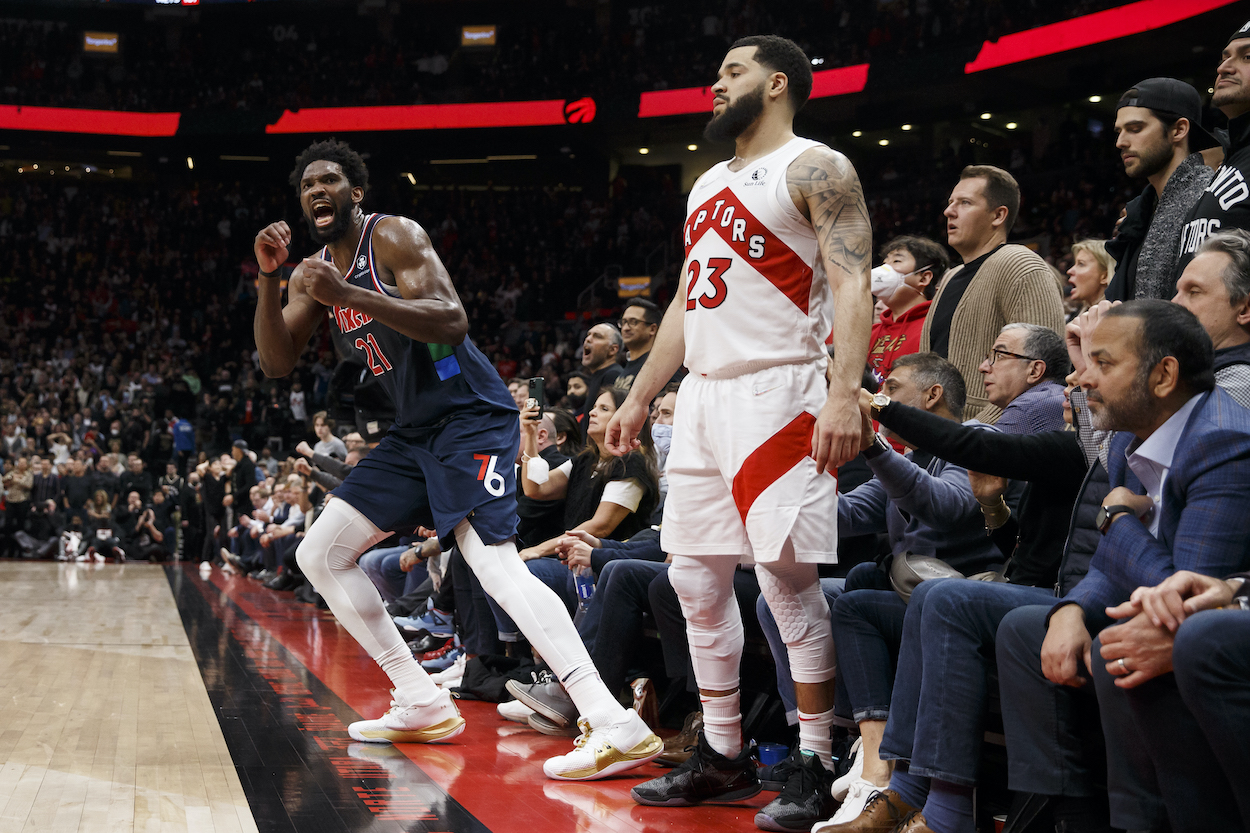 As a Sixers fan myself, watching Embiid prance around the Scotiabank Arena floor with complete and utter joy flowing through his body was a euphoric experience. I can't even imagine how cathartic it felt for him. He's worked so hard over the past few years to put the nightmare of May 12, 2019 behind him and become the best player in the world.
Wednesday night's heroics served as a necessary first step, and you can already envision that shot in slow motion as the first scene in Philadelphia's 2022 championship DVD.
How can you not be happy for Joel Embiid?
Like Sportscasting on Facebook. Follow us on Twitter @sportscasting19.