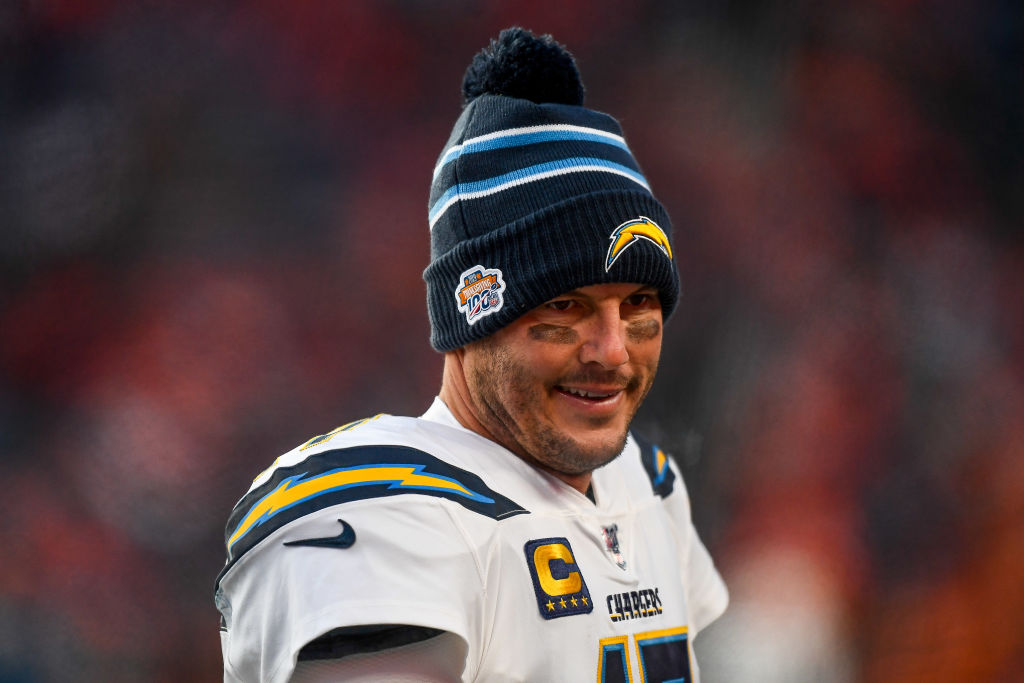 Philip Rivers Made His College Choice Because of 2 Scary Words
Philip Rivers had a sparkling career at North Carolina State but says he would have attended Auburn except for one big obstacle.
It's not unrealistic to believe that just about every kid who grows up playing football in Alabama has ambitions to play for one of the two big college programs in the state. Philip Rivers says he might have fulfilled that dream if not for two scary words he heard.
Philip Rivers is about to start over in Indianapolis
Quarterback Philip Rivers is coming off 224 consecutive starts with the San Diego/Los Angeles Chargers and heading for a fresh start with the Indianapolis Colts in the 2020 season.
Rivers was selected fourth overall by the New York Giants in 2004 and promptly swapped to the Chargers in the famous Eli Manning trade. After two seasons as the backup, he took over as the Chargers' starter in 2006 and never looked back.
By the time his career with the Chargers was over, he had thrown for 59,271 yards and 397 touchdowns. He also posted a 64.7% completion rate and 95.1 quarterback rating.
Rivers was 123-101 as a regular-season starter and 5-6 in the playoffs. He'll be looking to build on those numbers this fall on a one-year contract with the Colts.
A superb college career
Philip Rivers' performance as a four-year starter at North Carolina State, during which he broke multiple school and Atlantic Coast Conference records, attracted the attention of NFL scouts.
Foreshadowing his durability as a pro, Rivers started an NCAA-record 51 straight games and finished with 13,484 yards and 95 touchdowns. His farewell performance was a 56-26 win over Kansas State in the Tangerine Bowl during which Rivers threw for 475 yards and five touchdowns.
North Carolina State retired Rivers' number before his final home game as a senior in 1983.
With credentials like that and his 6-foot-5 frame, Rivers would have seemed a natural to be recruited by Alabama and Auburn coming out of high school in Decatur, Alabama.
Two QBs and two words changed his college plans
Philip Rivers would have jumped at the opportunity to play quarterback at Alabama or Auburn, but it wasn't meant to be.
The Crimson Tide didn't sign a quarterback out of Rivers' senior class because the Alabama staff was waiting on Brodie Croyle the following season. Croyle's stats at Alabama didn't approach what Rivers achieved at North Carolina State, but he was still a productive quarterback.
Auburn pursued Rivers hard, but the coaching staff also had its eyes on another quarterback. Like Croyle, Jason Campbell didn't have mind-blowing college numbers, but he played well enough to justify the coaches' faith in him.
Knowing that he likely would have to battle Campbell to win the starting quarterback spot at Auburn didn't worry Rivers during the recruiting process, he told Al.com.
"I wasn't so much scared of the competition as they mentioned the words 'tight end' to me," Rivers said. "That made me a little nervous. Had I been a tight end at Auburn, this would have been my 17th year coaching instead of playing in the NFL. I wanted to play quarterback and N.C. State was the first school that recruited me."