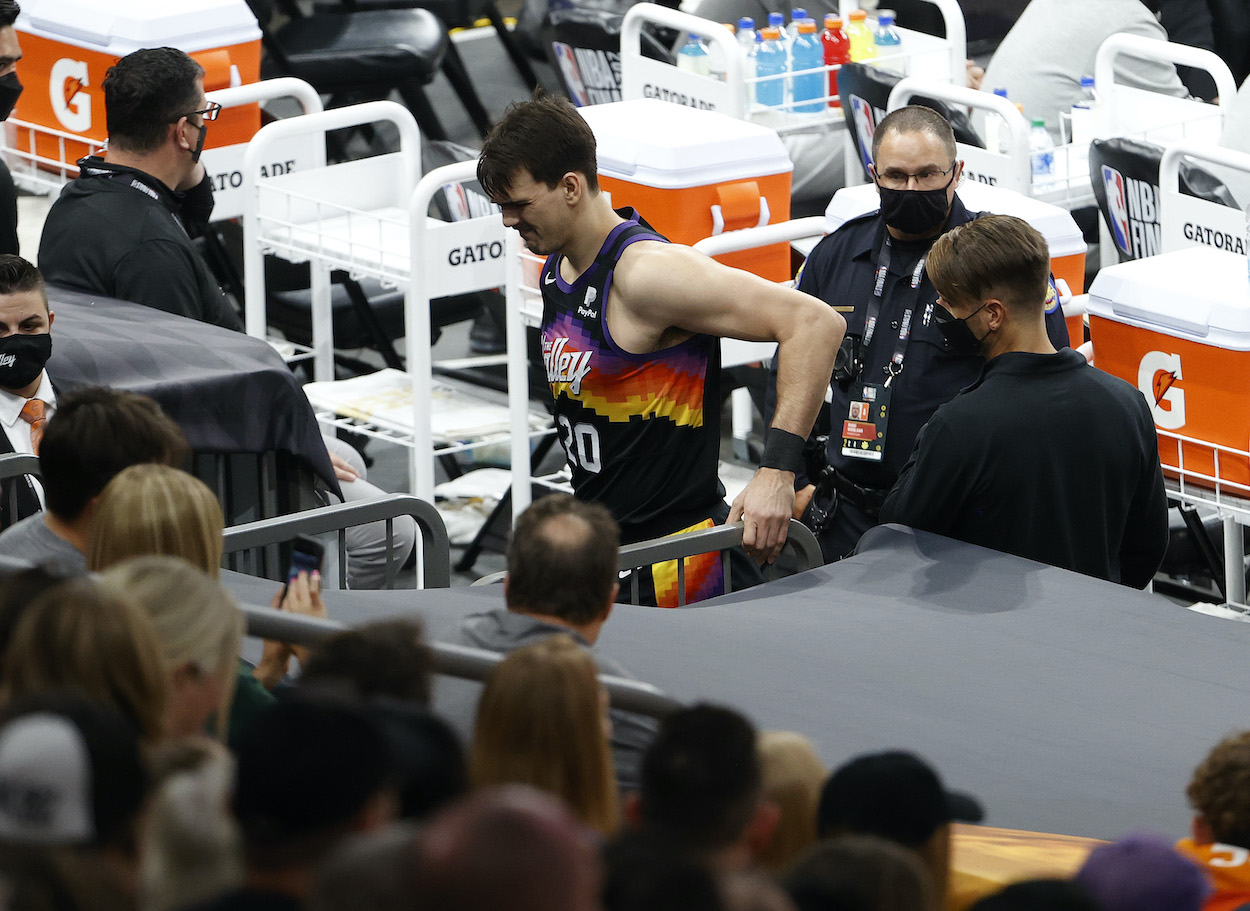 The Phoenix Suns Have Already Suffered a Troubling Injury Loss Just 1 Game Into the NBA Finals
The Phoenix Suns are up 1-0 in the NBA Finals, but they also suffered the brutal loss of bench player Dario Saric.
The Phoenix Suns jumped out to a 1-0 series lead against the Milwaukee Bucks in the 2021 NBA Finals Tuesday night, but they also lost a key contributor along the way. Dario Saric, who played in 50 regular-season games and 14 playoff games for the Suns this season, left Game 1 early with a knee injury and was later diagnosed with a torn ACL. How will Phoenix replace Saric's bench minutes for the rest of the series?
Dario Saric was a solid bench contributor for the Suns this season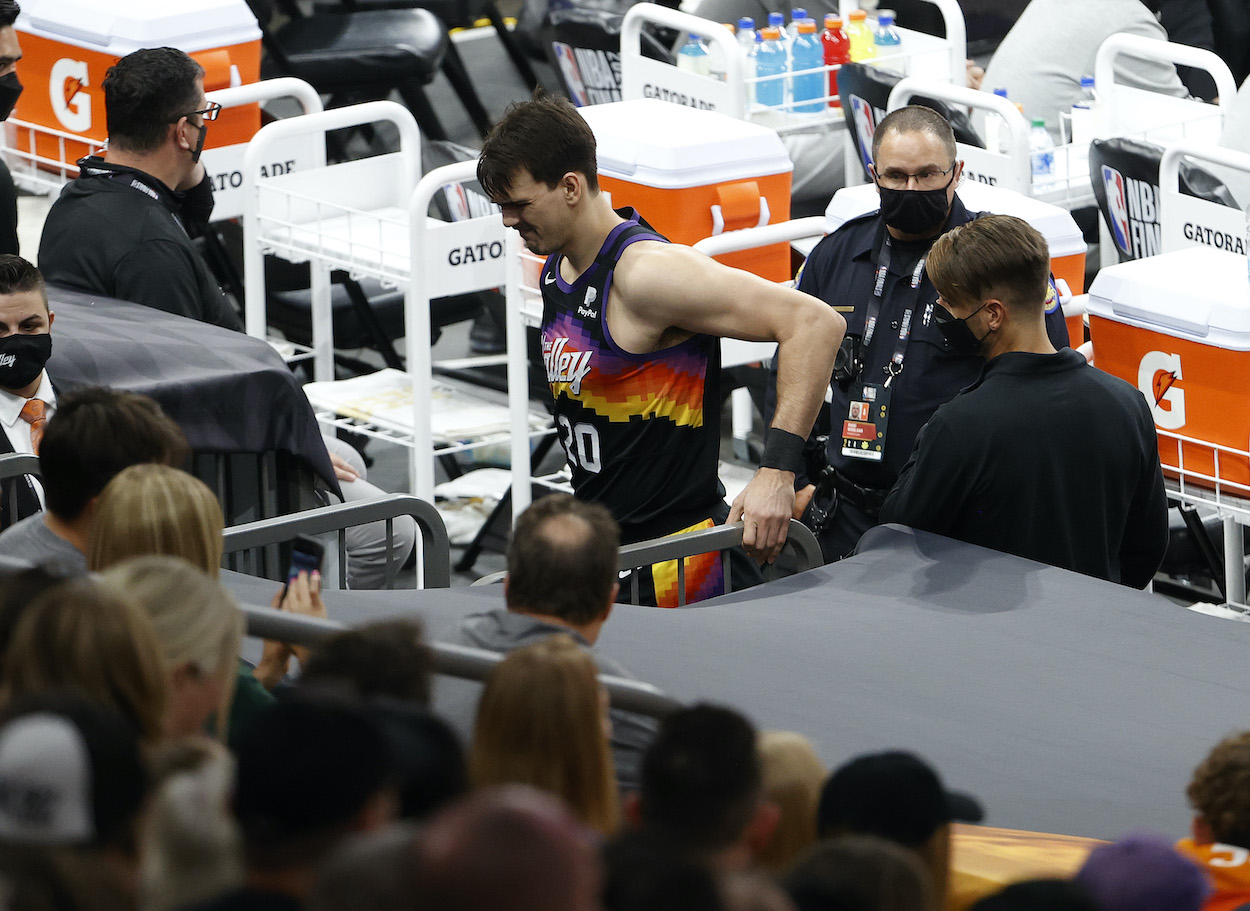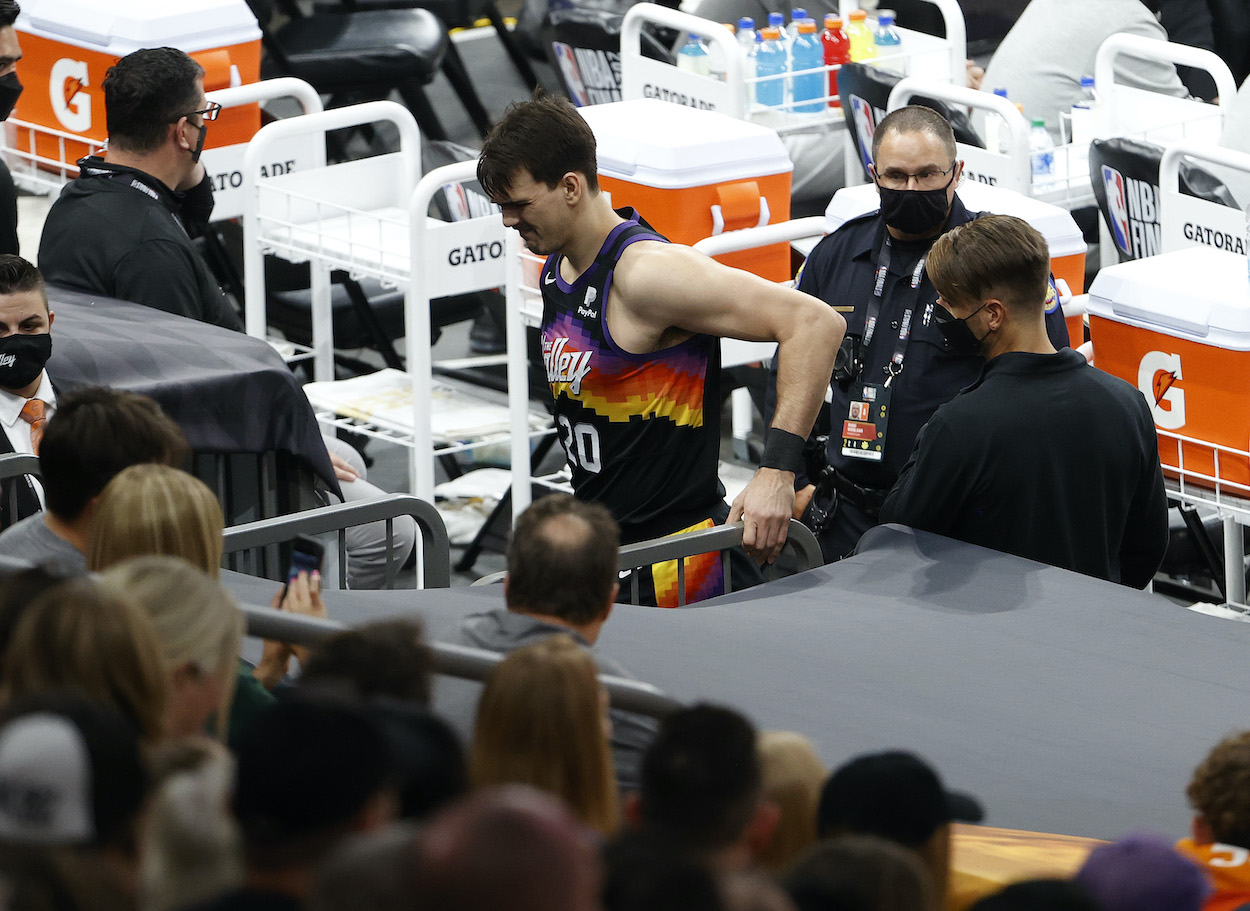 Saric is far from the reason why the Suns have made it all the way to the NBA Finals this season, but he's been a reliable bench scorer and locker room favorite all year long for the Western Conference champions.
In 50 appearances and four starts this regular season, Saric averaged 8.7 points and 3.8 rebounds per game on 44.7% shooting. He only played a career-low 17.4 minutes per game, but that had more to do with the deep roster around him than his actual performance on the court.
Let's remember, Saric was a coveted prospect out of Croatia just a few years ago. He was drafted 12th overall in 2014 and was thought to be a crucial part of the Philadelphia 76ers' rebuild. During Philly's 2018 playoff run, Saric poured in 17.8 points in 32.9 minutes per game.
Saric could've been a valuable asset off the bench for Phoenix in this year's NBA Finals, but he won't be around for the rest of the ride.
Saric suffers a torn ACL in Game 1
During the first quarter in Game 1 of the NBA Finals Tuesday night, Saric pulled up limp after driving into the paint. He was eventually helped off the court and into the Suns' locker room.
The next day, the team announced that Saric suffered a torn ACL in his right knee. His 2021 season is officially over.
"It's just one of those situations that literally breaks your heart," Suns head coach Monty Williams told reporters Wednesday. "Dario's a guy that I've been with twice. I coached him in Philly and to get a chance to be with him here, he's what Suns basketball is about."
The loss isn't exactly devastating for the Suns, but Saric was still a beloved figure in the locker room that the team will miss dearly.
"He's a guy who's all about team," point guard Chris Paul told reporters. "All about team, works his tail off day in and day out. He's one of us. That's our brother, so it's tough. It's tough."
How can the Suns replace Saric in the NBA Finals?
Williams will have just about 11 minutes of game time to replace now that Saric is out for the season. The Suns head coach had already nailed down his nine-man rotation by this point, so he'll have to add another name or two to the mix for the rest of the series.
Frank Kaminsky quickly comes to mind as Saric's immediate replacement. The Wisconsin product scored 6.6 points per game in the regular season, but he's barely been a factor in the playoffs thus far. Lesser-used Abdel Nader and E'Twaun Moore could also see some increased playing time to soften the blow.
Either way, the Suns' championship hopes depend on the play of Paul, Booker, and Ayton above all else. If those three can keep up their stellar form, Phoenix won't even need Saric to score a date with Mr. Larry O'Brien.
All stats courtesy of Basketball Reference