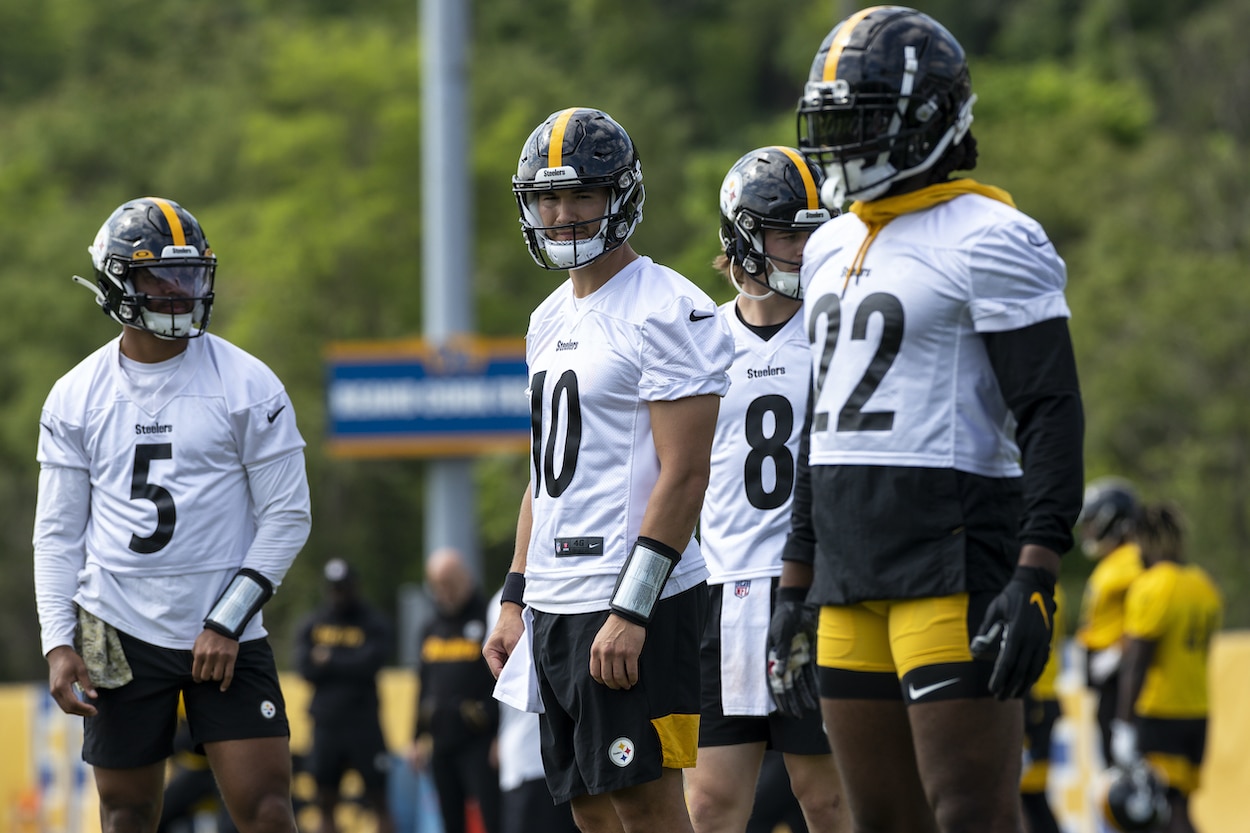 Pittsburgh Steelers Training Camp: 3 Position Battles to Watch in 2022
As the Pittsburgh Steelers training camp opens ahead of the 2022 NFL season, here are three camp battles to keep a close eye on.
The Pittsburgh Steelers are starting their first training camp without quarterback Ben Roethlisberger on the roster since 2004. While the QB competition is the most crucial contest for this year and the future of the franchise, other players are duking it out for roster spots and playing time as well. As Pittsburgh Steelers training camp gets underway, here are three positional battles to watch closely.
Pittsburgh Steelers Training Camp Info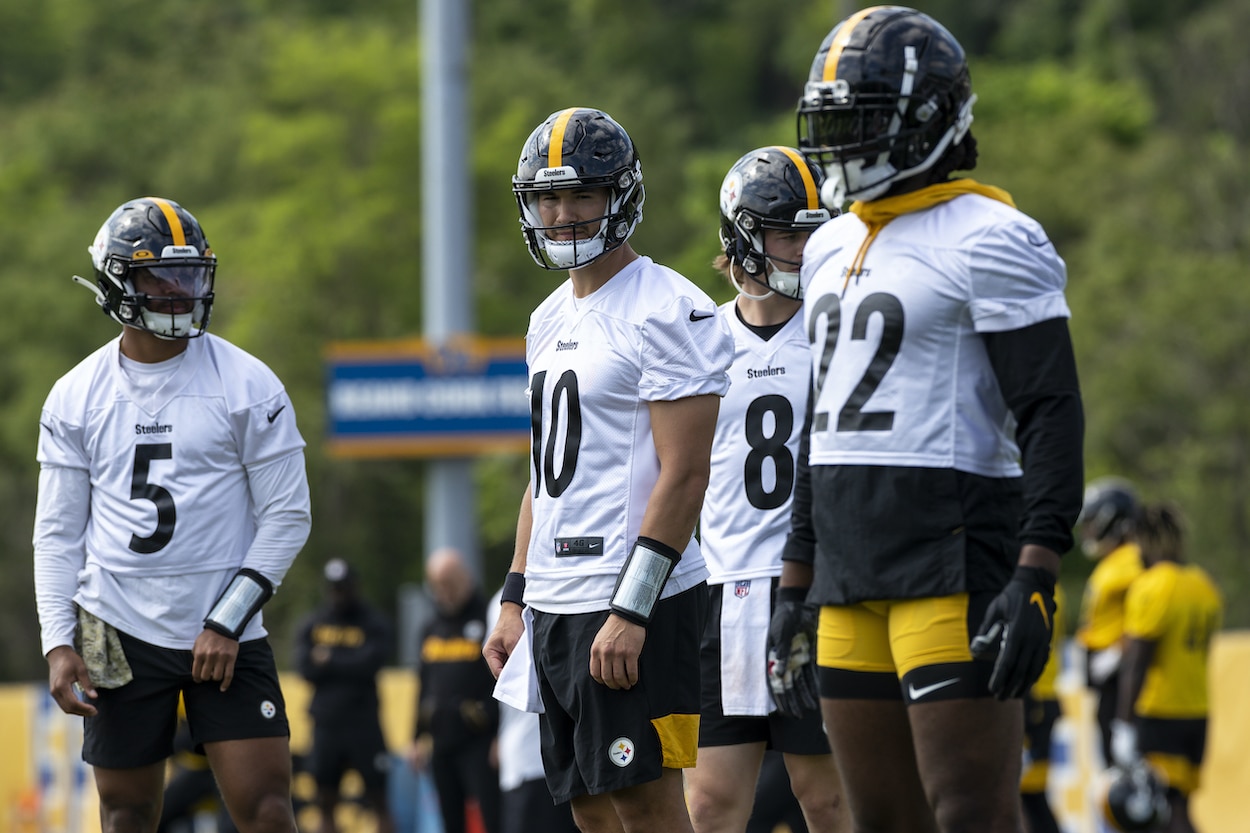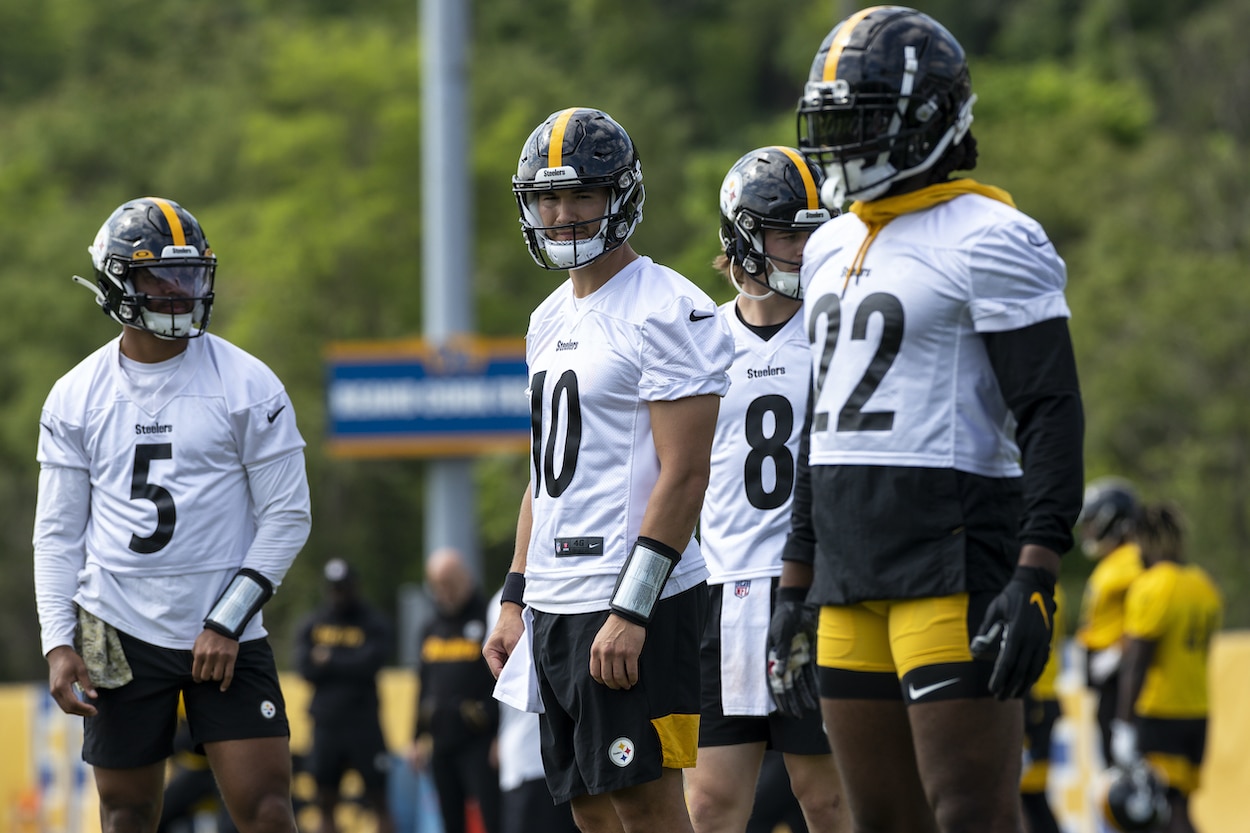 Location: Saint Vincent College, Latrobe, Pennsylvania 
Rookies report: Tuesday, July 26, 2022
Veterans report: Tuesday, July 26, 2022
First game: at Cincinnati Bengals, Sunday, September 11, 1:00 p.m. EST
Battle No. 1: QB1 — Mitchell Trubisky vs. Kenny Pickett
This could honestly be a one-battle list heading into the 2022 NFL season. 
The Pittsburgh Steelers training camp competition between veteran Mitchell Trubisky and rookie Kenny Pickett is (in some ways) the only thing that matters this year. 
Every NFL fan (and definitely every Steelers fan) knows what's going on. Former No. 2 overall pick Mitchell Trubisky signed with Pittsburgh this offseason after washing out in Chicago and rehabbing his career for a year in Buffalo. 
The Steelers also selected Pitt QB Kenny Pickett with the No. 20 pick in the 2022 NFL Draft. 
Now, head coach Mike Tomlin must figure out not just who will help win more games this season but which QB will be better for the franchise's future. 
There is no true favorite here. It is a battle that will truly play out in camp and preseason games. 
My take is that Trubisky has more talent, is more experienced, and just had a tough time with an inept franchise. Pickett didn't dominate in college until he was 23, a full five years older than some of the players he played against.  
Trubisky gets the job for Week 1. 
Battle No. 2: LG/C — Kendrick Green vs. Kevin Dotson vs. Mason Cole
Whether it is Mitchell Trubisky or Kenny Pickett, Mike Tomlin must figure out two of the three linemen who line up directly in front of the QB. 
After nearly a decade of Maurkice Pouncey and David DeCastro lining up next to each other at center and guard, the Steelers are looking for that right combination up front again. 
Two of three players will fill the C and LG spots after a Pittsburgh Steelers training camp battle in 2022. 
Rookie Kendrick Green struggled at center last season. PFF gave him a 53.1 final grade, which was one of the lowest for any starter in the league. Second-year guard Kevin Dotson didn't do much better, earning a 64.5. 
This offseason, the Steelers brought in former Minnesota Vikings and Arizona Cardinals center Mason Cole to compete for the position. 
The most likely result here seems to be Cole in the middle, Dotson on the left, and Green on the bench as a versatile backup for both. 
Battle No. 3: WR2 ­— Chase Claypool vs. George Pickens 
After the Pittsburgh Steelers training camp QB battle is decided, the next question is, who will the winner throw to? 
Diontae Jonson led the team in catches (107), yards (1,161), and receiving touchdowns (eight) last season. He made his first Pro Bowl and comes into 2022 as the team's unquestioned WR1. 
After that, though, things get a bit murky. 
JuJu Smith-Schuster, Ray-Ray McCloud, and James Washington are all gone. Chase Claypool has all the talent a top pass-catcher needs but hasn't shown the maturity to be a go-to guy. His celebration as time was running out in Week 14 last season showed that. 
The Steelers took Georgia wideout George Pickens in the second round this year. The 6-foot-3, 196-pound speedster is also loaded with talent and potential. However, a suspension and ACL tear in college are concerns. 
Best case, the Steelers have an incredibly deep WR corp, featuring three Pro Bowl-level players. Worst case, they have one consummate professional and two knuckleheads on either side. Time will tell which is true, but hopefully, Mike Tomlin can steer the situation to the first outcome and away from the second. 
All stats courtesy of Pro Football Reference