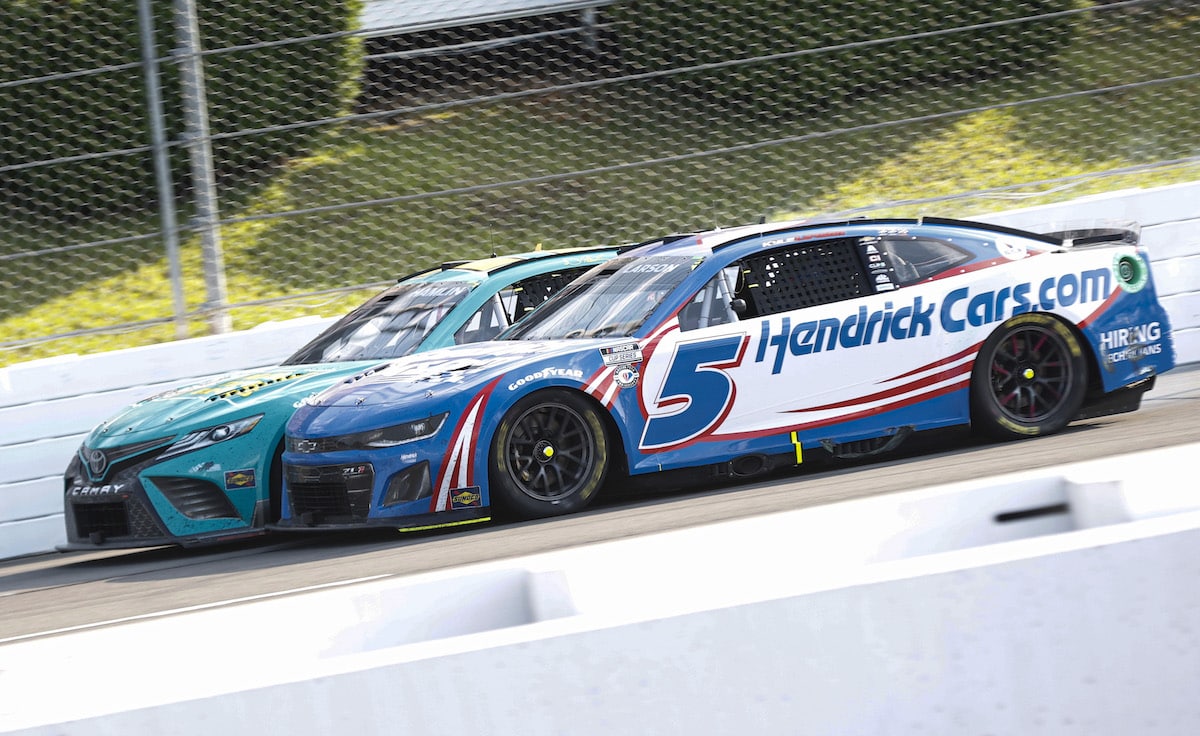 Premier NASCAR Feud of the 2023 Cup Series Season is Set to Continue at Richmond
Denny Hamlin and Kyle Larson could be back at it again in Richmond.
The next round of the leading NASCAR feud between Denny Hamlin and Kyle Larson could come quickly after the two tussled for the win in the closing laps of Sunday's NASCAR Cup Series race at Pocono Raceway.
Hamlin lined up in fourth place and second in line on the high side behind Larson on a restart with seven laps remaining in the 160-lap event at the 2.5-mile triangle in Pennsylvania. Hamlin dove low into Turn 1 to get underneath Larson and then nudged him up as they completed the turn — a move Martin Truex Jr. called "dirty." The contact sent Larson into the outside wall on the exit of the turn and damaged the No. 5 car to the point that it was no longer competitive.
Larson finished 20th. Hamlin went on to win his second race of the season.
Kyle Larson was upset after losing second contact-riddled finish to Denny Hamlin this season
The incident between the two was the primary topic of conversation after the race.
"I got used up. It's just unfortunate," Larson said on pit road after the race, per USA Today. "I feel like we've had a handful of run-ins; I've never had to reach out to apologize. He's always been the one that's reached out to me and been like, 'Hey man, I'm sorry. I messed up there a little bit,' or 'Sorry, I put you in a bad spot,' or 'Sorry, I hurt your day.' I've never had to do that to him. Sure, maybe there's been times he's been frustrated with me, but I've never hurt his results. 
"I'm just mad right now. I'm sure he'll say some dumb stuff on Monday night or whatever, and I'll get more mad for a little while and then I'll eventually get over it."
Hamlin, meanwhile, defended his role in the controversy during his postrace press conference.
"The rules of going for a win [have] changed in the last 10 years," he said, per CBS Sports. "Like, it's just different. People, just, like, well, it's what I had to do. That's what you hear, right? I didn't have to.
"But I had to race hard for a win. Was I going to let off and give him all this extra room? Absolutely not. No way. I wanted to race side-by-side because I earned the spot of getting beside him."
This was also the second incident between the two drivers when they were in contention to win a race. Hamlin turned Larson into the outside wall on the backstretch of the final lap at Kansas Speedway on May 7, going on to win his first race of the season.
Denny Hamlin and Kyle Larson are two of the best active drivers at Richmond, setting the stage for continuation of NASCAR feud
Regardless of which driver has the correct assessment of the situation at Pocono, the two could find themselves right back in a similar situation at Richmond Raceway this coming Sunday.
The 0.75-mile short track in the capital of Virginia is a facility that tends to lend itself toward rough driving because speeds are lower and the short dimensions force drivers to race in close quarters. Denny Hamlin and Kyle Larson are also two of the best active drivers in the series at Richmond.
Hamlin has four career wins at Richmond, which are tied for the second-most of any active driver. His 8.7 average finishing position ranks third on that list and is his second-best average finish at any track where he's raced at least three times, behind only a 7.7 mark at Darlington Raceway. Larson has three career pole awards and two wins at the short track with a 10.8 average finishing position.
They are also the two most recent winners of the spring race at Richmond. Hamlin won the 2022 spring event, and Larson took home the most recent trophy in April for his first win of the season.
A spot in the 16-driver playoff field is already assured for both drivers since they each have a pair of regular-season wins with five races left before the postseason begins at Darlington on Sept. 3. Playoff seeding will be their primary focus at this point in the year.
Hamlin currently holds a 14-13 edge in playoff-point totals, although Larson reminded reporters after the Pocono race that he would have an additional 10 playoff points had Hamlin not wrecked him for both of the No. 11 car's victories this season.
"In my eyes, I mean, hey, I could have 10 more playoff points, two more wins right now if not for the 11," Larson said, per NASCAR.com. "So yeah, I'm pissed. I should be."
Hamlin also sits third in the points standings and would receive eight bonus playoff points if he holds that position through the remainder of the regular season. Larson is now seventh but could have been as high as fifth if he had not sunk 20 positions after the contact with Hamlin at Pocono.
The rivals will be two of the favorites to win at Richmond, but they might also be the most likely to continue what has developed into the premier NASCAR feud of the 2023 Cup Series season.
All stats courtesy of DriverAverages.com and Racing Reference.