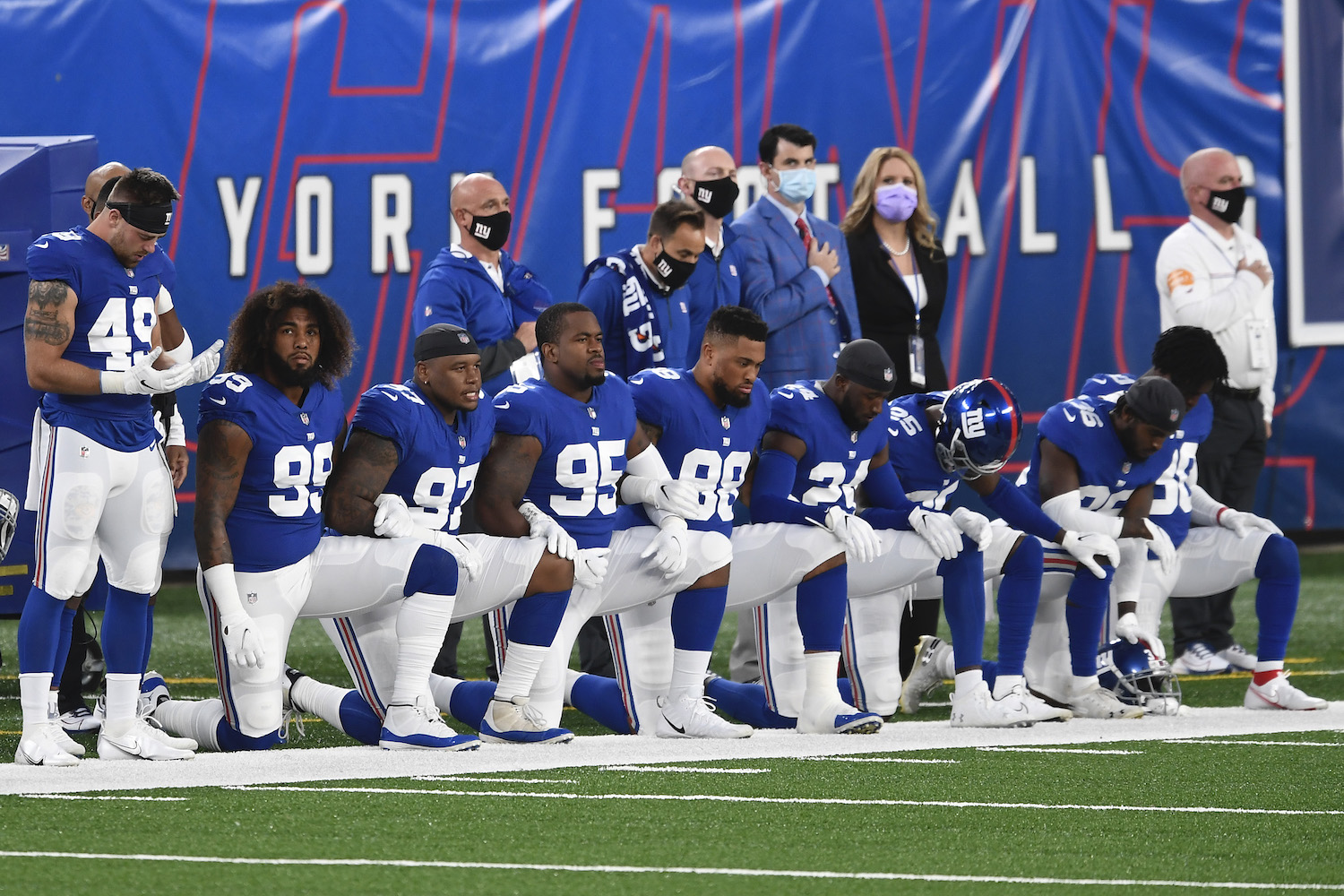 President Trump Blasts NFL and Blames Low Ratings on League's National Anthem Stance
The NFL Week 1 prime time ratings are down and President Trump is blaming the drop on the league changing its position on kneeling during the national anthem.
President Donald Trump has never wavered from his position on NFL players kneeling during the national anthem. He's totally opposed to the move. When the league altered its stance in June following the death of George Floyd and announced it would allow players to peacefully protest, the President stood his ground. With the first week of action complete and the NFL ratings lower, the President is blasting the league and blaming the drop in NFL ratings on the national anthem protests.
NFL apologizes to players and allows for peaceful protesting
When George Floyd died in May, a group of NFL players produced a video that asked the league to address the systemic racism plaguing the Black community. NFL Commissioner Roger Goodell, who had never endorsed players kneeling, responded to the players with a video response of his own. 
"We, the NFL, condemn racism and the systematic oppression of Black People. We, the NFL, admit we were wrong for not listening to NFL players earlier and encourage all to speak out and peacefully protest. We, the NFL, believe Black Lives Matter."
The league's sudden shift in position was one thing. But then, in August, Goodell directly apologized to former San Francisco 49ers quarterback Colin Kaepernick, who started the kneeling movement back in 2016.
"The first thing I'd say is I wish we had listened earlier, Kaep, to what you were kneeling about and what you were trying to bring attention to," Goodell bluntly admitted in an interview on Emmanuel Acho's YouTube series "Uncomfortable Conversations with a Black Man."
NFL ratings drop for certain games 
After months of concern on whether or not the NFL would even be able to play following months of delays and postponements in other leagues, there was great anticipation for the league's opening weekend. However, according to television ratings for the first week's worth of action, not as many people were excited to see football's return during prime time hours. 
During NBC's Sunday Night Football broadcast featuring the Dallas Cowboys and LA Rams, 18.9 million viewers tuned in to see the Cowboys lose 20-17. That number was a sharp decline 15% lower than 2019's season-opening broadcast. It was the lowest Sunday night opener since the Chicago Bears and Indianapolis Colts played in 2008.
Monday Night Football's ratings on ESPN were even worse. In a game featuring the New York Giants and the Pittsburgh Steelers, an average of 10.76 million viewers tuned in, down 17.2% from last year's first Monday night game.
Both of these declines in viewership followed a similar pattern established in last Thursday night's season opener with the defending Super Bowl Champion Kansas City Chiefs hosting the Houston Texans. That game saw a decline of 12% viewership, with an average of 19.3 million viewers. 
President Trump blames NFL ratings on national anthem stance
After months of hammering the NFL and repeatedly expressing his willingness to avoid watching any games, the President, who is a follower of television ratings, couldn't help but tie the drop in NFL ratings with the league's change of stance and allowing players to protest by kneeling.
"'Cratered'. We have plenty of politics to go around without disrespecting our great American Flag or Anthem," the President tweeted. "I thought the NFL learned their lesson two years ago. The people will not put up with this (again). Just not worth it, hard to watch!"
While it's easy to draw that connection between players protesting and the lower NFL ratings, it's not necessarily true. There are various other factors to consider, including two different leagues — NHL and NBA — also playing games at the same time when their seasons traditionally conclude in the summer. Week 2 of NFL action will provide a clearer picture on whether or not the ratings will remain lower. And if they are, you can be sure the President will let the American public know.