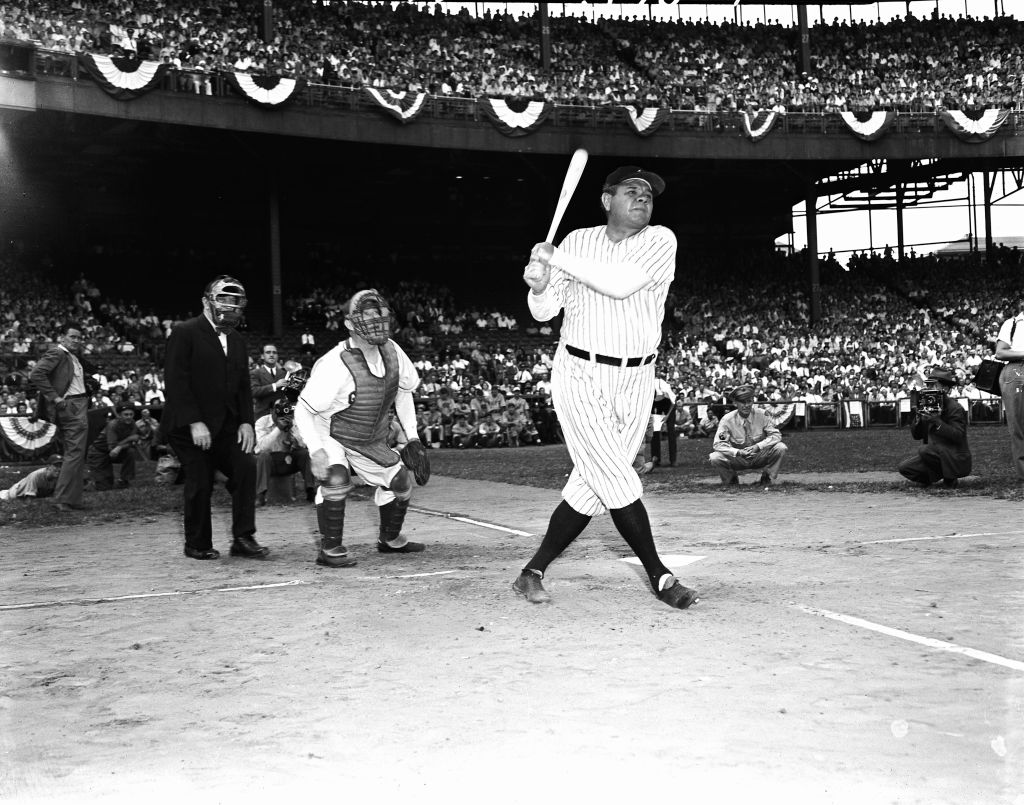 Racism May Have Kept Babe Ruth From Ever Becoming a Major League Manager
While Babe Ruth may have had a legendary Major League Baseball career, he never received the chance to become a manager.
These days, plenty of professional athletes take up coaching after their playing career comes to a close. The transition makes perfect sense; the former player gets to remain immersed in the sport but doesn't have to do any of the physical labor. New York Yankees legend Babe Ruth, however, never got that chance.
Despite Ruth's larger than life status, no one allowed the Bambino to take the reigns of the team. While the common narrative stated that he was deemed untrustworthy and unreliable, racism may have also been to blame.
Babe Ruth's legendary baseball career
By the time his playing career came to a close, Babe Ruth was an American icon. The Great Bambino's life, however, started out much differently.
As a boy, Ruth was to St. Mary's Industrial School for Boys; while he wasn't an orphan, he was an unruly child who needed structure and guidance. He was theoretically there to learn a trade, but Ruth also learned about baseball. Before long, he had signed a deal with the Baltimore Orioles.
When the Orioles encountered financial difficulty, Ruth was sold to the Boston Red Sox. After spending some time in the minors, he joined the big club in 1915 as a pitcher; he was pretty talented on the mound, but eventually transitioned to the outfield. That move would set the stage for impending baseball history.
In 1919, the Red Sox infamously sent Ruth south to join the New York Yankees. Once in the Big Apple, Babe became the larger than life figure we all know today. He spent 15 seasons with the Yankees, hitting 659 home runs and winning four World Series titles; he also took home more than $800,000 in salary and became a true celebrity.
Trying to break into management
During his playing career, Babe Ruth unsuccessfully tried to become the player-manager of the New York Yankees. While he wouldn't receive that chance in the Bronx, it didn't stop him from trying elsewhere.
In 1935, Ruth joined the Boston Braves. The slugger was well past his prime, but the club sold him on the promise of an "opportunity to manage;" unfortunately, that never materialized. Ruth served as more of a publicity stunt than anything else and begrudgingly retired during the season.
Three years later, Ruth joined the Brooklyn Dodgers as their first base coach. The move didn't fail as miserably as his stint in Boston—while Babe's actual contributions were debatable, he did help the club sell plenty of tickets—he still didn't find any long-term success. Despite manager Burleigh Grimes retiring at the end of the season, Ruth wasn't considered as a replacement; he left the Dodgers and never worked in baseball again.
Racism may have kept Babe Ruth from becoming a manager
Over the years, the traditional narrative was that Babe Ruth was deemed too irresponsible and unwilling to put in the required effort to become a manager. Yankees executive Ed Barrow reportedly wondered, "How can he manage other men when he can't even manage himself;" that quote, unfortunately, grew to the point of becoming a baseball cliche.
Babe's daughter, Julia Ruth Stevens, believes something else might have been at play, though. Years before Jackie Robinson joined the Brooklyn Dodgers, Ruth may have been a force for integration; in her estimation, that could have scared clubs away. "Daddy would have had blacks on his team, definitely," Stevens said in a 2014 New York Times feature.
While it's impossible to know the underlying motives, we do know that Babe Ruth's managerial career never got off the ground. Thankfully, his time as a player was more than enough to make him a sporting legend.