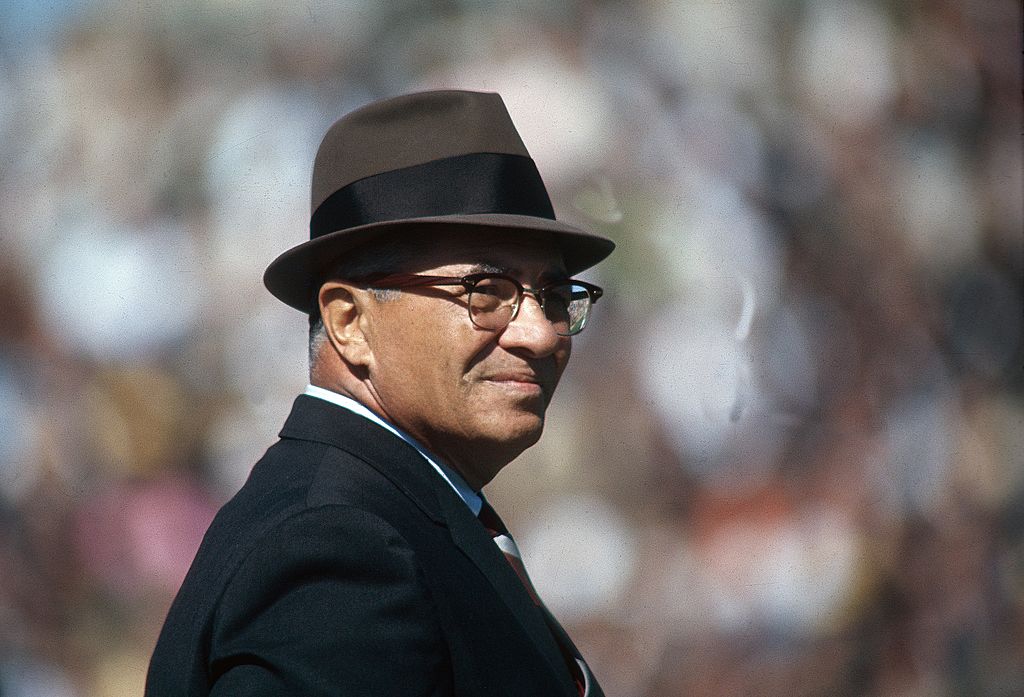 Vince Lombardi's First Coaching Job Paid Less Than $2,000 per Year
Long before Vince Lombardi was an NFL legend, he was a high school assistant coach earning less than $2,000 a year.
Having a league name its championship trophy after you is the ultimate sign of respect. In the world of professional football, it's safe to say Green Bay Packers coach Vince Lombardi deserved that honor. While he eventually became one of the NFL's iconic figures, Lombardi started out in much more humble circumstances.
Today, the biggest-name NFL coaches make upwards of $10 million a season. Lombardi, however, only made less than $2,000 a year at his first football coaching job.
Vince Lombardi's early football career
Growing up in Brooklyn, Vince Lombardi played football in a neighborhood league. As he got older, his over of the game didn't fade; once he enrolled in St. Francis Prep, he joined the football team.
Lombardi's football career truly took off, however, during college. Despite being small for the position, Lombardi joined the Fordham Rams squad as an offensive lineman. He and the rest of the unit would become known as "the Seven Blocks of Granite;" while they proved to be extraordinary blockers, the team fell short of the ultimate prize.
After graduation, Lombardi's playing career started to fade. While he did spend some time with semi-professional teams, the former lineman returned to Fordham to try his hand at law school. After one semester, however, he dropped out, fearing his grades weren't good enough.
Coaching football for less than $2,000 a year
In 1939, Vince Lombardi's life changed forever. At the time, no one realized they were seeing sports history unfold before their very eyes.
Looking for steady employment, Lombardi accepted a job at St. Cecilia High School in Englewood, New Jersey. Andy Palau, Vince's old college teammate, had taken over as the school's football coach and invited the former offensive lineman to join his staff as an assistant. Lombardi also coached the basketball team and taught physics, chemistry, and Latin. While sources differ on his exact salary—some say $1,000 while others refer to $1,800—one thing is clear: the young coach wasn't making a great deal of money.
Lombardi eventually became the school's head coach, but only continued to rise. In 1947, he returned to Fordham for two seasons; eventually, he headed north and became an assistant at West Point. That job, in turn, helped Lombardi join the New York Giants coaching staff.
Vince Lombardi became an NFL legend
After making a name for himself in New York, Vince Lombardi was ready to strike out on his own. In 1959, he agreed to take over the struggling Green Bay Packers; the NFL would never be the same.
In his first season on the job, the rookie head coach led his team to a 7-5 record, earning NFL Coach of the Year honors. The next year, the Packers made it to the championship game but fell to the Eagles; after that defeat, however, the team became a juggernaut. They won three NFL titles and two Super Bowls in the next seven seasons. Their dominance would only end after Lombardi left the sidelines.
The legendary coach spent one more season in Green Bay, acting solely as general manager, before joining the Washington Redskins. At the time of his death in 1970, he was the club's executive vice president; he earned an estimated $110,000 per year and owned 50 shares of the team's stock valued at $500,000.
These days, every NFL fan knows the name Lombardi. The iconic coach's rise to the top, however, all started at a high school in New Jersey and a $1,000 salary.