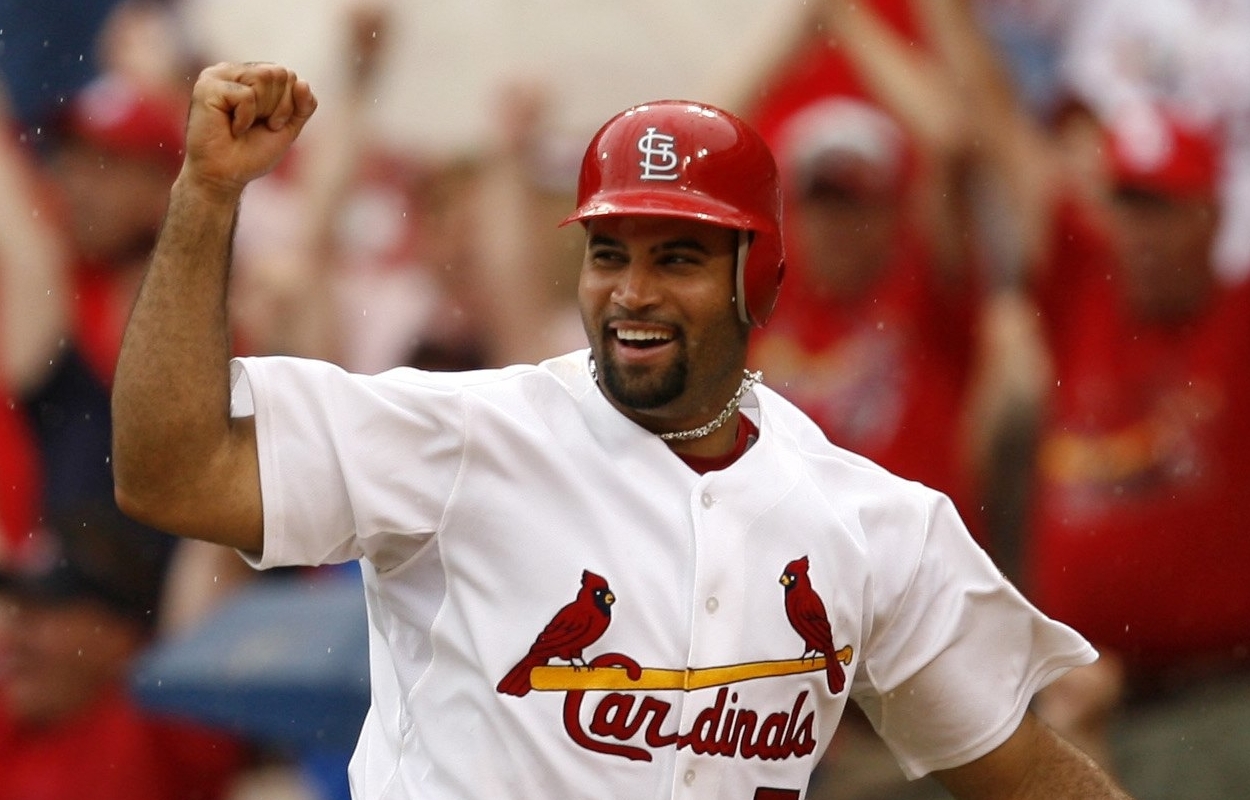 Ranking Albert Pujols' 5 Best Seasons With the St. Louis Cardinals
Albert Pujols is back with the St. Louis Cardinals, and now feels like the perfect time to rank his best seasons with the Redbirds.
St. Louis Cardinals legend Albert Pujols should want to have a long discussion with whoever first suggested that one cannot go home again.
The three-time National League MVP, who played in St. Louis from 2001 through 2011, rejoined his former team midway through spring training. Pujols, who turned 42 in January, confirmed on Monday, March 28, that the 2022 season will be his final in the big leagues. Fittingly, the final round will come with the team that drafted him in 1999 and watched him become one of the greatest hitters in league history.
On the eve of the 2022 campaign, now feels like the perfect time to look back at Pujols' best years with the Cardinals. For this list, we factored in statistics, the team's final finish, and the context surrounding the seasons in question.
Based on consideration of the aforementioned prerequisites, Pujols' greatest Cardinals campaigns rank as follows:
5. Pujols takes flight (2003)
The reality of the situation is that Pujols was so good in each of his 11 seasons with the Cardinals that doing an honorable mentions section would essentially be including every year that isn't on this list. We apologize to those who enjoyed his three home runs in Game 3 of the 2011 World Series and hoped that'd be enough to propel that season into our rankings.
With that out of the way, let's go all the way back to 2003. The 23-year-old Pujols hit .359 with 43 home runs, 124 RBI, and a stellar 1.106 on-base plus slugging (OPS) in 157 games. The second-time All-Star led the league in batting average, runs scored (137), hits (212), and doubles (51) en route to placing second, behind only San Francisco Giants star left fielder Barry Bonds, in the NL MVP race. Good times, unless you were opposing pitchers.
4. Best in the business (2008)
Pujols placed at least fourth in the NL MVP voting during each of his first sixth seasons and won the award in 2005. Despite hitting a stellar .327 with 32 home runs and 103 RBI in 2007, the veteran first baseman only finished ninth in the MVP race. How did The Machine respond a year later? Some of the balls he hit might still be traveling as you scroll through this list. Pujols hit .357, the second-highest tally of his career, with 37 home runs (including his 300th career bomb), 116 RBI, and 44 doubles en route to winning his second career MVP Award.
Pujols' 1.114 OPS led the league, as did his 342 total bases and 34 intentional walks. Imagine how many homers he would have finished with had pitchers, you know, pitched to him?
3. October crush (2005)
Pujols' 2005 season would easily be the greatest statistical output for a large percentage of the hitters who have ever taken the field in a Major League Baseball season.
Here, it only ranks third.
Pujols hit .330 with 41 home runs, 117 RBI, 38 doubles, and a career-high 16 stolen bases for the NL Central-winning Cardinals. Those numbers were enough for The Machine to capture his first of three NL MVP Awards. After hitting .556 in a National League Division Series sweep of the San Diego Padres, Pujols smashed two home runs in the NLCS. However, the Wild Card-winning Houston Astros (yes, the Astros once played in the National League) upset the Cardinals in six games en route to winning the NL pennant.
One can definitely argue Pujols' 2005 season was the greatest of his 11 years with the Cardinals. However, you'll soon understand why two other campaigns ranked higher on our list.
2. Finally a champion (2006)
Despite only hitting .200 with one home run and two RBI in the World Series, Pujols' 2006 season is best remembered for the Cardinals' Fall Classic victory. It becomes easy, then, to forget the 26-year-old first baseman terrorized opponents pitching during the regular season and hit .331 with a career-high 49 home runs, 137 RBI, and 33 doubles in 143 games.
Pujols' .671 slugging percentage and 1.102 OPS led the league, and he finished only behind Philadelphia Phillies first baseman Ryan Howard in the NL MVP race. Baseball-Reference credits Pujols with an MLB-high 8.5 WAR to Howard's 5.2, but the latter tallied a league-high 58 home runs and 149 RBI. Tough call.
1. Not once, not twice… (2009)
Pujols was outright unstoppable in 2009, and we're not being hyperbolic. The 29-year-old ended his ninth big league season with a .327 average, 47 home runs, 135 RBI, 45 doubles, 16 stolen bases, and a 1.101 OPS. Those numbers were more than enough to guarantee him his second consecutive NL MVP Award.
Although Pujols hit .300 in the NLDS, he only drove in a single run as the Los Angeles Dodgers swept the Cardinals. Still, we feel more than comfortable calling this the best season of his time with the Cardinals, especially considering Baseball-Reference valued his WAR at a staggering 9.7.
Like Sportscasting on Facebook. Follow us on Twitter @sportscasting19.