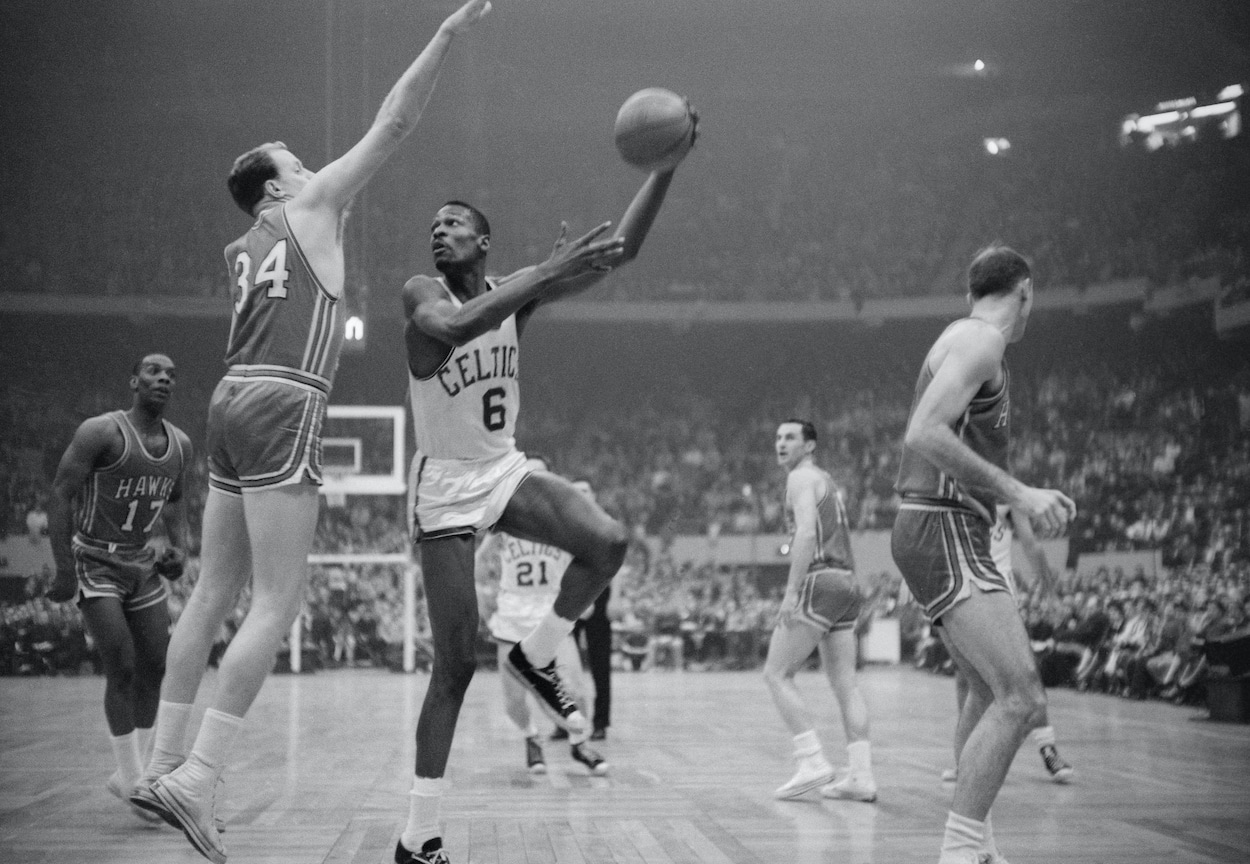 Ranking Bill Russell's 11 Championships in Terms of His Most Dominant NBA Finals Performances
What was the best NBA Finals performance of Bill Russell's career?
The NBA world lost a titan and a pioneer of basketball on Sunday with the tragic passing of Hall of Famer Bill Russell. The Boston Celtics legend played 13 years in the NBA and won 11 championships — a record that will likely never be broken.
To honor the greatest winner the NBA has ever seen, let's go back in time and rank Russell's 11 titles from his least dominant NBA Finals performance to his most.
Spoiler alert: They're all dominant.
11. Bill Russell retires in style in 1969
By the 1969 NBA Finals, Russell was well out of his prime and on the last leg of his career. He averaged just 9.1 points per game against the Los Angeles Lakers, which was the lowest PPG figure of his Finals career. Still, the big man grabbed 21.1 rebounds and dished out 5.1 assists per game in the series.
The Celtics won the series in seven games, but Russell was hardly the biggest reason why.
10. Wilt Chamberlain gets the best of Russell in 1964
The first time Russell went up against Chamberlain in the NBA Finals was in 1964, and Wilt the Stilt got the best of him throughout the series. Chamberlain averaged 29.2 points and 27.6 rebounds per game for the San Francisco Warriors, while Russell averaged a modest 11.2 points and 25.2 rebounds per game.
Russell shot just 38.6% from the field in the series, but he got the last laugh when the Celtics won the championship in five games.
9. Russell struggles to score but dominates the boards in 1959
In 1959, which was Russell's third year in the NBA, he didn't have much success scoring against Elgin Baylor and the Minneapolis Lakers. The center scored just 9.3 points per game in the NBA Finals and shot a career-worst 31.6% from the field and 44.8% from the line.
Still, Russell did his job by grabbing 30 rebounds in each of the last three games of the four-game sweep.
8. Rookie Russell gets his first ring in 1957
Russell won his first championship with the Celtics in his rookie season of 1957. He averaged 13.3 points and 22.9 rebounds per game against the St. Louis Hawks in the Finals but struggled shooting the ball (35.6% from the field, 48.8% from the line).
In Game 7, though, Russell showed out with 19 points and 32 rebounds to lead Boston to an overtime win and his first of 11 titles.
7. Playing second fiddle to John Havlicek in 1968
In his second-to-last NBA season, Russell put up 17.3 points, 21.8 rebounds, and 5.7 assists per game against the Lakers in the Finals. John Havlicek was the main reason why the Celtics won the series, though, as he averaged 27.3 points, 8.7 rebounds, and 6.7 assists per game.
6. Russell's most efficient NBA Finals in 1965
The 1965 Finals was Russell's most efficient scoring series by far. He put up 17.8 points, 25.0 rebounds, and 5.8 assists against the Lakers while shooting a career-high 70.2% from the floor. In the closeout Game 5, Russell scored 22 points, grabbed 30 rebounds, and made 10 of his 12 free-throw attempts to seal the deal.
5. Setting an NBA Finals record in 1960 that may never be broken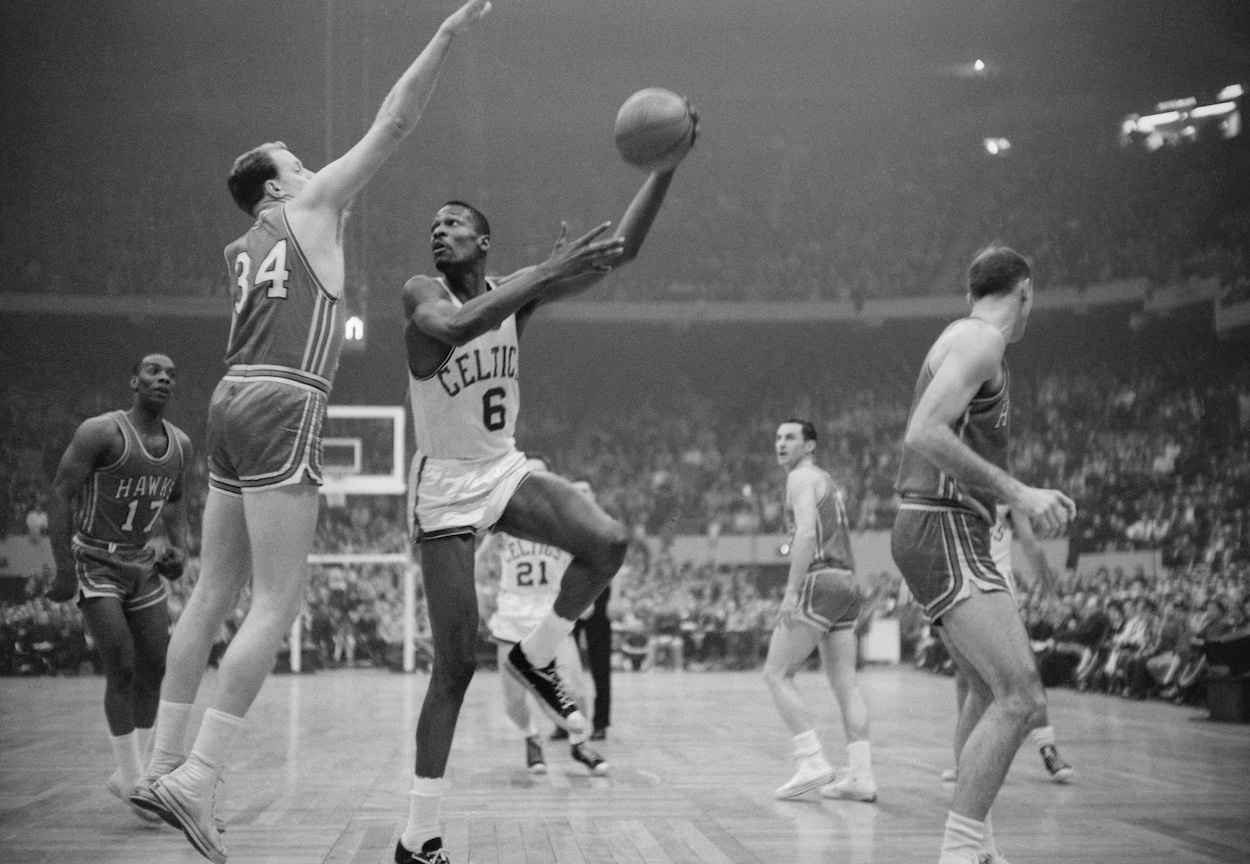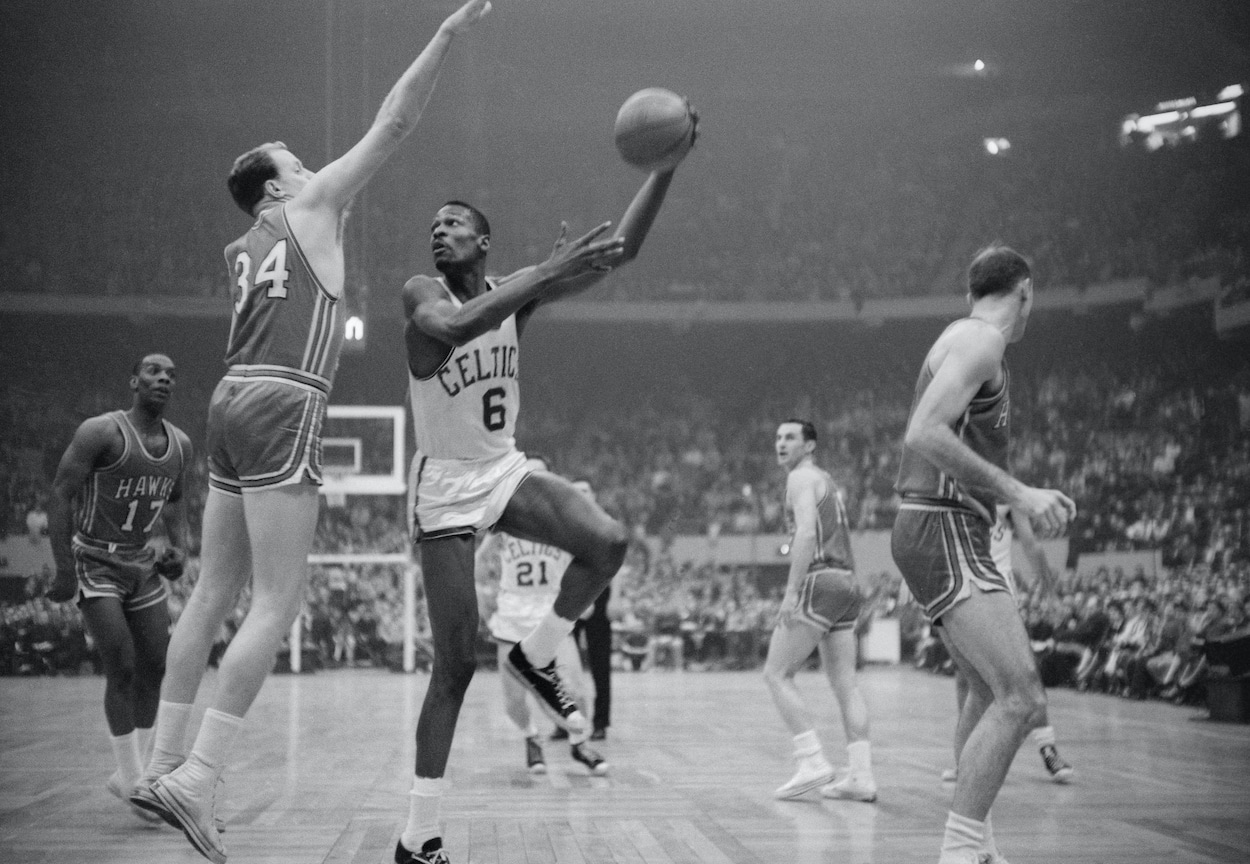 The 1960 NBA Finals wasn't Russell's most impressive statistical series as a whole (16.7 points, 24.9 rebounds, 3.0 assists on 47.1% shooting), but the individual performances were enough to crack the top five.
In Game 2 against the Hawks, he hauled in 40 rebounds to set an NBA Finals record. That record still stands today and may never be broken again. And in Game 7, Russell scored 22 points and grabbed 35 boards to once again lead the Celtics to a title while being one loss away from heartbreak.
4. A ridiculous closeout performance in 1961
For the second straight year, Russell and the Celtics faced off against the Hawks in the NBA Finals. This series wasn't as close as the previous rendition, though.
Boston handled St. Louis in five games, with Russell averaging 17.6 points, 28.8 rebounds, and 4.4 assists. He also put up a team-high 30 points and 38 boards in Game 5 to add another chapter to his legendary book of closeout performances.
3. Yet another brilliant closeout performance in 1963
Imagine averaging 20.0 points, 26.0 rebounds, and 5.3 assists in the NBA Finals and having it not even crack the top two performances of your career. That's what Russell accomplished in 1963 against Baylor and the Lakers.
Another year, another brilliant closeout performance by the Hall of Famer, as he scored 12 points, grabbed 24 boards, and dished out nine assists in Game 6 to finish off LA.
2. 30 points and 40 rebounds in Game 7 in 1962
Russell's performance against the Lakers in 1962 still stands out as one of the greatest individual NBA Finals ever. He averaged 22.9 points, 27.0 rebounds, and 5.7 assists while shooting 54.3% from the field and a career-high 74.2% from the line. It was the first time in his career that he led the Celtics in points per game and field goal percentage in a championship series.
And of course, he scored 30 points and matched his record of 40 rebounds in Game 7 to close it out. He even drained 14 of his 17 free-throw attempts as a career 56.1% FT shooter!
1. The 1966 masterpiece
There's no debate about the No. 1 spot on the list.
In 1966, Russell averaged 23.6 points, 24.3 rebounds, and 3.7 assists against Baylor and the Lakers. He also shot 53.8% from the field and 74% from the line.
And in the greatest two-way performance of his NBA Finals career, Russell scored 25 points and grabbed 32 rebounds in Game 7 while holding Baylor to 18 points and just 14 rebounds on 6-of-22 shooting. A complete and utter masterpiece.
All stats courtesy of Basketball Reference.
Like Sportscasting on Facebook. Follow us on Twitter @sportscasting19.