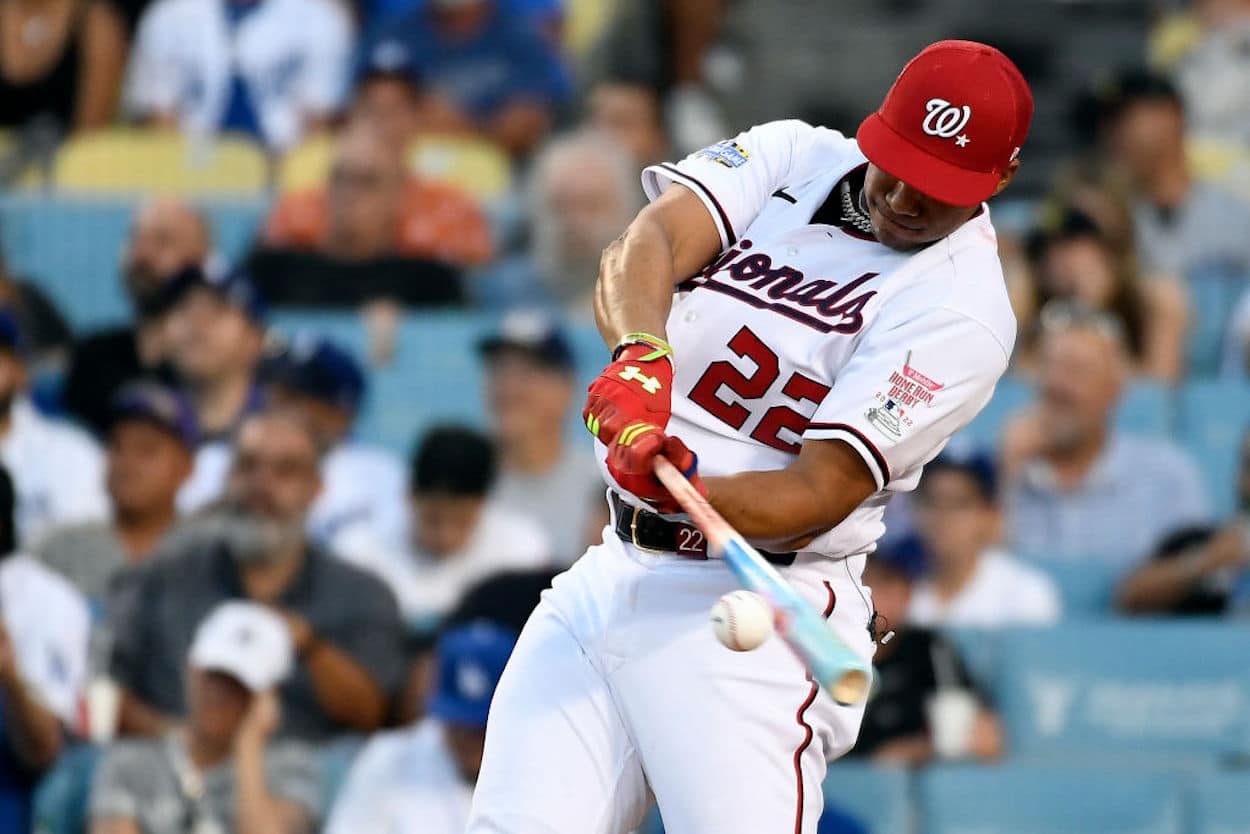 Ranking Juan Soto's 6 Most Intriguing Trade Destinations
Juan Soto is one of 2022's biggest trade candidates. Everyone will want him when he's made available, but some locations are more intriguing than others.
Juan Soto rejecting the Washington Nationals' reported $440 million contract offer has given way to an unprecedented time period leading up to MLB's trade deadline on August 2.
Yes, huge stars have dominated the trade rumor mill before getting dealt in years past. But what makes Soto different? At just 23 years old, his offensive prowess has already been compared to legendary MLB talents like Ted Williams. It's not every day we see a generational talent such as Soto be available with multiple arbitration years remaining. 
Literally every team in baseball could use a player like that, but there's only a small handful that have the prospect depth to convince the Nationals to make a trade. And once that's done, the organization that acquires him would also need to have the ability and willingness to eventually sign Soto to a deal worth north of $450 million. 
There can always be some surprises, but we've ranked the six most intriguing landing spots for Juan Soto below. We've kept the short- and long-term outlook in mind, along with grabbing recent reports of teams' interest to verify the possibility of a trade getting done. 
6: Toronto Blue Jays
Can you imagine a Blue Jays lineup with George Springer, Vladimir Guerrero Jr., Teoscar Hernandez, Bo Bichette, and Juan Soto? That'd be deadly. As mentioned before, any team would want a player like Soto in their lineup. This is especially the case for contending teams with a young core group of players like Toronto. Adding an elite left-handed hitter like Soto would be an excellent complement to Vlad Jr., as ESPN's Buster Olney pointed out. 
The Jays could have the basis of a trade package with three of MLB Pipeline's Top 100 prospects. This includes Gabriel Moreno (seventh overall), Orelvis Martinez (35th), and Jordan Groshans (77th). Soto, Bichette, and Guerrero are projected to hit free agency around the same time, so it'd be difficult to retain them all at top dollar. 
But if they were to land Soto, that'd be a good problem to try and figure out over the next couple of seasons. 
5: New York Yankees 
Any time a high-priced player becomes available, it seems like one of the first teams anyone talks about is the Yankees. It's not surprising that the Bronx Bombers (and Mets, who we'll talk about in a second) will be doing their due diligence on Soto, as per Jon Heyman of the New York Post. Starting pitcher Gerrit Cole also made it known during the All-Star Game festivities that he'd want the left-handed hitter in the Bronx (h/t Greg Joyce, also of the New York Post). 
The current iteration of ownership doesn't run the organization like George Steinbrenner did, but New York has thrown around its financial might when deemed necessary. You know, like agreeing to pay Cole $324 million. So, we know they can pay the high monetary price, and there's still some intriguing talent in their pipeline that'd likely pique Washington's interest. Names such as Anthony Volpe, Oswald Peraza, and Ken Waldichuk could easily be put into a potential trade package. 
An interesting wrinkle here is how the Yankees will eventually approach the Aaron Judge situation. He won't come with nearly as high of a price tag as Soto, but he's also much older as he prepares to enter free agency. Could the Yankees be motivated to nab Soto and go for it all this year, along with letting Judge walk in the offseason before throwing a bunch of money at Soto to stay for the long haul instead? 
That's pure speculation, but it'd be quite an intriguing turn of events, don't you think?
4: New York Mets
The Mets are the Nationals' only divisional rival on this list. One would imagine Washington's preference would be to trade Soto outside of the National League East, so they don't have to play against him for the next 15 years or so. Even if that is the ideal scenario, reports – including one from Andy Martino of SNY – are suggesting Washington only views a few fits for a Soto trade, with the Mets being included within that group. 
What kind of talent would the Nats be asking for? Martino notes Francisco Álvarez, Mark Vientos, and Brett Baty as top prospects who'd probably need to be involved to make any kind of deal come to fruition. Prospects like Álvarez and Baty were likely viewed as untouchable (or close to it) about a month ago but having a chance to get a talent like Soto doesn't come around very often. 
The financial implications wouldn't be an issue for owner Steve Cohen. However, this type of situation forces a team to think about its direction for the foreseeable future. Francisco Lindor is under contract for most of the next decade, Jacob deGrom might be opting out at season's end, and Pete Alonso will eventually need to get paid handsomely. 
3: St. Louis Cardinals 
The Cardinals have tried in recent years to woo big-name free agents to St. Louis, but they've had more success making trades for guys like Paul Goldschmidt and Nolan Arenado instead. Despite leaning on their farm system to make these moves, Kyle Glaser of Baseball America still thinks there's plenty of talent in the minor leagues (and big-league rookies) to convince the Nats to strike a deal. 
As it currently stands, the Cardinals' payroll is outside the top 10 in Major League Baseball. So, one would assume there's some flexibility on the balance sheet to afford a talent such as Soto, especially since Goldschmidt's current contract only runs through 2024. 
2: San Diego Padres
Not long ago, the Padres had baseball's deepest farm system. Between prospects graduating to the big leagues and trading others for veterans to fortify the MLB roster, it's not as deep as it used to be. There are still plenty of interesting players to use in a potential blockbuster trade, though. 
San Diego has five prospects on MLB Pipeline's Top 100 list, headlined by shortstop CJ Abrams. They could sweeten the deal with some MLB-ready talent in Jake Cronenworth and/or MacKenzie Gore. 
It also wasn't long ago that the Padres wouldn't make this kind of monetary investment in a player. But they've committed $300 million to Manny Machado, $144 million to Eric Hosmer, and $340 million to Fernando Tatís Jr. in recent years, so there's clearly an ability to make it happen. 
MLB insiderJon Heyman wrote in a recent New York Post piece that the Padres are a better fit for Soto than the Mets or Yankees. What's most tantalizing about this possibility, though, is pairing Tatís Jr. with Soto for at least the next decade. They're both 23 years old, and Tatís Jr. is under contract until his age-34 campaign, which is the 2034 season. 
That's something worth building around, and the thought of this alone likely spurred Padres general manager A.J. Preller to pick up the phone. 
1: Los Angeles Dodgers
At first glance, this just wouldn't seem fair. The Dodgers entered the 2022 All-Star break with an NL-best 60-30 record. Manager Dave Roberts has an incredibly deep squad of MLB contributors, and Kyle Glaser of Baseball America tabs Los Angeles as having the ability to match any potential prospect haul the Nats get offered. 
Based on their league-leading spending since new ownership took over a decade ago, we know the Dodgers don't have any problem paying top-dollar for elite talent. In the same scope of imagining Soto and Tatís Jr. joining forces in San Diego, it's just as tantalizing to think of Soto getting paired with guys like Mookie Betts and Freddie Freeman for the next few years. 
And for all the money the Dodgers spend each year, they don't have a ton currently on the books in future commitments. If we look at what's currently on their balance sheet for 2024, only Betts ($25 million), Freeman ($27 million), Chris Taylor ($13 million), and Austin Barnes ($3.5 million) have guaranteed salaries from Los Angeles. 
So, they have the prospect depth, the financial flexibility, and the willingness to spend to not only trade for Soto but also sign him to the record-breaking deal he's seeking. Each of the above teams is an interesting fit for the 23-year-old outfielder, but the Dodgers are easily the most intriguing – and most realistic – landing spot for Juan Soto. 
Will Soto actually get dealt before the trade deadline? It appears the likelihood of that happening increases by the day, but it won't come cheap to whichever team lands him – in more ways than one. 
All contract and payroll figures courtesy of Spotrac.