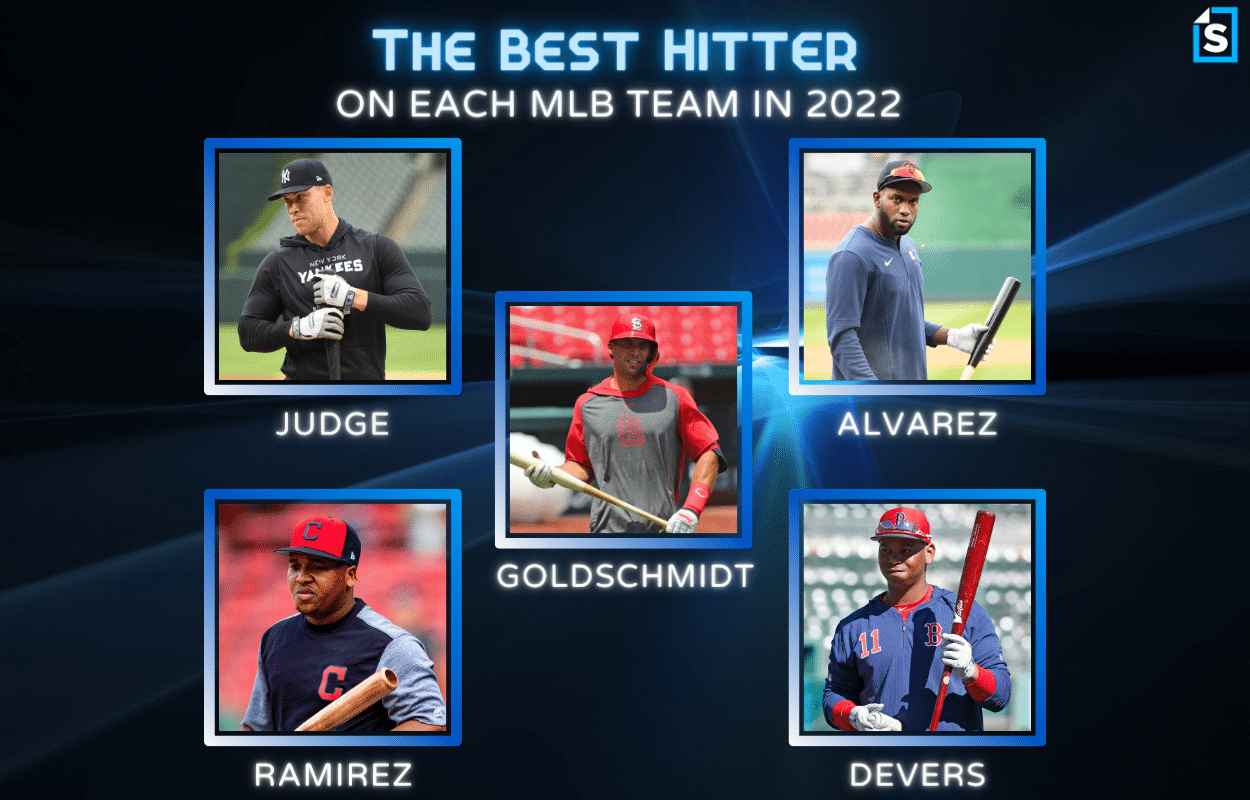 Each MLB Team's Best Hitter in 2022
Every MLB team has a best hitter, but some teams' best hitters are better than other teams' best hitters.
When you think about the best hitters of the 2022 MLB season, a handful of notable faces probably spring to mind first.
Aaron Judge is knocking homer after homer out of the park for the New York Yankees. Mike Trout is doing Mike Trout things whenever he's healthy. Paul Goldschmidt is leaving little doubt about future dalliances with the Hall of Fame.
But we're going deeper than that.
Using MLB Math's offensive value over average (OVOA) metric, which looks at a running-adjusted version of OPS and measures the individual score against the league average such that a score of zero is perfectly average, we've identified the best hitter on each and every one of the big league's 30 teams.
Better still, we're giving you the top five for each organization — aside from the few teams that don't actually have five players with positive scores. But even those punchless outfits have someone who's emered ahead of the pack.
Arizona Diamondbacks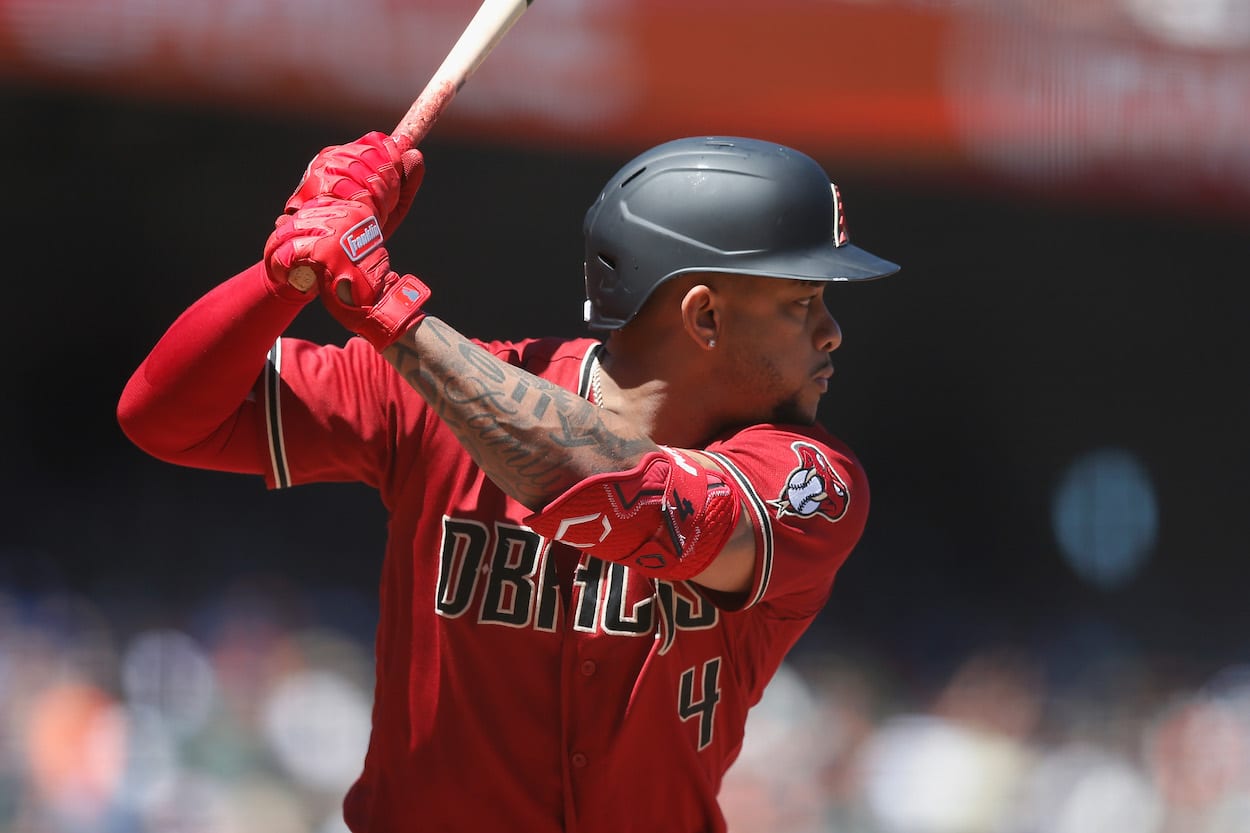 Ketel Marte: 36.902 OVOA (No. 47 overall)
Josh Rojas: 24.765
Christian Walker: 23.009
David Peralta: 6.316
Alek Thomas: 1.748
With a 40-52 record at the All-Star break, the Arizona Diamondbacks haven't exactly boasted the most potent offense. Young players such as Alek Thomas have shown flashes of brilliance, but the top offensive contributor, as expected, is 28-year-old second baseman Ketel Marte. 
Marte hasn't vaulted himself toward any records, recording eight homers and 29 RBI while slashing .271/.363/.449, but that and his near-constant availaibility have been enough for him to check in at No. 47 in the overall OVOA rankings.
Atlanta Braves
Austin Riley: 76.653 OVOA (No. 10 overall)
Dansby Swanson: 55.971
Matt Olson: 43.715
William Contreras: 37.101
Ronald Acuna Jr.: 28.91
Surprised to see Ronald Acuna Jr. all the way down at No. 5 on the Atlanta Braves roster? Well, that's partly because he's played only 59 games. But it's also because Austin Riley, Dansby Swanson, Matt Olson, and William Contreras have flat-out thrived. 
Though Swanson and Contreras earned their first All-Star appearances, the real story has been the continued emergence of Riley as a full-fledged star. No player in the National League has accumulated more total bases, and Riley is already just six home runs shy of the career-high 33 he posted during a 2021 campaign that resulted in a seventh-place finish in the MVP balloting.
Baltimore Orioles
Ryan Mountcastle: 28.455 OVOA (No. 63 overall)
Trey Mancini: 20.847
Austin Hays: 17.865
Anthony Santander: 10.916
Cedric Mullins: 10.231
The Baltimore Orioles ended the first half of the season on a heater, allowing them to enter the break with a .500 record — an almost unfathomable mark this deep into the calendar for such a downtrodden franchise. And while no one hitter has risen too far above the pack, the offense is deep and features above-average contributors throughout the order. 
Cedric Mullins, Anthony Santander, Austin Hays, and Trey Mancini are all viable candidates to elevate into the organization's No. 1 spot by the time the season concludes, but they're all chasing Ryan Mountcastle right now. The slugging first baseman only has 14 homers after knocking 33 over the fence last season, but he's already nearly matched 2021's doubles tally and is making the most of his aggressive approach at the plate.
Boston Red Sox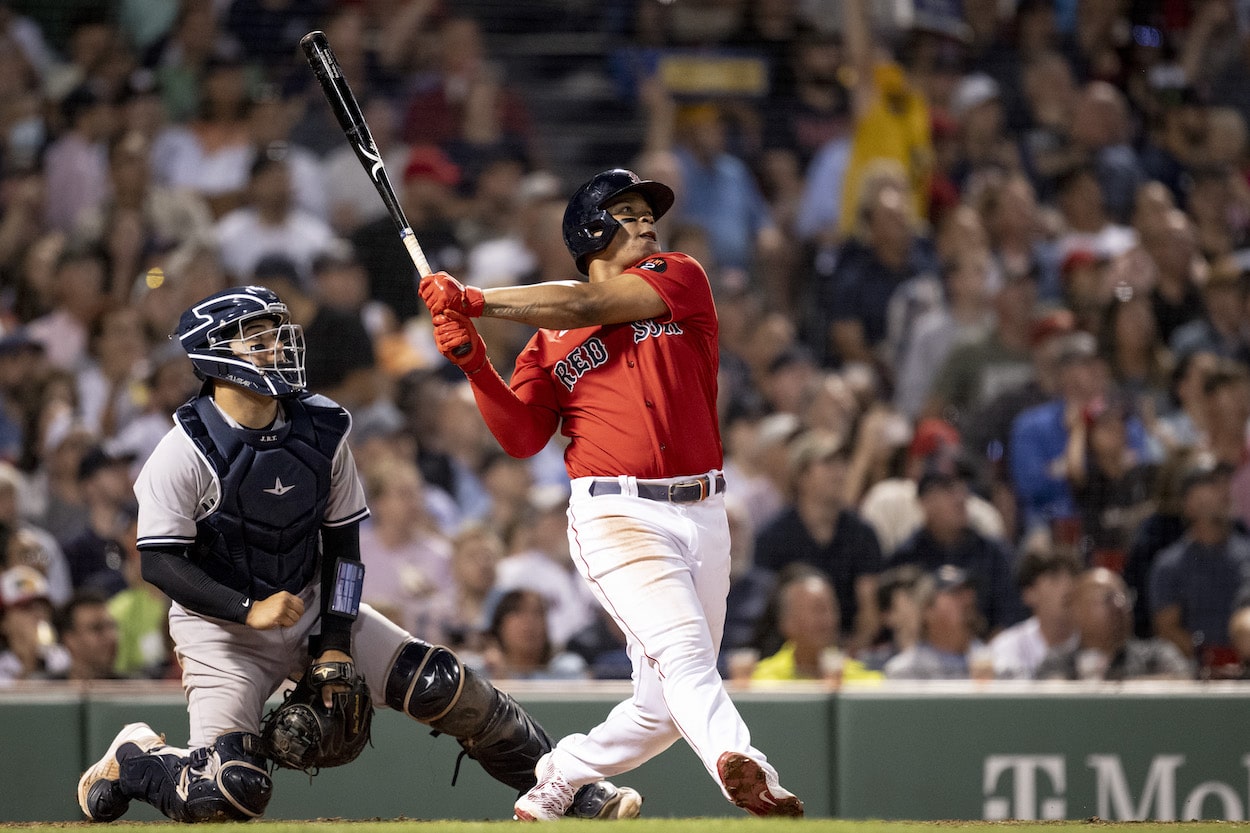 Rafael Devers: 109.304 OVOA (No. 3 overall)
Xander Bogaerts: 55.706
J.D. Martinez: 51.887
Rob Refsnyder: 14.599
Trevor Story: 14.551
J.D. Martinez and Xander Bogaerts both have top-25 marks throughout MLB, but they pale in comparison to the staggering output provided by Rafael Devers. The 25-year-old superstar is slashing .324/.379/.601 and has compiled more base knocks than any other player in the American League. And with 28 doubles, a triple, and 22 homers, he's flashing power on a routine basis, as well. 
Devers is a bona fide MVP candidate at this stage of the season — albeit in the second tier — and Boston Red Sox faithful are surely thrilled he's posted a 1.144 OPS with five homers and 10 RBI in eight games against the rival New York Yankees.
Chicago White Sox
Jose Abreu: 55.182 OVOA (No. 22 overall)
Luis Robert: 38.302
Tim Anderson: 29.5
Andrew Vaughn: 25.852
Danny Mendick: 8.233
Tim Anderson can heat up in a hurry, and Andrew Vaughn entered the break in scorching fashion. But Jose Abreu has risen above the pack for a Chicago White Sox squad that has largely failed to live up to the lofty expectations with a 46-46 record that falls behind both the Cleveland Guardians and Minnesota Twins. 
The first baseman has changed his approach rather drastically, and the results have been quite impressive. He's posting a career-best strikeout rate and walking more than ever, and the selective eye at the plate has led to a .304 batting average and career-best .387 on-base percentage. Don't be fooled by the lack of dingers from a veteran who has typically pushed for 30-homer seasons. 
Chicago Cubs
Ian Happ: 43.312 OVOA (No. 37 overall)
Willson Contreras: 37.744
Nico Hoerner: 23.897
Seiya Suzuki: 20.55
Christopher Morel: 18.112
Seiya Suzuki's attention-grabbing start to his MLB career has fallen by the wayside, and the Chicago Cubs offense has largely struggled en route to a 35-57 record. The team as a whole has a 98 OPS+, falling just shy of the league average, and precious few consistent standouts have emerged.
Fortunately for the Windy City fanbase, a few pleasant surprises have found success at the plate, and Ian Happ is chief among them. A bit of a post-hype sleeper because he's always hit when healthy but failed to remain available, Happ has played in all but two of the Cubbies' games and slashed a respectable .274/.364/.443. He's on pace to record 16 homers and 10 steals in his first All-Star effort. 
Cincinnati Reds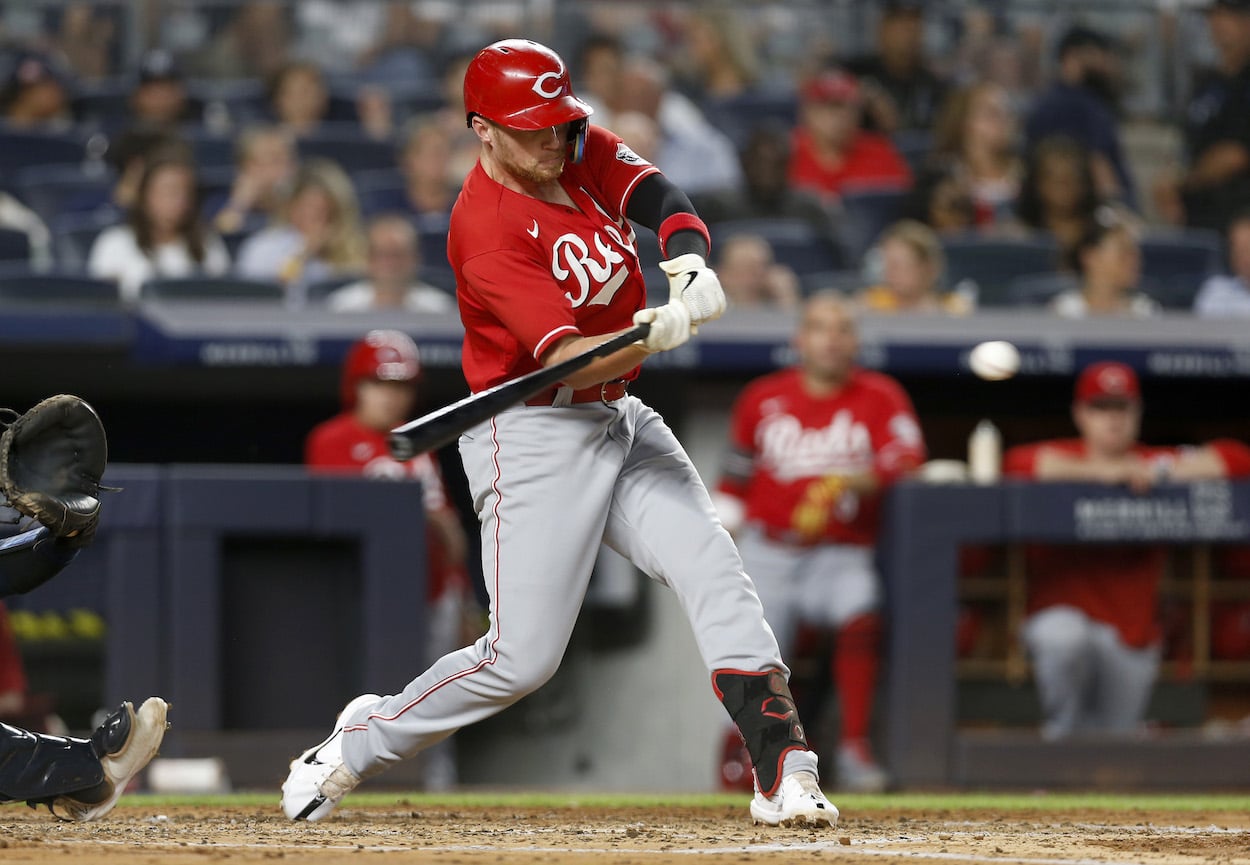 Brandon Drury: 46.458 OVOA (No. 29 overall)
Tyler Stephenson: 25.775
Tyler Naquin: 4.654
Tommy Pham: 2.741
Donovan Solano: 2.668
The good news: The Cincinnati Reds have been on the rise since a pathetic 3-22 start to the 2022 season. 
The bad news: The 34-57 Reds have remained one of MLB's worst offenses and have failed to support a Brandon Drury breakout and 49 stellar games behind the plate from Tyler Stephenson with anything even remotely notable. 
But at least that Drury breakout has happened. After slashing .249/.296/.415 (84 OPS+) over his first seven big league seasons, the 29-year-old has hit a remarkable .278/.336/.528 (129 OPS+) while setting a new career high with 18 homers and counting.
Cleveland Guardians
Jose Ramirez: 95.075 OVOA (No. 5 overall)
Andres Gimenez: 33.66
Josh Naylor: 33.312
Nolan Jones: 8.522
Amed Rosario: 8.45
If you want to witness a gorgeous baseball swing, just watch Jose Ramirez. 
Though Nolan Jones' professional career got off to a rip-roaring start and Andres Gimenez has more than justified his inclusion as a centerpiece in the Francisco Lindor blockbuster, Ramirez is quite obviously the best hitter for the newly renamed Cleveland Guardians. 
He leads the American League with both 30 doubles and 75 RBI, and he's showing off better contact skills than ever before. Already a low-strikeout player, Ramirez has taken his approach to the proverbial next level and has basically become an unstoppable force at the plate.
Colorado Rockies
C.J. Cron: 74.652 OVOA (No. 11 overall)
Charlie Blackmon: 35.886
Kris Bryant: 17.364
Connor Joe: 17.104
Brendan Rodgers: 6.766
With a simplified swing that allows him to keep the bat in the zone longer than ever, C.J. Cron is leaving no doubt that he made the correct decision to bet on himself. It's hard to believe now, but the slugging first baseman turned down a chance to join the Los Angeles Dodgers during the 2021 offseason, instead signing with the Colorado Rockies on a one-year, $1 million deal and capitalizing on his newfound everyday role. 
Now, he's a an All-Star playing out a two-year, $14.5 million contract, and he's hitting .298/.350/.552 with 21 bombs at the break. Cron doesn't have too much lineup protection in the Mile High City, but he's still become a nightmare for opposing pitchers and has flat-out feasted on the thin air in the MIle High City. 
Detroit Tigers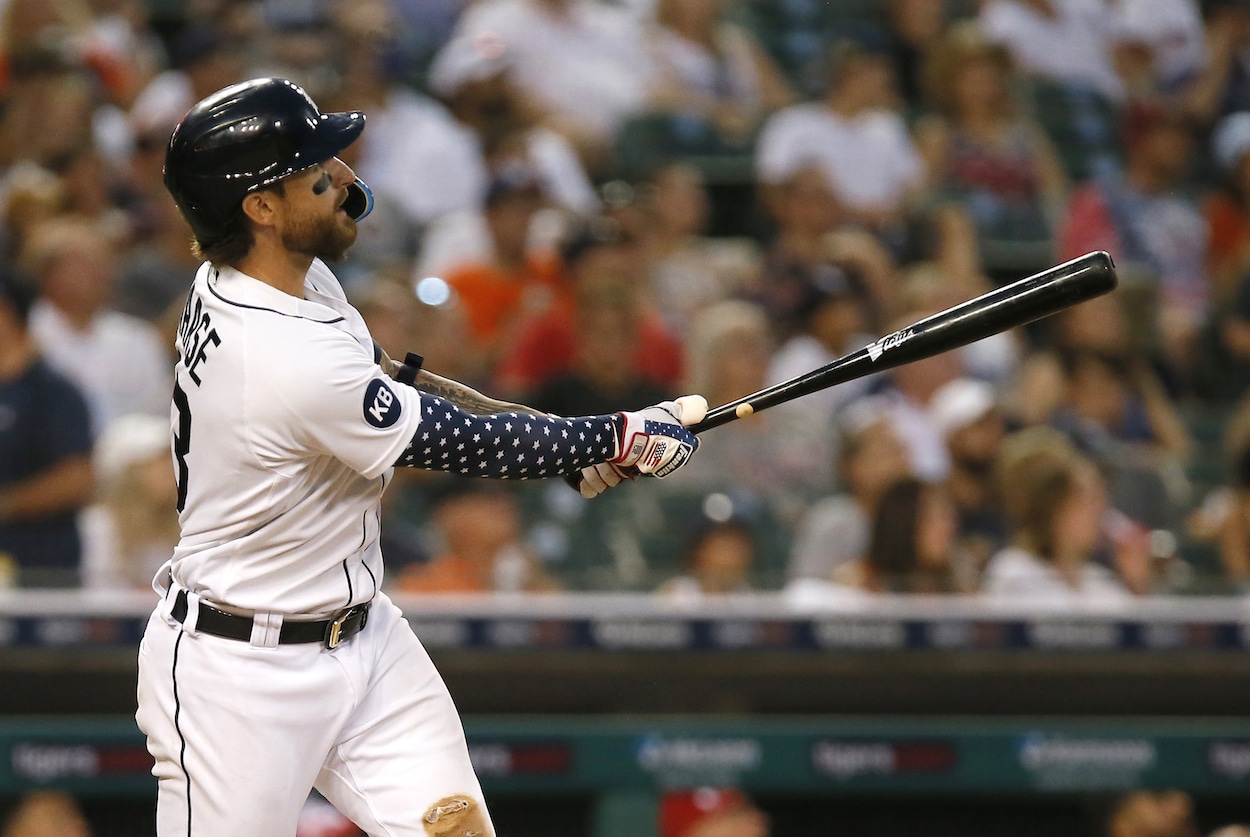 Eric Haase: 1.241 OVOA (No. 204 overall)
Dustin Garneau: 1.146
This is … not great. 
The Detroit Tigers haven't had even a single hitter register a top-200 mark in the OVOA metric, and their only two players with positive season-long scores both line up at catcher. Eric Haase has played in 57 games and slashed .242/.298/.433, while Dustin Garneau is getting credit for the .300/.364/.400 line he's posted in a small 11-plate appearance sample.
Jeimer Candelario isn't just failing to follow up last season's success; he's below the Mendoza Line. Javier Baez and Jonathan Schoop can't seem to make consistent contact and have been two of the league's least valuable hitters. Age has caught up to Miguel Cabrera. Akil Baddoo has flamed out. Riley Greene and Austin Meadows haven't stayed healthy enough to find consistent success at the plate. Uber-prospect Spencer Torkelson was demoted after slashing .197/.282/.295 in his first 83 games. 
Let's just move on. 
Houston Astros
Yordan Alvarez: 104.935 OVOA (No. 4 overall)
Jose Altuve: 58.995
Kyle Tucker: 41.05
Michael Brantley: 20.568
Jeremy Pena: 18.955
The polar opposite of the Detroit Tigers, the Houston Astros are brimming over with quality offensive options. Between Jeremy Pena's impressive rookie season, Kyle Tucker and Jose Altuve continuing to look like bona fide stars, and plenty more contributors posting above-average scores, they're one of the deadliest lineups throughout the sport. 
But everyone pales in comparison to Yordan Alvarez, and that was especially true during a staggering June. 
"The month of June is what put Álvarez on his current pace. He not only won AL Player of the Month honors, but he also just demolished any opposing pitcher in his way," Matt Musico explained for Sportscasting. "He led all of baseball in batting average (.418), on-base percentage (.510), and slugging percentage (.835), along with collecting nine home runs with 28 RBI. His 276 wRC+ and 2.0 fWAR both led the league, as well."
Kansas City Royals
Bobby Witt Jr.: 28.053 OVOA (No. 66 overall)
Andrew Benintendi: 27.206
Hunter Dozier: 16.643
Nick Pratto: 2.29
Edward Olivares: 2.128
Bobby Witt Jr. has more than lived up to the hype generated by a stellar spring training that earned him the job at the ripe young age of 22.
He could stand to display a more careful eye at the plate and has had some trouble handling big league heaters, but the massive five-tool potential is already on full display. Not only does he lead baseball with five triples, but he's accumulated 18 doubles, 13 homers, and 17 steals while slashing .254/.299/.450. 
Perhaps most impressively, it's hard to find a single notable flaw in the overall profile. The sky really might be the limit here.
Los Angeles Angels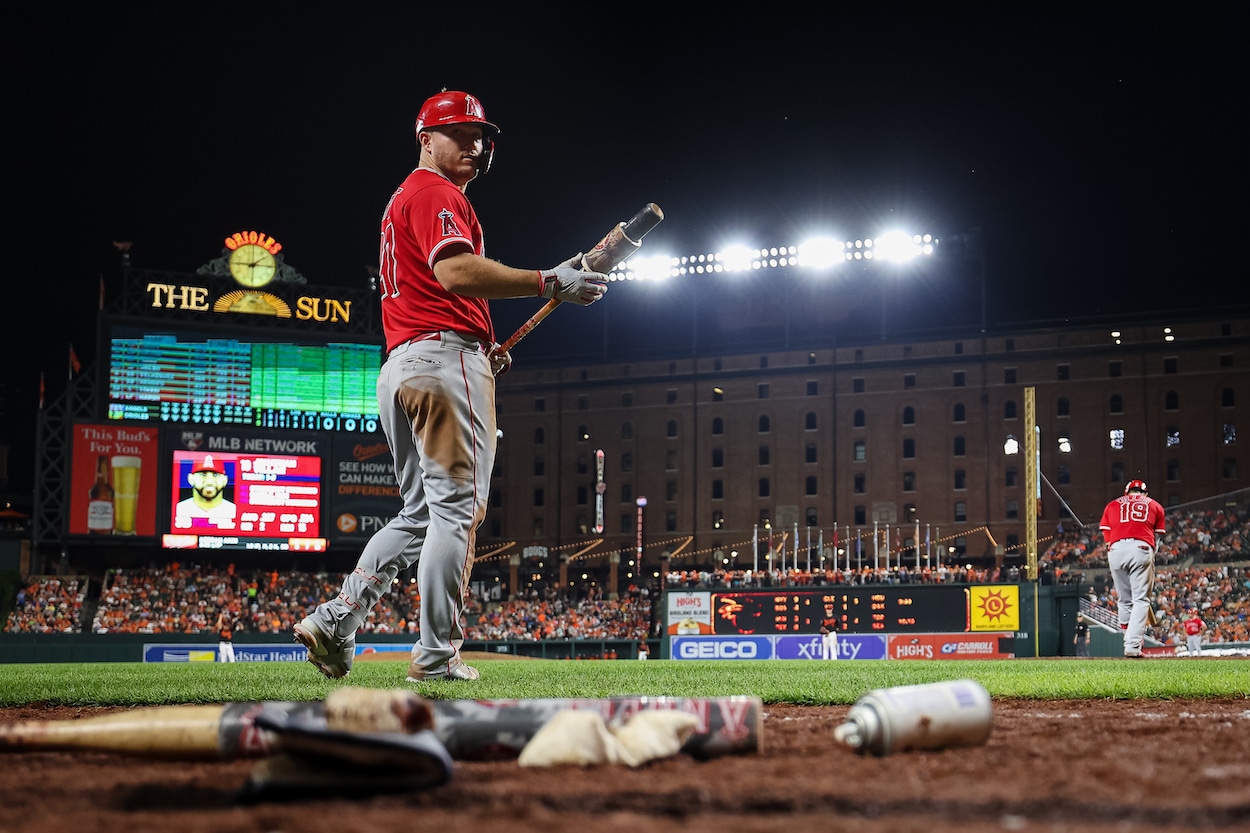 Mike Trout: 91.541 OVOA (No. 7 overall)
Shohei Ohtani: 46.307
Taylor Ward: 46.167
Monte Harrison: 2.004
Anthony Rendon: 0.771
Breaking news: Mike Trout is good at baseball. 
Though he's on the injured list to start the second half of the season, ushering in concerns after he played a combined 89 games during the 2020 and 2021 campaigns, Trout has hit the cover off the ball whenever he's slotted into the Los Angeles Angels lineup. He's belted 24 homers with a free-wheeling approach but also capitalizes on the immense respect he's given by opposing pitchers. 
The number of low-stress walks he racks up is evidence enough of his bat terrifying mound-dwellers into nibbling away at the outside edges of the strike zone and being perfectly fine ceding a free pass to first base. 
Shohei Ohtani has quickly been rising up the offensive standings and might be the AL MVP favorite thanks to his remarkable work as a pitcher. He's quite clearly been the most valuable overall player for the Halos in 2021. But when focusing solely on value earned as a batter and base-runner, he still falls well shy of his living legend of a teammate. 
Los Angeles Dodgers
Freddie Freeman: 93.19 OVOA (No. 6 overall)
Trea Turner: 71.698
Mookie Betts: 64.78
Will Smith: 40.541
Gavin Lux: 24.526
To put the remarkable depth of the Los Angeles Dodgers' lineup in perspective, Gavin Lux checks in at No. 5 on the team and at No. 75 in the overall standings. Will Smith sits at No. 41, and Mookie Betts (No. 15), Trea Turner (No. 14), and Freddie Freeman (No. 6) have all been top-15 hitters. 
Apparently, Freeman wasn't just a product of the Atlanta Braves. His first season in Hollywood has gone swimmingly, and he's picking up steam as he gains comfort in his new digs. Over his last 20 games heading into the All-Star Game, he slashed .383/.429/.667 with eight doubles and five homers.
Miami Marlins
Jazz Chisholm Jr.: 44.025 OVOA (No. 35 overall)
Jon Berti: 28.378
Garrett Cooper: 21.277
Nick Fortes: 11.63
Brian Anderson: 8.684
If Jazz Chisholm Jr. could get bonus points for sheer enthusiasm and entertainment value, he'd elevate even higher still. 
The 24-year-old rising star is always a threat to take the extra base, whether he's legging out a triple after pounding the ball into a gap or capitalizing on the base paths. Even though he's played in just 60 games, he's already a part of the double-double club with 14 homers and a dozen steals. 
Every part of his game feels like it's constantly improving, which is all the more impressive because precious few batters have been able to afford him any protection in the lineup.
Milwaukee Brewers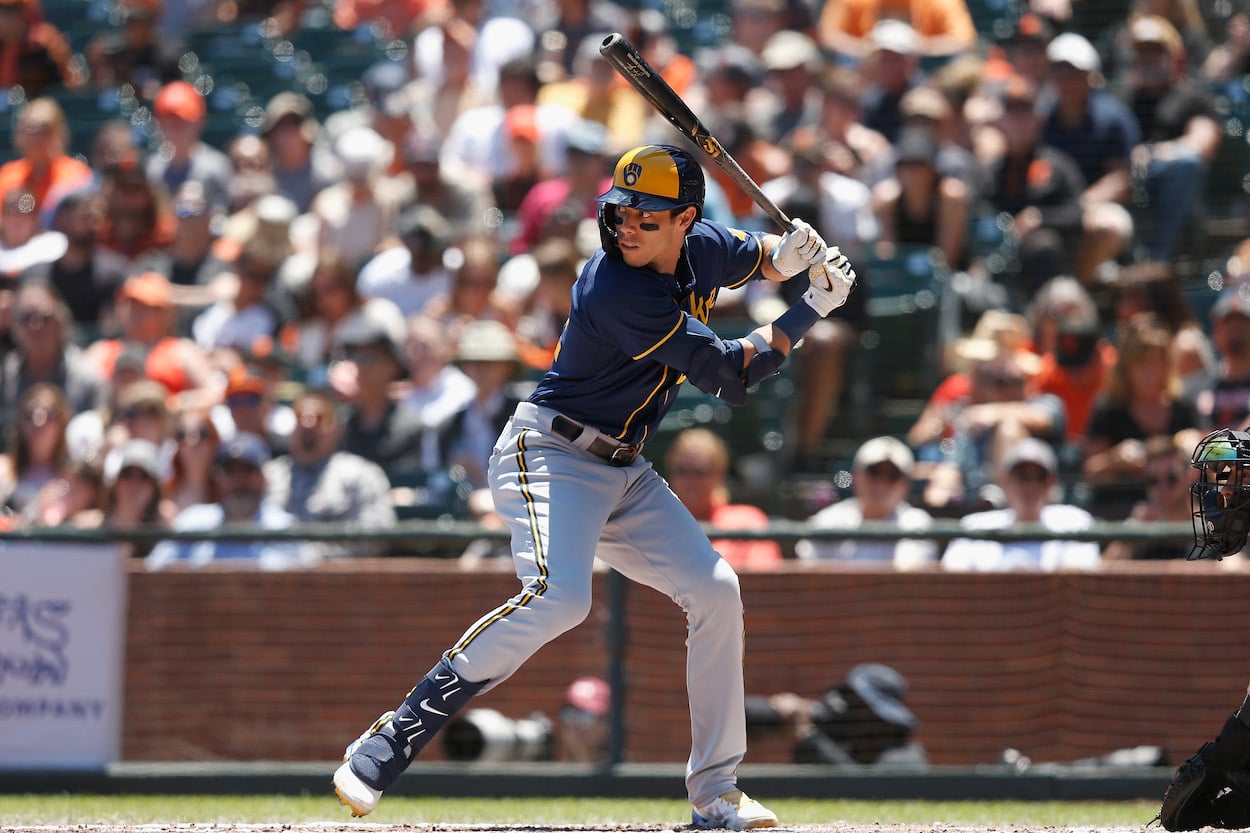 Christian Yelich: 19.552 OVOA (No. 87 overall)
Rowdy Tellez: 18.656
Jace Peterson: 17.848
Hunter Renfroe: 17.086
Victor Caratini: 16.142
Though it might be surprising to see the first-place team in the American League Central failing to place a single hitter in the overall top 80, that's a testament to both the steady stream of (slightly) above-average options in the lineup and — more notably — the dominance of the pitching staff and lights-out bullpen. 
But as has been the case for so many years in Brewtown, Christian Yelich has emerged as the No. 1 choice. This time, though, he's done so in different fashion. He's only hit eight homers and has seen his batting average fall down to .251, but he draws plenty of walks and has capitalized on the base paths with a 13-of-13 mark in the stolen base department. 
Great players adjust, and Yelich remains a great player. 
Minnesota Twins
Luis Arraez: 48.049 OVOA (No. 28 overall)
Byron Buxton: 44.476
Carlos Correa: 21.879
Jorge Polanco: 11.826
Kyle Garlick: 11.742
Byron Buxton has the power-speed combination — albeit with a prolonged slump and plenty of strikeout issues mixed in — and Carlos Correa was the big offseason addition, but Luis Arraez's contact skills have allowed him to take center stage. 
The 25-year-old flat-out refuses to strike out, and that's allowed him to overcome shaky power production by making the hit column his permanent place of residence. He leads MLB with a .338 batting average, and no one in the American League has managed to top his .411 on-base percentage with enough at-bats to quality for the leaderboard. 
But those strikeout figures are where Arraez truly shines. After recording only 48 third strikes in 479 plate appearances last year (10.0 strikeout percentage), he's down to 28 in 348 (8.1%) this season. Not only does he have the league's lowest strikeout rate, but he joins Steven Kwan (8.5%), Alejandro Kirk (9.5%), and Jose Ramirez (9.9%) as one of just four players in single digits. 
New York Yankees
Aaron Judge: 122.255 OVOA (No. 1 overall)
Matt Carpenter: 63.827
Anthony Rizzo: 46.209
Giancarlo Stanton: 41.901
DJ LeMahieu: 31.709
Though we have to give a shoutout to Matt Carpenter for pacing all qualified hitters in OVOA per game (he's at No. 16 overall in just 31 appearances), Aaron Judge has been the best hitter in baseball, bar none. 
During an era in which so many of the leading power hitters employ a three-true-outcomes approach that leaves their batting average closer to the Mendoza Line than the magical .300 mark, Judge has slashed .284/.364/.618 with an MLB-high 33 bombs. Sure, he strikes out a lot. But his upright stance at the plate has allowed him to pull the ball even more frequently and find gaps even when he doesn't send the pitch soaring over an outfield fence. 
He's also having a monstrous season at the right time as he looks to become baseball's next $300 million player. 
New York Mets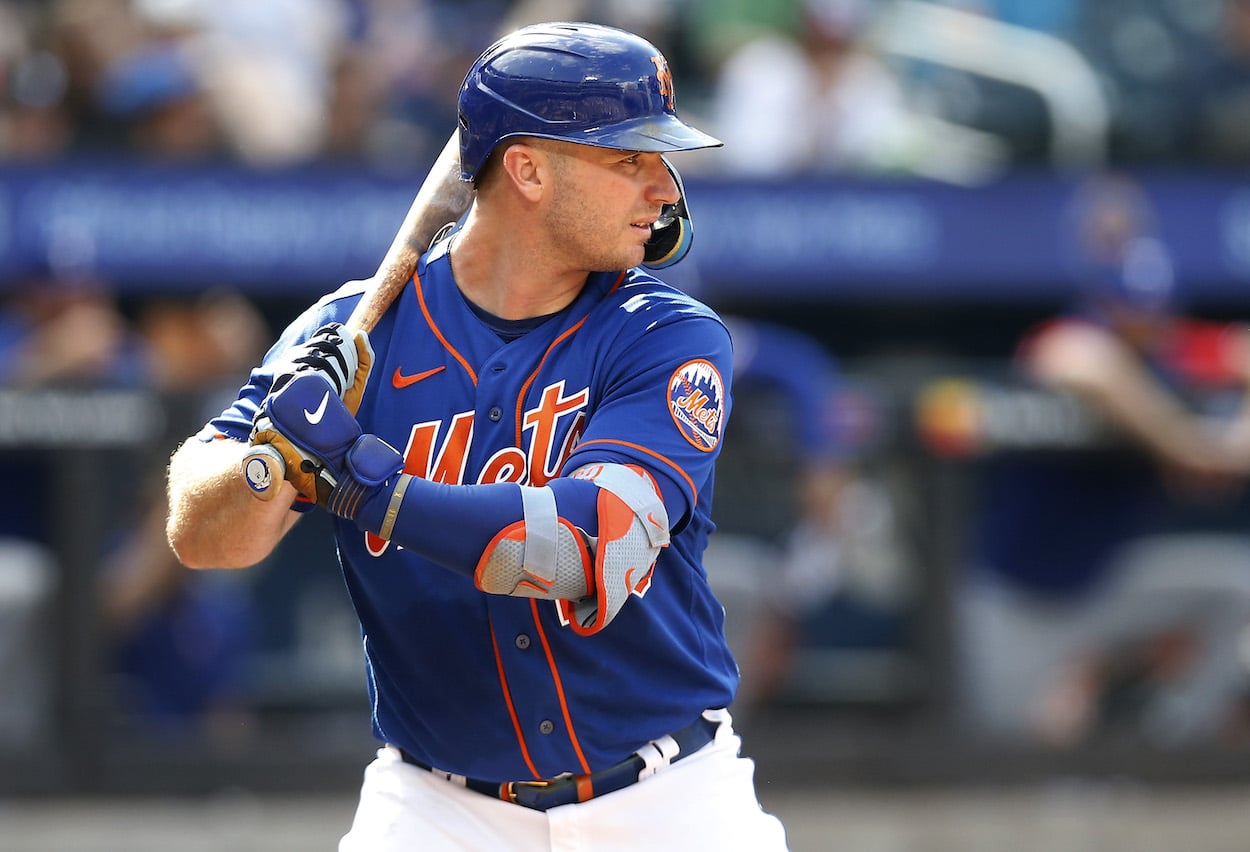 Pete Alonso: 58.954 OVOA (No. 20 overall)
Starling Marte: 36.641
Francisco Lindor: 32.185
Brandon Nimmo: 27.616
Jeff McNeil: 26.083
The New York Mets may not be able to match the offensive output of their Big Apple compatriots, but they've been lighting up scoreboards in their own right. Pete Alonso, Starling Marte, Francisco Lindor, Brandon Nimmo, and Jeff McNeil have all registered top-70 scores and have largely taken turns serving as the top performer on any given night.
Still, the powerful first baseman has risen to the top.
Alonso has the high-water mark in RBI (78) during the 2022 season and is on base to fly past the 30-homer barrier for the second consectuive season. And while he might be disappointed in his performance at the Home Run Derby — an event he takes quite seriously year after year — he's still primed for a big second half in a lineup loaded with talent. 
Oakland Athletics
Ramon Laureano: 4.43 OVOA (No. 171 overall)
Dermis Garcia: 0.716
Were you expecting much more from an Oakland Athletics club competing with the Washington Nationals for the worst record in baseball? If you were, did you remember that their payroll is roughly one-billionth the size of the most expensive salary sheets in the sport? 
Still, this is bleak.
Dermis Garcia has one of the team's two positive scores, but he's gone just 2-for-6 at the plate with a double. Ramon Laureano has the other even though he began the baseball calendar serving a suspension and didn't make his 2022 debut until May 8. His power-speed profile remains legitimate, but he's not exactly producing at the level you'd like from a team's top offensive performer. 
Philadelphia Phillies
Bryce Harper: 83.879 OVOA (No. 8 overall)
Rhys Hoskins: 40.747
Kyle Schwarber: 35.986
J.T. Realmuto: 18.098
Garrett Stubbs: 13.782
Bryce Harper won't be compiling any more notable offensive numbers until he fully recovers from a broken thumb, but the Philadelphia Phillies' perpetually potent performer still hasn't been transferred from the 10-day injured list to the 60-day version and might have a chance to be back in the lineup by the time August ends. 
Though Rhys Hoskins and Kyle Schwarber have been putting up admirable numbers, particularly in the power department, it's not much of a secret that the Phillies are far more effective with Harper leading the charge. Among players with at least 40 appearances this season, only Yordan Alvarez and Aaron Judge have scored better on a per-game basis.
Pittsburgh Pirates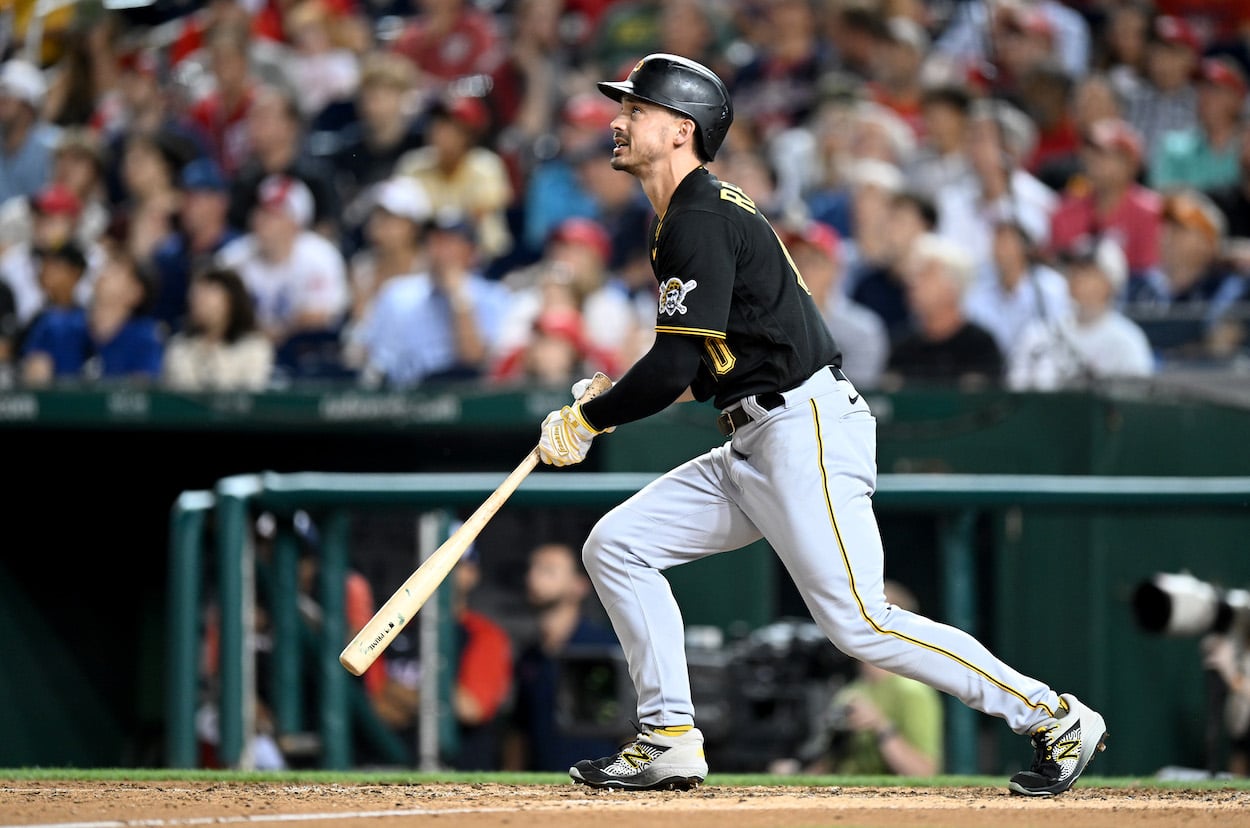 Bryan Reynolds: 33.64 OVOA (No. 53 overall)
Daniel Vogelbach: 22.495
Bligh Madris: 0.683
Kevin Newman: 0.551
Liover Peguero: 0.478
Only one qualified batter in the Pittsburgh Pirates lineup has a batting average above .260: Bryan Reynolds.
Only one qualified batter in the Pittsburgh Pirates lineup has an on-base percentage above .340: Bryan Reynolds.
Only one qualified batter in the Pittsburgh Pirates lineup as a slugging percentage above .430: Bryan Reynolds.
Though an oblique injury currently has the outfielder on the injured list and might curtail his production throughout the second half, it's not like there's another choice here. No disrespect to Daniel Vogelbach and Ke'Bryan Hayes (whose score falls just shy of the league average), but Reynolds has rather easily been the top earner in the Steel City. 
St. Louis Cardinals
Paul Goldschmidt: 110.998 OVOA (No. 2 overall)
Nolan Arenado: 60.284
Dylan Carlson: 18.374
Brendan Donovan: 17.992
Nolan Gorman: 12.818
Though Nolan Arenado is in the midst of an impressive season and checks in at No. 17 overall, his production still pales in comparison to that of Paul Goldschmidt. In fact, let's do a bit of rough math. Goldschmidt has provided as much OVOA as: 
Nolan Arenado and Vladimir Guerrero Jr. combined
Xander Bogaerts and J.D. Martinez combined
Mookie Betts and Shohei Ohtani combined
The list could go on and on, but the point doesn't change: Goldschmidt is a future Hall of Famer submitting his best year yet in his age-34 campaign by slashing .330/.414/.590 for a 1.004 OPS and 186 OPS+. Each of those last five numbers paces the National League.
San Diego Padres
Manny Machado: 72.948 OVOA (No. 13 overall)
Jurickson Profar: 14.481
Jorge Alfaro: 11.112
Jake Cronenworth: 9.688
Nomar Mazara: 7.807
Talk about a big gap between No. 1 and the rest of the pack. In fact, the Cleveland Guardians are the only MLB squad with more separation between their top two contributors, though the situation feels a bit different because Andres Gimenez and Josh Naylor have both performed at a significantly higher level than any non-Manny Machado member of the San Diego Padres. 
Perhaps this will change when Fernando Tatis Jr. eventually makes his season debut, but San Diego has unquestionably been the Machado show. His athleticism and smooth swing have taken center stage on a nightly basis as he uses a pull-heavy approach to slash .303/.377/.513 with 19 doubles, 15 homers, and seven steals. 
Machado can do everything — and not just adequately.
San Francisco Giants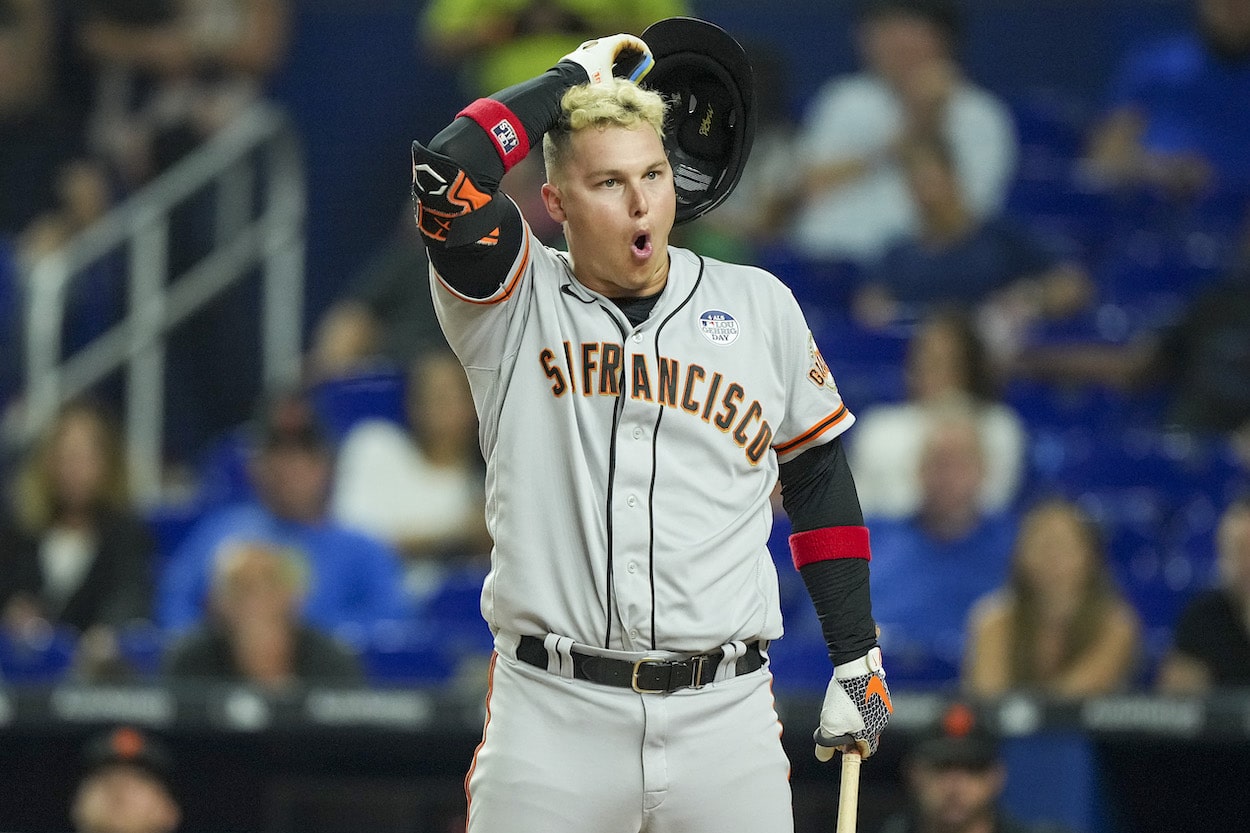 Joc Pederson: 37.832 OVOA (No. 44 overall)
Austin Slater: 28.698
Mike Yastrzemski: 21.318
Thairo Estrada: 18.764
Wilmer Flores: 15.229
After falling off a cliff in his final season with the Los Angeles Dodgers and starting his ascent back to prominence with the Chicago Cubs and Atlanta Braves during the 2021 campaign, Joc Pederson has fully arrived once again. He hadn't participated in the All-Star festivities since his rookie year in 2015, but he's making up for lost time with 17 first-half homers and a career-high .252 batting average. 
Pederson still struggles to draw walks and could stand to turn more of his hard contact into line drives rather than grounders that get gobbled up, but the threat of his power is starting to elevate the San Francisco Giants, who otherwise boast a number of solid — but not standout — contributors throughout the offense.
Seattle Mariners
Julio Rodriguez: 59.06 OVOA (No. 18 overall)
Ty France: 46.546
Eugenio Suarez: 31.456
Cal Raleigh: 12.789
Taylor Trammell: 7.801
Rookies aren't supposed to be this good or exceed the hype to this extent. 
As Matt Musico explained for Sportscasting, Julio Rodriguez has a decent chance to join Mike Trout as the second player to record a 30-30 season as a rookie: 
With the power and speed he's shown during the first half, securing the second-ever 30-30 performance from a rookie is certainly within his sights. He still has some work to do in the homer department, but he's hit all 15 of his homers since May 1 after not going yard at all in April. He's stayed consistent in stealing bases each month so far, too. Rodríguez stole nine in April and five in both May and June. He's currently at two in July, so one would imagine he'll get to at least five before the calendar flips to August.

Matt Musico on Julio Rodriguez
Rodriguez put on a helluva show at the Home Run Derby even if he ultimately fell shy of Juan Soto in the final round, but his national profile would only continue to increase if he can keep leading a red-hot Seattle Mariners unit to end a seemingly interminable playoff drought that stretches back to 2001. 
Oh, and that whole 30-30 thing wouldn't hurt. He entered the break on pace for 28 homers and 37 steals, and he's only heating up as he tries to stave off the fatigue that can sometimes plague second-half rookies. 
Tampa Bay Rays
Yandy Diaz: 34.72 OVOA (No. 51 overall)
Ji-Man Choi: 27.257
Harold Ramirez: 25.709
Manuel Margot: 20.606
Randy Arozarena: 17.297
In the past, it sometimes felt like Yandy Diaz's bulging biceps were more for show than for applicable power with a baseball bat in his hands. He'd put up decent home run figures in the past, but he'd topped out at 1.6 WAR in 2021.
Well, he's already surpassed that total with 2.3 WAR for the Tampa Bay Rays at the All-Star break, and the success is due, in large part, to a revamped approach at the plate. He's showing off an all-fields approach and hitting more line drives than ever while showing off a more careful eye at the plate. Though he's only notched three dingers, he's slashing .294/.407/.390 for a career-best 137 OPS+.
The other surprise in Tampa? Wander Franco has struggled to stay healthy and provide a noteworthy encore to his rookie-year success. He checks in at No. 192 overall, though he could go on a tear and rise up to the top of the pack in the blink of an eye once he's healthy enough to take the field. 
Texas Rangers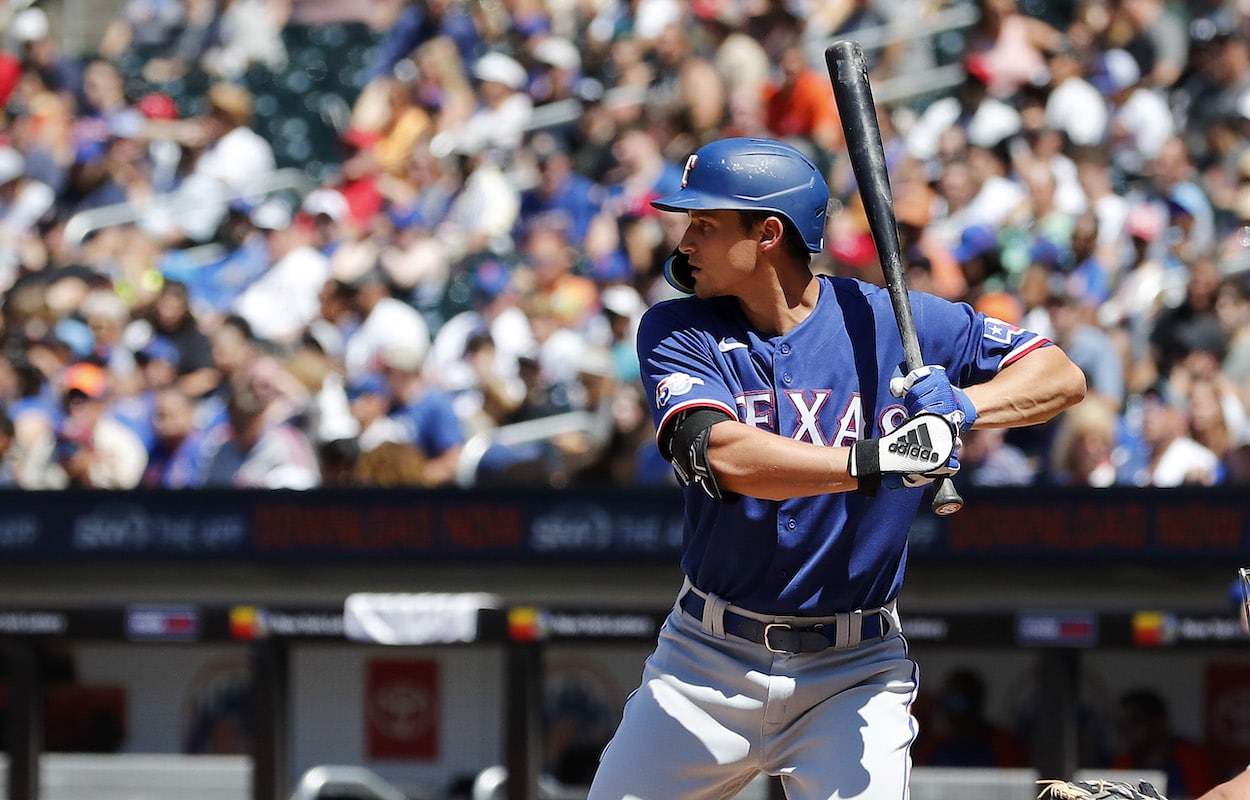 Corey Seager: 51.449 OVOA (No. 25 overall)
Jonah Heim: 18.968
Leody Taveras: 18.325
Marcus Semien: 15.63
Nathaniel Lowe: 14.717
The big offseason acquisitions are starting to pay off in spite of some slow starts to the season. 
Marcus Semien didn't climb above the Mendoza Line until June 7 but has batted .298/.353/.550 with six doubles and 10 homers over 37 games since then. And though Corey Seager didn't dig himself nearly as deep a hole, he was on a tear entering the All-Star break, slashing .355/.417/.742 with seven homers in July. All of a sudden, the much-ballyhooed middle infield is living up to the lofty expectations. 
Still, Seager's season-long numbers are in a class of their own for the Texas Rangers. And perhaps most impressively, they've come with a .244 BABIP that's so far below his career average (.324) that he's a safe bet to enjoy better batted-ball fortune in the season's second half.
Toronto Blue Jays
Alejandro Kirk: 50.491 OVOA (No. 26 overall)
Vladimir Guerrero Jr.: 49.048
George Springer: 39.37
Lourdes Gurriel Jr.: 28.323
Teoscar Hernandez: 20.69
This might be the single most surprising result, though it's not like Alejandro Kirk is blowing Vladimir Guerrero Jr. out of the water. They actually sit back-to-back in the pecking order with the reigning AL MVP runner-up checking in at No. 27 overall.
But once names are removed from the equation, which line would you rather have ?
Over 92 games, a .271/.346/.484 line (132 OPS+) with 15 doubles and 20 homers
Over 83 games, a .315/.395/.487 line (149 OPS+) with 13 doubles and 11 homers
The latter belongs to Kirk, and the 23-year-old catcher is enjoying quite the breakout season at the plate with a tremendous eye and a knack for knocking the cover off four-seamers foolishly thrown in his direction. 
Guerrero, who has produced comparable numbers, may well be the safer bet to finish the season at No. 1 for the Toronto Blue Jays. But that's based largely on pedigree and the torrid pace he maintained throughout the 2021 season. 
Washington Nationals
Juan Soto: 83.305 OVOA (No. 9 overall)
Josh Bell: 74.275
Yadiel Hernandez: 0.045
When laid out like this, it becomes a bit clearer why Juan Soto is ready to move on from the Washington Nationals, even if it means reportedly turning down a contract extension worth upwards of $400 million. Sure, Josh Bell has slugged 21 doubles and 13 homers while slashing .311/.390/.504, but the rest of the lineup in the nation's capital has done virtually nothing of note. 
The reigning Home Run Derby champion's number becomes even more impressive when his slow start to the season is taken into account. Over his last dozen appearances prior to the All-Star break, he reminded the world of just how deadly he is with a bat in his hands, hitting .421/.560/842 with five homers.
And the Nats went 2-10 over that stretch all the same because one player can't fully carry a team, even when he's one of the best hitters in recent memory.
All stats and award information courtesy of Baseball Reference, MLB Math, and FanGraphs. 
Like Sportscasting on Facebook. Follow us on Twitter @sportscasting19 and subscribe to our YouTube channel.