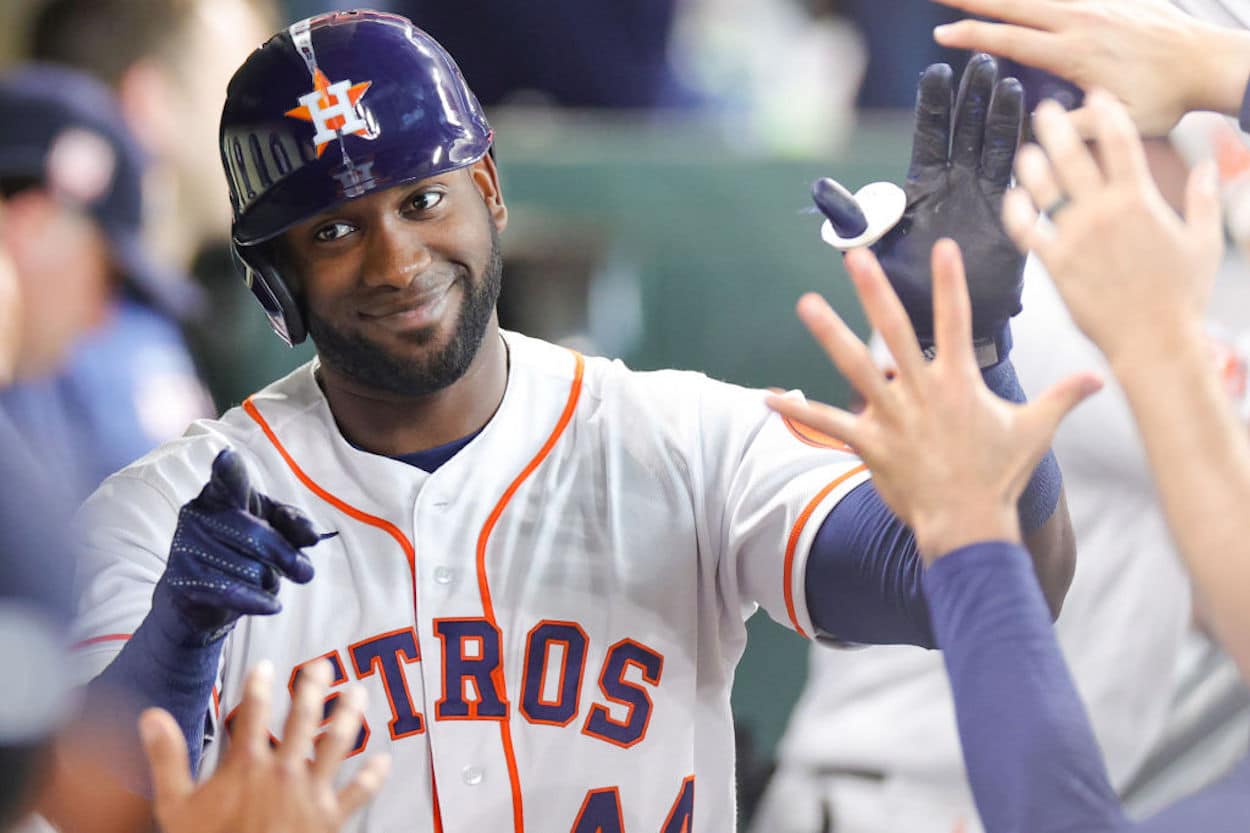 Yordan Álvarez Is Playing Like the AL MVP, and He Deserves Your Attention
Yordan Álvarez is putting up some impressive numbers with the Houston Astros and shouldn't be overlooked by baseball fans.
The 2022 American League MVP Award race already has some staunch competition halfway through the MLB regular season. Mike Trout is a perennial threat, as is reigning MVP Shohei Ohtani. Aaron Judge is leading baseball with 30 home runs, but there's one slugger who has been consistently rising in the ranks: Houston Astros outfielder/designated hitter Yordan Álvarez. 
Entering Thursday, July 7, the 25-year-old is slashing .313/.411/.660 with 25 home runs and 58 RBI. With the current pace he's on, Álvarez has a shot at challenging Jeff Bagwell's franchise record for home runs in a single season (he hit 47 in 2000). His 201 Weighted Runs Created Plus (wRC+) ranks first among 157 qualified MLB hitters. The 3.9 fWAR he's accumulated to this point is already a single-season career-high mark. 
Being a valuable part of the Astros' lineup isn't anything new for the left-handed hitter. Since debuting in 2019, Álvarez has already posted three seasons with at least 3.0 FanGraphs Wins Above Replacement (fWAR). The impact he's made during his short MLB career goes far beyond the fWAR he's accumulated to this point, though. 
Yordan Álvarez is hitting like Ted Williams and Babe Ruth
Historical comparisons are a great way to put a player's current production into the proper context. After all, it can be easy to overlook just how good someone has been while it's happening right in front of us. That's exactly what's occurring right now with Álvarez. 
The slugger just turned 25 years old on June 27. For left-handed hitters with a minimum of 1,200 plate appearances by their 25th birthday, here are the top four in career OPS (h/t Jeremy Frank on Twitter):
Ted Williams: 1.122
Lou Gehrig: 1.063
Babe Ruth: .980
Yordan Álvarez: .970
That's…some incredible company to be keeping as a 25-year-old. You know you're doing something right in the big leagues when your name is next to three of the greatest players to ever step on a baseball diamond. It's also worth noting that Álvarez has accomplished this while playing in just one full season since his MLB debut. 
He appeared in 87 games as a rookie in 2019 before only playing in two contests during the pandemic-shortened 2020 season. He's on his way to playing a full slate of games this season, but the only other time it's happened for him thus far was 2021 (144 games). 
Nobody has done this to start their MLB career…except for the Houston Astros slugger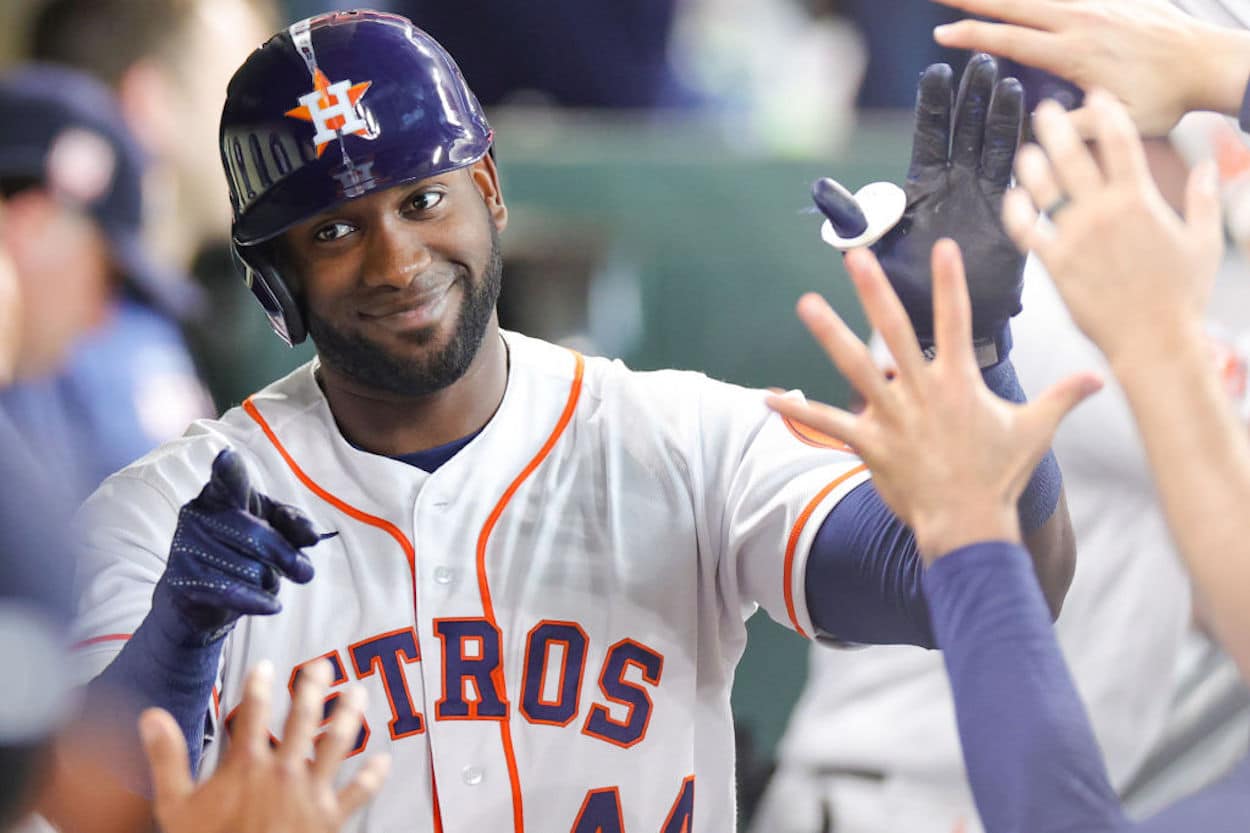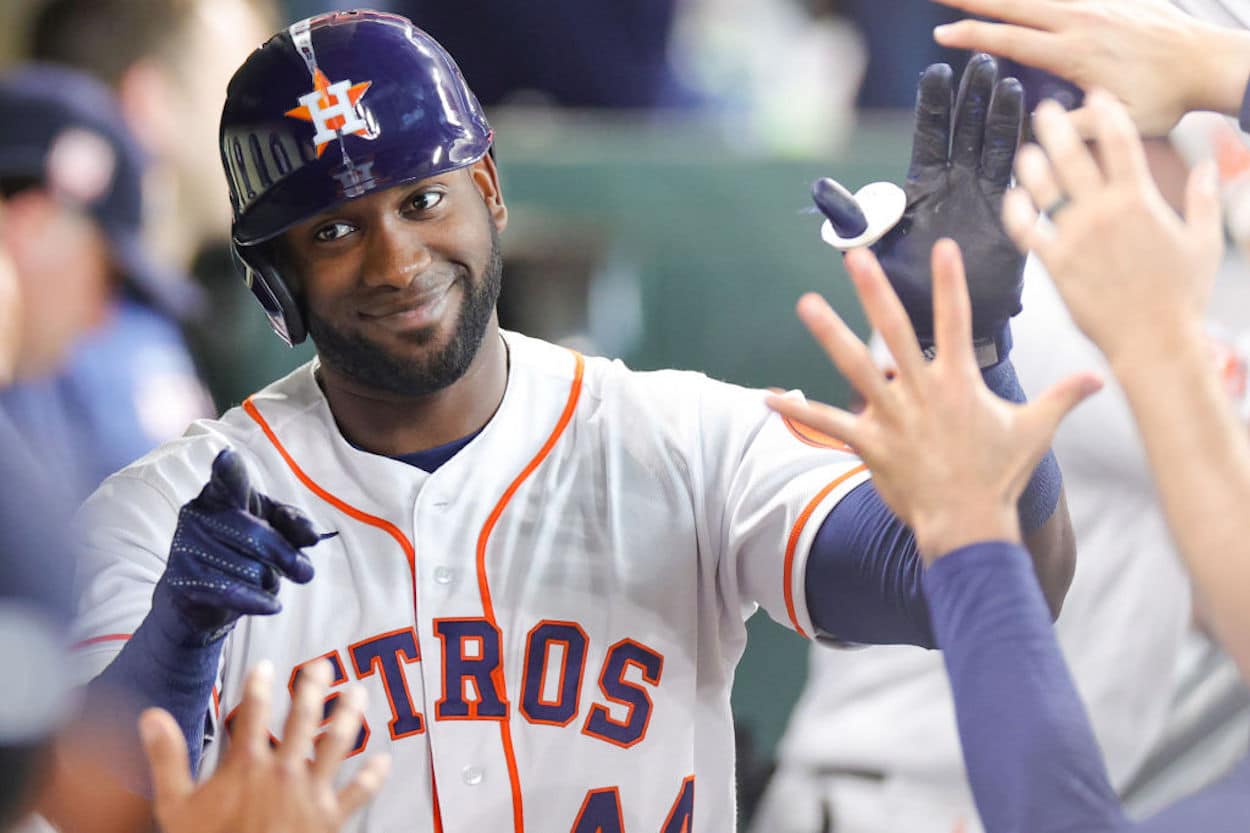 The above stat is pretty impressive, but let's take it one step further. Two days after his birthday (June 29), Álvarez played in the 300th game of his MLB career. In the 1,255 plate appearances he collected over this time, he slashed .296/.380/.595 with 324 total hits, including 84 home runs, 242 RBI, 201 runs scored, and 139 walks. 
These numbers led to a dominant 164 wRC+ and .405 Weighted On-base Average (wOBA), but it's not the most impressive part. As Greg Harvey noted on Twitter, the young Astro is the only player in MLB history to rack up at least 320 hits, 130 walks, 80 home runs, and 240 RBI in the first 300 games of a career.
You read that right. Ruth and Williams didn't do it. Neither did Mickey Mantle, Ken Griffey Jr., Alex Rodriguez, Albert Pujols, or anyone else. Just Álvarez. 
Air Yordan's progression is every hitting coach's dream
If we look at 2019, 2021, and what he's done so far in 2022, Álvarez's plate approach has been consistently improving. 
His overall swing rate has stayed consistent in each of these three years (43.2% in '19, 43.0% in '21, and 42.1% so far in '22). What has changed, though, is his swing rate on balls outside the strike zone. That number has gone from 30.7% as a rookie to 30.3% last year, and it's currently at 25.8%. In that same scope, his swing rate on balls in the strike zone has also improved. After posting a 63.0% and 62.1% rate in 2019 and 2021, respectively, it's up at 67.0% so far this season. 
After seeing those numbers, it's not surprising that his 8.1% swinging-strike rate and 8.9% soft-hit rate are both currently at career-best marks. Attacking more balls in the strike zone and making more solid contact is leading to some ridiculous results through the first three months of Álvarez's 2022 campaign. 
Could the 2022 AL MVP Award be in Yordan Álvarez's Sights?
The month of June is what put Álvarez on his current pace. He not only won AL Player of the Month honors, but he also just demolished any opposing pitcher in his way. He led all of baseball in batting average (.418), on-base percentage (.510), and slugging percentage (.835), along with collecting nine home runs with 28 RBI. His 276 wRC+ and 2.0 fWAR both led the league, as well. 
That performance has put him firmly on the AL MVP Award radar, and deservedly so. He's also among the finalists for a place the All-Star Game. But still, for someone who has accomplished as much as he has in such a short period of time, you'd think he'd be generating more headlines. 
Why isn't he? Part of it could be the market he's playing in. That won't be changing anytime soon, either. After recently signing a six-year, $115 million extension, he's under contract to play for the Astros through 2028. 
Only time will tell what other comparisons Álvarez's performance will garner during the life of his current contract and beyond. Regardless, it seems like Houston has locked down one of the game's premier power hitters to a team-friendly extension during what will likely be the physical prime of his career. We're lucky because we get to just sit back and watch the show. 
All stats and courtesy of Baseball Reference and FanGraphs. All contract figures courtesy of Spotrac.